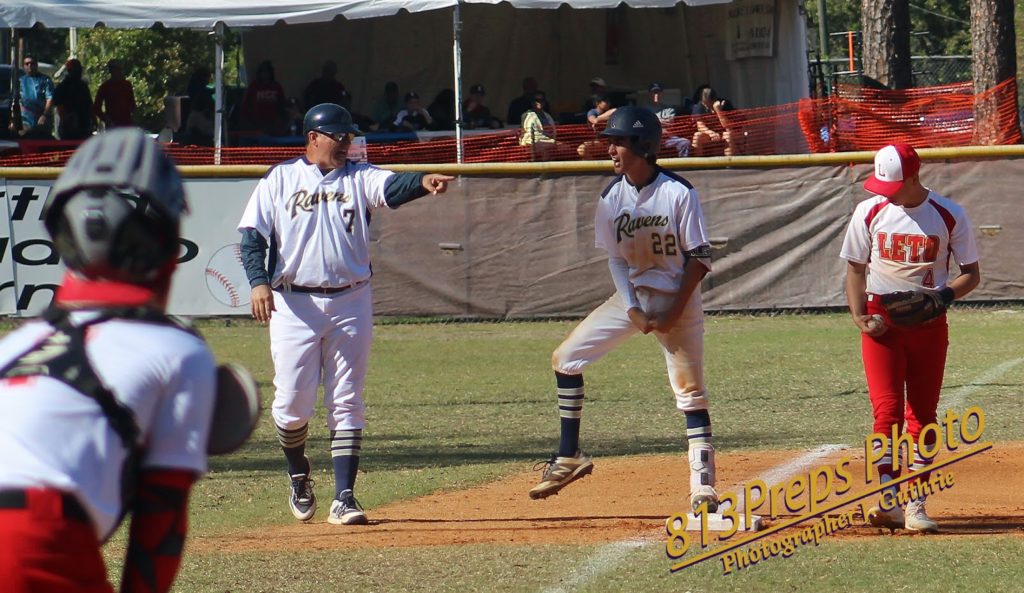 Alonso's Nick Gonzalez lets out a yell after popping up from his two-run triple in the second inning.
BRANDON – Backed by a four-run second inning, the Alonso Ravens were able to take another step towards clinching their fifth Saladino Tournament title after knocking out Leto, 5-1, in the third quarterfinal of the day at Brandon High.The Falcons' stay at the Saladino Tournament lasted another day after earning the wild card berth.
However, it would last no longer after running into a hot Alonso team.
Alonso set the tone early when Sam Drumheller dove from the mound and caught a bunt off the bat of Jon Santos, and then threw onto first from his knees to double-up Fernando Muniz.
"I saw the bunt coming, so I tried to charge on it and get it early," Drumheller said.
That defensive gem, one of the best of the tournament thus far, set the tone as the Ravens rattled off five runs in the first two innings off of Jakob Ryley and Franklyn Hernandez.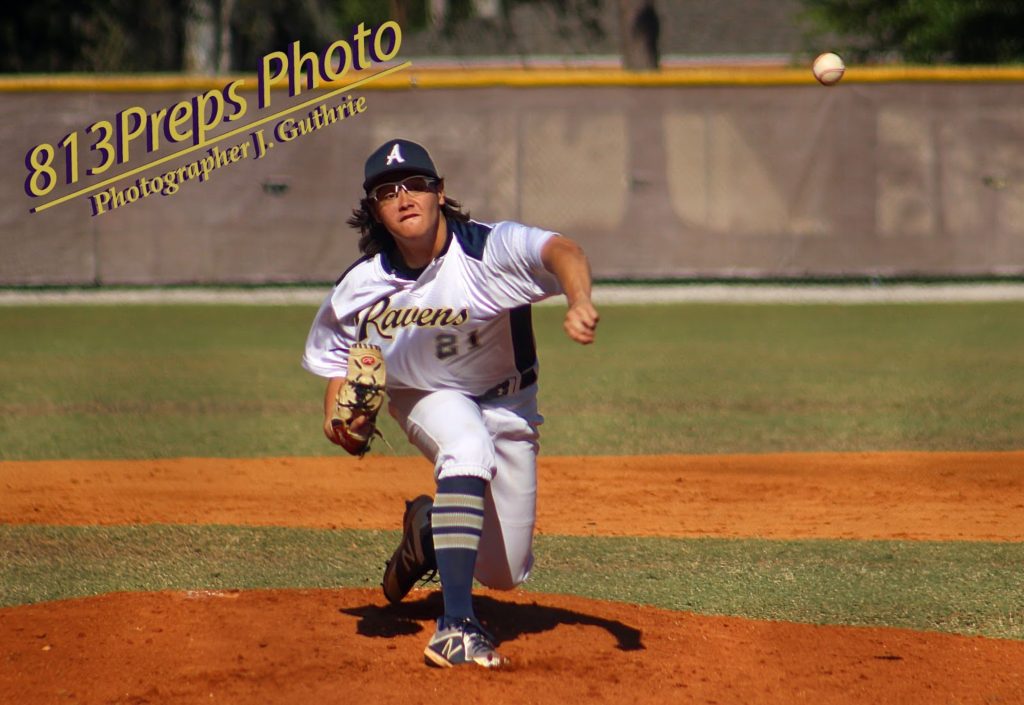 Alonso sophomore Sam Drumheller pitched his team to a win as the Ravens advanced to the Saladino Tournament semifinals defeated Leto, 5-1 on Thursday.
Ryley would walk Drumheller with the bases loaded, netting the Ravens the lead in the first.
Alonso would create some distance in the second inning, when Ranzo Gonzalez scored Robert Curry to extend the lead to a pair. Nick Gonzalez would then send a triple to the left field wall, allowing Ranzo Gonzalez and Ryan Drumheller to score. Sehjin Daley capped it off with a sacrifice fly to right, letting Nick Gonzalez come home.
"(The offense) really got me settled and I knew I could trust my defense and trust my pitches." Drumheller said.
Leto's lone run came on a sacrifice fly from Javy Hernandez to score Muniz, who showed good speed in jetting to third on two stolen bases.
Alonso's Nick Gonzalez knocked a double in the sixth – finishing with a pair of hits and RBIs – helping his team advance to Friday's semifinal against Plant at 10 a.m. at Brandon High.
"We were struggling at the plate, weren't getting our hits in and whatnot, but for us to be able to get their starter out early, gave us a lot of confidence going into the semis," Gonzalez said.
The Falcons committed four errors on the day, leading to two unearned runs for the Ravens. Ryley would only face nine batters before Hernandez replaced him. On the other side, Sam Drumheller would pitch six strong innings, allowing just four hits, while striking out three on 86 pitches.
Alonso 5, Leto 1
L 000 010 0 — | 1 | 4 | 4
S 140 000 x — | 5 | 6 | 0
W – S. Drumheller (1-0). L – Ryley. 2B – Gonzalez (A). 3B – N. Gonzalez (A). Records – B 6-3; A 7-3.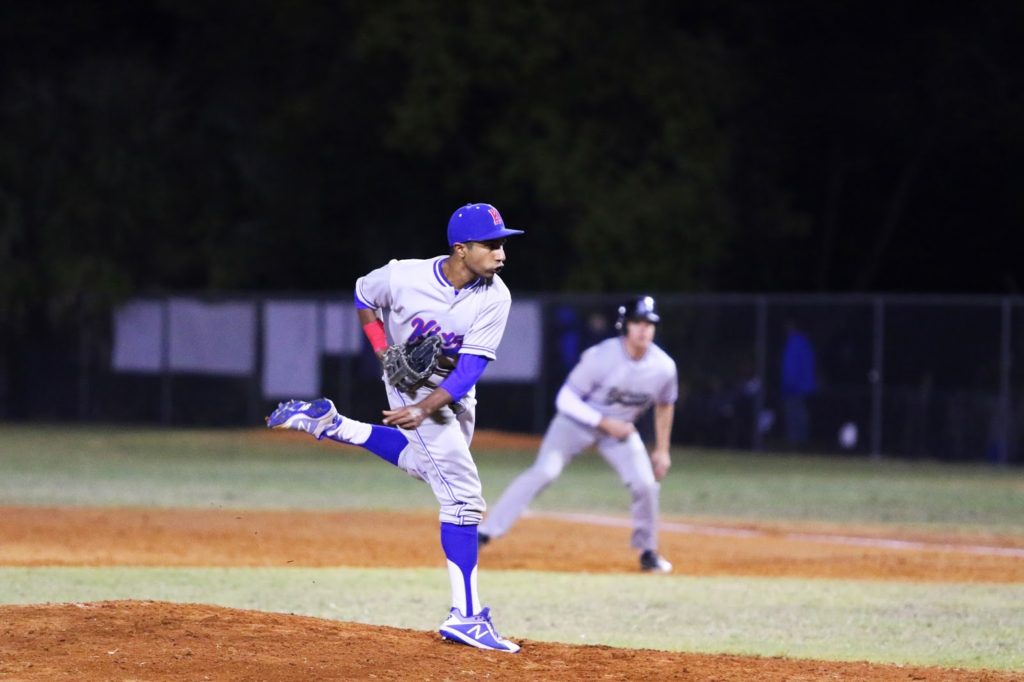 King pitcher Hishaam Shafiq earned the win in relief working 4 2/3 innings on the mound, allowing one run and striking out three.  (Photo taken by Will Turner)
A wild one took place in the nightcap at Brandon High on Thursday night, as the King Lions prevailed in extras against a young, but scrappy Riverview, 9-7.
The Sharks took a 6-1 lead going into the away half of the fifth, which would be erased after the Lions placed a seven-spot on the scoreboard in the fifth.
Reagan Jorgensen knocked in a pair of runs, after getting to second on an error from Hishaam Shafiq in right. Ben Migliarese and Adam Hunt would come home on the play. Riverview would extend their lead in the second on MacAllister Jorgensen's RBI single to score Zach Hawkins.
Riverview continued to pour it on in the third, when starting pitcher Ty Correa helped himself out while at the plate with an RBI double to score Reagan Jorgensen.
Correa would later plunk Zarrian Brinson in the fourth with the bases loaded to allow Jamarcus Lyons to net the Lions their first run.
Jeremy Galen would score in the fifth off of a wild pitch, then Dillon Besnier knocked a line drive through the 5-6 hole to score MacAllister Jorgensen.
Then came the fifth.
Lions centerfielder Justice Thompson got the scoring started with a double to score Addison Barger. After a Jamarcus Lyons single, Correa was pulled for Kyle Knees, who would not register an out for the Sharks among the five batters he faced.
Keyon Floyd singled to left to scored Thompson. Next batter, Jacob Cordell walked, letting Lyons come across, cutting the lead to two. Bryce Pennington reached on what looked to be a sure-fire double play, but Micah Lindsey broke the play up before it started – which allowed DeShawn Manuel to score, without suffering an out. Brinson would be hit with a pitch with the bases loaded for the second time, scoring Floyd.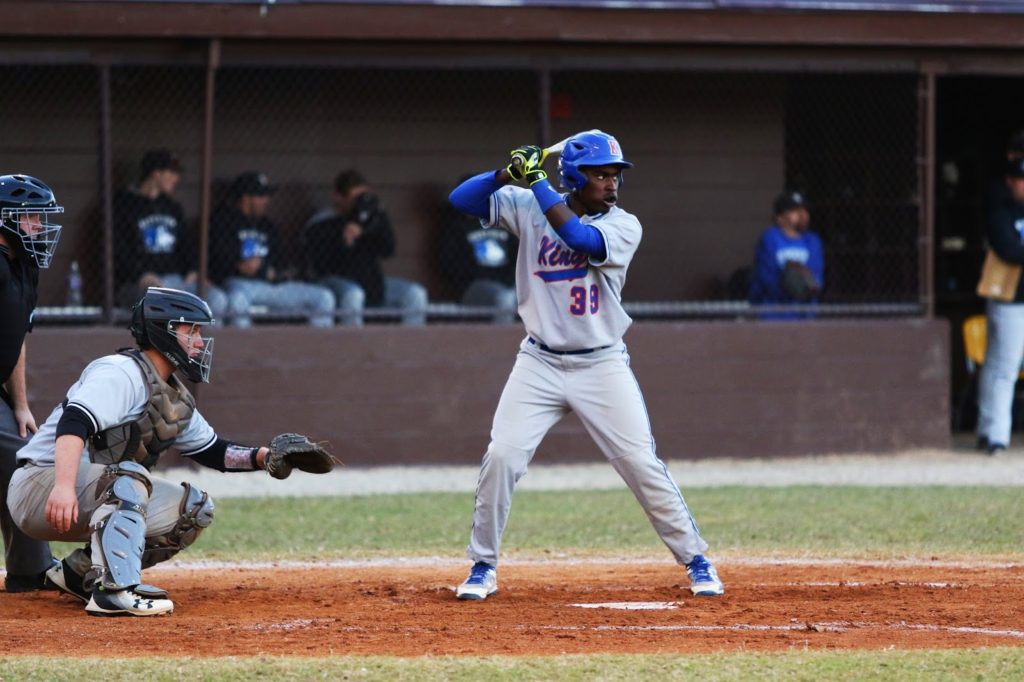 King's Keyon Floyd had an RBI single in a six-run, fifth inning as the Lions defeated Riverview in extra innings of the Saladino Tournament quarterfinals. (Photo taken by Will Turner)
Josh Keding would finish things off by grounding into a double play that scored Lindsey to come home on the fielder's choice.
Suddenly, it was 7-6, King.
"These guys are really confident in their offense, as a team," King coach Jim Macaluso said. "They really believe that, one through nine. They try to get it done. For some reason this year, all nine guys, and even others that we play, really believe they can hit and they can come back. I'm really proud of them for battling back."
It wasn't over, though. In the sixth, Adam Hunt would single to center to score Jeremy Galen, tying it up at seven.
Hawkins reached second on an error from Thompson in center, but a pop-up and a fly-out would strand him, and send the Sharks and Lions to extras.
Barger drew a walk to lead off the eighth, and then an intentional walk would place Lyons on, with only one out. Tyler Misla struck out Shafiq for the second out.
Barger and Lyons advanced on a wild pitch, giving runners on second and third for Floyd. The senior knocked a ground ball to short, and a wild throw from Reagan Jorgensen allowed the two runners to score, giving the Lions the ultimate 9-7 advantage.
"I just had to put the ball in play," Floyd said. "He [Misla] threw a couple of fastballs, and I fought them off, I was ready for anything, but I really just knew I had to put the ball in play."
Floyd has continued to be a bright spot on the lineup card as well as in the dugout for the Lions throughout his final season on the high school level, according to Macaluso.
"He does a great job in the clutch and he does a great job here. He's a great kid and a great senior leader. Keon is more of a silent-type leader, but he pulls for everyone and does everything well," Macaluso said.
Shafiq would finish things out for the Lions, just allowing two Riverview hits over four-plus innings. It was a good bounce-back for the freshman after having a shaky outing against Plant City on Tuesday.
"We didn't expect him to close it, because he's thrown already, but he did a great job for us today," Macaluso said.
For the Sharks, MacAllister Jorgensen and Correa would finish with a pair of hits apiece. Misla fired four innings, only allowing the pair of unearned runs in the eight, and striking out seven on 77 pitches.
Six of the Lions nine runs were unearned, as both sides committed four errors on the affair.
King will face Sickles in the 1 p.m. semifinal tomorrow at Brandon, with the Lions continuing their quest for their first Saladino Tournament championship since 1992.
King 9, Riverview 7 (eight innings)
K 000 160 02 — | 9 | 5 | 4
R 211 201 00 — | 7 | 8 | 4
W – Shafiq (). L – Misla (). 2B – Thompson (K); Correa (R). Records – R 6-4; K 8-1.