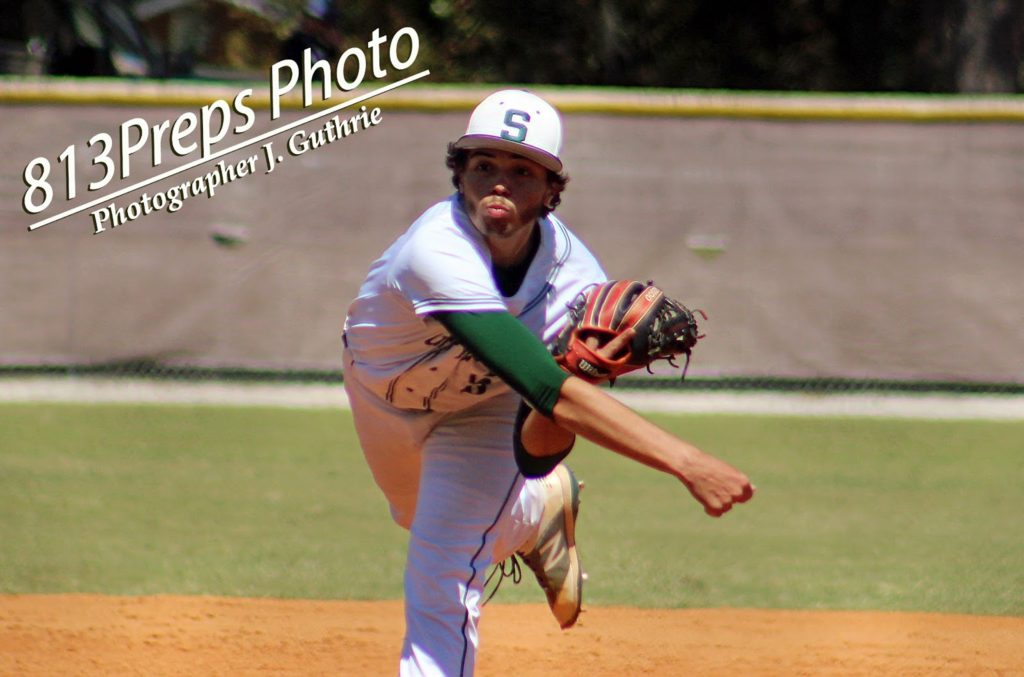 Sickles senior Jordan Montes came up big in relief, working four-plus innings on the mound as the Gryphons came back on Bloomingdale to advance to the Saladino Tournament semifinals.
TAMPA – Sickles found itself in an early hole as Bloomingdale jumped ahead by three runs in the first two innings and looked like the week-long Saladino Tournament had warn down the pitching options.But after a short outing from starter Trey Bacon, the Gryphons found a big lift from senior Jordan Montes who came on in the third and finished the game strong as Sickles clawed its way back to claim a 6-5 victory in the tournament quarterfinals.
"All year we've been able to get hits and score runs in big spots, so I wasn't concerned," Montes said. "My role on this team is to come in and get outs, and I know these guys will get the runs."
Prior to his 4 2/3 innings on Thursday, Montes hadn't been stretched longer than two innings this season. He tossed 81 pitches allowing two unearned runs on three hits and striking out five to improve to 2-1 on the year.
"I've been coming in for one or two innings at the end of the game and I haven't had to throw a lot of pitches," Montes said. "(I had to) just come in and be ready for anything."
Sickles (8-2) got it going offensively in the bottom of the third as Dylan Eskew sent a ground ball down the left field line plating Zane Tarrance (2-for-4) and Tyler Green (2-for-4, two runs).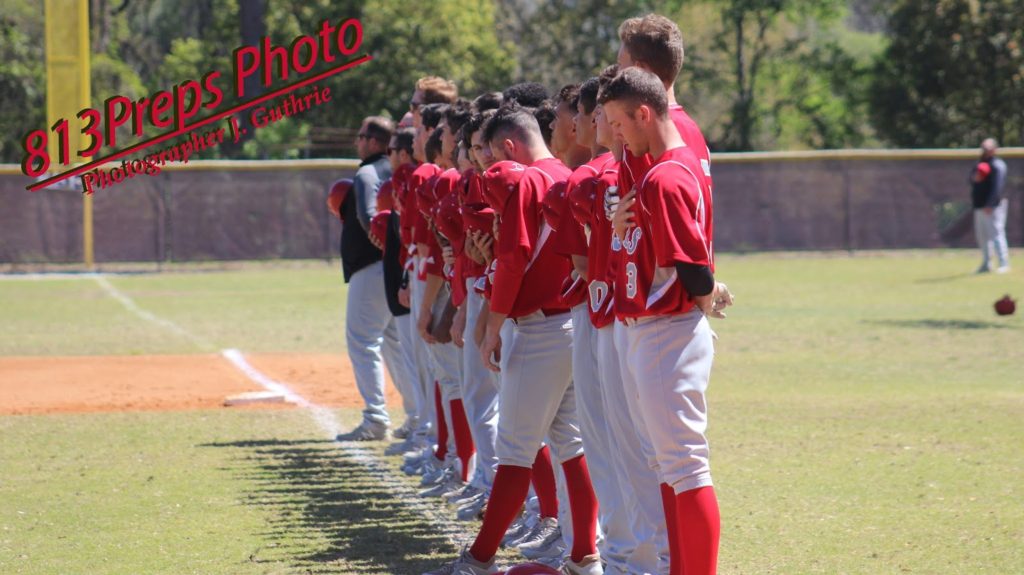 Bloomingdale played a tough game, but couldn't hold off Sickles in a Saladino quarterfinal loss.
Bloomingdale (7-3) jumped ahead in the first as Dominic Gonnella tripled in a pair to left field, and added another run the next inning when Antonio De Jesus doubled to start the inning and Bryce Hazzard drove him in with a single to right.
The Bulls extended its lead back out in the fourth on a pair of Gryphons errors, but Sickles offense would make up for those miscues with a four-run home half to give Montes all he would need.
Michael Lojacono drove in a run on a single and Sickles added another on the play on an error, one more on a double-play ball, before Eskew picked up his third hit and third RBI of the game.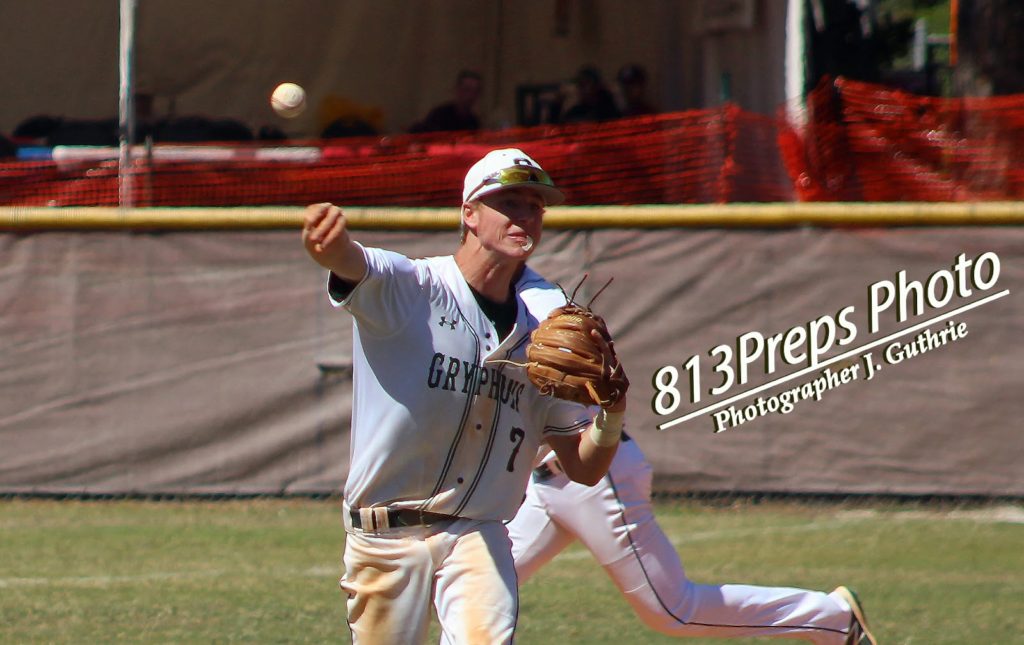 Sickles third baseman Dylan Eskew throws to first for an out in the fifth inning against Bloomingdale. Eskew had three hits and three RBI in the Gryphons win.
"It was a curveball and I tried to stay on it as long as possible," Eskew said. "That was the third or fourth curve that pitcher had thrown me, I was ready for it and tried to put it in play."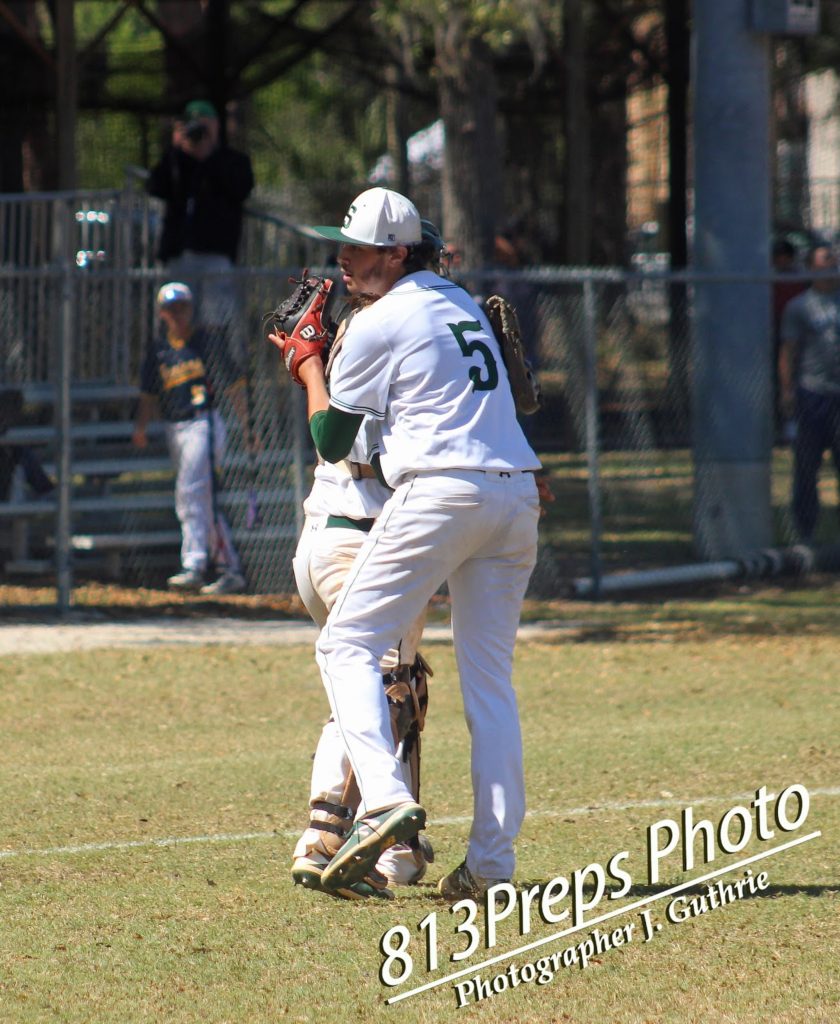 Jordan Montes is greeted by Sickles catcher Danny
Bernstein after finishing off Bloomingdale in the Saladino
Tournament quarterfinals on Thursday.
Eskew said the offensive production has been there most of the season for his team, but the standout performance in the junior and University of Miami commit, was that of his senior pitcher Montes.
"That was huge because he's has been struggling a little bit lately," Eskew said about Montes. "For him to dial in right now today and put us on his back like that, that's big."
"He gave us his all today and that meant everything to us."
Eskew said the Saladino experience is unique in his playing career thus far, and that this week has bonded Sickles players more than he could have imagined.
"This tournament is unlike any travel ball tournament I've ever been in," Eskew said. "It's spring, you're with your boys – the guys you see everyday – and you just work for these guys. It's less like a showcase, and more about each other. It's really been great for us."
For Bloomingdale, Jake Gilbert was 2-for-3 and Brock Wilken went 2-for-4 with a double and a run scored.
Sickles 6, Bloomingdale 5
B 210 200 0 — | 5 | 8 | 1
S 002 400 x — | 6 | 10 | 3
W – Montes (2-1). L – Hunter (2-1). 2B – De Jesus, Wilkin (B). 3B – Gonnella (B); Green (S). Records – B 7-3; S 8-2.
BRANDON – Offensive production hasn't been an issue for Plant this season and the team continued that in the early Saladino quarterfinal as the Panthers jumped ahead early on Class 8A-District 5 rival Steinbrenner and kept up the pressure in an 8-1 win.
Senior Mike Haydak led off the game, moved around and eventually scored on a wild pitch, Brock Fagler added the eventual decider later in the first driving in Connor Scott (1-for-3, two runs) with a single to right.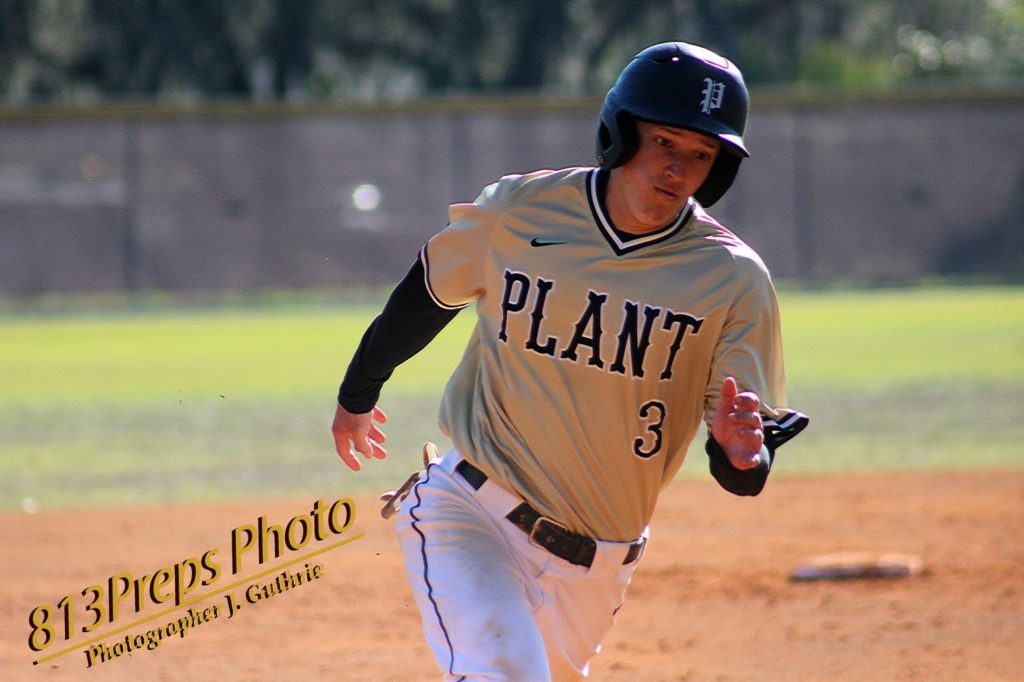 Plant senior Mike Haydak rounds third in the fourth inning on his way to the plate. Haydak had three singles and scored three times for the Panthers.
Haydak was 3-for-4 in the win, with a walk and three runs scored and has been a big part of the Panthers success as the table-setter at the top of a stacked lineup. With power threats in Scott, Chase Sanguinetti and Fagler, Haydak said he's found a rhythm in knowing his job is just to find a way to get to first and wait on the guys behind him to do their jobs.
"It gives me confidence knowing if I can find a way to get on, there is a very good chance they are going to get me around to score," Haydak said. "They are such great hitters, I know if I'm on base they are going to be right there behind me."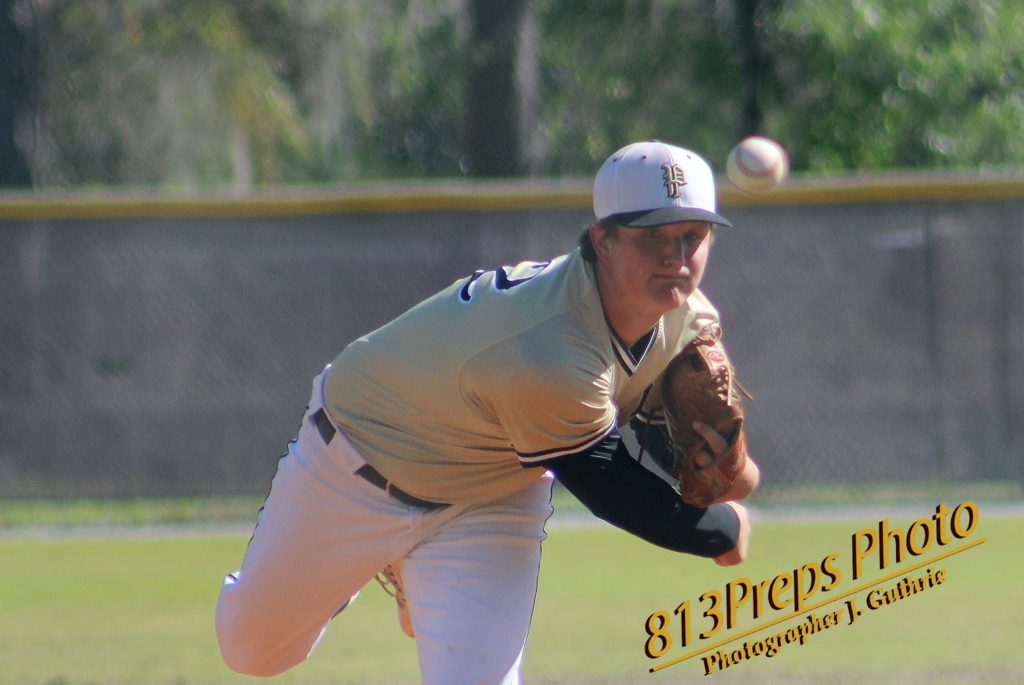 Panthers senior Brock Fagler tossed a complete-game to improve to 3-1 on the season, while also driving in three at the plate on Thursday.
Fagler was once again clutch to the Panthers success, putting in a monster day on the mound striking out seven, while allowing just one run and scattering six hits. The senior and State College of Florida signee improved to 3-1 on the year. Fagler chipped in a double and two RBI sac flies on offense as well.
"This (win) meant a lot because it was Steinbrenner, which has been our (district) rivals for the past three years," Fagler said. "To get past them was good, going out there and getting a complete game saves our pitching, and I'm glad I could get it done."
Plant is on a solid run in its season as Thursday's win marks eight-straight for the Panthers. Fagler said the week-long tournament environment has been good requiring the whole team to come together up and down the dugout.
"It brings us all closer together as a team and I really think it teaches us how to win games consistently," Fagler said. "I think we are doing that really well right now."
Plant will face Alonso in Friday's morning semifinal at 10 a.m. and Sickles squares off against King at 1 p.m. The winners of that game face off in the tournament final at 7 p.m. All Friday's action takes place at Brandon High School.
Plant 8, Steinbrenner 1
P 200 402 0 — | 8 | 9 | 0
S 000 010 0 — | 1 | 6 | 4
W – Fagler (3-1). L – Richter (1-2). 2B – Fagler (P). Records – P 10-1; S 5-4.