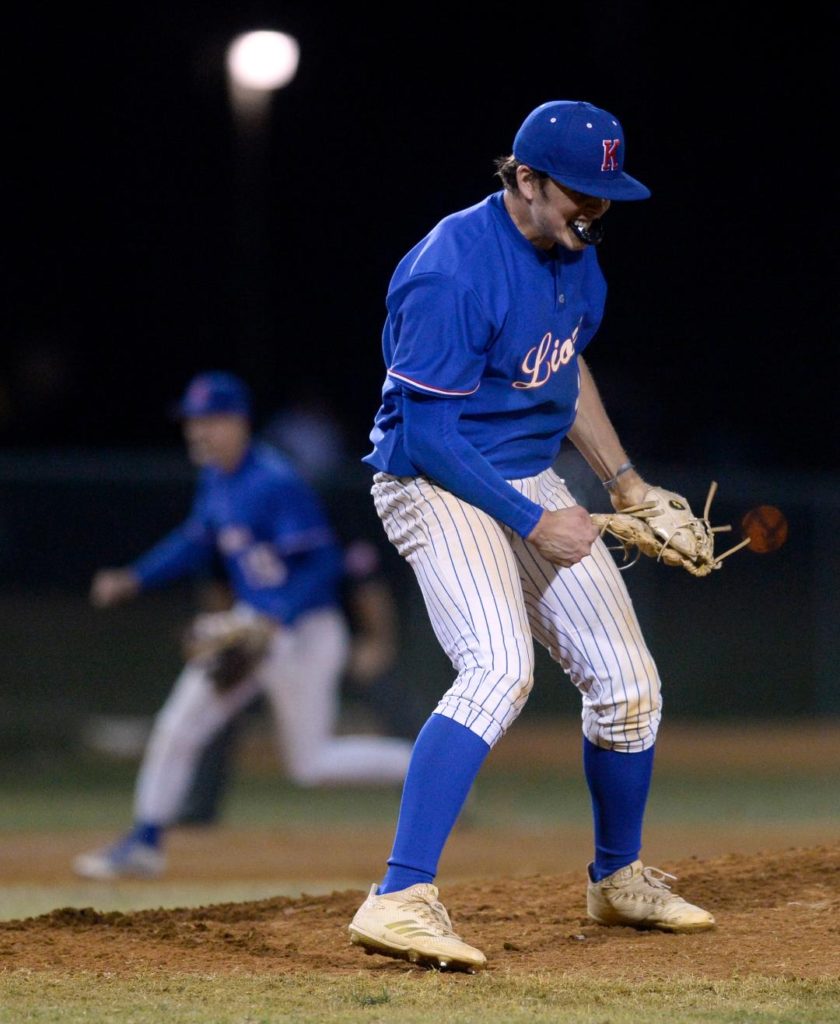 King's Addison Barger earned MVP honors at the 38th annual Saladino Tournament for his work at the plate, but perhaps his biggest moment was a game-ending strikeout to seal the Lions championship. (Photo by Jason Behnken)
BRANDON – Notice: If you are a high school baseball team searching for an easy "dub" on your schedule, give the team that calls 56th and Sligh Avenue in Tampa its home a wide berth.
The King Lions are battlers. and Friday night the team turned to two arms in relief that had yet to throw a pitch this season, and came away with an gutsy win defeating Alonso 6-5, to claim the 38th annual Saladino Tournament championship.
Serving as the Lions head coach for the tournament was assistant coach Anthony Macaluso, (filling in for his father Jim who was ejected in the Lions semifinal win Friday afternoon), who warned his players they were in for a fight against the Ravens. But the younger Macaluso said in the sixth inning he felt the impending win was in hand for the Lions.
"I told them heading into our at-bat in the sixth inning, I said, 'what did I tell you guys two hours ago?' I said, 'I told you this was going to be a rollercoaster, look we're right here in position to win this game. I don't know how. I don't know if it's going to be a home run off the scoreboard, or a throwing error, I don't know. But we are going to find a way to win and every one of you has to believe that. And they did," Macaluso said.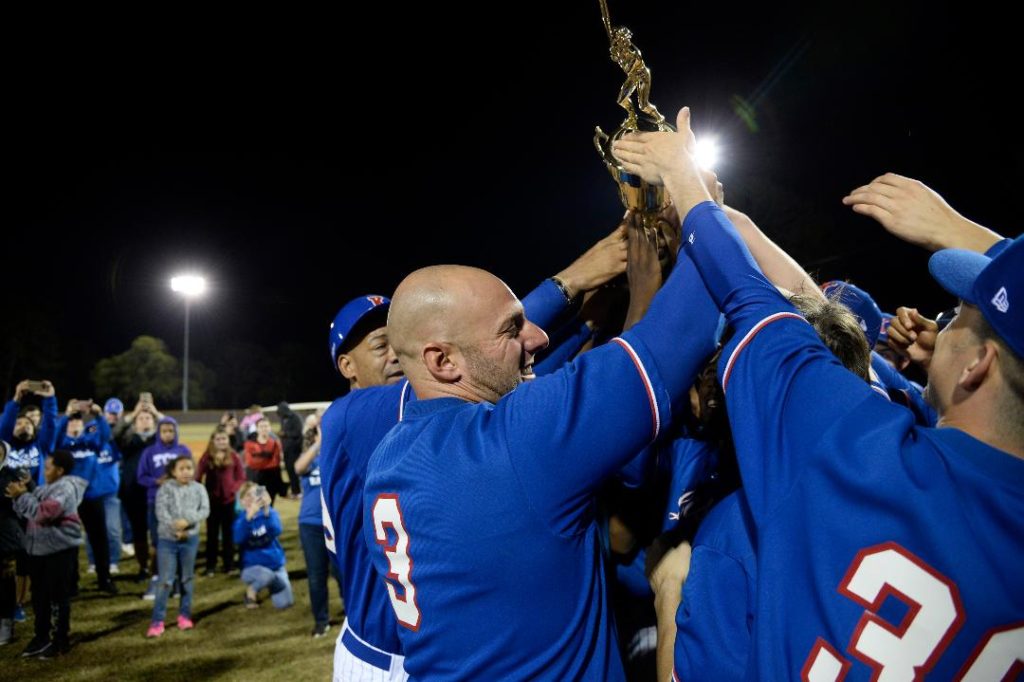 Anthony Macaluso (No. 3) served as the Lions coach in relief of his father Jim Macaluso as the Lions claimed the Saladino title. (Photo by Jason Behnken)
Knowing pitching would be at a premium in the later rounds of the tournament, King senior shortstop Addison Barger spent the whole week putting the bug in the ear of any coach that would listen that after not having pitched in more than two years, he was ready to take to the mound whenever his team needed it. That moment came in the final's seventh inning, with two in scoring position and a slim one-run lead. Anthony Macaluso called Barger to the mound to try and escape with the win. The move paid off as Barger, after an intentional walk loaded them up to set up a force-out at any base, pumped in five pitches to end the game on a strike three looking.
"I wanted the ball, it's been two years since I last pitched," Barger said. "But the whole tournament, I said if we get in a jam, I want the ball. I want to compete. I want to win. Whatever it takes."
Barger, the tournament MVP, was a scoring machine the whole tournament hitting .364 (8-for-22), driving in six and scoring 10 runs, including the deciding run on a wild pitch in the seventh. Barger hadn't thrown a pitch in a baseball game in over two years.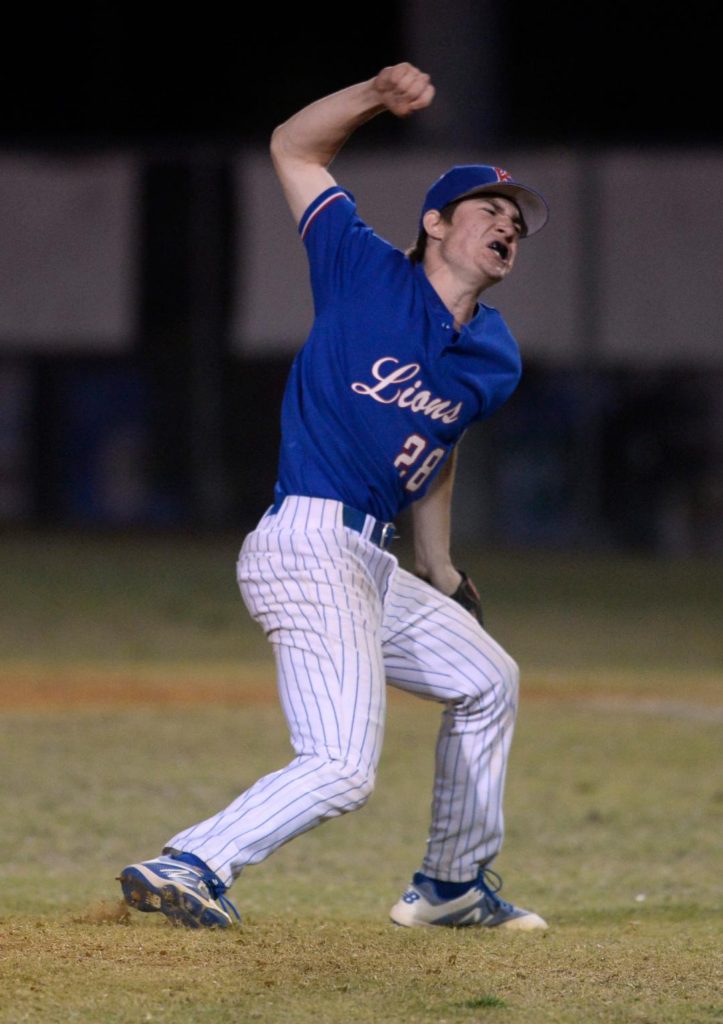 King's Josh Keding had a huge relief appearance
earning the win on the mound with six innings of
work in his first outing of the season.
(Photo by Jason Behnken)
However, that wasn't the only mound performance to which King owes its first Saladino title since 1992, as senior Josh Keding took the mound after Alonso took an early lead with a three-run first inning. The righty worked six innings of relief allowing two runs (one earned) and striking out five Ravens hitters.
"This was one of the most exciting games that I've been a part of here with King," Keding said. "I told these guys, if you get that lead I'll give you everything I have to get the win."
Macaluso said despite not pitching yet in the regular season, he knew his senior would be ready when called upon.
"He hasn't thrown a pitch for us since our preseason tournament, but we knew we were going to have to use him," Anthony Macaluso said. "He came in and dominated, throwing all three pitches for strikes, and if you were a casual fan you would have thought he was our No. 1 or No. 2."
"He gave us one of those outings you just pray and hope for. Every inning he came in saying, 'coach, I'm good. I'm good. I'm good.' And he was."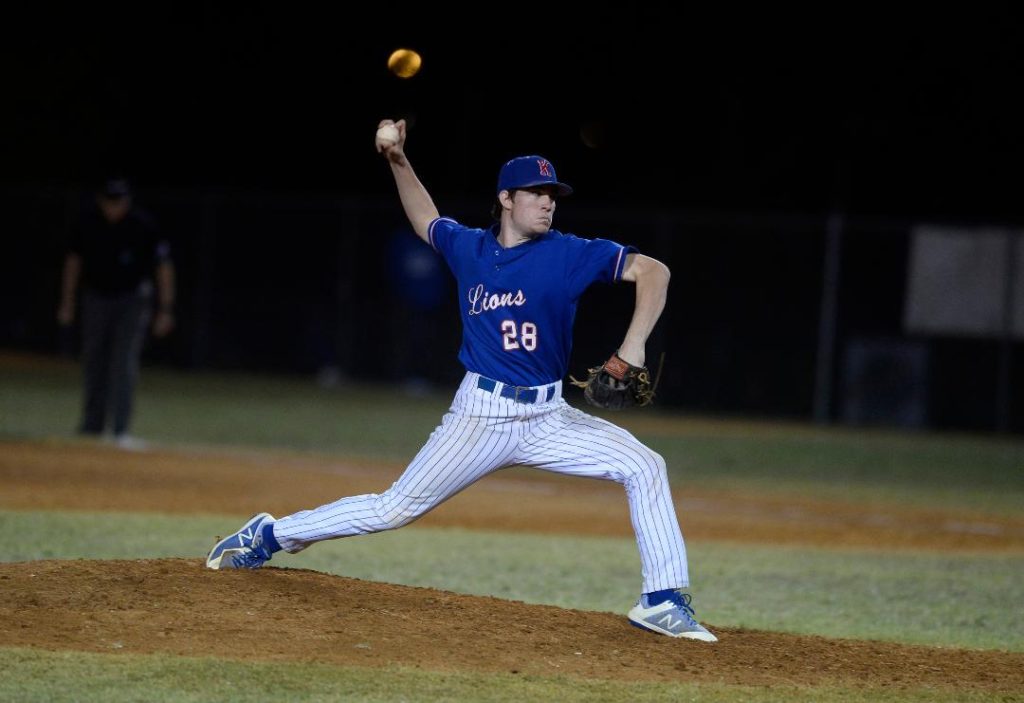 King pitcher Josh Keding. (Photo by Jason Behnken)
Alonso answered a King run in the opening frame, getting on the board quickly in the bottom of the first as a leadoff hit for Ryan Drumheller and later scored on a groundball double-play, then added two more with some aggressive running scoring two on the same wild pitch.
King rallied twice from deficits tying things in the third as Justice Thompson (2-for-3) and Jamarcus Lyons (3-for-4, double, run scored) drove in runs, and then took the lead for good in the sixth as Hishaam Shafiq and Zarrian Brinson had RBI hits.
"We have a great team bond, and that starts from our coaches on down, that we go out and just have fun," Thompson said. "We are one, and that bond between us show when we get on the field."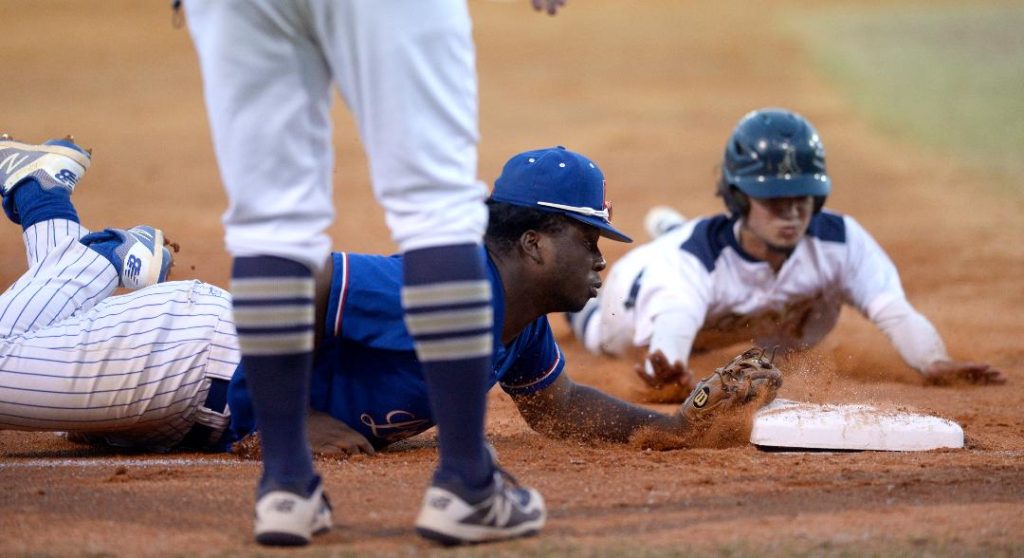 King 3B Zarrian Brinson made a great play on a hard skipper down the third base line, then dives for the out on the advancing runner in the second inning. (Photo by Jason Behnken)
"From the beginning we said there is no point in coming to the championship and losing," Lyons said. "We fought every day we came out here, we had kids that were beat up – bodies just torn up … that's the best feeling knowing that everybody on your team, every time they step on the field, they just want it."
The Ravens, who had a big-time veteran win from senior pitcher Franco Aleman against Plant in the semifinals Friday morning, were issued 10 walks, but left seven in scoring position in the loss. Nick Gonzalez had a single and a double in the loss, while Joeseph Villalta was 1-for-1 with an RBI, and Ihoslean Montes had a single and scored twice.
This was Alonso's fourth-straight tournament final appearance (10th overall), but the team couldn'tt come away with the program's fifth tournament title, losing for the third straight season in the championship game.
King (9-1), last season's Class 7A state runner-up, has won nine straight games after dropping its season opener. This is the Lions third Saladino Tournament championship, previously winning in 1983 and 1992.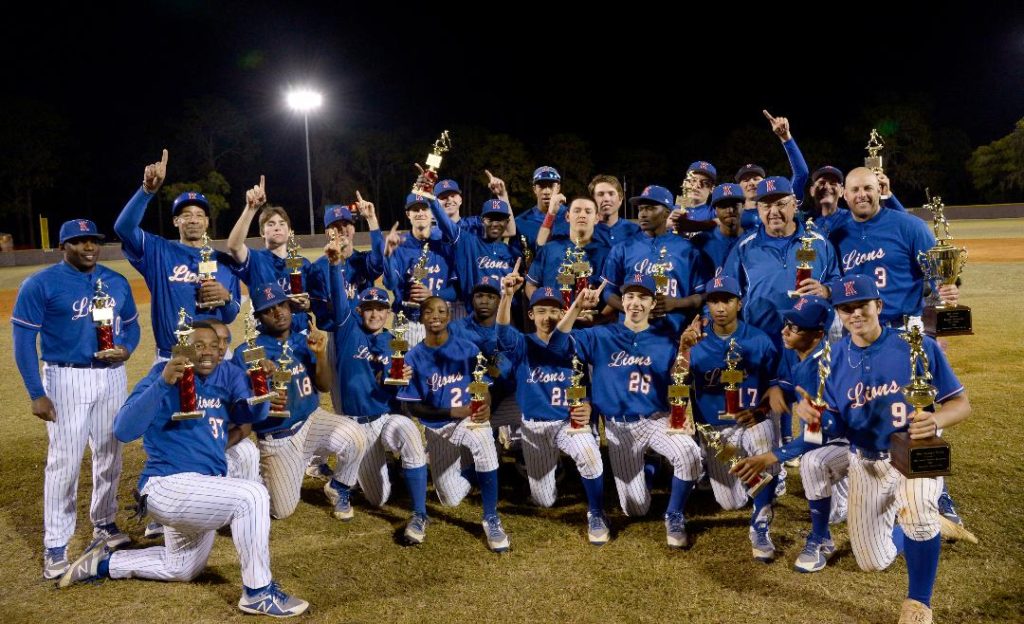 The 38th annual Saladino Tournament Champions – the King Lions. (Photo by Jason Behnken)
——————————————————–
Unlike many independent news organizations, we haven't put
up a subscription paywall – and we hope to be able to keep bringing you the great stories
from high school athletics in the 813 area free of charge. But we are still a small
business with just a handful of people involved, so there are costs including travel, equipment, and other costs associated with running this business.
We are looking for advertising partners, but we also need to count on our
readers for support. If everyone who reads our reporting, who likes it, helps
fund it, we will be able to continue covering these athletes' endeavors.
Support 813Preps.com for as little as $1 by clicking "Donate" button below.