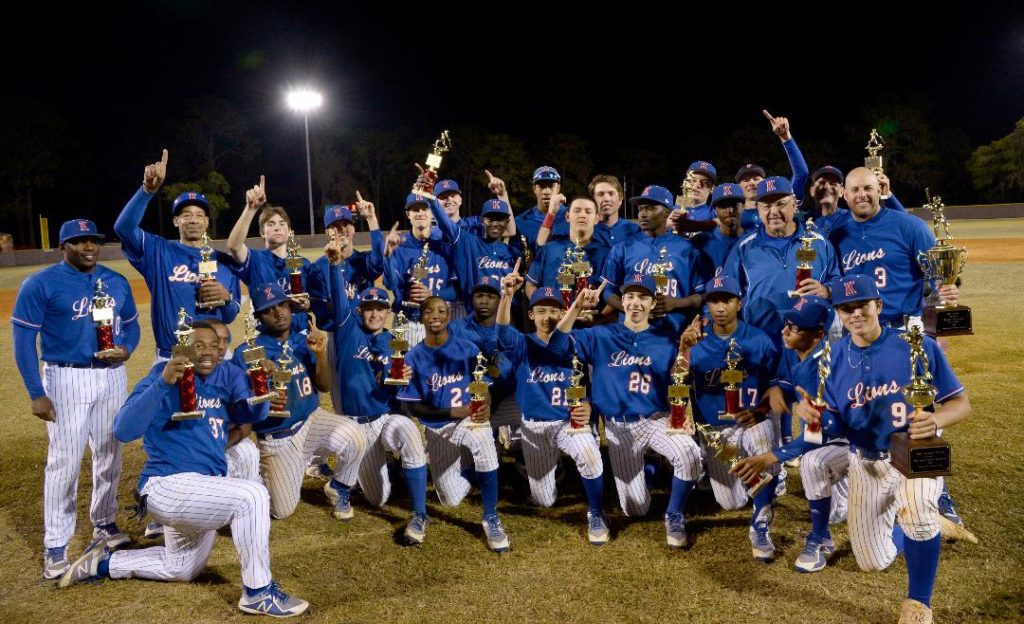 King Lions – 38th annual Saladino Tournament Champions
(Photo by Jason Behnken, for 813Preps)
BRANDON – Once again, the Saladino Tournament showed why it is the best high school baseball tournament in the country. In its 38th addition, as it seems to every year, the championship came down to the final at-bat with the tying run in scoring position as King defeated Alonso, 6-5.
The whole week provided a glimpse of what makes this tournament great. My writer Will Turner and myself had a tremendous time covering the event for 813Preps and we'd like to finish the weekend with a recap of some of the highlights we saw this week, as well as a few from around the county's five tournament sites.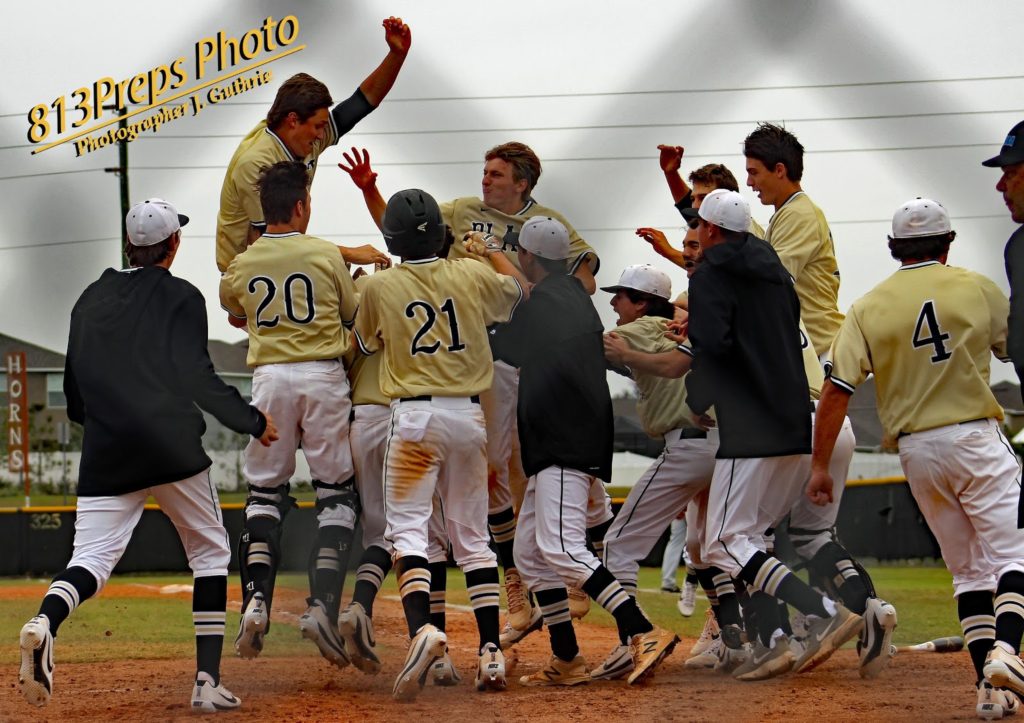 Fagler scores after HR vs Crest on Saturday.
We started things off with the opening game at Lennard High, where Plant and Strawberry Crest battled into extra-innings behind excellent starts on the mound from Connor Scott for the Panthers, and Brent May for the Chargers. The game seemed to swing dramatically in the Chargers favor in the top of the eighth as Benny Pues cranked a two-run home run to left to break a scoreless draw. However, the Panthers (an eventual semifinalist) didn't go away as senior Brock Fagler ended the game in a big way with his own three-run shot to left to walk off a 3-2 win. Read our coverage of Plant thrilling win by clicking here.
There was a speed showcase from Leto, setting a single-game record for stolen bases against Chamberlain with 13, and finishing the tournament with 25 as a team. The Falcons claimed the wild card slot allowing just three runs in the pool-play round.Brooks-DeBartolo got nice hitting from Logan Eade (5-for-11, two doubles and four runs scored) and Ryan Martin (4-for-9, with three RBI and two runs scored) to pick up two wins in pool play over TBT and Robinson. The pair of wins stopped a seven-game skid and has to be a big lift as the Phoenix continue on with the season.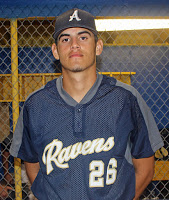 Franco Aleman, Alonso
Alonso senior Franco Aleman continued his shutout streak on the year picking up dominating wins over Gaither (13 strikeouts) and Plant (six strikeouts). Perhaps more impressive is that the 6-foot-6, senior and Florida International commit has issued only three walks through the first 85 batters he's faced on the year. He earned All-Tournament pitching honors and was also named the first recipient of the West Coast Umpires Association Jose D. Fernandez Pitching Award, named in honor of the late Ravens standout and Major League Baseball NL Rookie of the Year. To read about Franco's 13-K, win over Gaither click here.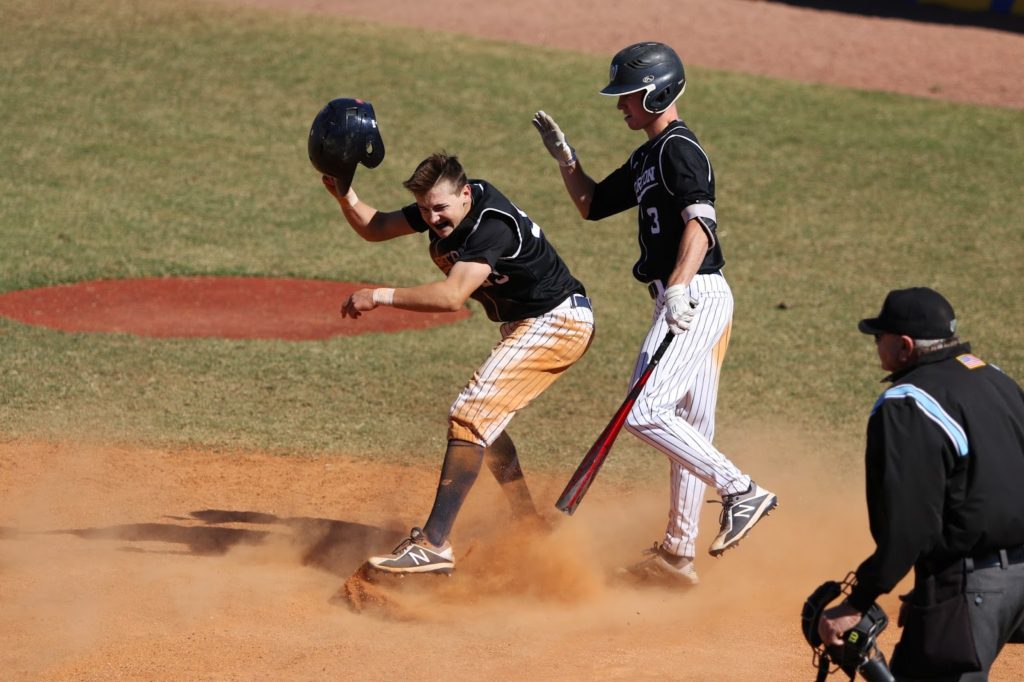 Wharton's Zach Ehrhard scores against Sickles. (Photo by
Will Turner, for 813Preps)
Wharton went 2-1 in pool-play and didn't advance due to the runs allowed tie-breaker. But the Wildcats offense did all it could trying to lead the way to the knockout rounds. Wharton hitters posted a team .461 average through the three games. Led by All-Tourney selection Leo Alfonzo (read about Leo on the All-Tourney team below), Brian Baughman (7-for-10, four RBI), Zach Ehrhard (read about Zach in our hitting feature below), and Grady Maguire (4-for-9, six runs) the Wildcats put a hurting on opposing pitchers from Newsome, Sickles and Spoto. Read about the Wildcats win against tournament quarterfinalist Sickles by clicking here.
Sometimes the highest drama during pool-play happens with one of the teams standing outside of the fence. This year, Alonso had almost been written off (with three teams destined to be 2-1 to end pool-play on Wednesday) with Gaither in dominating control over Durant and eyeing a quarterfinal berth the next day. However, the Cougars had something left in the tank and played spoiler scoring three runs in the final inning of an 8-3, Gaither win and pushed the Cowboys runs-allowed total above Alonso and pushed the Ravens to quarterfinal play. Tough to get a solid team win, and have it seem a little hollow, we hope to see it light a fire for Gaither, as a battle with tournament champs King and quarterfinalist Leto in an exciting Class 7A-District 8 action, will be exciting the rest of the season. Read about Gaithers win against Durant by clicking here.
Pitching
Pitching was at a premium in the tournament where the finalists had to play six games in seven days, but a few stuck out for us:
Myles Caba, Bloomingdale – The junior lefty tossed a two-hit shutout for the Bulls in a victory over Freedom during pool-play, while striking out six.
Tyler Misla, Riverview – The Sharks sophomore made two, four-inning relief appearances, each time striking out seven and earning a win against Hillsborough in pool-play.
Wildiomar Roman-Morales, Brandon – Worked in two games for the Eagles striking out 11 batters, allowing just one run on five hits in six innings of work.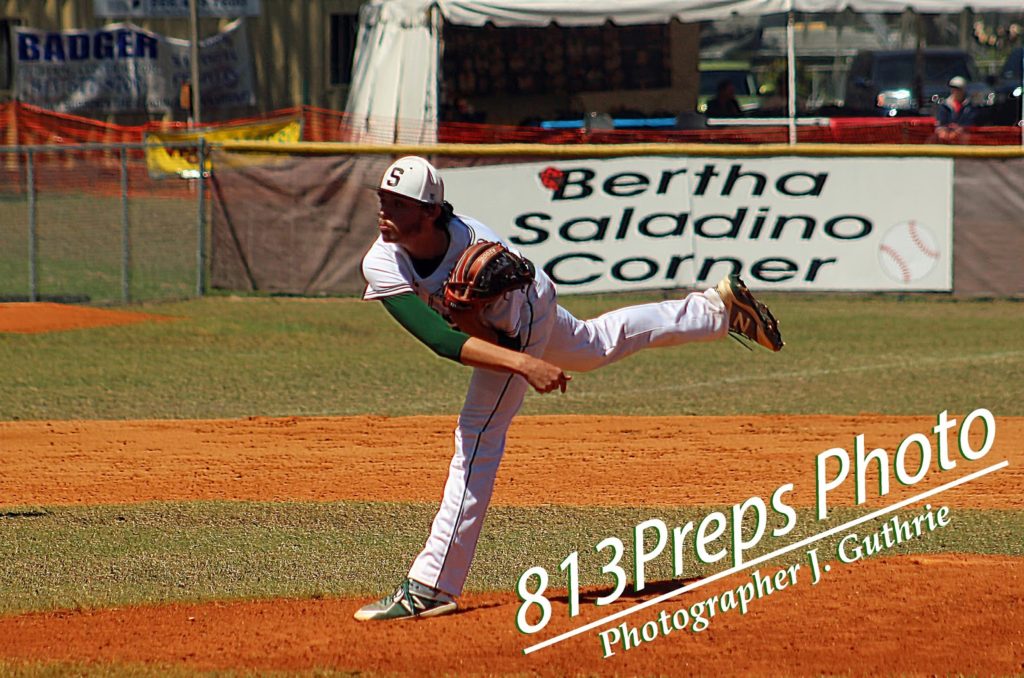 Sickles P Jordan Montes
Jordan Montes, Sickles – Was 1-1 in the tournament in two relief appearances, but his win came in a big spot entering against Bloomingdale with runners aboard early in the Saladino quarterfinal game and finishing the game with five strikeouts and allowing two unearned runs.
Matt Byars, Durant – His start and win over Alonso created high drama during pool-play. Byars worked five innings, allowing one run and striking out nine.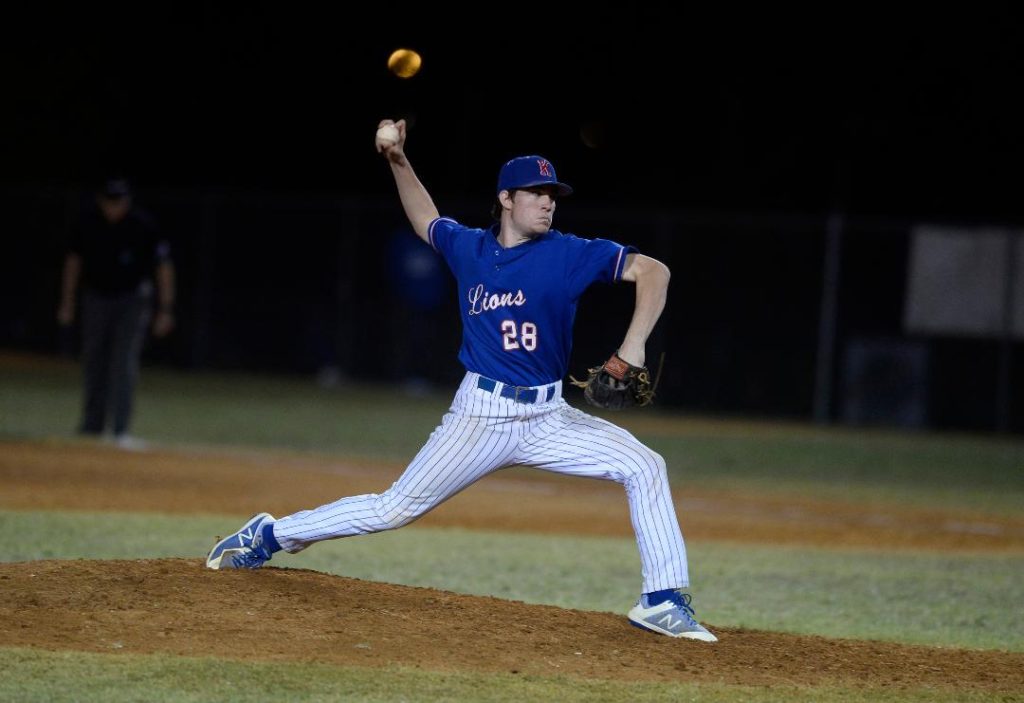 King righty Josh Keding earned the win on the mound in the
championship game (Photo by Jason Behnken, for 813Preps).
Josh Keding, King
– The tournament MVP went to King's Addison Barger, who scored at will all week and got a big, game-ending punch out to defeat Alonso in the final. But it was Keding, who did most of the heavy lifting on the mound for the Lions. Entering in relief and making his first pitching appearance of the season, Keding worked six innings on the mound allowing one earned run and striking out five, as King scratched back twice to defeat the Ravens.
Hitting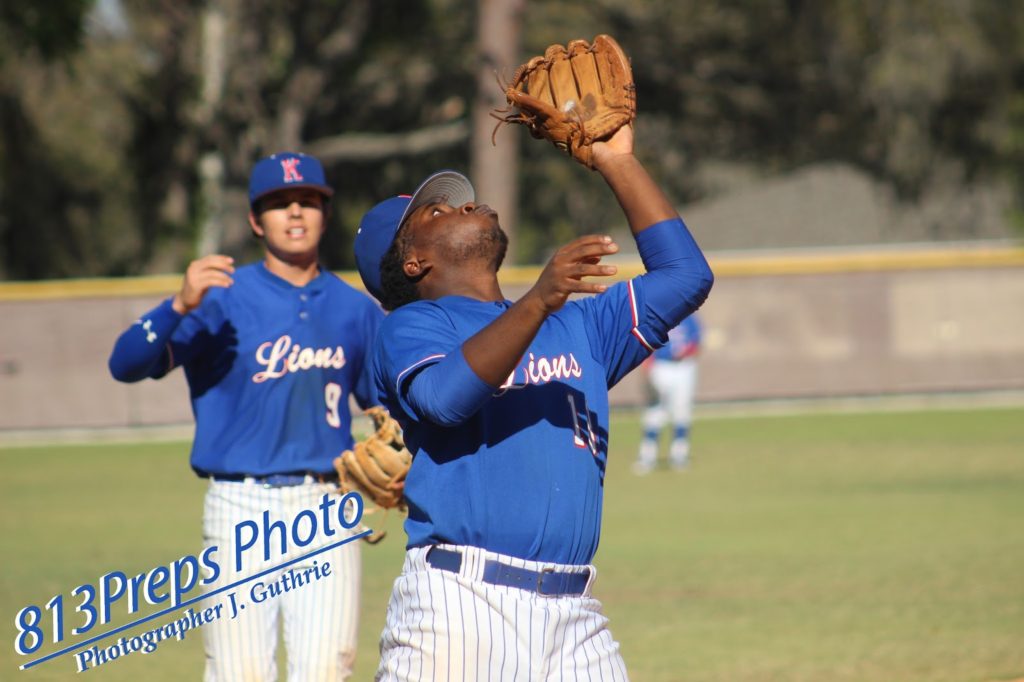 King 3B Zarrian Brinson settles under a pop fly at Brandon High.
Zarrian Brinson and Keyon Floyd, King – The Lions corner infielders were a big part of an impressive offensive output this week.
Floyd, King's senior first baseman, went 7-for-24, with a triple three RBI and four runs scored; while Brinson, a junior, drove in five runs and scored four for the Lions.


Zach Ehrhard, Wharton – The Wildcats freshman had some big Saladino shoes to fill, as his father Rodney was an All-Tournament selection in 1983 for Plant City, and his older brother Drew earned the County's top baseball award – the Tony Saladino Award – in 2017 after helping the Wildcats reach the Class 8A region finals. He lived up to the challenge at the plate going 6-for-8 in Wharton's three games, with four RBI and four runs scored.
Jackson Hobbs, Bloomingdale – The Bulls sophomore had a nice tournament going 7-for-13, with five RBI and helping his team win its pool.
Jon Santos, Leto – The speedy senior tied a tournament, single-game record with five against Chamberlain in pool-play and ended the Falcons four games with nine total swiped bags. He added five hits and five runs scored as well on the week.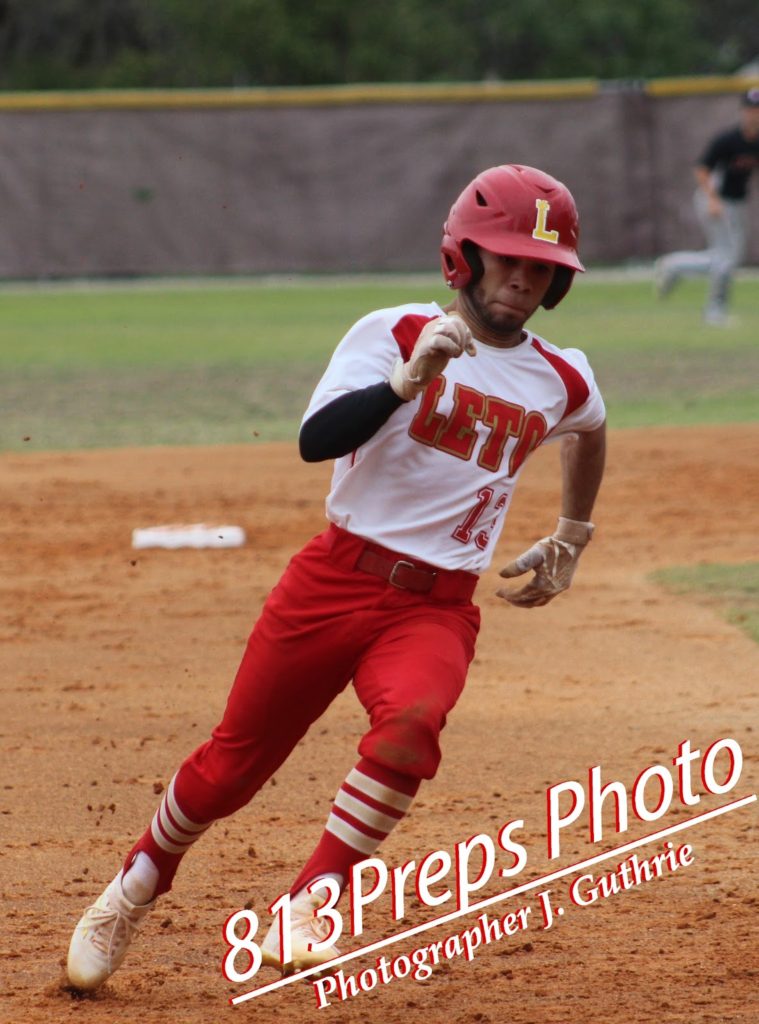 Leto's Jon Santos tied a tournament record with five stolen bases against Chamberlain.


Josh Costlow, Newsome – The Wolves senior outfielder was 6-for-10, with a double, five RBI, four runs scored and three stolen bases for Newsome, which went 2-1 in pool play.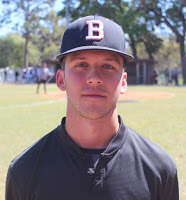 Bryce Hazzard, Bloomingdale
Bryce Hazzard, Bloomingdale – A leadoff hoe run against Freedom highlighted a solid hitting performance from the Bulls senior this week as he was 6-for-14, with a pair of doubles, four RBI and three runs scored.
Final Thoughts from editor Jarrett Guthrie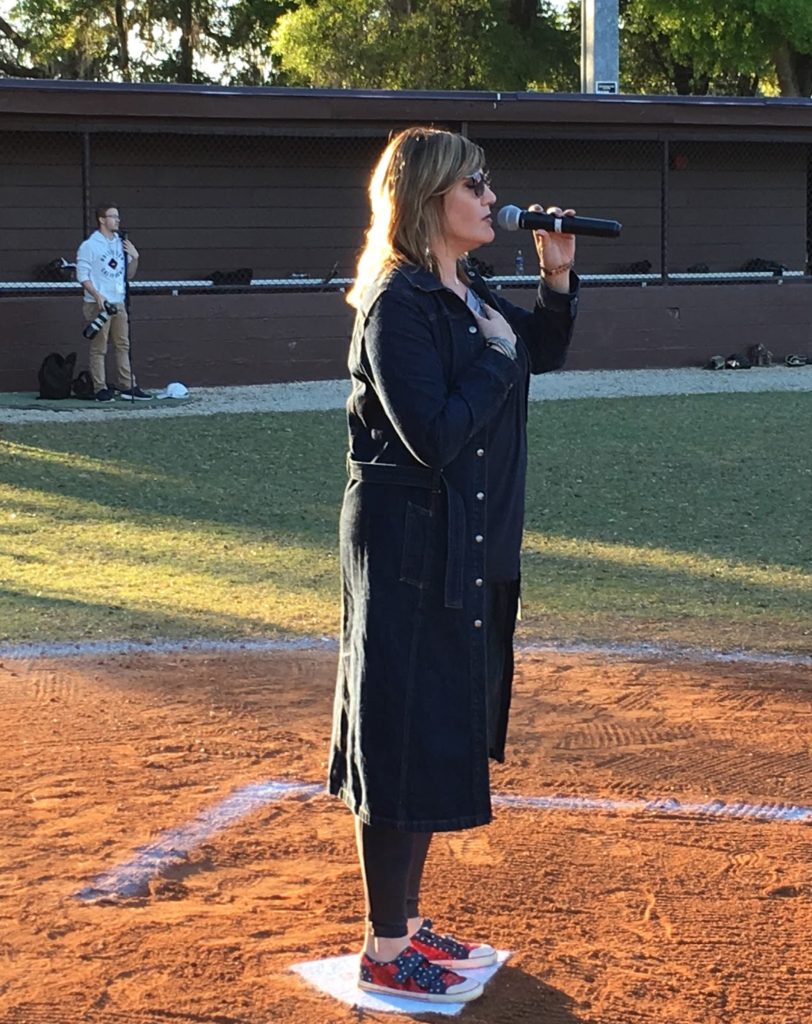 Singer Kat Langford.
The baseball excitement on the field during this tournament is amazing, but the Saladino Tournament is so much more. It's community and history. It's family and tradition. From the old-timey baseball songs between innings at the host site Brandon, to the hot dogs, boiled peanuts and if your lucky, the treats and meals under the hospitality tent that carries on the traditions started by tournament founder and everybody's team "Mom", the beloved Bertha Saladino.
You see old friends and make new ones. Many players represented their teams and their family legacy, like Bloomingdale catcher Jake Gilbert, whose father Randall played in the Saladino Tournament, playing with Nico Saladino, the grandson of tournament founders Bertha and Tony Saladino – each continuing a long legacy of father-son playing stories for the event.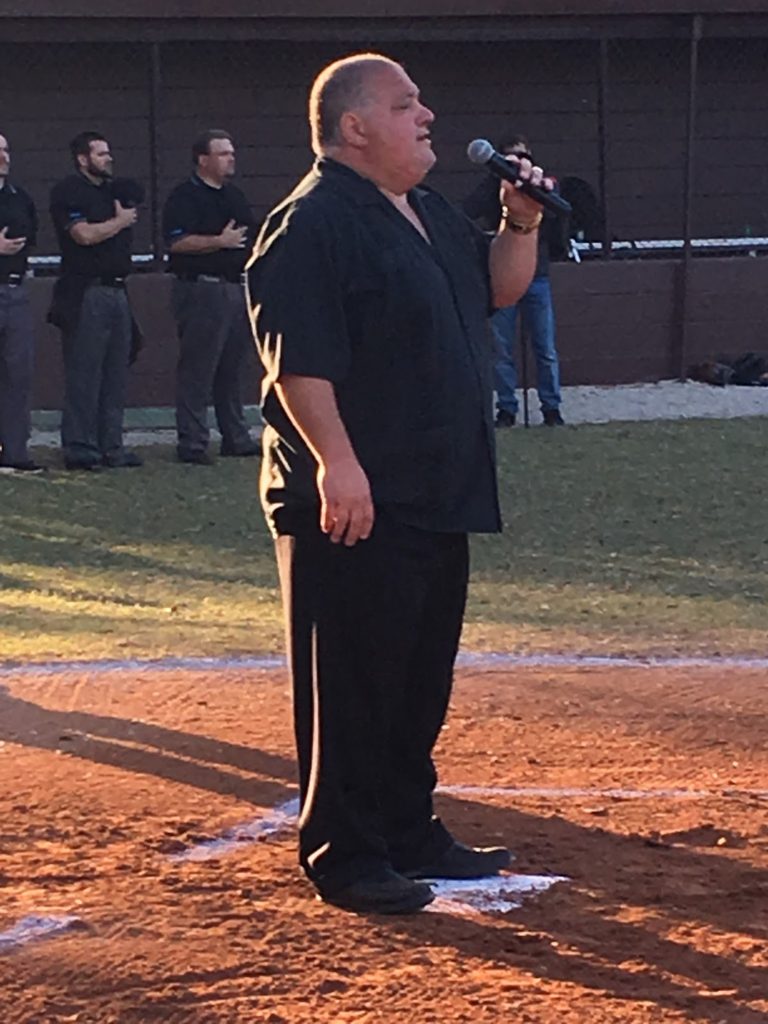 Anthem singer PJ Nunez
The sites and sounds of baseball are awesome, but so are the traditions like the ceremonial first pitch and the performances of the National Anthem. Some good work from some area youngsters on the Star Spangled Banner, along with some great renditions by Kat Langford, and of course my favorite, PJ Nunez prior to Friday's championship final. That's a tough song and these people knocked it out of the park.
And as a member of the ceremonial first pitch tradition (I think back in 2010), I always love seeing those things. There were quite a few arms out there that should have turned some heads, but there were five favorites for me from out at Brandon this year.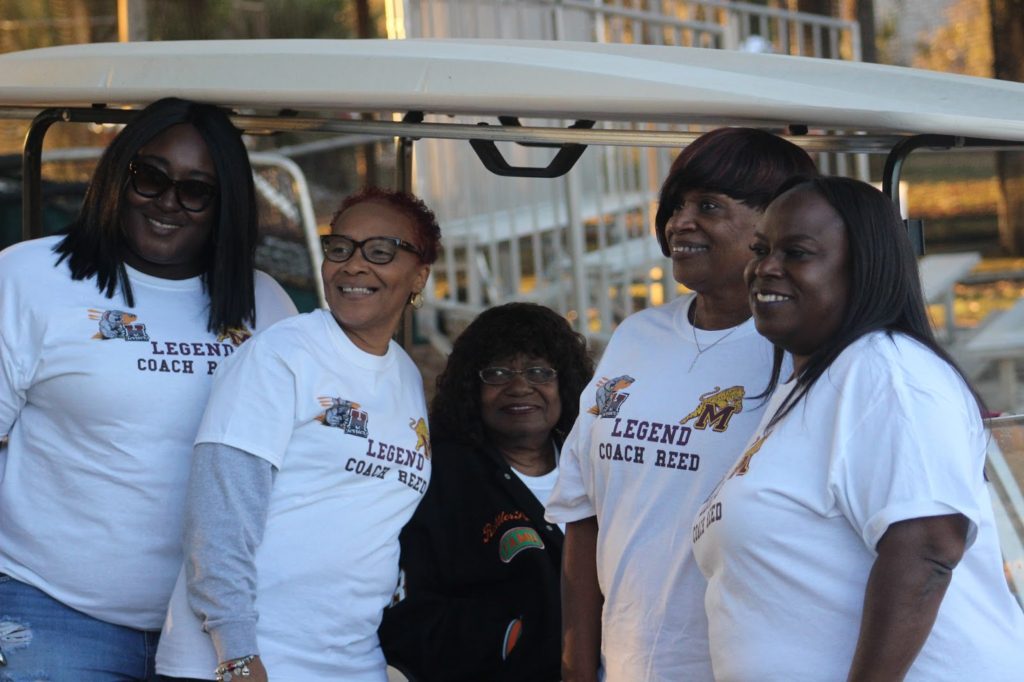 Family members of the late Billy Reed, including his widow Dorothy Reed
(seated in black jacket), and Dori Reed Blanc (at right), who threw out
the first pitch to honor her father. (Photo by J. Guthrie)
First, the emotional – Dori Reed Blanc: The Tampa baseball community lost a legend in December when longtime baseball and football coach Billy Reed passed away. Coach Reed was a talented three-sport athlete at Middleton and Florida A&M, before returning home to be an educator and coach first at Middleton, then spending a number of successful years at Hillsborough High leading the Terriers, whose field is named after Coach Reed. Mrs. Blanc was joined by a number of family members and honored her father with a great first pitch.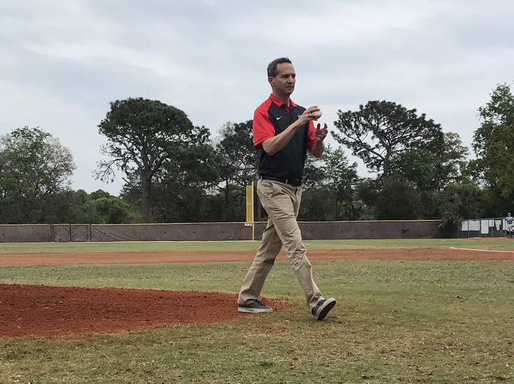 National Baseball HOF president Jeff Idelson.
(Photo by Will Turner)
The out-of-town guest – Jeff Idelson: The tournament's opening day play at Brandon had a little bit of history, or perhaps more to the point a keeper of baseballs history, as National Baseball Hall of Fame president Jeff Idelson spent the afternoon with tournament founder Tony Saladino. Idelson has served as the president of the Hall of Fame since 2008 and joined the long list of baseball bigwigs to have a Saladino toss.
The local media representative- Jay Recher: Look I'm not gong to pretend I gunned it in there and dazzled the scouts in attendance when I tossed my first pitch out back in the day. In fact, there is a former Wharton catcher out there that I still owe a steak dinner for bailing me out right at the plate, but I've seen some really terrible media first pitches at this tournament. Sadly, for my love of giving him the business, I can't do that for my buddy and friend of the site – 620WDAE's Jay Recher. The former Freedom High assistant coach and Long Island, NY native zinged in a first pitch that was impressive and may just have caught enough of the outside black to be called a strike.
— 813Preps (@813Preps) March 15, 2018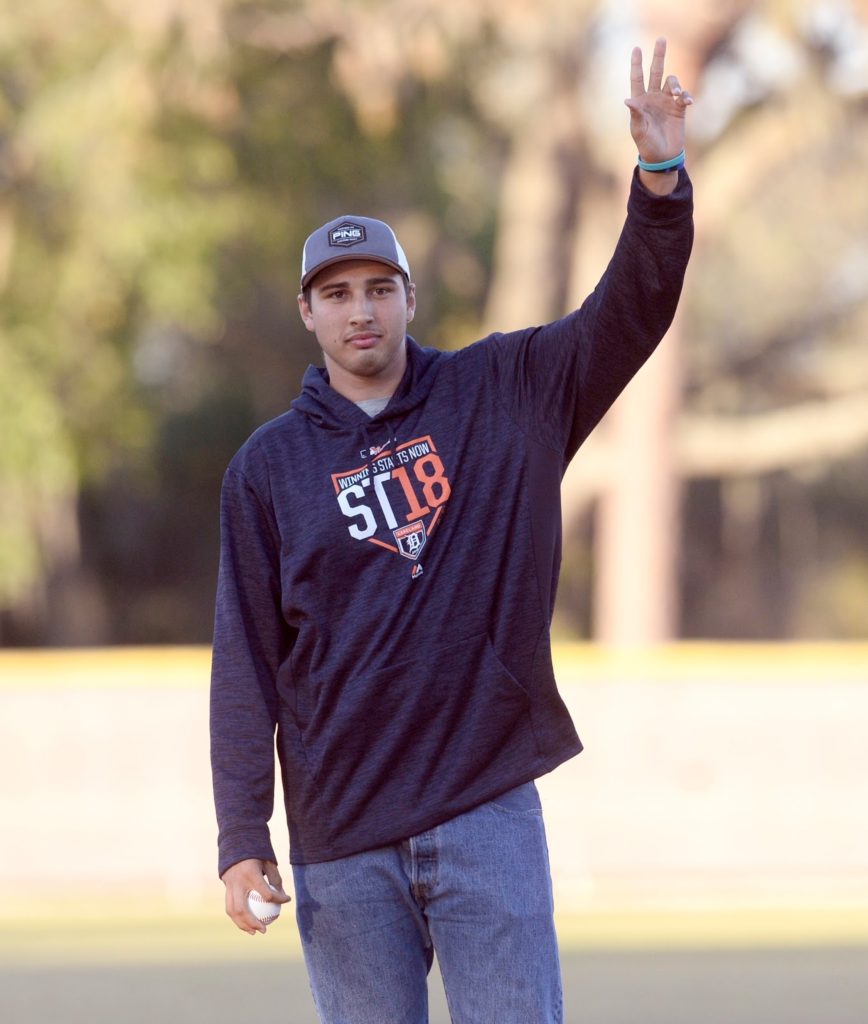 Alonso alum and Detroit Tigers prospect
Alex Faedo (Photo by Jason Behnken)
The former player – Alex Faedo – Alonso alum and star of last season's University of Florida National Championship baseball team, Alex Faedo tossed out the first pitch prior to the championship.
Faedo, who was named the College World Series MVP last year, was a first-round selection by the Detroit Tigers last season and is participating in Spring Training with the Tigers in Lakeland.
Faedo came with a steady toss to the waiting catcher, but drew an audible "awe" from crowd, which hoped to see a little of the flame from the young Tigers prospect. But hey, it sounds like Alex will be starting the season off in Lakeland in high Class A this season, so everyone will have a chance to drive under an hour to see him. Good luck this year, Alex.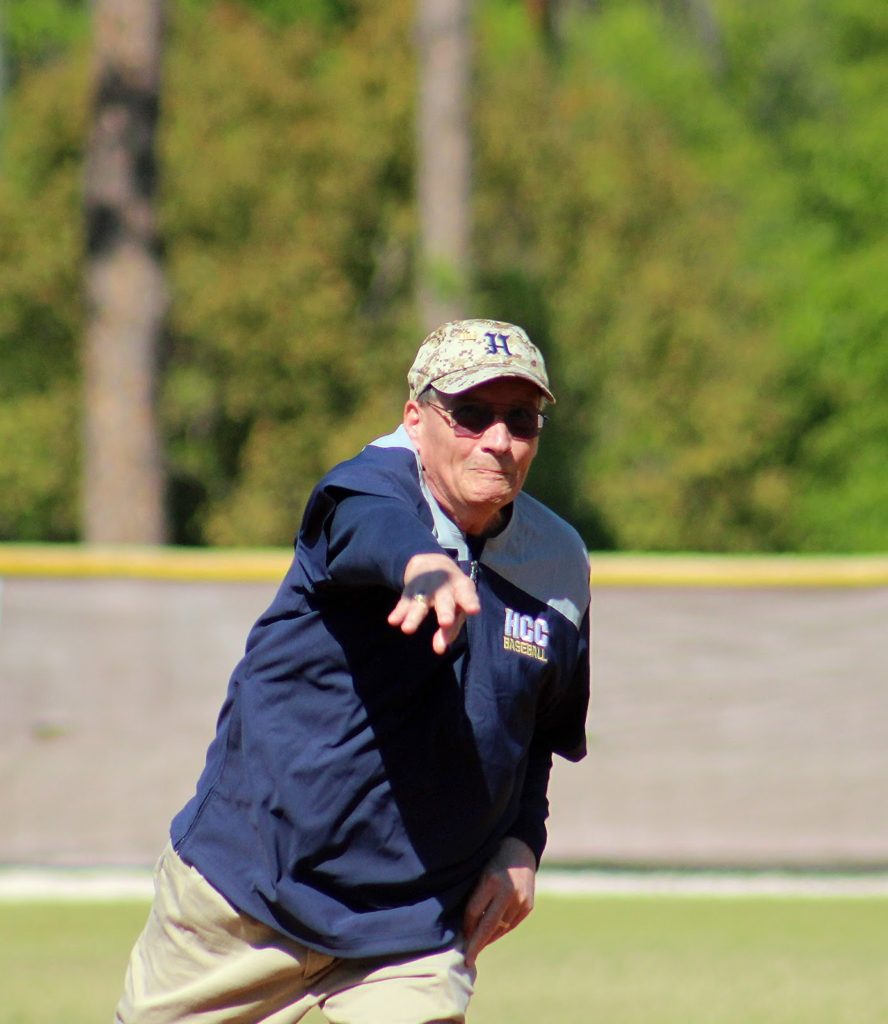 Bruce Burnham (Photo by J. Guthrie)
The "Mayor" – Bruce Burnham: Probably my favorite was a first pitch from the "Mayor of Armwood", Bruce Burnham. Lovingly known as Mr. B by his students and Armwood's student-athletes, Burnham was a longtime history teacher at Armwood, who retired from the classroom a few years ago, but has been the Hawks football announcer since 2002.
Each game he asks a trivia question and promises loudly over the microphone to make the winner "famous in Seffner."
Burnham still speaks to a number of schools' students each year about his experiences as a Vietnam War veteran, and now spends more time with his wonderful wife, Pam. He has been the voice of another team of Hawks – the HCC baseball team – for the last three seasons.
Lastly, and most importantly, this tournament could not survive without the tireless dedication of a huge number of volunteers. From the year-round efforts in fundraising and planning that go into the week-long event, to the setting up of the tournament, picking up of food and supplies, to the hours and hours of service during the week. These people have dedicated themselves for years to make this tournament enjoyable for everyone who steps through the gate – and as a longtime writer and fan I say a heartfelt, "thank you."
38th Annual Saladino All-Tournament Team


Catcher: Jacob Cordell, King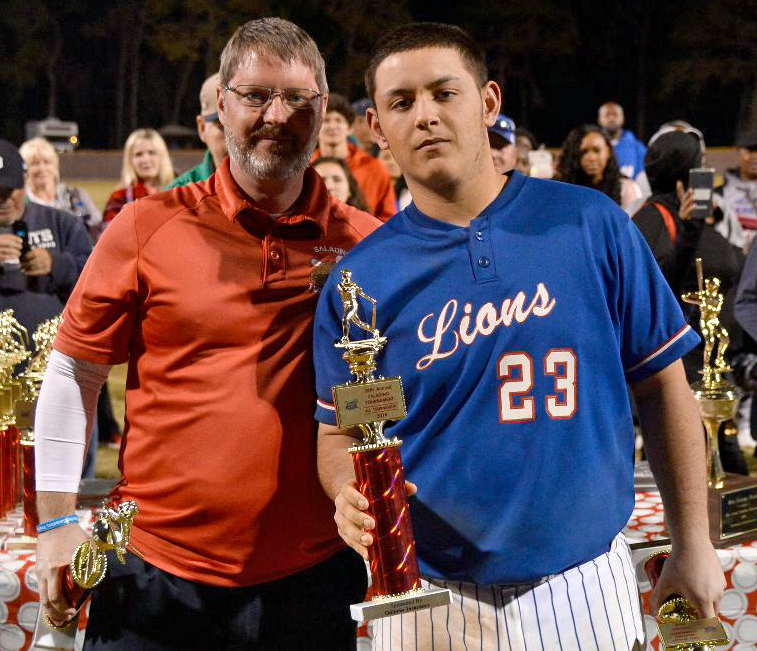 King C Jacob Cordell w/ tourney administrator
Russell Wallace. (Photo by Jason Behnken)
The Lions backstop caught all six games of the tournament, hitting .412, with six RBI and two doubles.
The junior catcher also threw out two base runners in the tournament.
First Baseman: Sam Drumheller, Alonso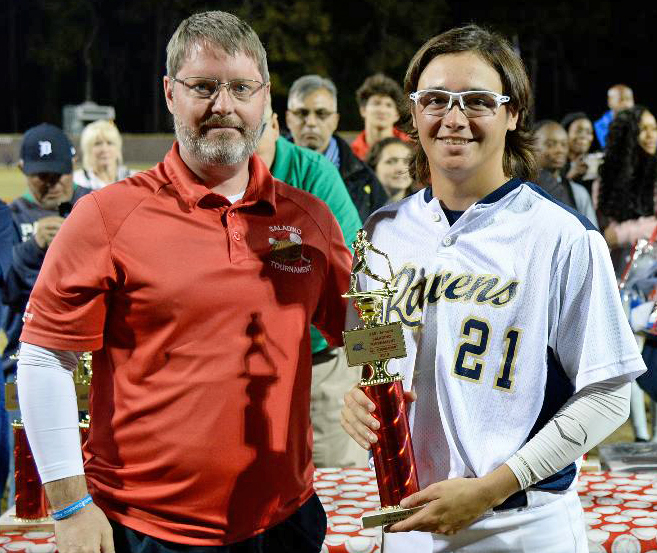 Sam Drumheller, Alonso w/ tourney administrator
Russell Wallace. (Photo by Jason Behnken)
The Ravens sophomore was very versatile playing in the outfield, at first and making two pitching appearances in the tournament. Drumheller was 1-0 on the mound allowing just one run across seven innings of work. He also drove infuse runs for the tournament runner-up, Alonso.
Drumheller on playing in the Saladino: "This is just such a fun tournament, such a fun atmosphere."
Infielder: Jamarcus Lyons, King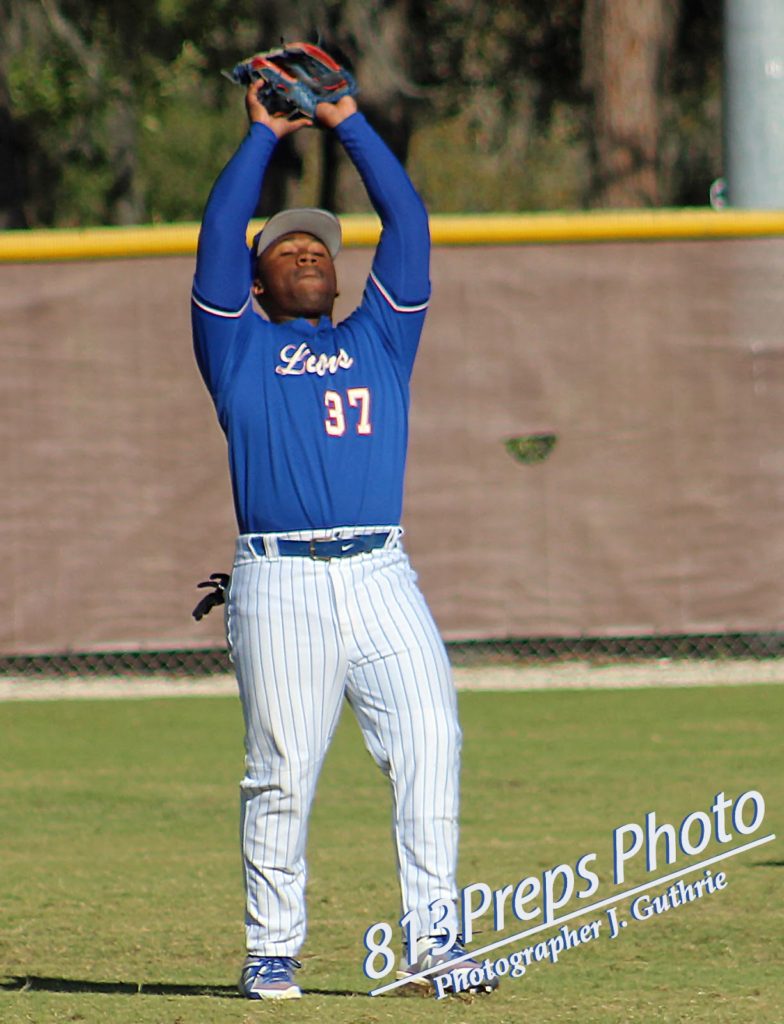 King 2B Jamarcus Lyons makes a catch earlier
in the tournament.
The senior second baseman hit .444, with four RBI and seven runs scored in the tournament for King. Lyons went 3-for-4, with a double, RBI and two runs scored in the championship game.
Lyons on King's resiliency in the tournament: "I asked the umpire how many games have you been in that are this exciting? I told him, I've been a couple the past two days. Every time we're down, we feel like there is no one better than us, that we can come back. We think we are the best offensive team, and we know there other good offensive teams out there, but we are ready for their challenge."
Infielder: Leo Alfonzo, Wharton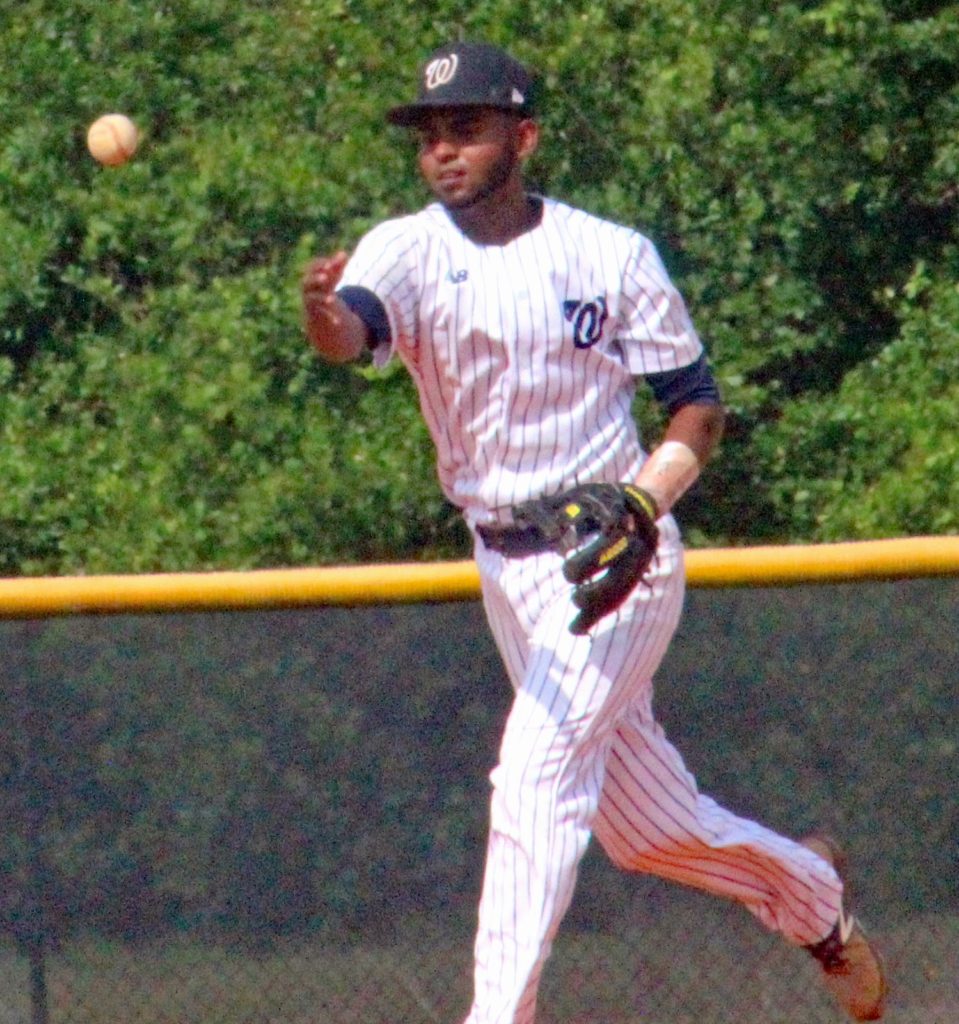 Leo Alfonzo, Wharton (813Preps file photo by J. Guthrie)
Thought the Wildcats were unable to advance out of pool-play, Wharton's offense had an impressive three-game run. Alfonzo led that effort, going 8-for-10 with a pair of doubles, six RBI and two runs scored.


Infielder: Macallister Jorgensen, Riverview
The Sharks sophomore helped Riverview advance to the quarterfinal rounds going 9-for-15, with three doubles, five RBI, four runs scored and a stolen base.
Outfielder: Justice Thompson, King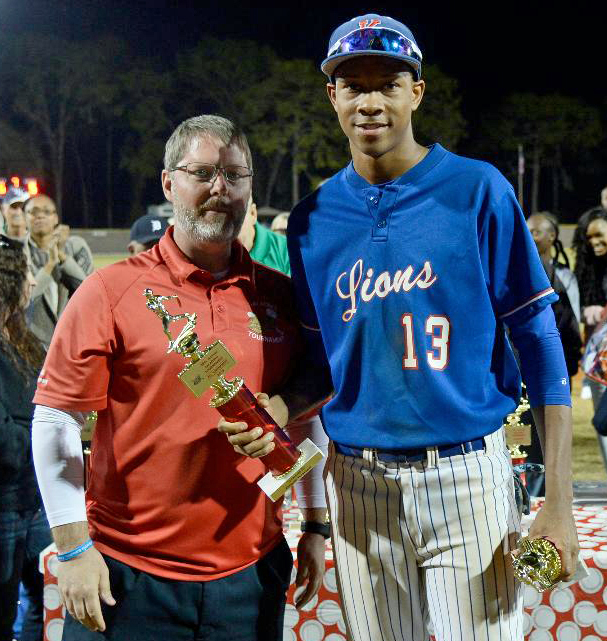 King OF/P Justice Thompson w/ tourney administrator
Russell Wallace. (Photo by Jason Behnken)
Thompson posted three multi-hit games with a .381 average in the tournament, while driving in seven and scoring six times. The senior also had six strikeouts and earned a win on the mound over previously unbeaten Plant City during pool play.
Thompson on the Lions offense: "The whole tournament, one-through-nine, we have been producing. Everybody has a role, does there job, we know what we can do as a team and we stick to it."
Outfielder: Connor Scott, Plant
Connor Scott hit .500 for the tournament helping Plant reach the tournament semifinals. Scott had a double and a triple with three RBI and scoring five runs for the Panthers. The senior also tossed 7 1/2 innings on the mound in Plant's opening-game, extra-inning win against Strawberry Crest.
Outfielder: Jordan Lala, Steinbrenner
The Warriors senior was 5-for-7 in the tournament with two doubles, two RBI, five runs scored and a pair of stolen bases helping Steinbrenner reach the tournament quarterfinals.




Designated Hitter: Dillon Besnier, Riverview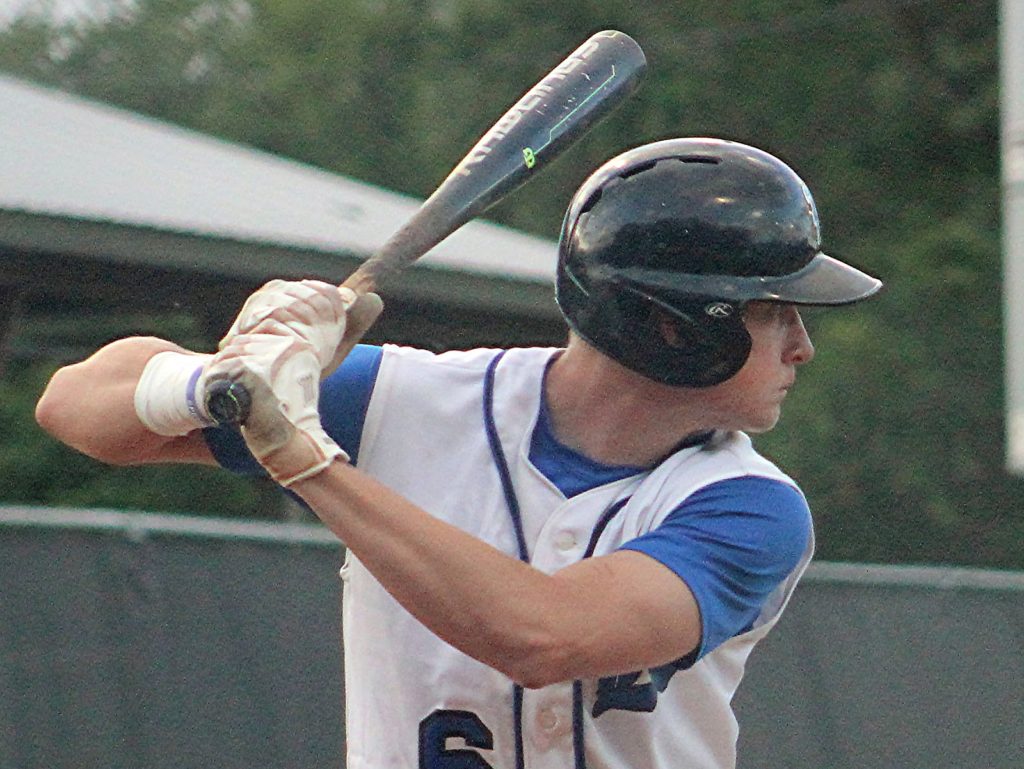 Dillon Besnier, Riverview (813Preps file photo by J. Guthrie)
The Sharks OF/1B/DH had three doubles in the tournament, three RBI and scored four to help Riverview win its pool and advance to the quarterfinals.


Pitcher: Brock Fagler, Plant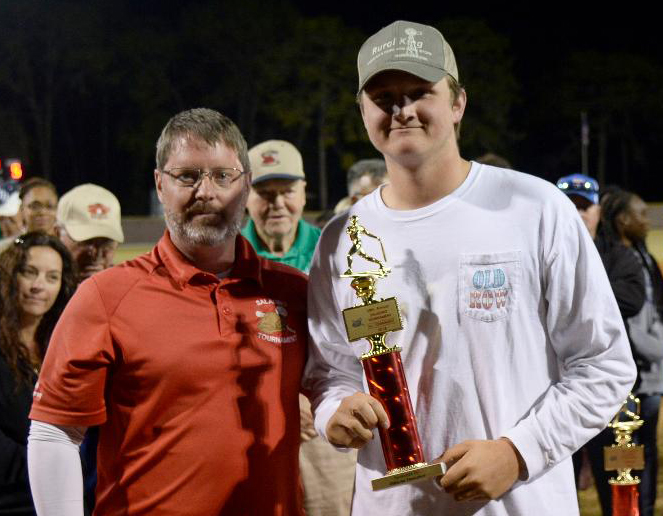 Plant P/3B Brock Fagler w/ tournament administrator
Russell Wallace (Photo by Jason Behnken). 
The Panthers senior had a strong tournament hitting with  eight RBI and three runs scored – none bigger than a walk-off 3-run home run in an extra-inning win against Strawberry Crest in pool-play.
Fagler's pitching was equally impressive as he tossed a complete-game win over Steinbrenner, allowing just one run and striking out seven.
Pitcher: Franco Aleman, Alonso
Aleman was 2-0 on the mound in the tournament with a 13-strikeout performance against Gaither and a semifinal win against Plant.
Frank Permuy Best Hitter Award:
Dylan Eskew, Sickles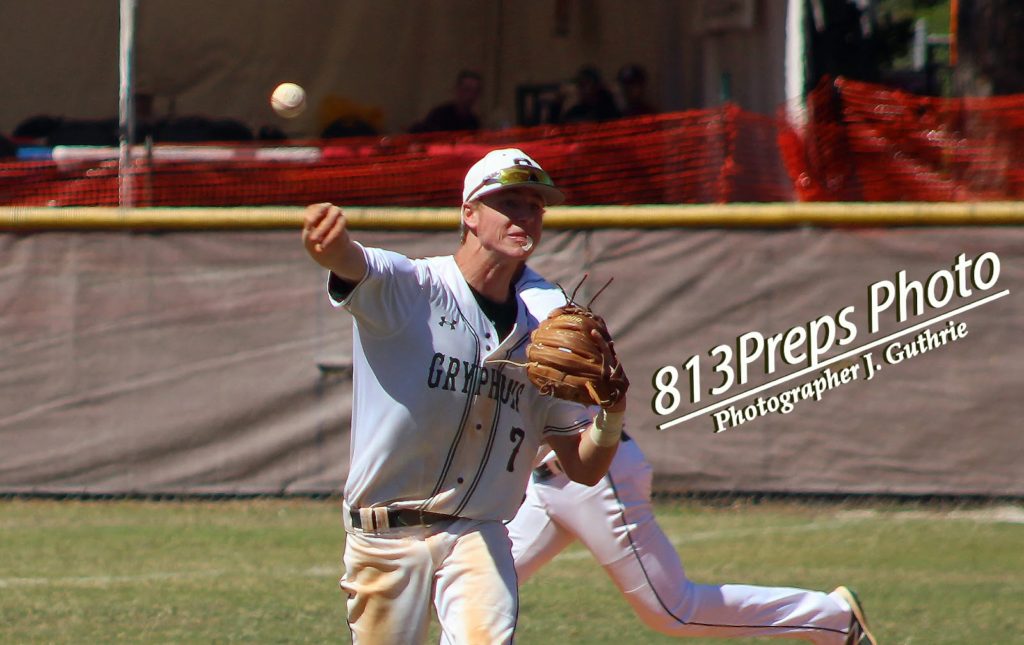 Sickles 3B/SS/P Dylan Eskew.
Eskew showed off his glove making no errors and was a part of three double plays while playing third base, shortstop and pitcher in the tournament. But it was with his bat he made the biggest impact at the Gryphons junior, captain went 10-for-17, with two doubles, a triple, seven RBI and six runs scored to key Sickles offense to a pool-play win and quarterfinal berth.
Pop Cuesta Best Defensive Player Award: Danny
Gutcher, Gaither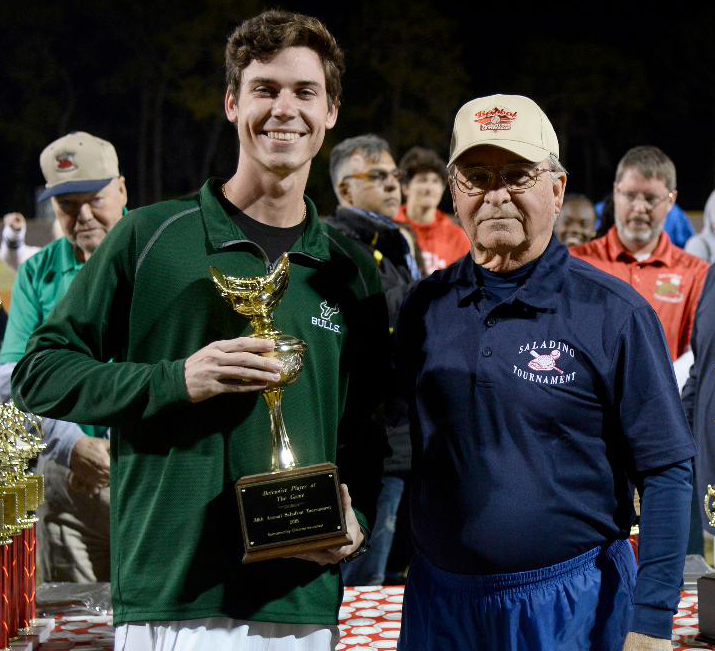 Danny Gutcher, C, Gaither with Coach Pop Cuesta.
(Photo by Jason Behnken)
The Cowboys senior catcher has been a wall behind the plate for Gaither his entire career. His ability to keep things in front of him and his quick feet getting after bunts have been crucial. In Gaither's final pool-play win over Durant, Gutcher threw out two runners trying to steal in the game.
Gutcher on his four-years of Saladino play: "As a freshman I was on varsity, so I've played in this tournament every year, and this tournament is symbolic of Hillsborough County high school baseball. It's a blessing to play in it and a blessing to win this award."
MVP: Addison Barger, King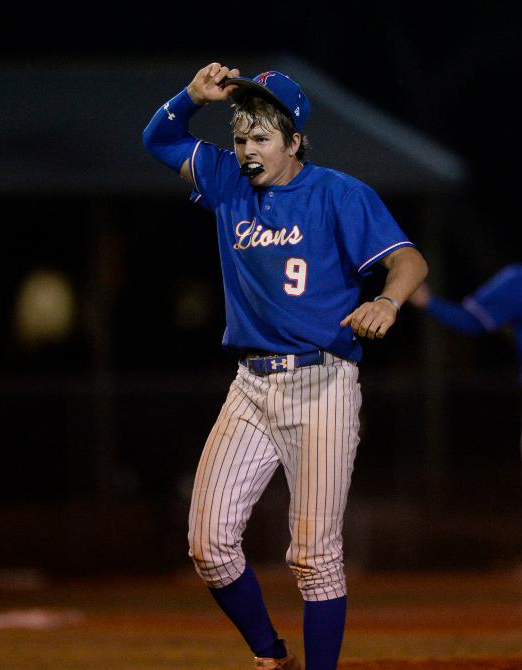 King senior Addison Barger was named the MVP of the 38th annual Saladino Baseball Tournament.
(Photo by Jason Behnken)
The Lions senior scored 10 runs, including the eventual championship winner, while hitting .364 with six RBI. Barger then came to the mound in a tough situation to work out of a bases loaded jam with a strikeout to close the game out against Alonso. The outing on the mound was Barger's first pitching experience in more than two years.
Barger on his Saladino Tournament experience: "I think Hillsborough County is the best county in the state for baseball, so winning this tournament is huge for us. We are so close, we do everything together and to win this I recognize what that means to me and to us as a team."
Other Tournament Awards and Honors
Bertha Saladino Team Sportsmanship Award: Tampa Bay Tech
Team Spirit Award: Freedom
Home Run Derby Winner: Dominic Gonnella, Bloomingdale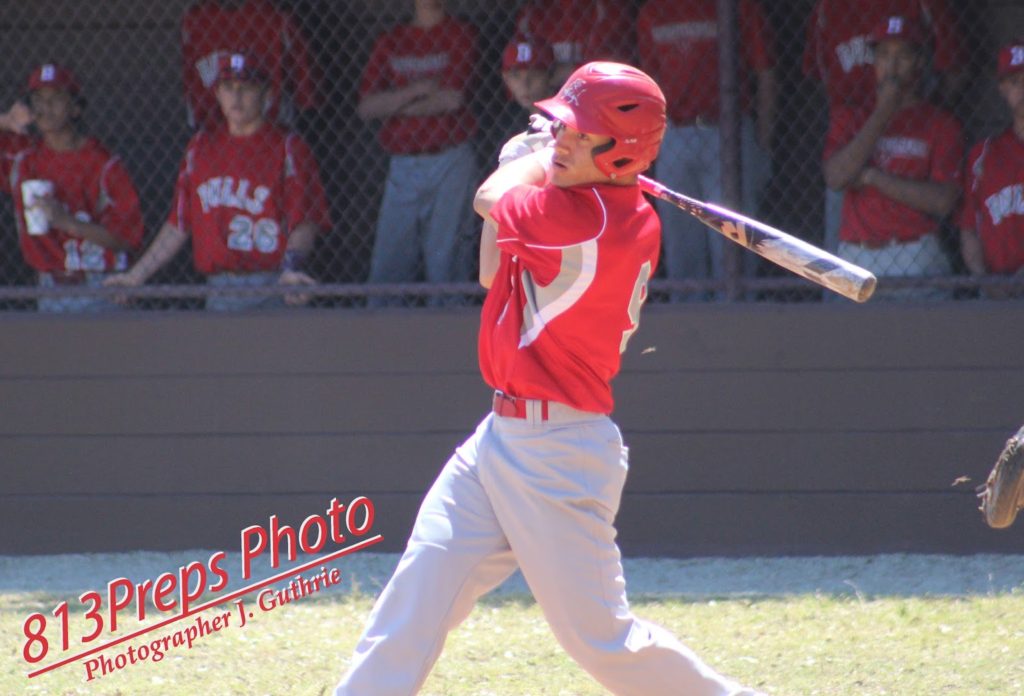 Bloomingdale OF Dominic Gonnella. (813Preps file photo)
The Bulls sophomore netted his first home run of the season as Bloomingdale defeated Freedom in pool-play at Brandon High earlier in the tournament. He showed his familiarity with Don Powell Field again on Friday in the annual home run derby hitting two in the one-round competition, as well as smacking a ball off the fence, and he added one more in a showcase round after he won.
Jose D. Fernandez Pitching Award: Franco Aleman, Alonso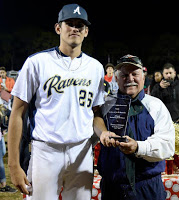 Alonso's Franco Aleman
Jose Fernandez Pitching Award
winner. (Photo by Jason Behnken)
Fittingly the first-ever Jose Fernandez Pitching Award given by the West Coast Umpires Association went to Aleman, a Cuban-born player from the late MLB pitcher's alma mater.
Aleman on winning an award named for fellow Alonso pitcher and Cuban-born player, Jose Fernandez: "This is a really big honor for me. We are both Cuban, both pitchers and both attended the same school. Jose was a great human being and athlete … I've been working very hard, and this award is just another boost to my confidence."
Artie Vazquez Memorial Coaches Award: Eric Beattie,
Strawberry Crest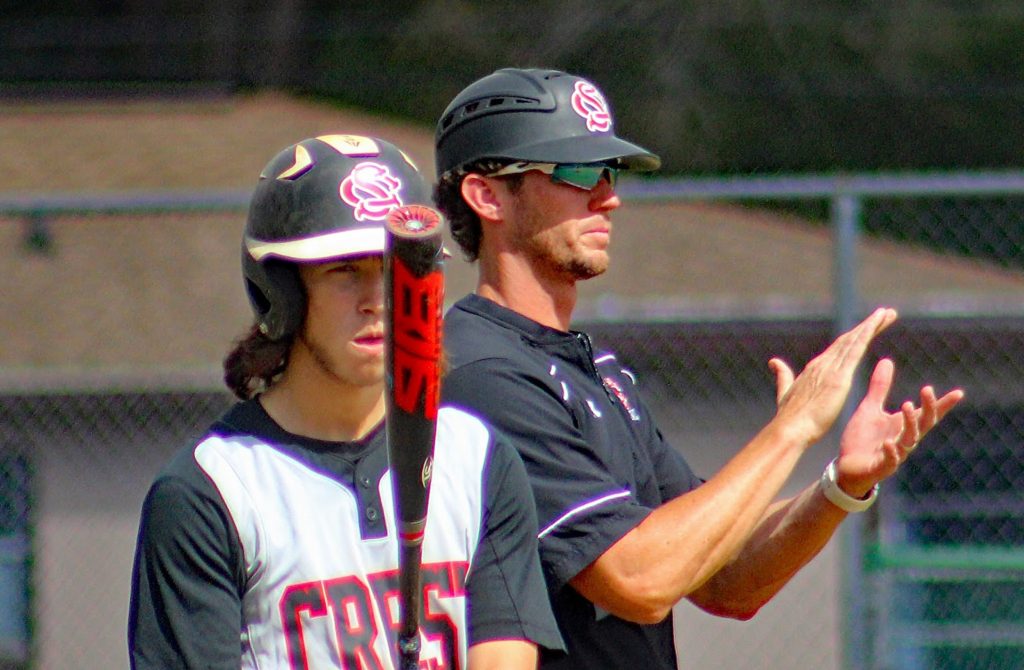 Strawberry Crest head coach Eric Beattie (813Preps file photo by J. Guthrie)
The West Coast Umpires on Coach Beattie and the award: The Artie Vazquez Award is given in memory of Arturo Vazquez, who umpired over 35 years for West Coast Umpires and Little League baseball. It is given to the coach, chosen by the members of West Coast Umpires Association, who exemplifies Artie's passion for the game and his strong belief in playing the game the right way and with good sportsmanship. This year's award goes to Strawberry Crest Baseball Coach Eric Beattie. Coach Beattie graduated from Riverview High School in 2001. After high school, he played for the University of Tampa and was drafted in the 2nd round by the Detroit Tigers in 2004. He played four years in the minors with the Tigers and Red Sox organizations. Coach Bettie has been the coach at Strawberry Crest since 2010. His coaching philosophy is "to help develop better people, better students and better baseball players."
Jose Fernandez Passion For Baseball Award: Johnathan McCary,
Bloomingdale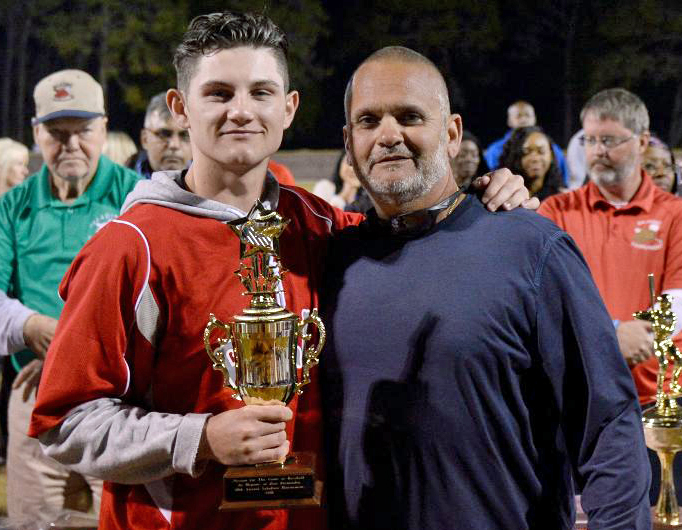 Bloomingdale senior Johnathan McCary w/ tournament
coordinator Tony Saladino III. (Photo by Jason Behnken)
Bloomingdale senior Johnathan McCary is a four-year varsity letterman with the baseball team. According to Bulls head coach Kris Wilken, McCary is a leader "beloved by his coaches and teammates for his attitude and work ethic" who never missed a workout or practice.This is all the more impressive when you add the fact that off the field McCary is also a highly dedicated student, being named the valedictorian for the Class of 2018.


813Preps Iron-Man Award: Ryan Drumheller, Alonso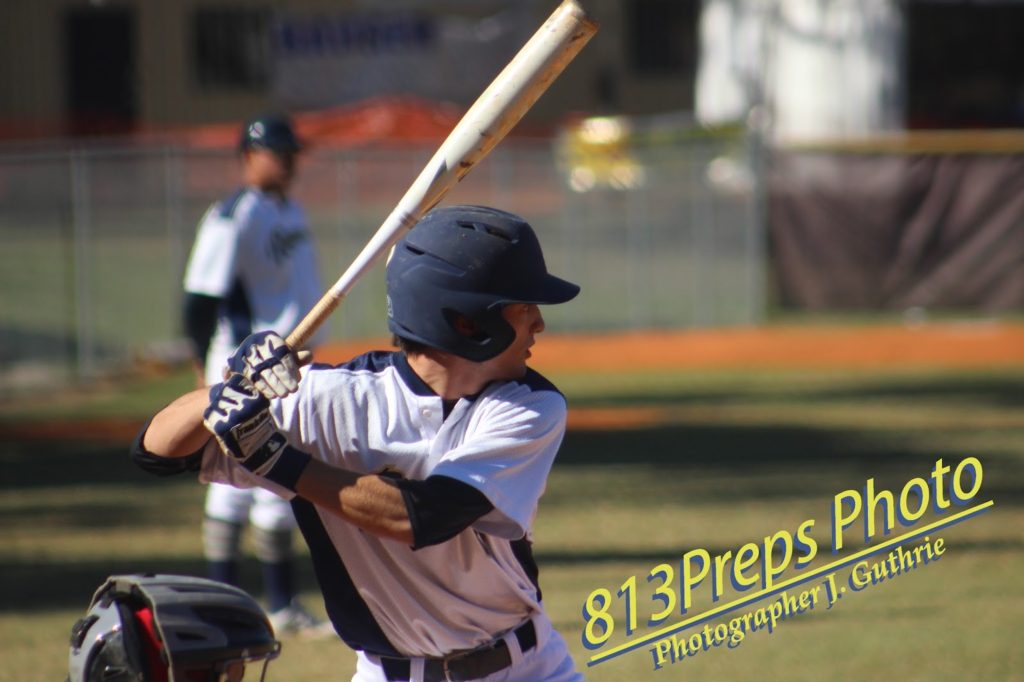 Alonso senior Ryan Drumheller played in the Saladino Tournament championship game all four years of his high school
career. He is the first recipient of the 813Preps Iron-Man Award. (813Preps file photo)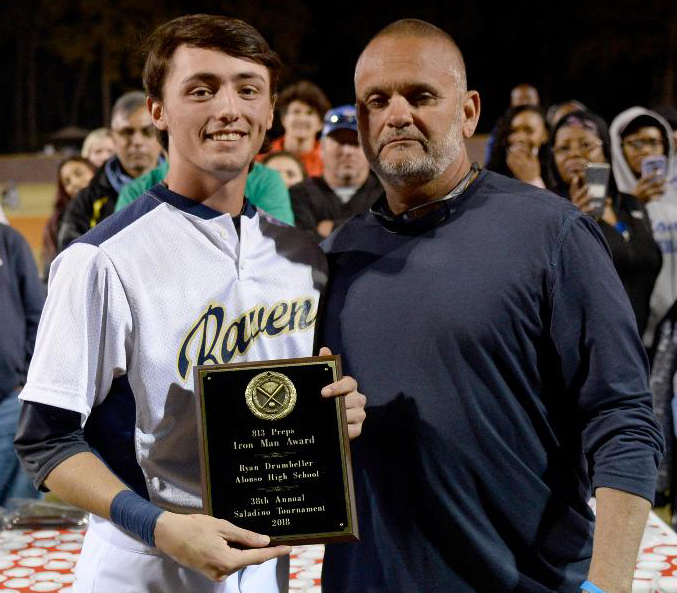 Alonso senior Ryan Drumheller w/ tournament
coordinator Tony Saladino III. (Photo by Jason Behnken)
813Preps is honored for Alonso senior Ryan Drumheller to be the first recipient of the Saladino Tournament's Iron-Man award, recognizing a player who has had a continued impact on his program throughout his high school career. Ryan has been a four-year varsity player for Alonso, and set a new tournament mark by making four-straight Saladino Tournament finals appearances. On top of that, Drumheller who has been an infielder, outfielder and pitcher for the Ravens is a two-time All-Tournament selection, winning one championship in 2015, and has played in all 24 Saladino Tournament games the Ravens have played during his career.
– 813Preps correspondent Will Turner contributed to this report. Follow Will on Twitter as he helps us cover high school baseball this season by clicking here. 
——————————————————–
Unlike many independent news organizations, we haven't put
up a subscription paywall – and we hope to be able to keep bringing you the great stories
from high school athletics in the 813 area free of charge. But we are still a small
business with just a handful of people involved, so there are costs including travel, equipment, and other costs associated with running this business.
We are looking for advertising partners, but we also need to count on our
readers for support. If everyone who reads our reporting, who likes it, helps
fund it, we will be able to continue covering these athletes' endeavors.
Support 813Preps.com for as little as $1 by clicking "Donate" button below.