Brought to you by Todd Allen and Florida Executive Realty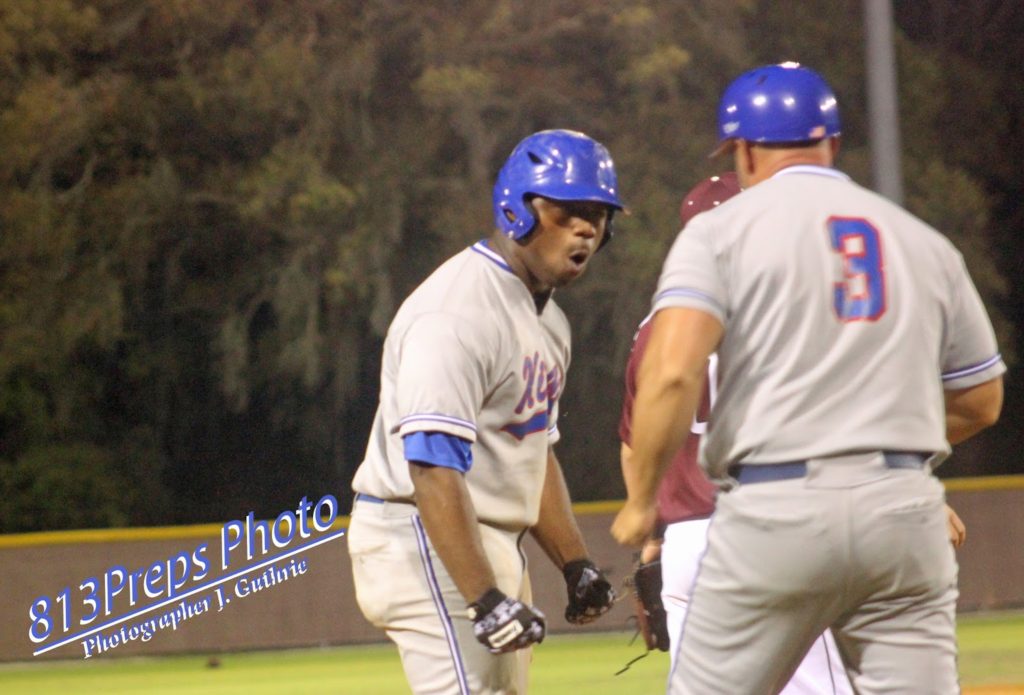 King's Jamarcus Lyons.
1. King (10-1) – King was on the rise prior to the Saladino Tournament, but the Lions took giant paw-swipe to the rest of the county behind the bats of tourney MVP Addison Barger, and all-tournament selections Jamarcus Lyons and Justice Thompson, and find themselves "King of the Jungle" this week with the No. 1 ranking for the first time this season. King, winners of 10-straight, will need to beware of the dreaded "Saladino Slump" as the Lions dive into Class 7A-District 8 play with Hillsborough and Gaither this week, and a non-district game against Lennard on Saturday. [Last week's ranking: 6]
2. Alonso (8-4) – The good news for Alonso here is that they don't have to see a scrappy Durant team (which has handed the Ravens two losses on the year) again this season. Alonso battled in the championship final, but came up just short with the tying run on third against King. Ace pitcher Franco Aleman continued to dominate in his two shutout wins in the tournament and the sticks are starting to pick up as well. Alonso faces Steinbrenner on Tuesday, but needs to be focused on Sarasota Riverview (at home, Thursday) and district play after the week-long tourney. [Last week's ranking: 4]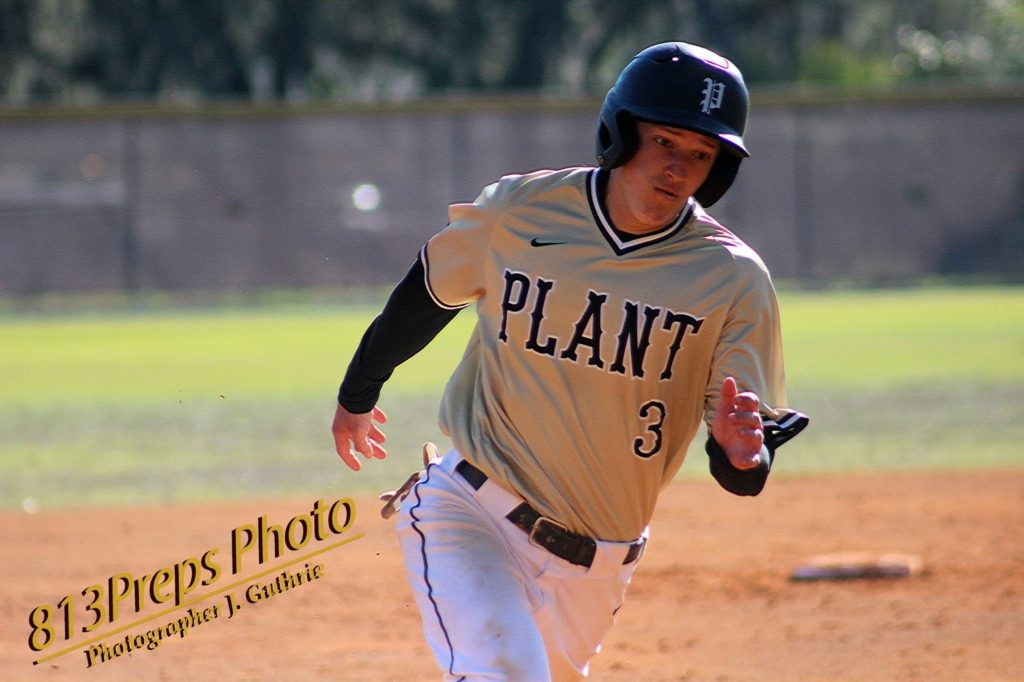 Plant senior Mike Haydak.
3. Plant (10-2) – Nothing to worry about in an off day hitting against one of the county's best in Franco Aleman in the Saladino semifinals. The Panthers are legit, with seniors Mike Haydak, Connor Scott, Chase Sanguinetti and Brock Fagler providing one of the most lethal "murderer's row" of hitters to start a lineup in Hillsborough County's recent history. Plant gets to square off with Strawberry Crest and Steinbrenner for the second time in 11 days after winning vs both in the Saladino. Special attention should be paid to Tuesday's tilt with the Chargers, which took Plant to extras in one of the best pool-play games of the tourney (click here to read). [Last week's ranking: 3]
4. Plant City (9-1) – Plant City slips down a little after dropping its first game of the year to King in Saladino pool-play. The Raiders' road back to the top of the list faces some big tests this week as a pair of district foes and tournament quarter finalists – Riverview and Bloomingdale – are on the slate this week. The Raiders hitters led by Cade Shissler and Austin Eldridge need to get on the board to support the 1-2 punch of Parker Messick and TJ Gayner on the mound. [Last week's ranking: 1]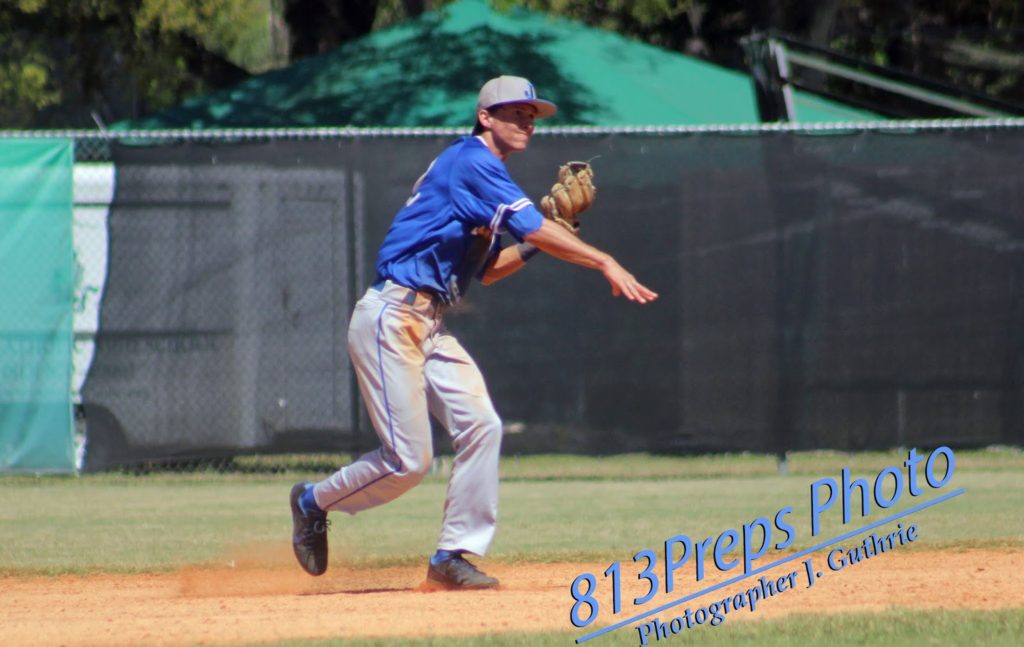 Jesuit SS McGuire Weaver.
5. Jesuit (7-2) – Jesuit's spring break didn't line up this season, so the Tigers weren't able to defend its Saladino crown this season, but that doesn't mean this was an off week on Himes Ave. Jesuit played host to defending 8A state champions Tallahassee Lincoln and fellow 6A power Merritt Island and walked away with two huge wins. Senior McGuire Weaver went 4-for-6, with three doubles, two RBI and two runs scored in the two games to key the offense. [Last week's ranking: 7]
6. Sickles (8-3) – The offense is clicking for the Gryphons, but consistency of the pitching staff will be key for Sickles the rest of the season. A tournament pool win is a nice step for the program, but 25 runs allowed in the last three games is a big hill to climb even for the best offenses. Winning the tournament's Frank Permuy Best Hitter Award was junior Dylan Eskew, who now owns a .467 average, with 13 RBI and 11 runs scored. [Last week's ranking: 5]
7. Cambridge (8-1) – An attrition fall from Jefferson sees the Lancers gain a spot on our list despite having no games last week. Cambridge Christian will be tested by a strong 2A Keswick Christian on Tuesday, and also have games against the Imagine School of North Port and Bell Creek this week. [Last week's ranking: 8]
8. Carrollwood Day (7-1) – Carrollwood Day looks to continue its strong start with a spring break trip to South Florida. The Patriots face of with Key West on Tuesday and faces Miami Gulliver Prep on Friday, but the feel-good story here will be a meeting with Marathon High on Wednesday. Marathon was decimated by Hurricane Irma last summer, and CDS stepped in helping the school's softball and baseball program rebuild with a trip back in November. Read all about the two programs by clicking here. [Last week's ranking: 11]
9. Bloomingdale (7-3) – The Bulls controlled its tournament pool with wins against Leto, Freedom and Chamberlain before falling to Sickles in the quarterfinals. Lots of good young hitters in the lineup and some solid pitching. Bloomingdale is a team capable of catching fire in the next few weeks and burning up this list. The Bulls face district opponents Durant and Plant City this week. [Last week's ranking: 9]
10. Leto (6-3) – The Falcons stand pat in the 10-hole this week. Junior righty Chris Suarez improved to 4-0 on the season with a five-hit shutout of Freedom in the tournament, and Leto was the pool-play round wild card earning a quarterfinal berth. Leto vs. Gaither on Tuesday may be one of the best matchups of the year, thus far as both have something to prove as the district schedule heats up. [Last week's ranking: 10]
The Next Five:
11. Jefferson (6-3) – [Last week's ranking: 2]
12. Riverview (6-3) – [Last week's ranking: NR]
13. Gaither (5-3) – [Last week's ranking: 14]
14. Newsome (6-3) – [Last week's ranking: 12]
15. Wharton (7-3) – [Last week's ranking: 15]
Falling out of the rankings this week: Strawberry Crest (5-4). 
——————————————————–
Unlike many independent news organizations, we haven't put
up a subscription paywall – and we hope to be able to keep bringing you the great stories
from high school athletics in the 813 area free of charge. But we are still a small
business with just a handful of people involved, so there are costs including travel, equipment, and other costs associated with running this business.
We are looking for advertising partners, but we also need to count on our
readers for support. If everyone who reads our reporting, who likes it, helps
fund it, we will be able to continue covering these athletes' endeavors.
Support 813Preps.com for as little as $1 by clicking "Donate" button below.