813Preps Week 4 Baseball Notebook

_______________________________
Brought to you by Todd Allen and Florida Executive Realty
TAMPA – The Saladino Tournament took up a large chunk of our focus last week, but that wasn't all the exciting action taking place around the county as many of the area's private schools had some big games last week.
Our notebook this week would like to shine a little focus on some of those highlights:
Jesuit
The Tigers, last season's Class 6A state runner-up, may have the most ambitious regular season schedule in the area and at 7-2 record to stat the season, Jesuit is handling its business so far. Last week the Tigers faced off with a pair of state powers and came away with two wins over defending Class 8A champions Tallahassee Lincoln and fellow Class 6A competitor Merritt Island.
"We came up just a little short last year," Tigers coach Miguel Menendez said. "So when we put this schedule up for our guys, we wanted them to see how tough it was going to be. I wanted to challenge our guys, and I told them, 'hey, we aren't going to go undefeated this season, the schedule is just too hard.'"
"But this schedule is not about what our record is at the end of the regular season, it's about how prepared we are as a team come postseason play."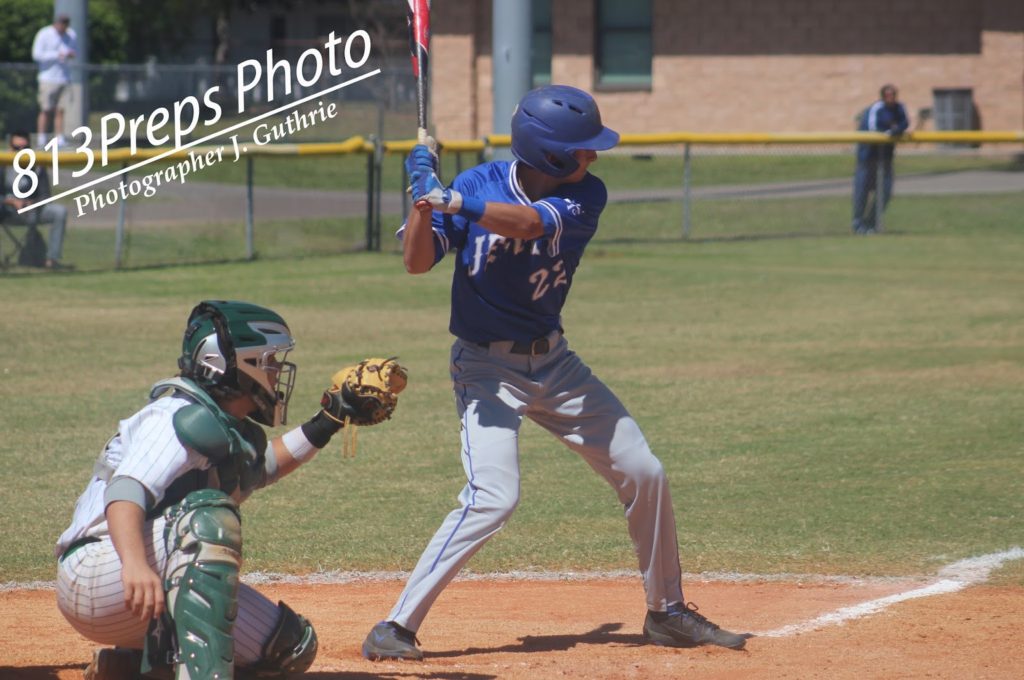 Jesuit senior McGuire Weaver. (813Preps file photo)
In a 5-1 win against Lincoln (5-5), senior and FSU commit McGuire Weaver got the Tigers in control in the second being hit by a pitch with the bases loaded to plate the first run. Weaver would also hit two doubles in the win, including an RBI liner to center for the games final run. RBI singles from Bennett Lee and Reed Clark, and an RBI groundout from Robert Hales would key a decisive fifth inning for Jesuit. Senior Javi Baldor worked five innings on the mound, allowing one unearned run, while striking out a pair to earn the win, while sophomore Josh Mallitz picked up his first save of the season working the final two innings.
The Tigers continued two nights later with a 2-0 win against Merritt Island and their Under Armour and PerfectGame All-American pitcher Mason Denaberg. Jesuit matched up against the University of Florida committed Denaberg with their own ace, FSU signee Jack Anderson. Again Weaver came through at the plate for the Tigers with a one-out double in the third, before scoring the game-winner on a single by senior Joel Brewer (a Univ. of South Carolina signee).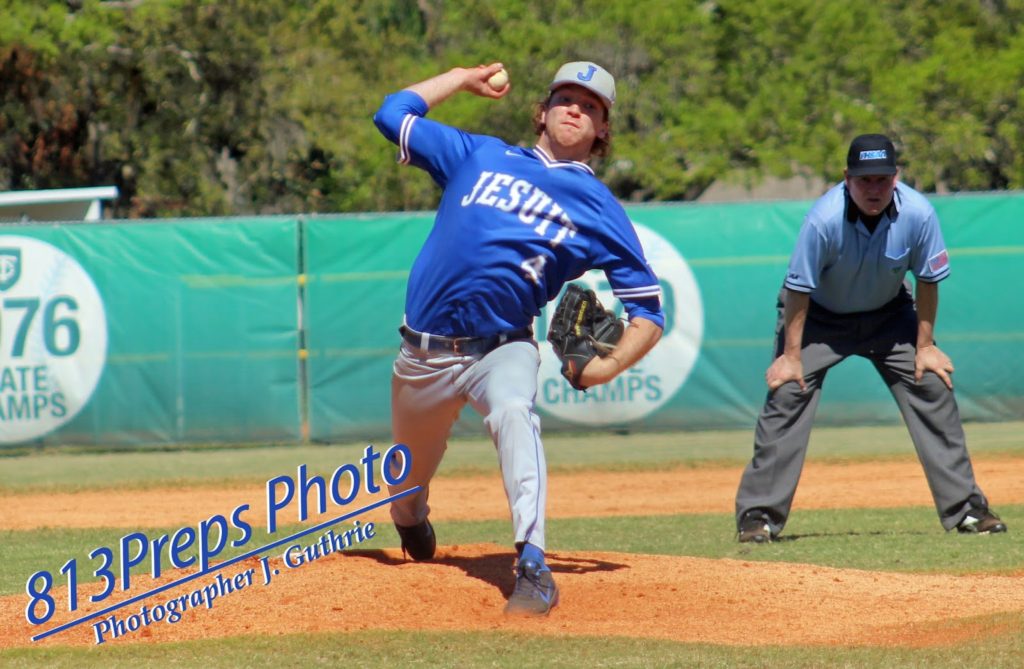 Jesuit senior SP Jack Anderson. (813Preps file photo)
Anderson worked five shutout innings, scattering seven Mustangs' hits and striking out four to earn the win. Jesuit added one more run on a wild pitch off of Merritt Island's relief pitcher Chase Victor (a FGCU commit) in the fifth inning to seal the win. Senior William Swantek picked up his third save of the year in two relief innings.
"That was a big week for us, because yes, we have a lot of senior returners, but we are also mixing in quite a few sophomores and newer players," Menendez said. "We know what we have in Jack, but seeing big moments on the mound from Javi (Baldor), (Josh) Mallitz and (William) Swantek against those teams was huge for us."
Jesuit is ranked No. 64 in the state in MaxPreps.com's first poll of the season, and face district opponent Robinson tonight.
Berkeley Prep 
The Buccaneers took a tough one on the chin to district foe Calvary Christian (now winners of 42-straight games) last Thursday, but sandwiched that loss with two shutout, district wins against Tampa Catholic.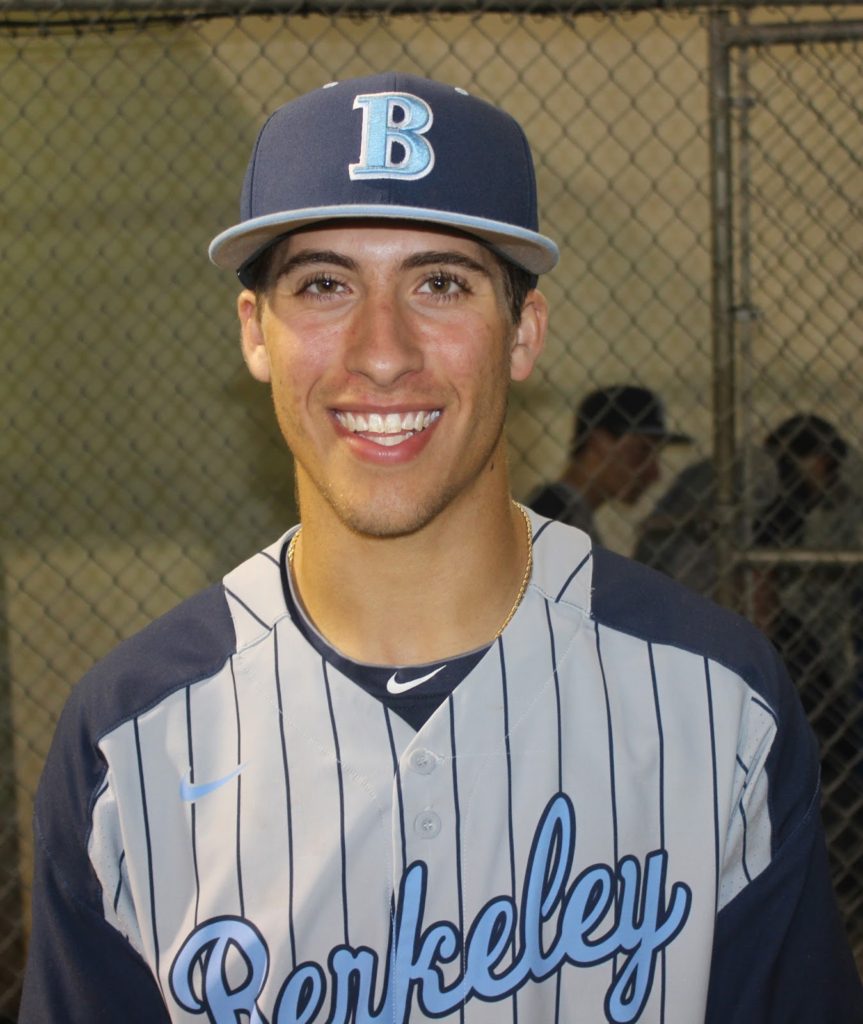 Berkeley Prep SP Sam Bennett
On March 9th, Berkeley Prep (6-4, 4-2 in Class 4A-District 4 action) got another complete-game effort from senior Sam Bennett (Univ. of Chicago signee) as the righty allowed just two Crusaders hits and struck out eight in a 5-0 win. Offensively, Jakob Hines singled in a pair as Berkeley Prep hung a four-spot on TC in the third and Carson Weekley scored a pair of runs in the win.
Seven days later Bennett did it again, with another complete-game shutout, scattering six hits and striking out three. The Buccaneers got some two-out hitting cooking in the second as Ryan Leavy singled to right before Jake Little drove him in with an RBI double to center.
Bennett improves to 2-1 on the year, averaging a strikeout per inning.
Carrollwood Day
The Patriots have won seven-in-a-row including a five-inning, mercy-rule, combined no-hitter from Nick Watts and Blake Hooker against Immokalee on March 12th. The 10-0 win saw Watts work four innings and strike out 10, before Hooker struck out the side in the fifth inning. The duo allowed four walks, but kept the Immokalee bats silent in the win.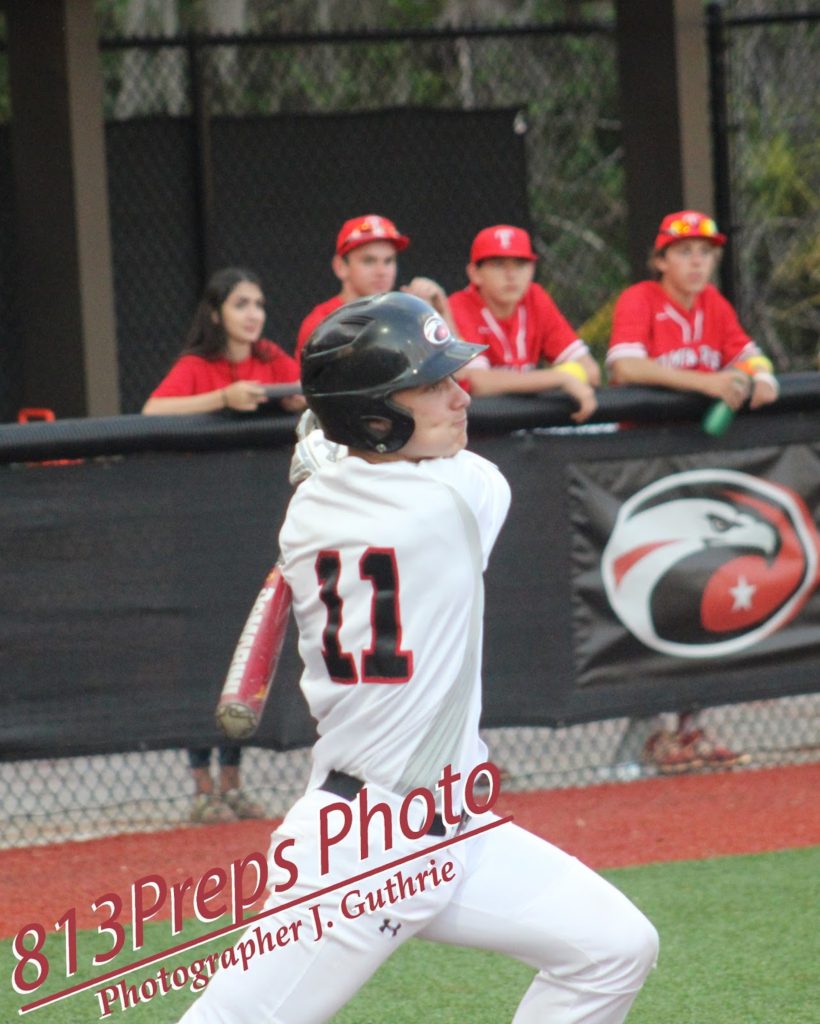 Blake Hooker was part of a combined no-hitter
and had two runs scored and an RBI as CDS
topped Immokalee last week.
(813preps file photo)
Hooker was also clutch at the plate in the game going 3-for-4, with two runs scored and an RBI, while Frank Furey and Andre Hevesy each drove in a pair. Senior Zach Watts made the most of three appearances on the base path turning a walk, hit-by-pitch and reached-on-an-error into three runs for CDS.
Carrollwood Day then held off a late surge from North Marion to win a close 3-2 decision on March 13th. Gabe Partridge struck out eight in six shutout innings to earn the win on the mound, as Rodrigo Montenegro was 3-for-3, with a triple and a run, and Noah Torres had a double and two RBI in the win.
The Patriots are in South Florida this week for some spring break baseball, having defeated Key West High 6-1 on Tuesday, led by a five-run eighth inning. The Patriots face off against Marathon tonight in what should be an emotional game as CDS players and coaches return to the school for the first time since providing equipment and relief last November, after the baseball and softball programs were crushed by Hurricane Irma last summer (read our coverage of the efforts of CDS' baseball and softball programs by clicking here).
Week 4 Top Performers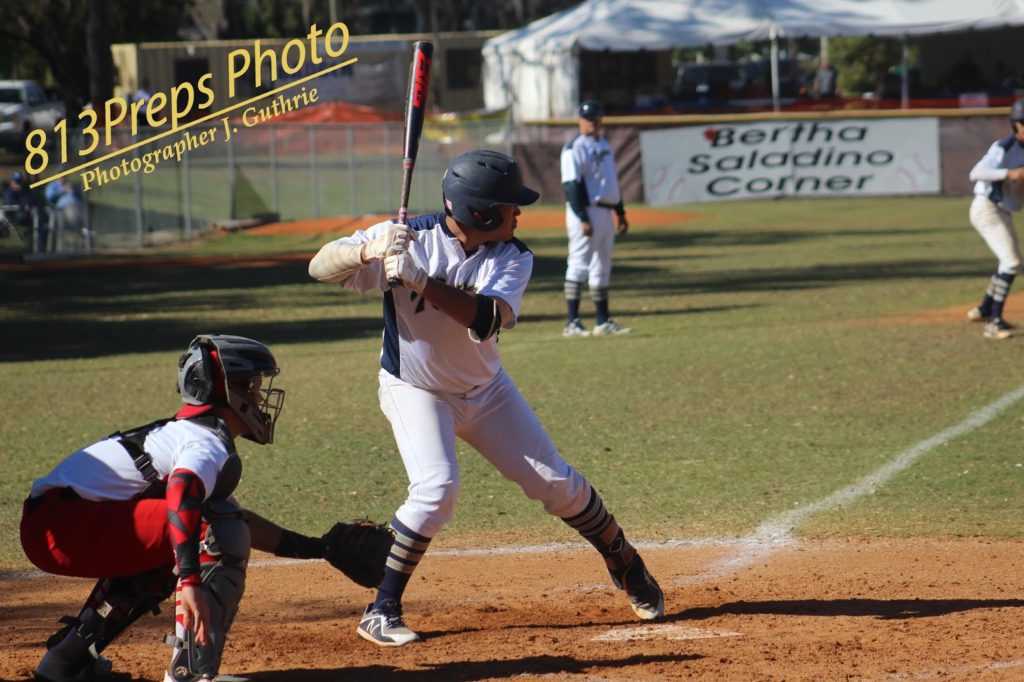 Alonso sophomore Sehjin Daley.
Sehjin Daley, Alonso – The Ravens sophomore had a strong showing for the Saladino Tournament runner-up going 6-for-11 at the plate, with one double four runs scored and two RBI. He has upped his season batting average to .385, and also pitched 5 2/3 gutsy innings in the final vs. King.
Josh Keding, King – The Lions senior stepped up in a huge way, entering in relief in the Saladino Final and working five-plus innings, allowing just one earned run and striking out five to pick up the win on the mound.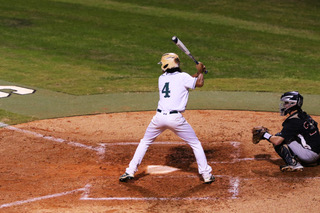 Sickles SS Trey Bacon. (Photo by Will Turner, for 813Preps)
Trey Bacon, Sickles – The Gryphons' sophomore shortstop has gone 7-for-14 since the start of the Saladino with seven runs scored, three RBI, with five stolen bases as Sickles has gone 4-2 over that stretch.
Tyler Misla, Riverview – The Saladino Tournament can be tough on a team's pitching staff, so often it comes down to fresh, often game-inexperienced arms to step up for a team to be successful. Tournament quarterfinalists Riverview got a great pair of outings in such situations from sophomore Tyler Misla, who made two, four-inning appearances for the Sharks. Misla earned a pool-play win against Hillsborough and took a tough loss in a game against King. In each game he struck out seven hitters, and allowed just three total runs (but just one earned), impressively holding King's potent lineup to just two hits.


Jackson Alvord, Leto – The Falcons senior backstop has done a great job behind the plate, especially handling the catching duties for a 5-0 Christian Suarez, but Alvord has also stepped up at the plate this year and is hitting .414, with nine runs and nine RBI, and was clutch in Leto's district win over Gaither on Tuesday, going 2-for-4, with a double and three RBI.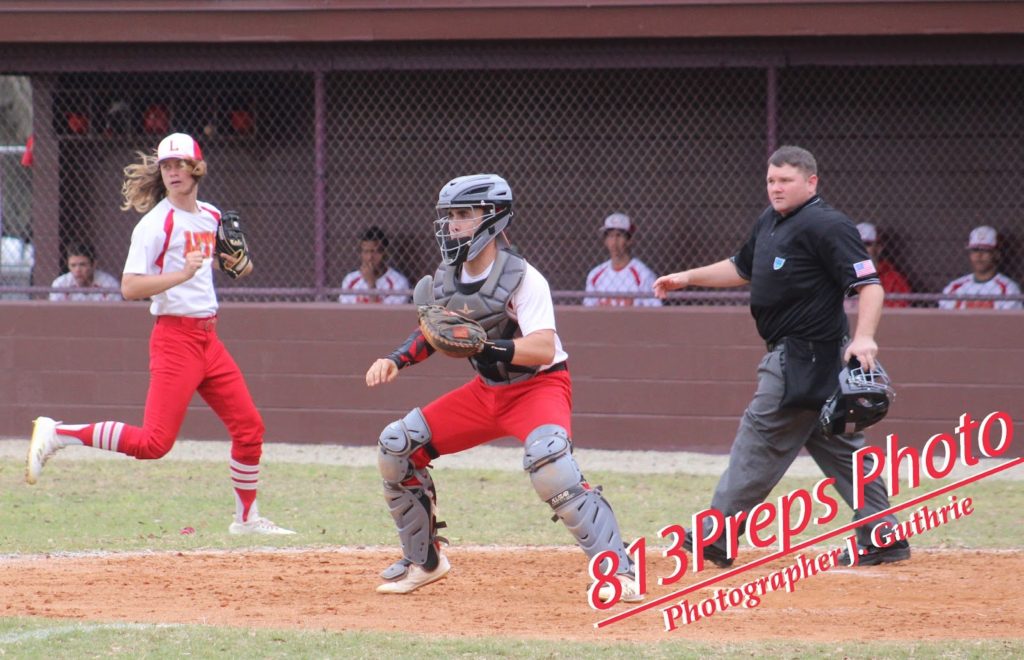 Leto C Jackson Alvord.
——————————————————–
Unlike many independent news organizations, we haven't put
up a subscription paywall – and we hope to be able to keep bringing you the great stories
from high school athletics in the 813 area free of charge. But we are still a small
business with just a handful of people involved, so there are costs including travel, equipment, and other costs associated with running this business.
We are looking for advertising partners, but we also need to count on our
readers for support. If everyone who reads our reporting, who likes it, helps
fund it, we will be able to continue covering these athletes' endeavors.
Support 813Preps.com for as little as $1 by clicking "Donate" button below.