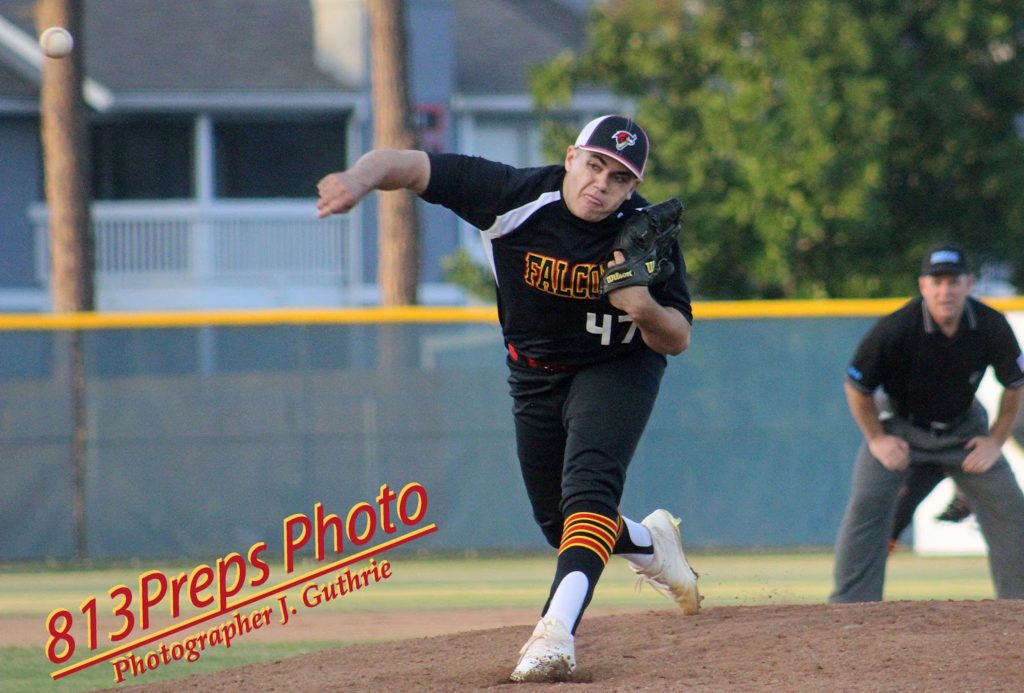 Leto junior pitcher Christian Suarez improved to 5-0 on the season, earning a big district win over Gaither.
TAMPA – Leto pitcher Christian Suarez is a pretty humble guy.
Ask the right-handed junior about his winning streak to start the season, and he smiles slightly and pins the success on the defense behind him or the offense that supports him.
On Tuesday though, Suarez earned his post-game bow after working six innings and allowing just two runs as Leto attacked Gaither, and walked away with a big 10-2, Class 7A-District 8 win.
"This hasn't really been anything I've done, it's all about my teammates," Suarez said. "I have one of the best defenses you can have behind me and they give me the ability to just go out and throw strikes, and I know they will stop anything that comes at them. I'm just grateful for that."
The Falcons offense got things started quickly as Jackson Alvord plated the games first run on an RBI single to deep second base, and Jorge Carrero drove in two more in the top of the first to spot Suarez to a three-run head start.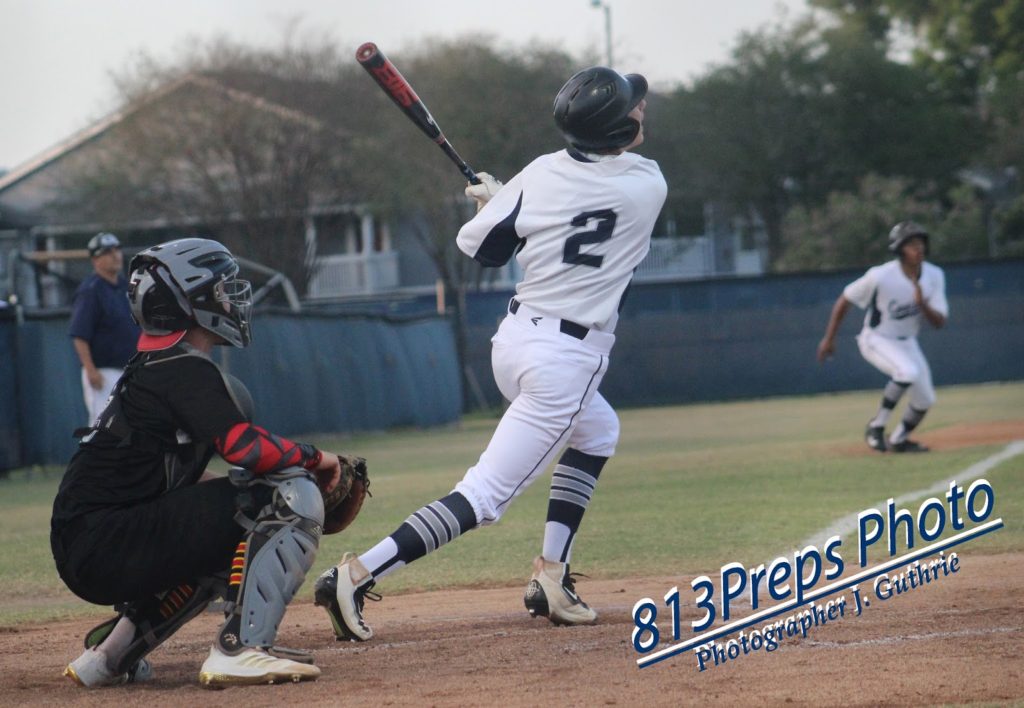 Gaither freshman Austin Grause drove in the Cowboys only two runs on a
single to right in the first inning.
Gaither (5-4, 1-1 in 7A-8) answered nicely in the bottom half cutting the lead to one as Austin Grause came up with a two-out, two-run single to right, making the game look like it was going to be a back-and-forth battle.
However, the two early runs from Gaither would be all Suarez would yield as he improved to 5-0 on the season, while picking up four strikeouts.
"I tell them every time out there, just get me some runs (early) and I got you guys," Suarez said. "But again, it's really not me. It's this defense, these bats – it's just the whole team. They're the reason I'm doing so well."
Offensively, Leto (7-3, 3-0 in 7A-8) added one more in the second on a RJ Gutierrez groundout in the second, but unloaded on Gaither with a six-run, fifth inning started by a leadoff single by Jon Santos, a walk and two-run doubles from Alvord.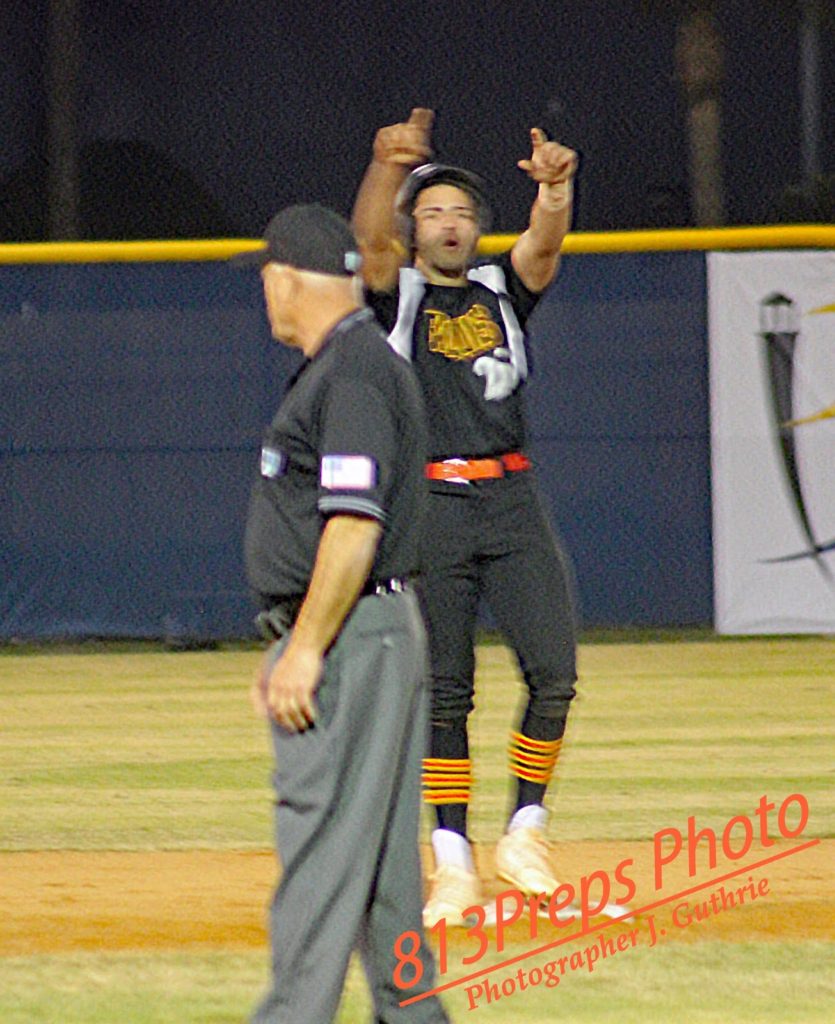 Carrero after his 2-run double.
"That was a thrill," Alvord said. "Right after that double, the whole dugout came together and that was when we knew we had this win. This was a huge win for us."
The scoring continued in the fifth as Carrero added a two run double of his own for his third hit of the game.
"Right now, the chemistry between the defense and the pitching is just amazing," Carrero said. "So with our bats, it's just been about being aggressive early in the count, putting the ball in play. Things happen and everything is working really well for us."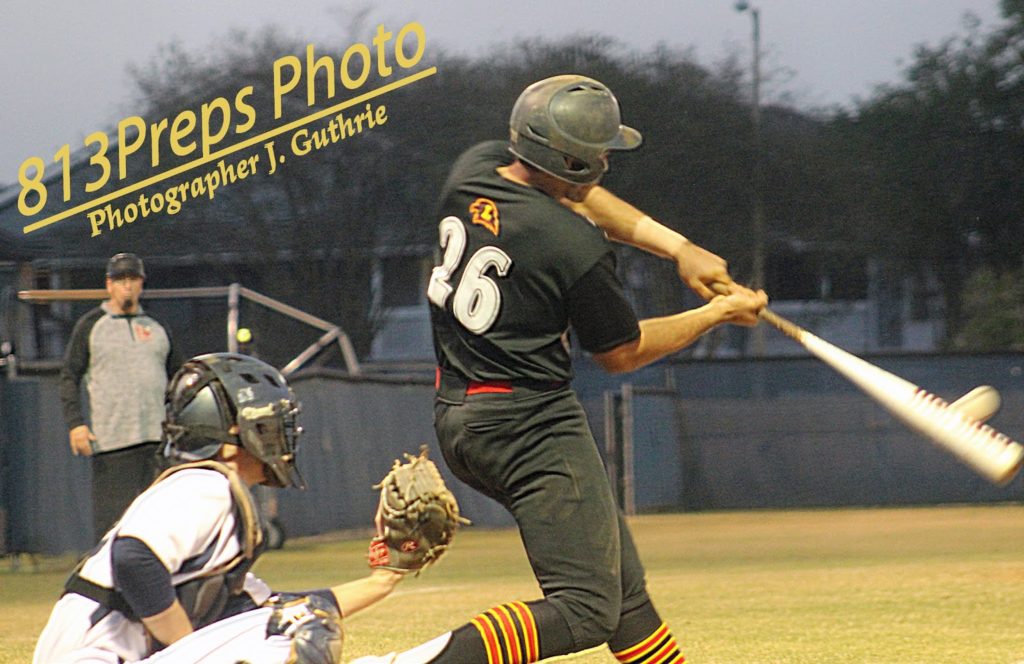 Leto senior Jorge Carrero was 3-for-4, with a double and four RBI for the Falcons.
Alvord, the Falcons' senior catcher who had a nice throw out of a Cowboys runner trying to steal third base in the fifth, said the trust between he and Suarez this season has made for a lot of fun during the pitcher's five-game winning streak to start the year.
"It's just a matter of trust you need to have to be successful," Alvord said. "We trust each other, trust the sequence, and have some fun, and that has led to some wins so far."
For Gaither, leadoff hitter Jordan Williams had a single and a walk in the loss, while stealing three bases, and had the game's best defensive play robbing Leto of adding more in the top of the seventh running full speed to his right and laying out to make a catch on what looked like extra bases off the bat.
Orlando Arevalo had a pair of singles for the Cowboys, Adison Dubin was 3-for-3, and catcher Danny Gutcher caught a runner trying to steal second in the fourth inning.
——————————————————–
Unlike many independent news organizations, we haven't put
up a subscription paywall – and we hope to be able to keep bringing you the great stories
from high school athletics in the 813 area free of charge. But we are still a small
business with just a handful of people involved, so there are costs including travel, equipment, and other costs associated with running this business.
We are looking for advertising partners, but we also need to count on our
readers for support. If everyone who reads our reporting, who likes it, helps
fund it, we will be able to continue covering these athletes' endeavors.
Support 813Preps.com for as little as $1 by clicking "Donate" button below.