Riverview 7, Newsome 6
For our write-up on this game please click here.
///***
Bell Creek's Kroll signs with Ave Maria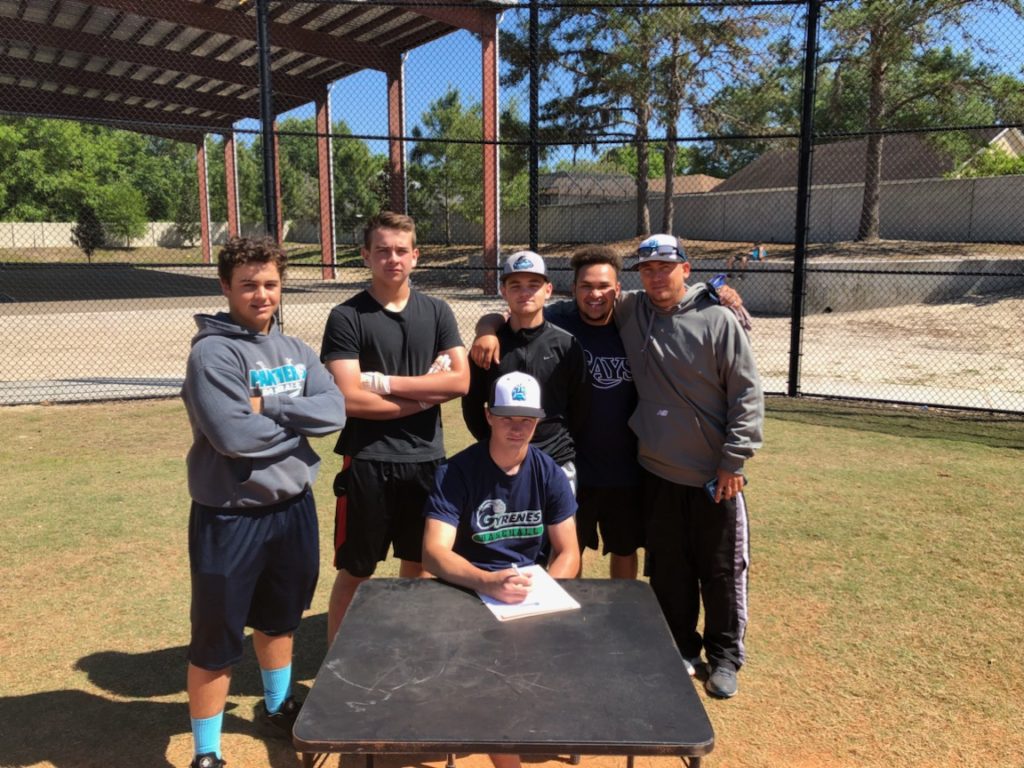 Bell Creek senior Kavin Kroll signs with Ave Maria (Photo provided by Bell Creek Baseball).


Bell Creek Academy senior captain Kevin Kroll has signed to continue his baseball career as a pitcher with Ave Maria University coach Frank Burke said. Kroll, a pitcher and infielder, is 1-1 on the mound this season with a 3.20 ERA and 13 strikeouts in his three appearances. 


///***


Brooks-DeBartolo 3, Keswick Christian 2
Freshman Tyler Polidoro went 2-for-4 with a pair of RBI, while junior Dylan Martin worked four shutout innings on the mound with five strikeouts to earn the win for the Phoenix.
Records – BD 4-8; K 8-3.
///***
Alonso 3, Sarasota Riverview 0
Ravens senior Franco Aleman tossed a complete-game shutout striking out 10 as Alonso improves to 2-1 after the first run through Class 9A-8 opponents. Aleman is now 5-0 with a 0.00 ERA on the season. Alonso started the third with four straight hits as Nick Gonzalez drove in the decider on a ground ball to left.
Records – A 9-5, 3-1 in Class 9A-8; R 5-5, 2-2 in 9A-8.
Hillsborough 16, Chamberlain 1 (four innings)
— HHS Baseball (@BIG_REDBASEBALL) March 23, 2018
Tampa Catholic 5, Tampa Prep 1
Senior Julian Pichardo tossed a complete-game, allowing a single Tampa Prep run and striking out five as Tampa Catholic picked up a 4A-4 district win.
Records – TC 5-6, 2-5 in 4A-4; TP 5-8, 2-4 in 4A-4.
Plant 10, Steinbrenner 4
— Jay Recher (@jayRecher) March 23, 2018
— Jay Recher (@jayRecher) March 23, 2018
— Jay Recher (@jayRecher) March 23, 2018
Steinbrenner's Noah Luke had a 2-run homer in the loss. 
Records – S 6-5, 0-2 in 8A-5; P 12-2, 2-0 in 8A-5.

///***

Cambridge Christian 14, Imagine School of North Port 1
Baseball Final

Cambridge Christian 14

imagine 1

W: Mccarty 6ip, 1 run, 3 H, 0bb 5k. Ben Block threw 1 inning scoreless relief.

Jonah rawls 2-2, 2B, 2 rbi

Duane Drummond 2-3, rbi
Junior Dylan Eskew struck out nine, allowing one run on one hit for the Gryphons. Catcher Danny Bernstein was 2-for-4 with two RBI, Zane Tarrance had two hits and an RBI, and Leandro Alvarez was 2-for-4 in the win.
Records – S 10-3; L 7-4.
Gaither picked up a big district win and halted King's winning streak at 11 as the Cowboys got a solid outing on the mound from freshman Austin Grause. Grause pitched 6 2/3 innings striking out nine and allowing two runs (one earned) to improve to 3-1 on the season.
Records – G 6-4, 2-1 in Class 7A-8; K 11-2, 2-1 in 7A-8.
Berkeley Prep 10, Winter Haven trinity Prep 8
Youth had a good offensive showing for the Buccaneers in a narrow win over Trinity Prep at home Thursday. Freshman Johnathan Bruno was 3-for-4, with a double and two RBI, while sophomore Alex Haire was 2-for-2, with three runs scored, an RBI and two stolen bases. Junior Jakob Hines stayed hot at the plate singling twice and driving in three (20 RBI this year), including a two-out, two-strike game winning hit. Sophomore Garrett Boeckle made his first start of the season, coming off an injury and tossed two shutout innings, allowing two hits and striking out three. 
Records – BP 7-4. 
Armwood 7, Tampa Bay Tech 6
Christian Tate singled in a pair and Tyler Castelli tripled in the deciding run in the seventh as the Hawks rallied to defeat Tampa Bay Tech, Thursday night. Tate was 2-for-3 in the win with a double and three RBI, while Brayan Sanchez worked four innings of relief to get the win on the mound. 
Records – A 3-8, 1-3 in 7A-9; TBT 1-9, 0-4 in 7A-9. 
///***
Wharton 2, Strawberry Crest 1
Wharton answered an early Strawberry Crest run scoring a run in each the fourth and fifth innings to take a big district tilt. Senior Duncan Pastore picked up the win in relief, working the final four innings, allowing one hit and striking out seven. Mike Hudson (RBI) and Grady Maguire doubled in the victory.
Records –
SC 5-6, 0-2 in Class 8A-4; W 9-3, 3-0 in 8A-4.
///***


East Bay 1, Durant 0
Peyton Zoeller (W, 4 ip) and Justin Hone combined on the mound to limit Durant to just three hits as East Bay picked up a quality win at home.
Records –  D 5-7, 1-3 in 8A-6 ; EB 2-9, 1-2 in 8A-6.
///***


Brandon 6, Lennard 2
Senior BJ Carter worked a complete-game, striking out 10, and also added a two RBI single on offense to lead the Eagles to a district win over Lennard.
Records – L 5-6, 2-1 in Class 7A-9; B 5-5, 3-1 in 7A-9


///***


Jefferson 12, Spoto 0 (five innings)
Records – J 8-3, 3-0 in 6A-8; S 1-9, 1-2 in 6A-8. 


——————————————————–
Unlike many independent news organizations, we haven't put
up a subscription paywall – and we hope to be able to keep bringing you the great stories
from high school athletics in the 813 area free of charge. But we are still a small
business with just a handful of people involved, so there are costs including travel, equipment, and other costs associated with running this business.
We are looking for advertising partners, but we also need to count on our
readers for support. If everyone who reads our reporting, who likes it, helps
fund it, we will be able to continue covering these athletes' endeavors.
Support 813Preps.com for as little as $1 by clicking "Donate" button below.