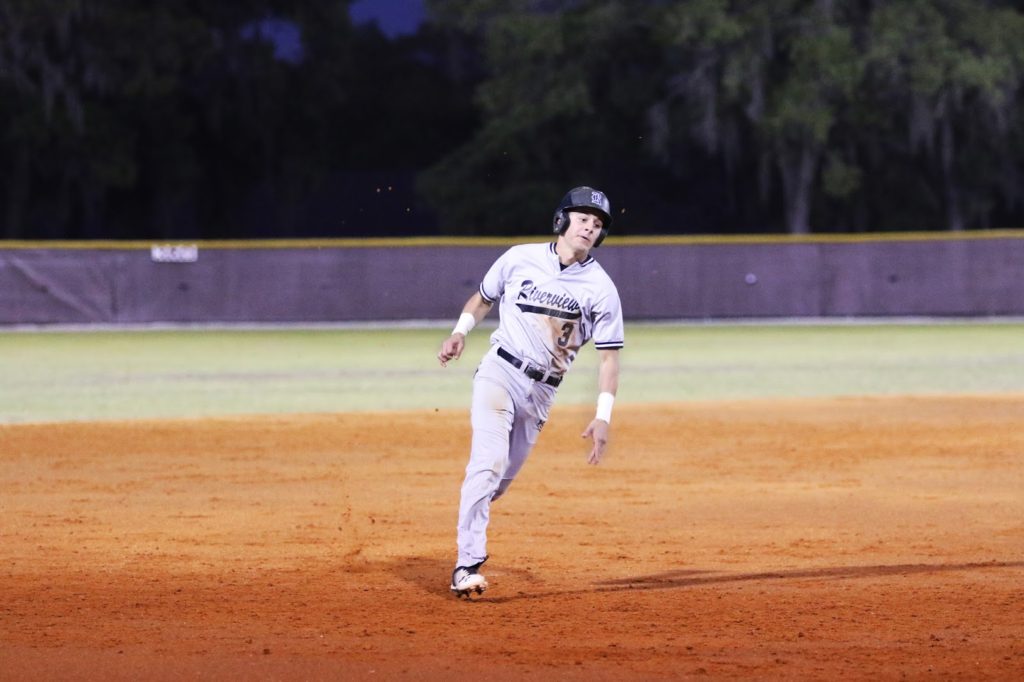 Riverview's Reagan Jorgensen (pictured here from last week's Saladino Tournament) drove in three runs to help the Sharks to a win over neighboring opponent, Newsome. (Photo by Will Turner)
By Will Turner 
813Preps correspondent
RIVERVIEW – Young? Yes. Scrappy? Absolutely. Hot? You betcha.
Aside from a Saladino Tournament quarterfinal loss to King last Thursday night, the Riverview Sharks have won five of their last six games, which continued into Thursday night in a 7-6 win against Newsome.
Down by two going into the home half of the fifth inning, the Sharks relied on timely hitting, good base-running and lights-out relief pitching, courtesy of Andrew Martinez, in order to walk-off against the Wolves in the 2018 edition of the neighborhood rivalry.
Newsome got on the board early when Tyler McKenna scored Zach Benson on an RBI single to center field. They'd extend their lead in the second. Jacob Phelps sent a scorching line drive down the left field line for an RBI double to score Kelsen Johnson. Benson would knock an infield single to send Phelps home, two batters later.
The Sharks cracked the run column in the bottom half, when Troy Gonzalez singled, scoring Zach Hawkins. MacAllister Jorgensen reached on an error, scoring Gonzalez, to trim the lead to one.
Trey Cruz hit a double into the gap to score McKenna in the third, forcing Riverview starter Ty Correa out of the game. The junior would only go two innings, allowing six hits and five earned runs. Tyler Misla entered in relief, and immediately surrendered a sacrifice fly from Johnson, scoring Auston Spires.
Riverview wouldn't go away. Reagan Jorgensen scored Ben Migliarese and Dillon Besnier when reaching on an error to bring the Sharks back within one in the third.
Whatever offense the Sharks could muster, the Wolves would have an answer to keep a stranglehold on the lead. Misla walked Cade Afeld to score Spires for his second run of the evening, forcing another change. Misla would issue five free passes in just 1 2/3 innings of work.
Andrew Martinez entered for Riverview in the fourth, and he would shut things down from there. Martinez would force Phelps into a lazy fly-ball out to the shortstop, stranding the bases loaded for a second time in two innings.
From there on, Newsome wouldn't have another baserunner.
"I just had to pound them with fastballs," Martinez said. "Throw strikes and good things will happen."
On the offensive side, the Sharks certainly weren't done. Besnier knocked a base hit to center field off of Will Ohme, scoring MacAllister Jorgensen. Two batters later, Reagan Jorgensen notched his third RBI of the affair, on a hard-hit single, scoring Besnier from third.
"I like that five-hole spot because there's always someone on. And I like when someone's on, so I can get that RBI. I really go up there every time with the same attitude, trying to get a hit," Reagan Jorgensen said.
Martinez continued to shut things down in the seventh, giving Riverview the chance to walk-off in the home half.
They wouldn't miss the chance.
Correa hit a comebacker to Ohme, who had a tough decision to make on where to throw, and the hesitation forced a quick throw, which skipped away from Cruz at first, allowing Besnier to score, giving the Sharks the narrow, one-run victory.
"These guys keep finding a way to win, and they don't know how to lose," said Riverview head coach Bill Lieby. "They believe in themselves, they believe in each other up at the plate, and the way they're swinging the bat, you've just got to love it."
Thomas Carpenter got the start for the Wolves, and fired an effective three innings of work, allowing four earned runs off five hits, while striking out three. Martinez finished with two strikeouts over 3 1/3 innings, really giving the Sharks the chance to win.
"He could, probably, be our number one guy on the mound. The role that he's playing for us – very unselfish kid – is that he's coming in and holding it down, once we take the lead. He's got tremendous confidence in his stuff," Lieby said.
Offensively, the Wolves notched three doubles, from Cruz, Phelps, and Spires, but leaving the bases loaded twice really hindered their chances.
Newsome left eight runners on throughout the contest.
Besnier went 3-for-4 on the evening, with a trio of runs scored. Cameron Vigh also notched a multi-hit game with two singles.
"My approach to the plate is really to just hit it where I can and make solid contact and to do everything I can for this team," Besnier said. "This win really brings a lot of joy, excitement, and I really think that we're proving everybody wrong."
The Sharks will make the long drive to Sickles for a matinee against the Gryphons on Saturday morning, while the Wolves will wait to face Durant on Tuesday in another edition of the Alafia River Rivalry.
– Will Turner is a student at USF majoring in mass communications, with a focus in news and editorial journalism, and a minor in history. You can follow Will on Twitter:@TBTurner813
——————————————————–
Unlike many independent news organizations, we haven't put
up a subscription paywall – and we hope to be able to keep bringing you the great stories
from high school athletics in the 813 area free of charge. But we are still a small
business with just a handful of people involved, so there are costs including travel, equipment, and other costs associated with running this business.
We are looking for advertising partners, but we also need to count on our
readers for support. If everyone who reads our reporting, who likes it, helps
fund it, we will be able to continue covering these athletes' endeavors.
Support 813Preps.com for as little as $1 by clicking "Donate" button below.