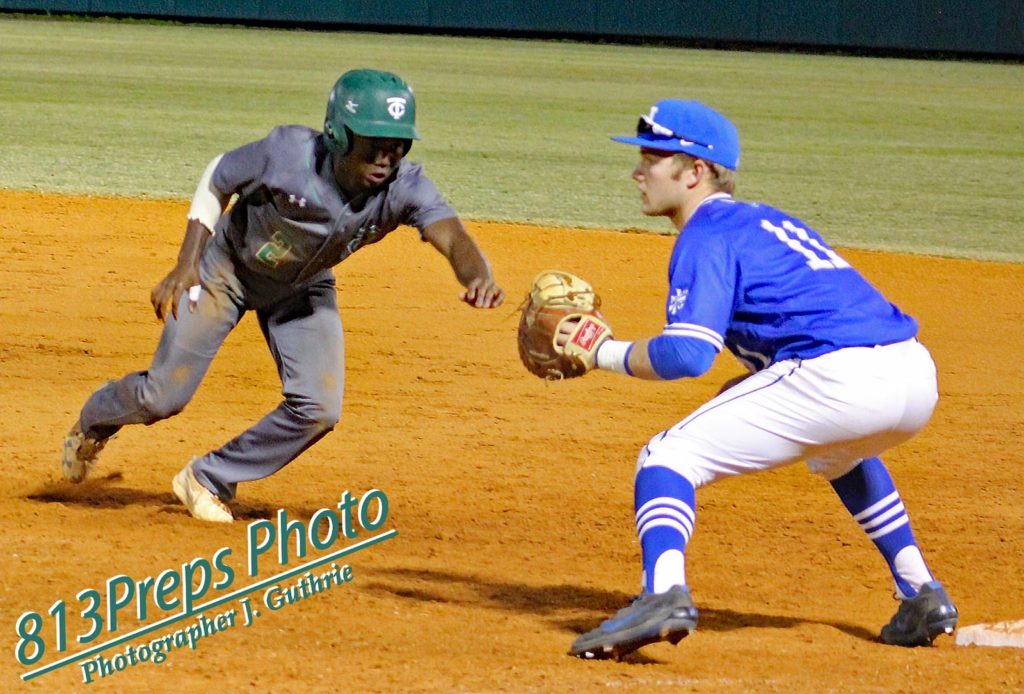 Tampa Catholic sophomore Tony Watson dives back into first in the Crusaders win at Jesuit. Watson was 1-for-2 in the win with a pair of RBI and two stolen bases. For more on this game click our link below.
Hillsborough Co. Baseball Round-up 3/23/18
Tampa Catholic 4, Jesuit 3
///***
Carrollwood Day 5, Miami Gulliver Prep 4
Patriots finish the spring trip undefeated w/ a 5-4 win over Gulliver Prep. G. Partridge W 6in,5K,1ER. W. Grisack w/ save. F. Furey 2-2 HR,DBL,3RBI. B. Hooker 2-4 w/RBI. Thank you to all for an awesome trip!!!@CDS_Athletics

@813Preps @TBHomeTeam

— CDS Baseball (@patriotball1) March 23, 2018
Carrollwood Day finished it's spring break road trip 3-for-3 defeating Miami Gulliver Prep, 5-4. Senior Gabriel Partridge earned the win on the mound striking out five across six innings of work. Frank Furey belted a home run and a double to lead the offense.
Berkeley Prep 3, Clearwater Central Catholic 2 (10 innings)
A Ryan Leavy RBI sac fly in the top of the tenth gave Berkeley Prep (8-4, 5-2 in Class 4A-4) just enough to get by CCC. Sam Bennett has been a beast on the mound for the Buccaneers and though he picked up the no-decision on Friday, the senior struck out 10 in seven innings of work allowing two runs (one earned). Sophomore PJ Stoyan earned the win in relief tossing three complete, allowing one hit and striking out five. Carson Weekley and Alex Haire each had doubles and a run scored for the Bucs. 
Citrus Park Christian 8, Clearwater Lakeside Christian 4
Calvin Ziglar homered and doubled to drive in five to lead Citrus Park Christian to a win Friday. James Strom and Isreal Oliva doubled for the Eagles in the win.
Plant City 4, Bloomingdale 2
Bloomingdale couldn't hold on as Plant City scored four in the final frame to claim a district win with Parker Messick doubling in three with a line drive to left. Messick also earned the win on the mound for Plant City (11-2, 4-1 in Class 8A-6), striking out five, before turning things over to Dylan Robinson for the final inning. Bloomingdale (7-6, 1-3 in 8A-6) had two-hit nights from Jett Davis and Bryce Hazzard in defeat. 
///***
Cambridge Christian 9, Bell Creek 1
— Cambridge Christian (@CCSLancers) March 24, 2018
Jacob Krueger earned the win on the mound and improves to 3-0 on the season for the Lancers (10-1), while senior Ethan McCoy picked up his third save of the season. 
///***
Calvary Christian 1, Brooks-DeBartolo 0
Seven Rivers Christian 9, 
Bayshore Christian 4
///***
Inspiration Academy 10, 
Seffner Christian 0 (five innings)
——————————————————–
Unlike many independent news organizations, we haven't put
up a subscription paywall – and we hope to be able to keep bringing you the great stories
from high school athletics in the 813 area free of charge. But we are still a small
business with just a handful of people involved, so there are costs including travel, equipment, and other costs associated with running this business.
We are looking for advertising partners, but we also need to count on our
readers for support. If everyone who reads our reporting, who likes it, helps
fund it, we will be able to continue covering these athletes' endeavors.
Support 813Preps.com for as little as $1 by clicking "Donate" button below.