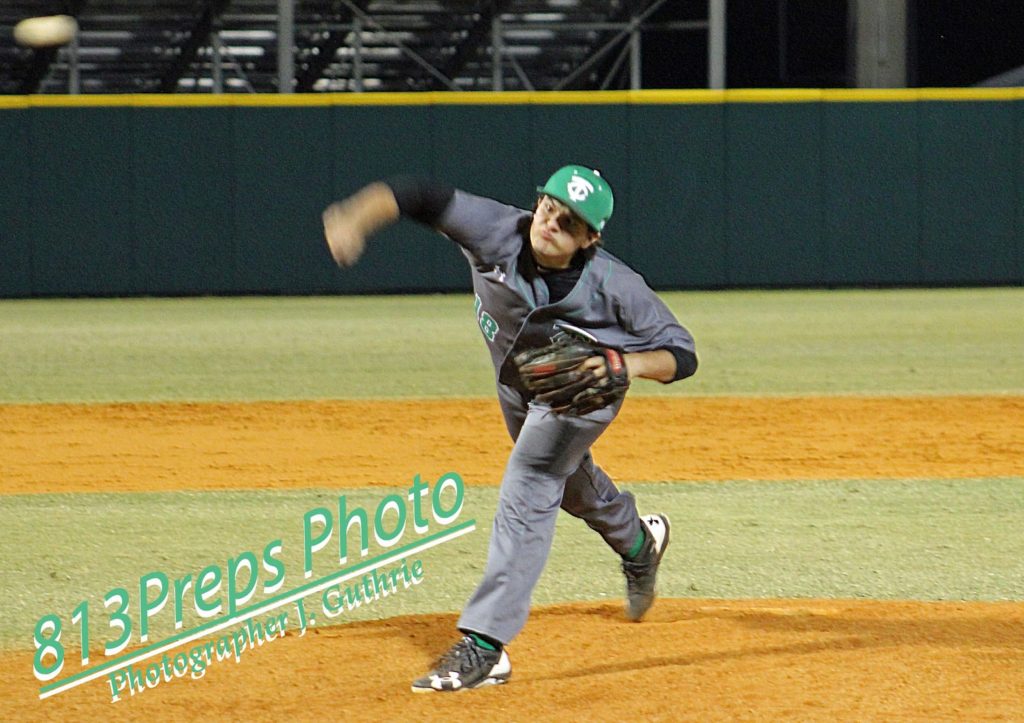 Tampa Catholic senior righty RJ Del Rio worked six innings, allowing three runs to earn the win on the mound abasing Jesuit.
TAMPA – For the second time this year – and third time in a row – that "School on Rome" topped that "School on Himes" in a big-time rivalry game, Friday night.
Tampa Catholic pulled out all the stops, from aggressive base running, to a gutsy starting pitching performance from senior RJ Del Rio, heck, the Crusaders even caught Jesuit with the hidden-ball trick, as TC held on for a 4-3 win on the road.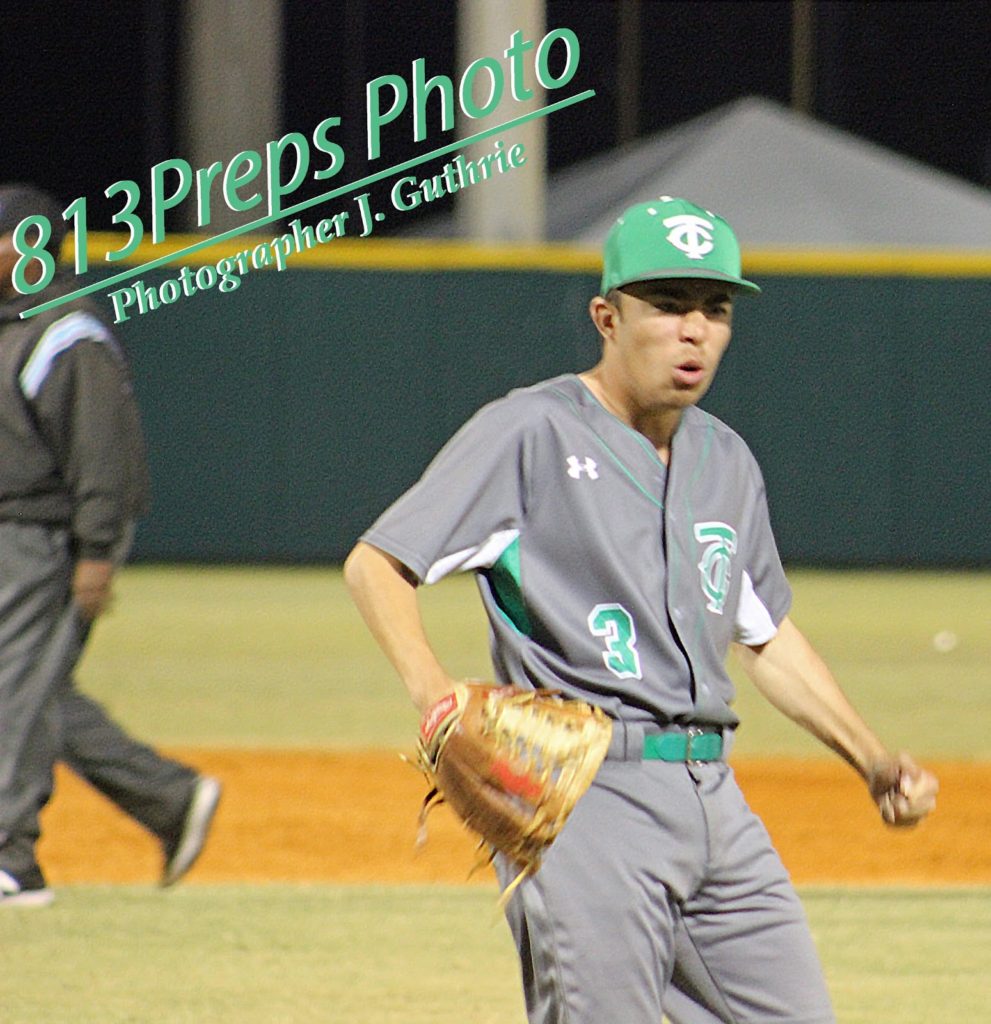 Tampa Catholic lefty Andrew Cuesta reacts after ending the game on a
strikeout and earning the save.
"This is bragging rights," Crusaders senior Johnny Rodrigues said. "At the end of the day this doesn't really mean anything because it's just one game, but it's bragging rights and it's a rivalry."
In the grand scheme of things, Rodrigues was right, and it was the smart thing to say to the media. But the Crusaders were anything but blasé after the win as senior lefty Andrew Cuesta screamed and flexed coming off the mound after recording the final out with a K, and earning the save for Tampa Catholic.
However, the max-effort performance of the night goes to Del Rio, a 5-foot-9, 180-pound righty, who worked his changeup for all it was worth to keep Jesuit off balance all night. Del Rio, a Greensboro College signee, scattered seven hits and allowed three runs, working six innings to earn the win.
"It's absolutely a beautiful thing, especially for me being a senior," Del Rio said. "Three in a row for me and to be a part of this one, the last one for me, and get a win in that game, there is nothing better than that – it's a great feeling."
Jesuit (8-3) got on the board early as McGuire Weaver doubled in the bottom of the first and Javi Baldor turned on the jets with an RBI triple two hitters later. However, the chance to further the damage in the first was erased as Tampa Catholic third baseman AJ Inguanzo hid the ball from Baldor and applied the tag when he stepped off the bag.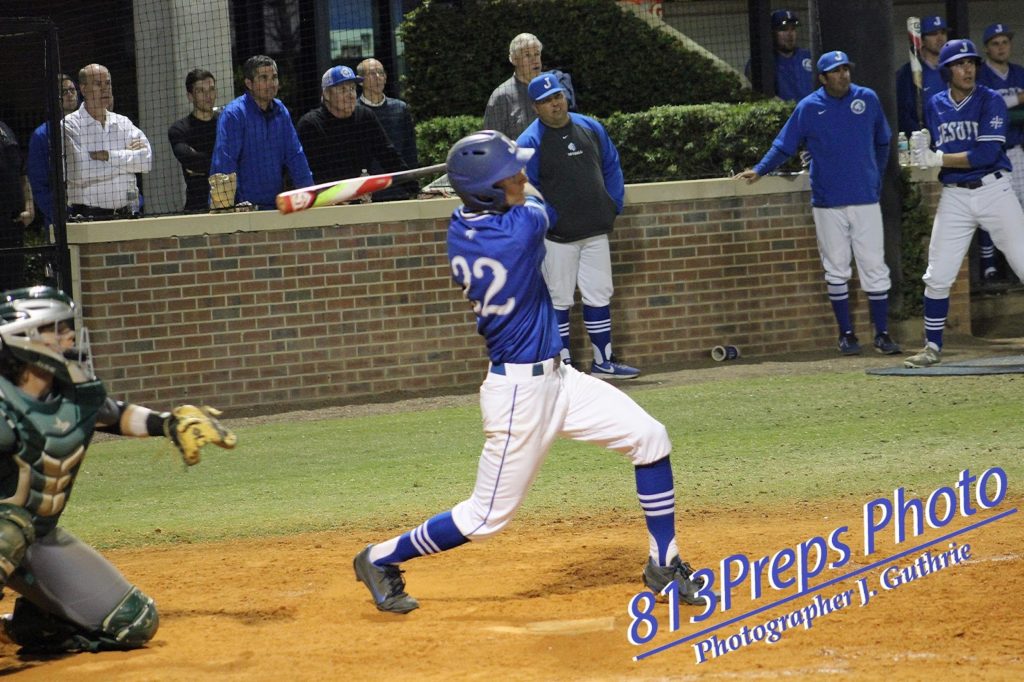 Jesuit senior McGuire Weaver was 2-for-4 with a pair of doubles and a run scored in the loss.
Tampa Catholic (6-6) answered in the top of the second as Rodrigues sent a chopper down the first base line and got on his horse with a stand-up triple, before crossing the plate on a Tony Watson RBI single.
But it was the third where TC used patience and aggression to capitalize in this one. Sebastian Figga found himself on third after a three-base error on the Jesuit pitcher but the Crusaders in prime position to take the lead. Mitch Kandell did his job three pitches later with an RBI groundout to second, before Jesuit's pitching walked three and hit a batter, including a free pass RBI to Rodrigues and another RBI from Watson provided all the Crusaders would need.
"We needed that inning right there," Rodrigues said. "We were struggling a little bit early, so just focused on putting the ball in play to get something going."
"We needed that three-spot … any rivalry game has a lot to do with momentum and getting that momentum early put us in control for this win."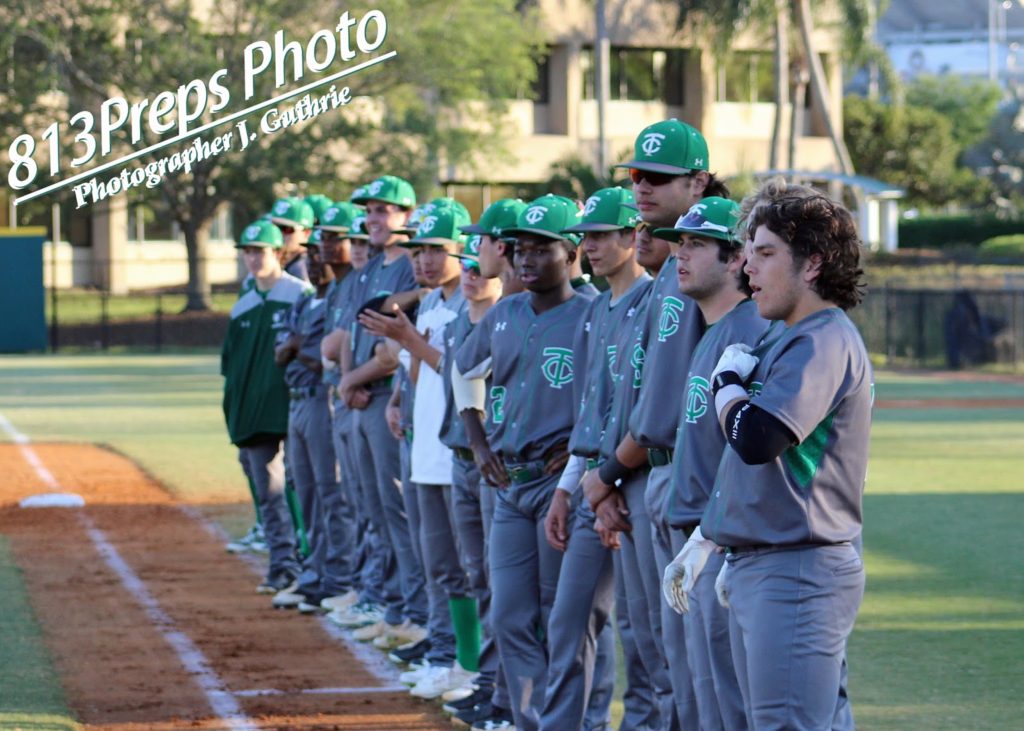 Jesuit chipped away with a run in the fourth on a Reid Clark RBI sac fly, and a final run in the fifth as Brandon Incardona scored from third on a RBI foul out by Joel Brewer.
But Del Rio was gritty and smart stranding five runners in scoring position throughout his six innings, striking out three.
"I had some trouble here and there," Del Rio said. "But at the end of the day, I just went out and through my pitches, hit my spots and there's a win right there."
Cuesta, who entered with one down in the seventh sandwiched a Bennett Lee single between a groundout to second and a strikeout to end the game.
Prior to the game, Jesuit paid tribute to longtime assistant coach John Canfield who passed away in January. Canfield, who also spent time coaching at Leto, spent more than 30 years dedicated to the game of high school baseball and the players he coached (click on this paragraph to read our tribute).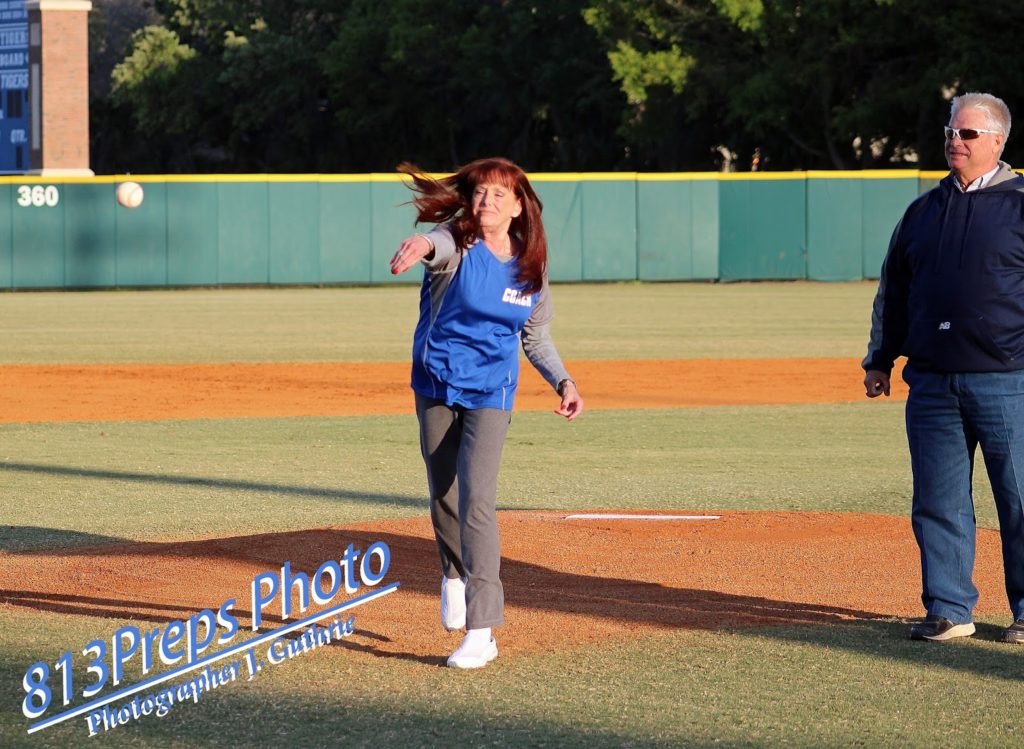 Canfield's wife, Miriam joined on the field by her daughter Lee Ann and current Steinbrenner coach John Crumbley, who played for Canfield at Leto and hired Canfield as an assistant during his tenure at Jesuit, as she threw out a ceremonial first pitch.
——————————————————–
Unlike many independent news organizations, we haven't put
up a subscription paywall – and we hope to be able to keep bringing you the great stories
from high school athletics in the 813 area free of charge. But we are still a small
business with just a handful of people involved, so there are costs including travel, equipment, and other costs associated with running this business.
We are looking for advertising partners, but we also need to count on our
readers for support. If everyone who reads our reporting, who likes it, helps
fund it, we will be able to continue covering these athletes' endeavors.
Support 813Preps.com for as little as $1 by clicking "Donate" button below.