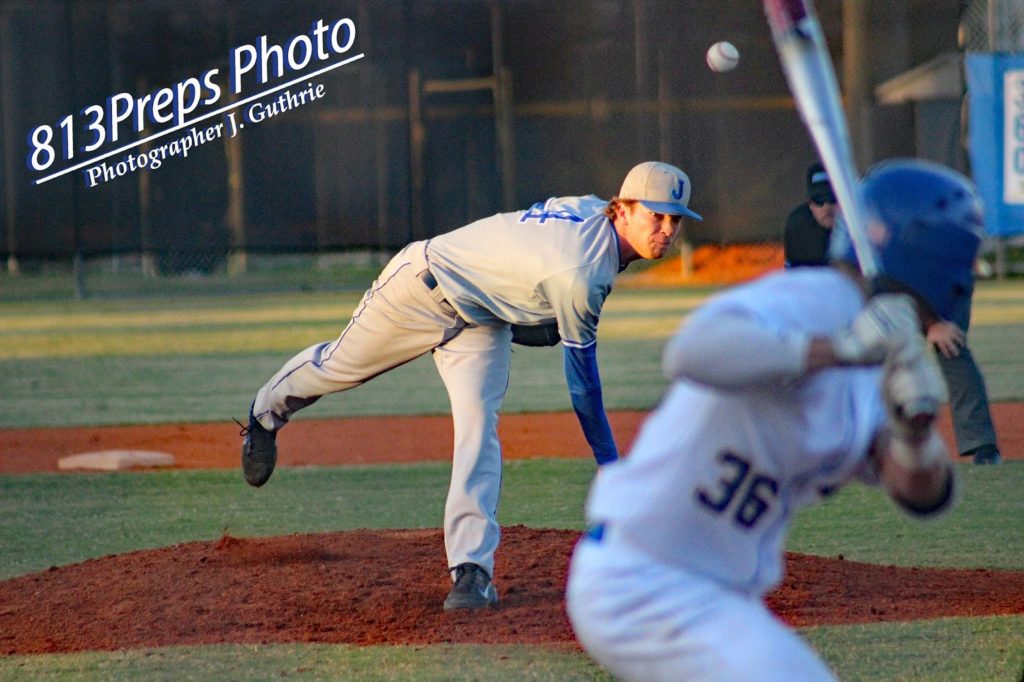 Jesuit starting pitcher Jack Anderson earned the win for the Tigers to improve to 3-0 on the year.
By Jarrett Guthrie
TAMPA – With just nine hits through Jesuit's first 11 games, senior Joel Brewer was mired in a bit of a slump – going hitless in his previous two games. But in the first inning of Tuesday's district game against Jefferson, Brewer seemed determined to get the Tigers going right early.
Brewer, a South Carolina signee, leadoff the game and took the first two offerings from Jefferson starting pitcher Mike Dominguez as strikes looking, before working the pitch count to 11 and cracking a line drive shot over the left field wall on the 12th pitch.
The leadoff dinger was to be all the scoring needed as Jesuit took sole possession of the Class 6A-District 8 lead with a 1-0 win, with Dominguez and Tigers' ace Jack Anderson both tossing outstanding games.
"I was in there so long and he just made a mistake finally and I put a good swing on it," Brewer said. "… It feels great being the only run, and that run getting a big win. Now it feels like a big weight has been lifted off me."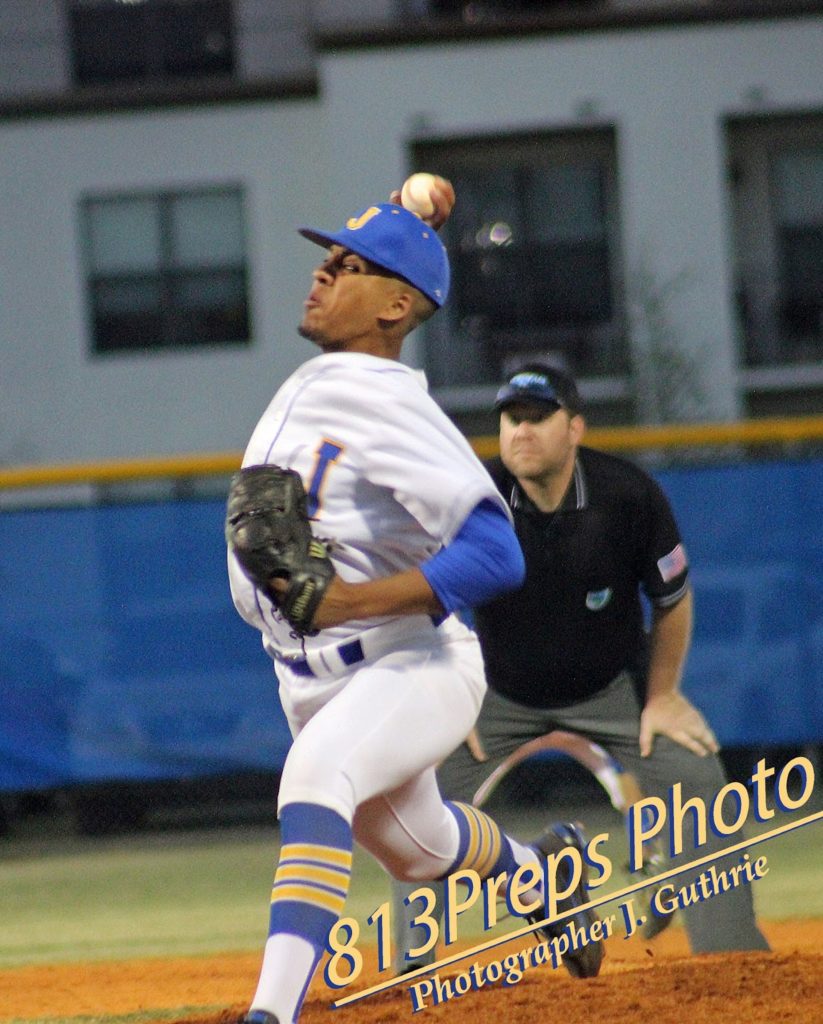 Jefferson SP Mike Dominguez took a tough loss, working
six complete, allowing just one run on two hits,
and striking out 11.
Dominguez, a junior and University of Tampa commit, finished the first inning with 38 pitches thrown, then locked it down working six innings, allowing just two hits and striking out 11, including a run where he sat down 10-of-12 he faced, and five of those hitters went down looking.
"(Dominguez) did an amazing job on the mound for them," Anderson said. "He was a huge problem for us last year. I believe he is committed to the University of Tampa and I know he is going to do huge things over there. He really composed himself well on the mound, he's a great competitor and I have a ton of respect for him."
Answering that challenge was Anderson (now 3-0 on the year), who worked 5 2/3 innings of shutout baseball, striking out six, allowing five hits and four walks, while his defense did its job behind him and Jefferson left eight runners aboard in the game.
"It's a whole different game when you have that early, run lead," the FSU-signed righty said. "When a guy gets to second and there is only one out, you aren't too worried about it."
"Also a big thing is what it does to their attitude. You give up a home run in the first inning and you aren't exactly as confident as you were before that pitch."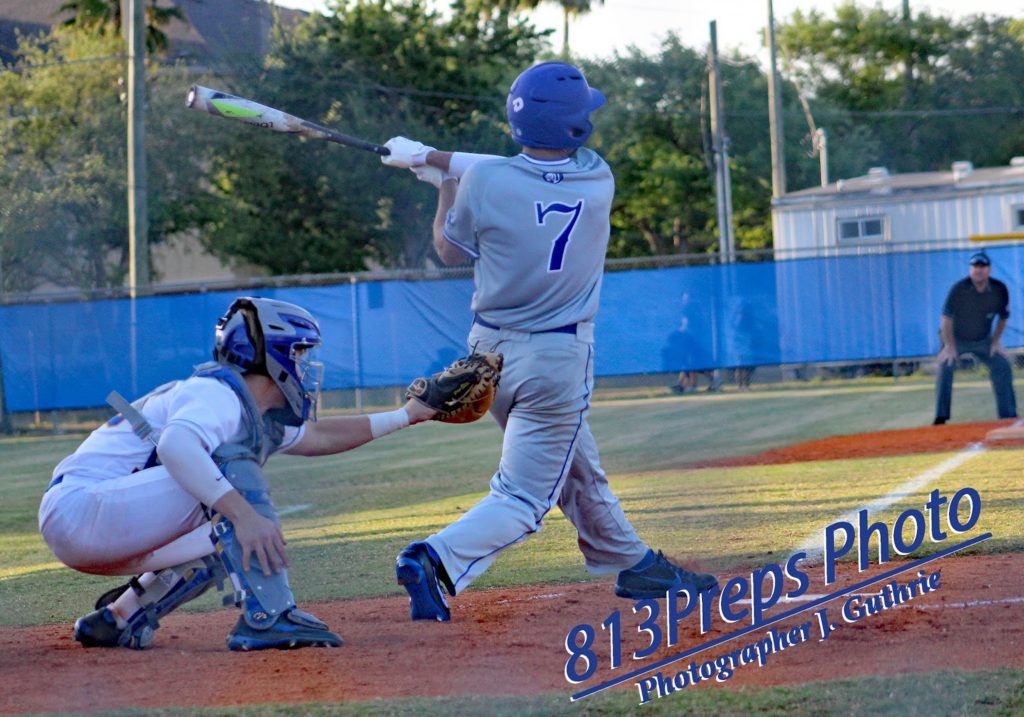 Jesuit senior Joel Brewer connected on the 12th pitch of the game's leadoff at-bat sending a line drive rip over the left field wall, providing all it would take to give the Tigers a big district win.
Senior William Swantek earned his fourth save of the season, working the final 1 1/3 innings, allowing one hit and one walk, but keeping the scoreboard clean.
Jefferson (8-4, 4-1 in 6A-8) turned a pair of double-plays on defense, the first going 6-4-3 (Oscar Galvez to Sal Vega to Marc Degusipe) and the second going 5-4-3 (Nick Perez to Galvez to Gage Wilcox).
Jesuit (9-3, 4-0 in 6A-8) catcher Bennett Lee, who had one of four Tigers hits in the win picked a runner off first in the fourth inning, and in the next inning caught a runner trying to take second on a missed sac bunt attempt. An out that proved pivotal in a fifth inning where the Dragons followed that play with a walk and a single to the outfield before the third out.
Robert Hales and Reid Clark had the Tigers other singles on the night; while Robby Martin (FSU signee) was 2-for-4 with a double, and Vega was 2-for-3 for the Dragons.
Jesuit faces district opponent Middleton on Wednesday, while the Dragons take also stay in 6A-8 hosting Robinson on Thursday.