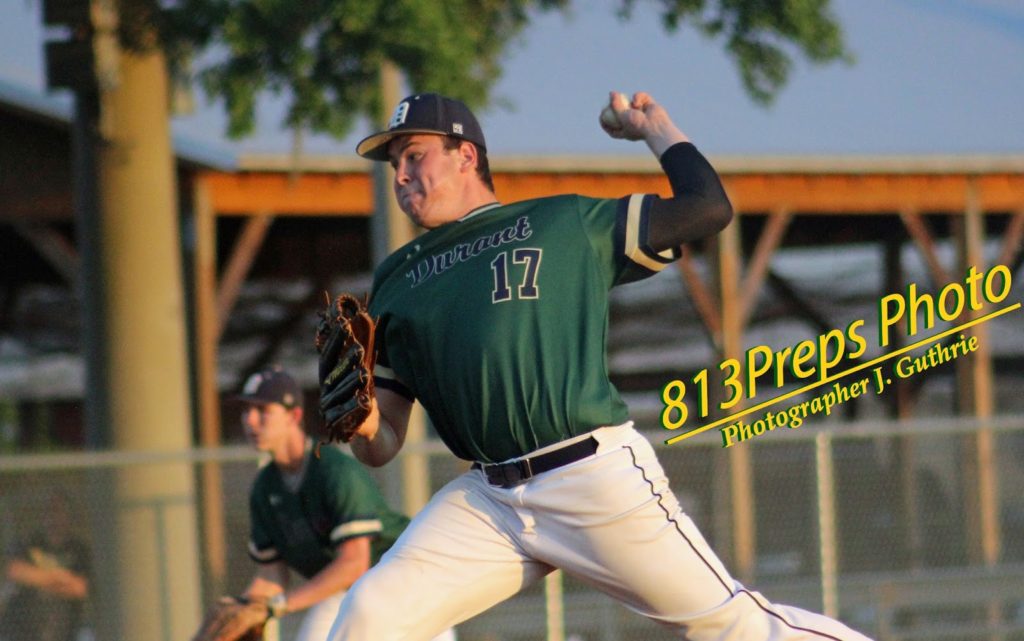 Durant senior Matt Byars struck out 13 across 6 2/3 innings of work, holding Riverview scoreless and to just four hits as the Cougars picked up a 2-0, district win.
By Jarrett Guthrie
PLANT CITY – Durant senior Matt Byars has been on a steady roll lately making quality starts for the Cougars, including wins over Alonso and Bloomingdale, and that didn't slow down as the big lefty took to the hill Tuesday night against Class 8A-District 6 opponent Riverview.
The 6-foot-2, Byars pounded the strike zone, worked the corners and baffled the Sharks' hitters as he struck out 13 across 6 2/3 shutout innings, before a 104-pitch count forced him from the game. Luckily, Durant reliever Reed Toney was ready to close the game out in fashion securing a 14th strikeout for the team and locking down the save as the Cougars won, 2-0.
The win stopped a three-game losing skid by the Cougars, and Byars said prior to the game he felt his team had an attitude of being ready to shake off that streak.
"I felt the atmosphere before this game was one where we were all ready to get away from those losses," Byars said. "We knew we had to pick each other up and before this game, in the clubhouse, everyone was talking that this had to be our comeback game."
——————————————————–
Unlike many independent news organizations, we haven't put up a subscription paywall – and we hope to be able to keep bringing you the great stories from high school athletics in the 813 area free of charge. But we are still a small business with just a handful of people involved, so there are costs including travel, equipment, and other costs associated with running this business. We are looking for advertising partners, but we also need to count on our readers for support. If everyone who reads our reporting, who likes it, helps fund it, we will be able to continue covering these athletes' endeavors. Support 813Preps.com for as little as $1 by clicking "Donate" button below. 
Durant (6-9, 2-4 in 8A-6) got things going early as junior Brendan Queen led off the bottom of the first with an infield single, moved to second on a Gage Young sac fly, and scored as Frankie Martinez pasted the ball just inside the right field line for an RBI double.
"Every time Matt Byars pitches, he goes out there with a purpose and that is to shove out there," Martinez said. "So it's important to score early runs, because we know he is going to take us deep in the game."
From there Byars took over, allowing just four hits, and just one Riverview runner to advance to second base or beyond – Dillon Besnier who had a two-out double in the fourth and moved to third on an Adam Hunt single, but got no further as Young made a leaping grab of a liner to first base to end the inning.
"We knew they were a good hitting team overall, so we didn't want to put it on a tee for them," Byars said. "We were focusing outside, inside, trying to jam them, pitching backwards – two curves, one hard fastball at the end – and it really seemed to keep them off all night."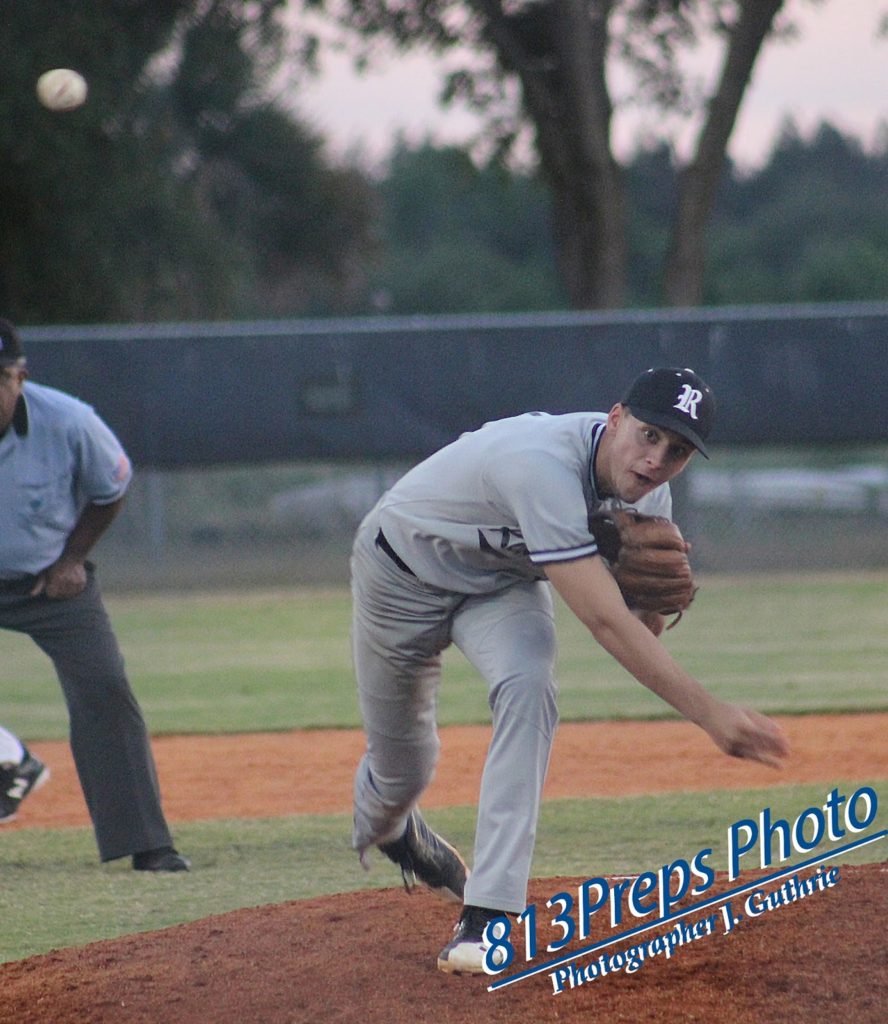 Riverview SP Reagan Jorgensen.
Byars helped his own cause in the fourth with a one-out single and a second run crossed as Luke Cadwallader drew a bases loaded walk later in the frame.
Riverview (9-7, 4-3 in 8A-6) starting pitcher Reagan Jorgensen took the loss, allowing both earned runs on seven hits, and striking out four in four innings of work.
Andrew Martinez worked two clean innings of relief for the Sharks, with both pitchers getting excellent defense behind them highlighted by a heads-up play by second baseman Jeremy Galen in the second fielding a chopper, applying the tag on a passing runner and throwing on to first to end the inning, and later a great play by Hunt coming across the diamond from third laying out for a ball between the mound and second base, then flipping to second to turn a double-play.
Defensively, Durant also ended the top of the second with a double-play as Martinez fielded a skipper to second and started a 4-6-3 exchange.