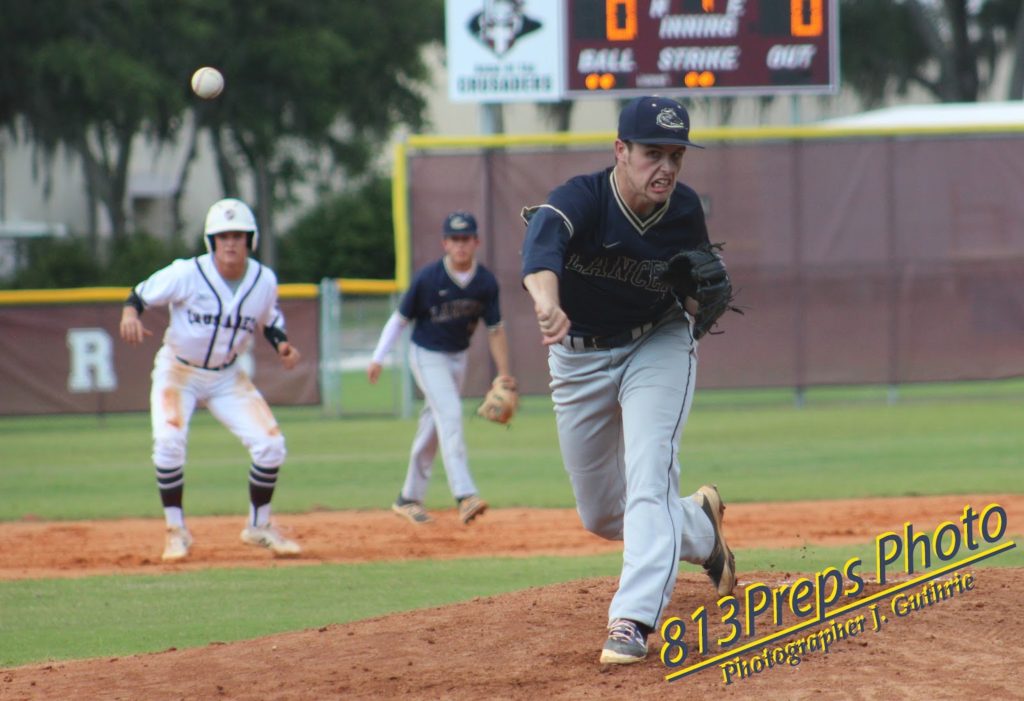 Cambridge Christian senior Austin Carter earned a tough win on the mound pitching seven innings and picking up a key hit in the eighth as the Lancers improved to 4-0 in Class 3A-District 4 play.
By Jarrett Guthrie 
SEFFNER – Cambridge Christian senior Michael McCarty showed off an absolute canon from centerfield nailing a runner at the plate to keep Seffner Christian from a come-from-behind victory to end the seventh, and it sparked a little added fire for the Lancers in extra-innings.
"What a play by Michael McCarty," Lancers starting pitcher Austin Carter said. "It was perfect, right through the cutoff, a perfect throw right when we needed it."
The Lancers responded by squeezing out a pair of runs in the eighth, first on a Carter RBI single followed by an Austin Hessinger RBI sac fly, and held the Crusaders to a single run in the bottom half to walk away with a big 6-5, eight-inning win.
"I knew their whole lineup could hit so I didn't think one (run) would do it," Hessinger said. "Their pitcher had struck me out before so I was looking to swing early, and I got a fastball I could handle, and it was just enough to get that extra run."
Carter was solid on the mound for the Lancers working seven innings, allowing three earned runs on eight hits, and striking out three. He earned the win for his efforts, improving him to 3-0 on the season.
"This is definitely one of the most fun competitions we have each season," Carter said. "We know every time we face (Seffner Christian) it's going to be a dogfight, a battle, so this was what we expected."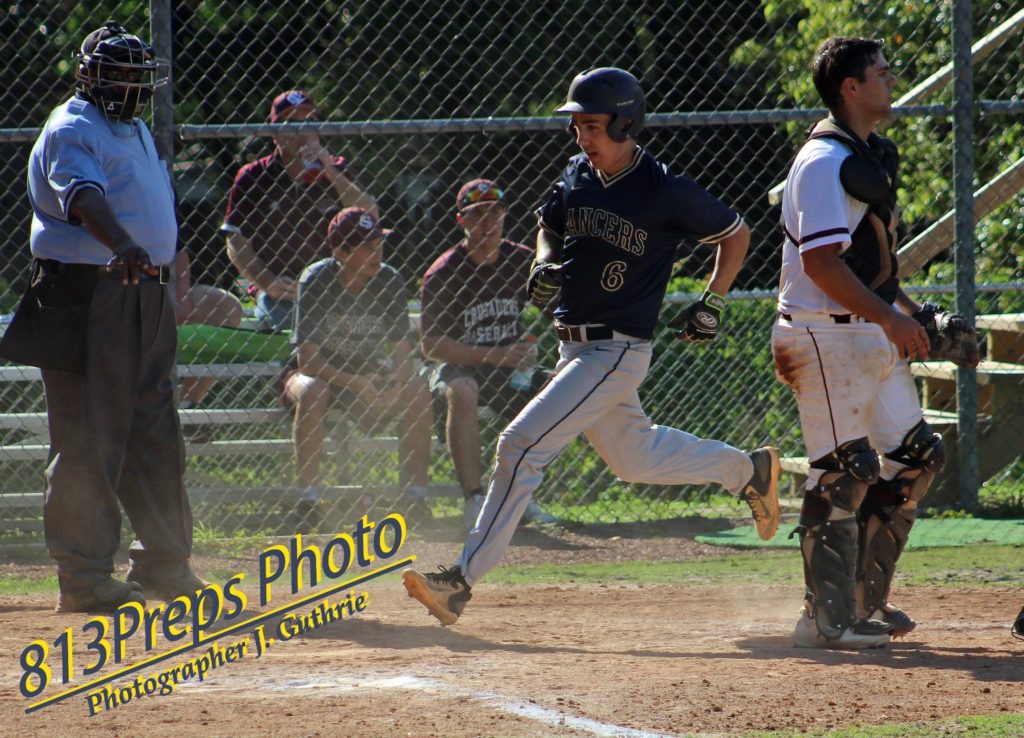 Cambridge Christian senior Nick Kaul scores in the fifth, after singling in
two runs early in the inning.
Seffner Christian (6-7, 1-3 in Class 3A-District 4) jumped out to an early lead as James Peeler led off the bottom of the first with a single and reached second on a bobble in left, before Jackson Shelton singled him in with a liner of his own to left field. Shelton later scored on a Daniel Tomasello groundball hit up the middle.
Cambridge Christian (13-1, 4-0 in 3A-4) answered with a run in the fourth as McCarty (2-for-4) scored the first of his two runs in the game on an errant throw after a Darryl Mercer single.
The Crusaders answered back extending the lead again in the home half as Cole Eskine singled in a run.
But the fifth inning would belong to the Lancers as an error to start the frame quickly steamrolled into three Cambridge runs, keyed by a two-run single by Nick Kaul and an RBI hit-and-run by Jacob Krueger.
The rough inning chased Seffner Christian starting pitcher Bobby Turkett, who was tagged with four runs (one earned) over four-plus innings on just four hits, from the mound.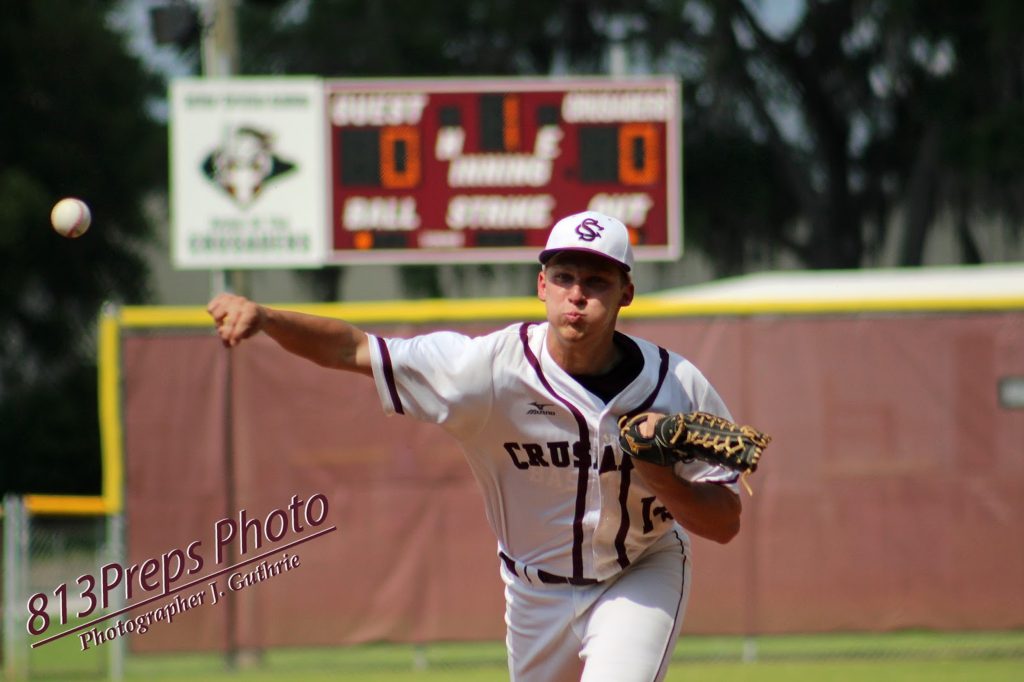 Seffner Christian senior Bobby Turkett worked four innings on the mound for the Crusaders in a no-decision.
Seffner Christian battled back in the seventh tying the game on a Will Gilbert sac fly to left field, but saw a bases loaded chance disappear as one runner was caught off between second and third, followed by the great throw from McCarty to spoil the walk-off try.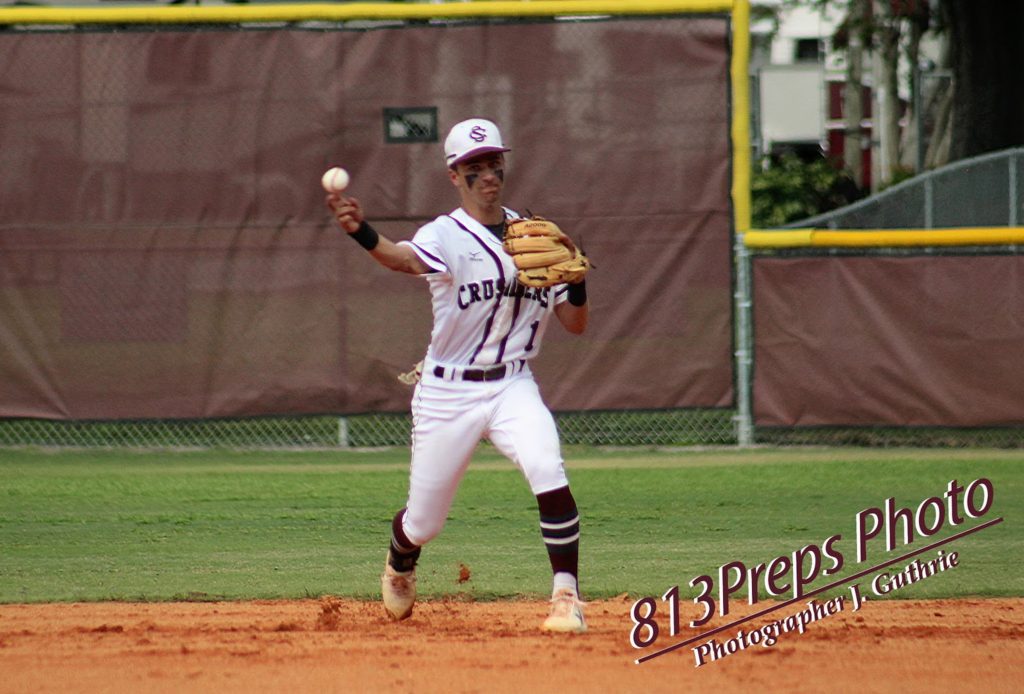 Seffner Christian 2B Cole Eskine had a pair of RBI singles in the loss.
The Crusaders would mount another comeback after the Lancers took the two-run lead in the eighth, but another on target strike, this time by catcher Tilden Agee beat out a runner trying to swipe second, sandwiched by a pair of strikeouts from Ethan McCoy (who earned the save) that sealed the Lancers win.
"Tilden is so good," Hessinger said. "He throws a dime every time … everything about his game is so good. Knowing that they aren't going to be able to run on us with him back there boosts our game so much."
Agee was a part of both of the huge defensive plays for the Lancers, also catching McCarty's throw in from center in the seventh and applying the tag just before the would-be winner could score.
"That was surreal, that's what you dream about when you're a little kid," Agee said of the putout. "Michael delivered it perfectly … it was definitely an impact play. (McCarty) always takes pride in his arm and he showed it off right there."
——————————————————–
Unlike many independent news organizations, we haven't put up a subscription paywall – and we hope to be able to keep bringing you the great stories from high school athletics in the 813 area free of charge. But we are still a small business with just a handful of people involved, so there are costs including travel, equipment, and other costs associated with running this business. We are looking for advertising partners, but we also need to count on our readers for support. If everyone who reads our reporting, who likes it, helps fund it, we will be able to continue covering these athletes' endeavors. Support 813Preps.com for as little as $1 by clicking "Donate" button below.