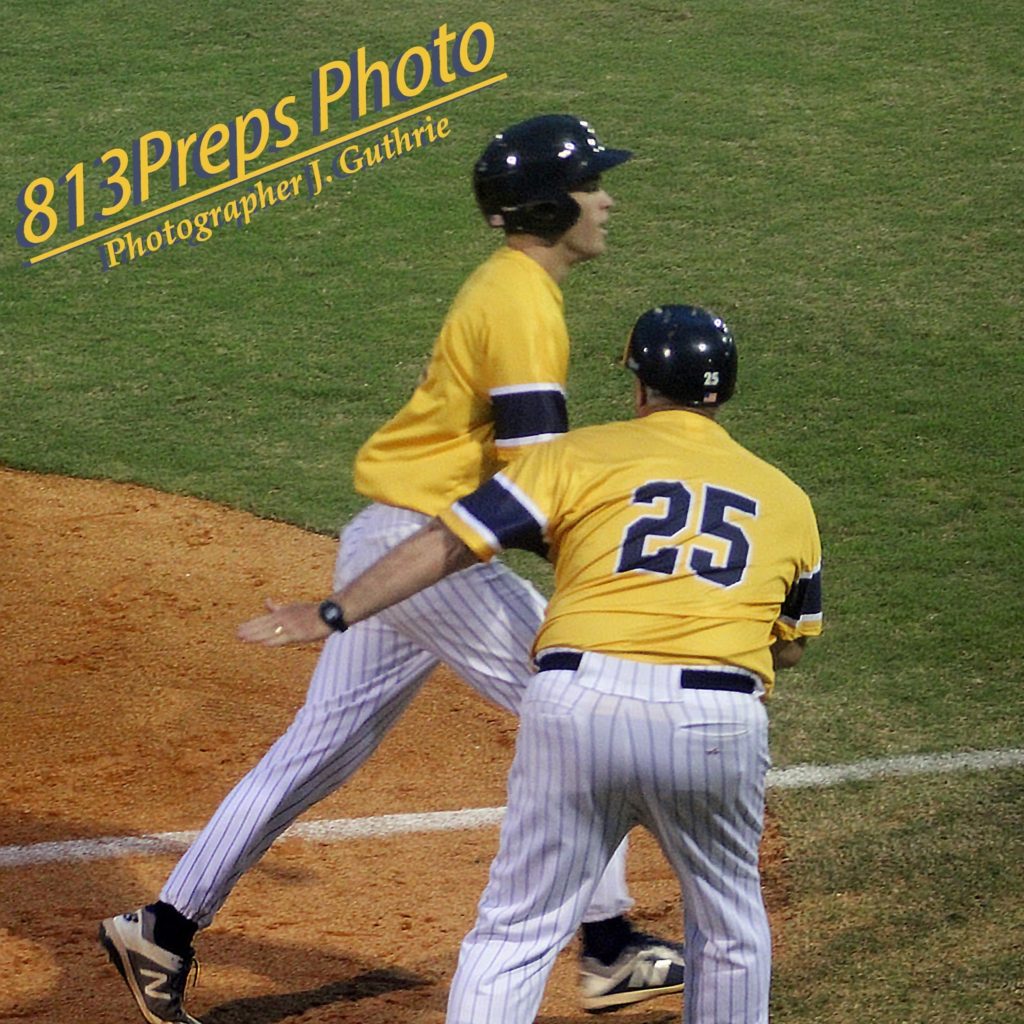 Steinbrenner senior Jacob Baker gets some encouragement from Warriors head coach John Crumbley as he
rounds third after smashing a two-run home run to right center in the fourth inning. The long fly was the first
of Baker's high school career.
By Jarrett Guthrie 
TAMPA – Steinbrenner was looking for a breakout game after dropping three-straight and found it in big fashion as the Warriors pounded out 15 hits – including five extra-base hits – in a 10-2 drubbing of Wharton.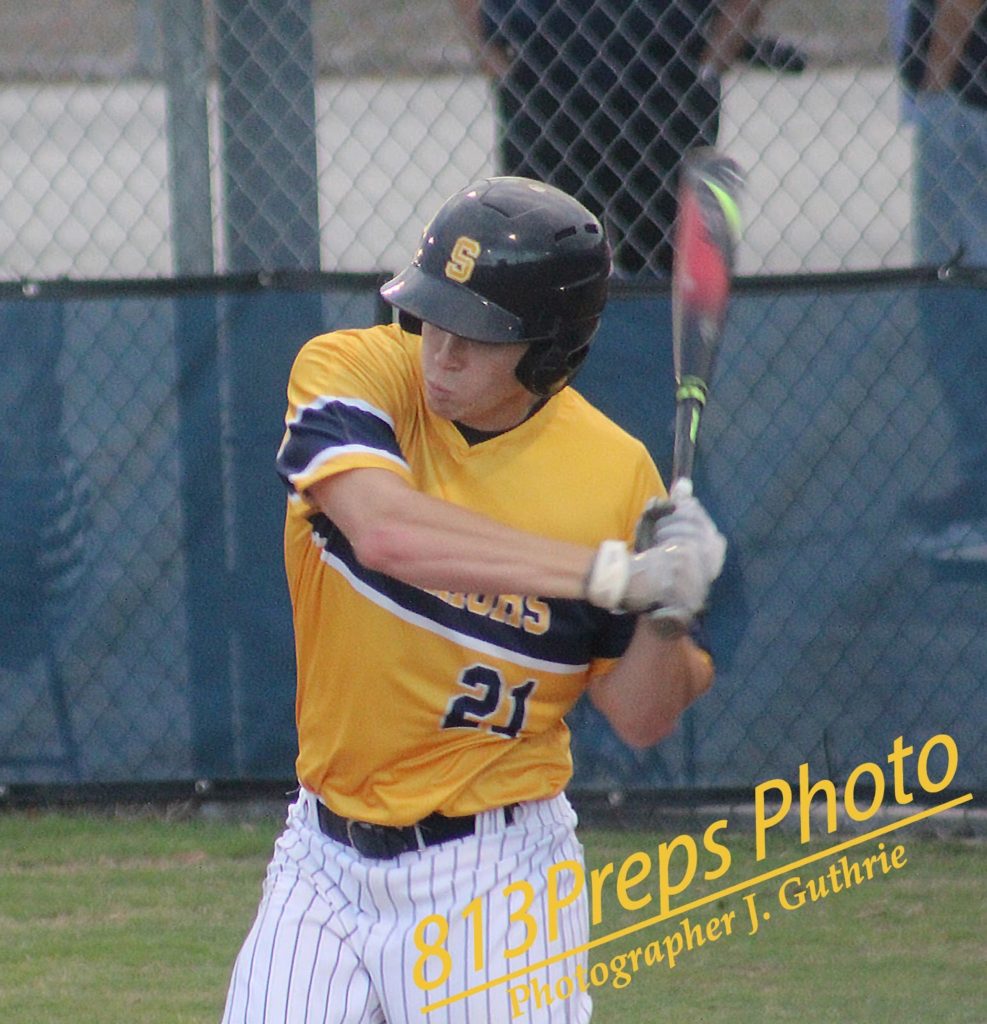 Steinbrenner senior Jacob Baker was 3-for-4 in the Warriors win.
The Warriors bats were a little slow to start, but picked up in the fourth inning as Tommy Malouf led off dropping a single into shallow right, then motored around to score the game's first run as Noah Luke drilled a skipper into the outfield for a double. Grant Walford cashed in another run on a single, but the decisive blow came off the bat of senior Jacob Baker, who crushed his first career home run over the right-center wall.
"That's my first one," Baker said. "It feels great, and I'd love to think more are coming, but right now our focus is on winning games however we can."
The run support was enough for Steinbrenner (7-7) starting pitcher Huston Richter to settle in and cruise through five innings of work, allowing no runs on three hits, while walking four and striking out four. The Saint Leo commit worked consistently and let the Warriors defense back him up, as Steinbrenner committed just one error in the first inning and had highlight plays from Malouf in left, who made a diving catch in the sixth, and a nicely turned 4-6-3 double-play started by Dalton Raeckers in the fifth.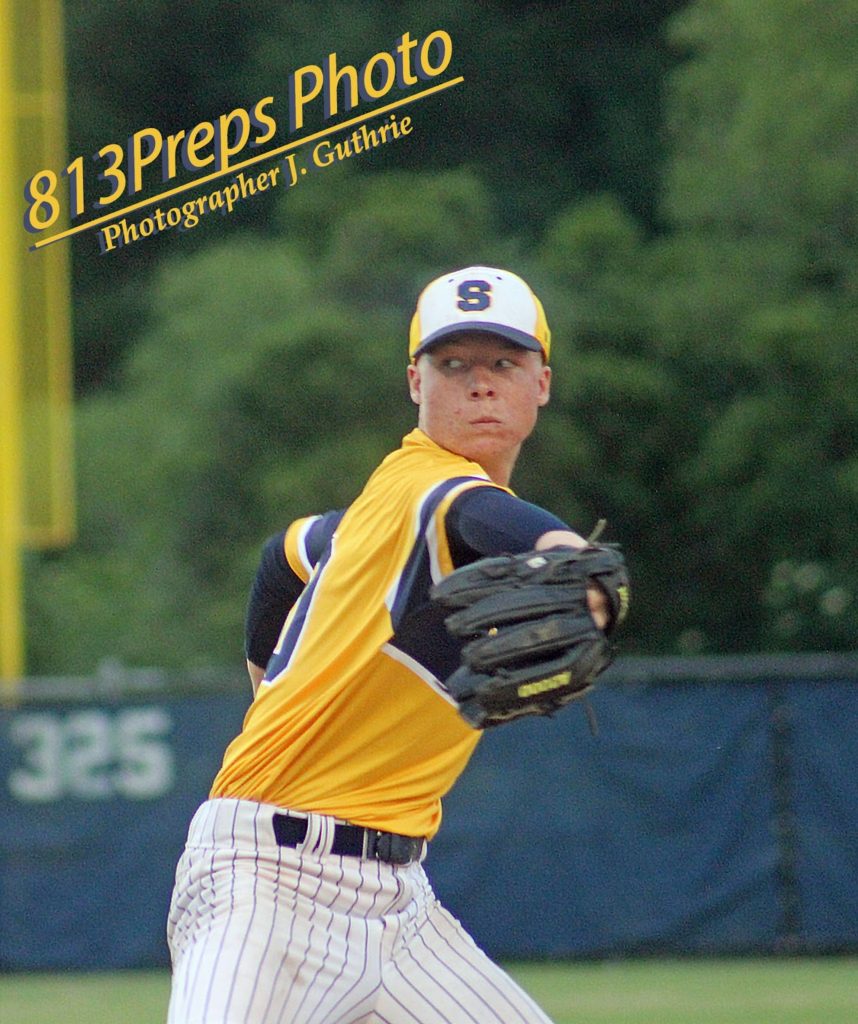 Steinbrenner SP Huston Richter worked five shutout innings
to earn the win for the Warriors.
"Those runs gave me a boost in confidence and I felt like I had a lot more power after them," Richter said. "I just kept pounding the zone and let my defense back me up."
Jordan Lala (3-for-4, RBI) led off the fifth with a double and eventually scored on a wild pitch, and Steinbrenner added one more in the sixth inning as Matt Roberts banged an RBI double off the high centerfield wall.
Richter found himself in a little bit of trouble in the sixth, walking the first two batters of the inning, but reliever Chase Campolong got out of the inning without allowing a run.
Steinbrenner added four more in the top of the seventh led by a bases-clearing triple by Garrett Reynolds and an RBI single from Lala.
Wharton (11-4) scratched out a pair in the home-half of the seventh as Steve Hotinski and Zach Ehrhard started the inning with singles and scored on an RBI single by Brian Baughman and an RBI sac fly by Grady McGuire.
Wharton's defense turned a first-inning double play as Ehrhard fielded a chopper, flipped to Leo Alfonzo at second, who threw on to first baseman Mike Hudson, and reliever Carson Caso picked off Baker with an excellent move to first base in the sixth inning.
Steinbrenner travels to Chamberlain on Thursday and finishes its three-day run on the road at Riverview on Friday. For Baker, the win Wednesday was crucial to set the Warriors on a strong path after a little bit of a rocky run so far this season.
"I thought it was about time we came out and scored a bunch of runs, and you are always looking for that turning point in the year," Baker said. "It finally came tonight and we have what it takes, if we go out and put it all together."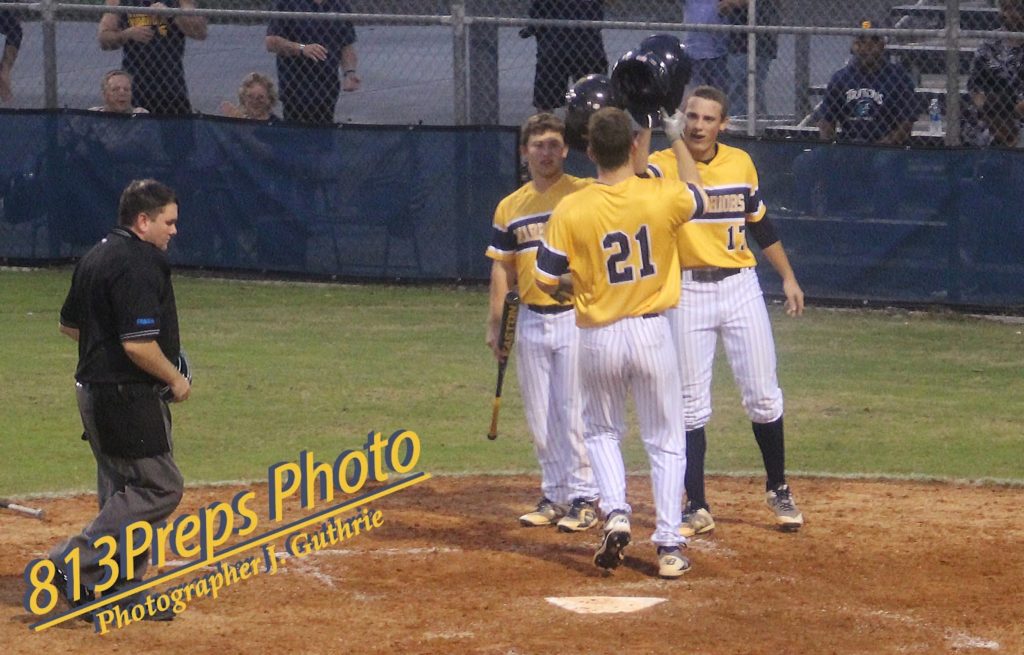 Wharton will need to refocus quickly as the Wildcats travel to Freedom on Thursday, looking to improve to 5-0 in Class 8A-District 4 play on the year and essentially lock up the top seed for the district tourney.


Steinbrenner 10, Wharton 2 
S  000 411 4 — | 10 | 15 | 1
W 000 000 2 — | 2 | 6 | 2
W – Richter. L – Allen. 2B – Luke, Lala, Roberts (S). 3B – Reynolds (S). HR – Baker (S). Records – S 7-7; W 11-4.
Hillsborough Co. Baseball Round-up 4/4/18 
Tampa Catholic 5, Marian Catholic (Chicago Heights, Ill.) 4
At Bishop Moore Tournament in Orlando 
Mitch Kandell hit an RBI single to end the game in favor of the Crusades. Tony Watson (two RBI) and Sebastian Figga (RBI) each had a pair of hits in the win. Senior Julian Pichardo earned the win striking out two in a no-hit inning of relief.
MC 120 100 0 — | 4 | 8 | 2
TC  020 020 1 — | 5 | 6 | 2
W – Pichardo (2-1). L – Schneck. Records – TC 7-8; MC 2-2.
///***


Carrollwood Day 2, Winter Haven 1 
Patriots top Winter Haven 2-1. F. Furey complete game win w/7 K's and 1 run. R. Montenegro 1-2 with run and RBI. B. Hooker 1-3, and G. Partridge 1-3. 

@CDS_Athletics @813Preps @TBHomeTeam

— CDS Baseball (@patriotball1) April 5, 2018
WH  000 001 0 — | 1 | 9 | 0
CDS 001 100 0 — | 2 | 3 | 2
W – Furey (4-0). Records – WH 11-6; CDS 14-1.
///***


Jacksonville Bishop Kenny 12, Jesuit 3 
BK 104 313 0 — | 12 | 10 | 1
J     000 003 0 — | 3 | 5 | 3
W – Haiter. L – Baldor. 2B – Young, Calabro, Neiwulis, Talbott (BK); Politz (J). 3B – Calabro, Abinsay, Talbott (BK). Records – BK 11-4; J 10-4.