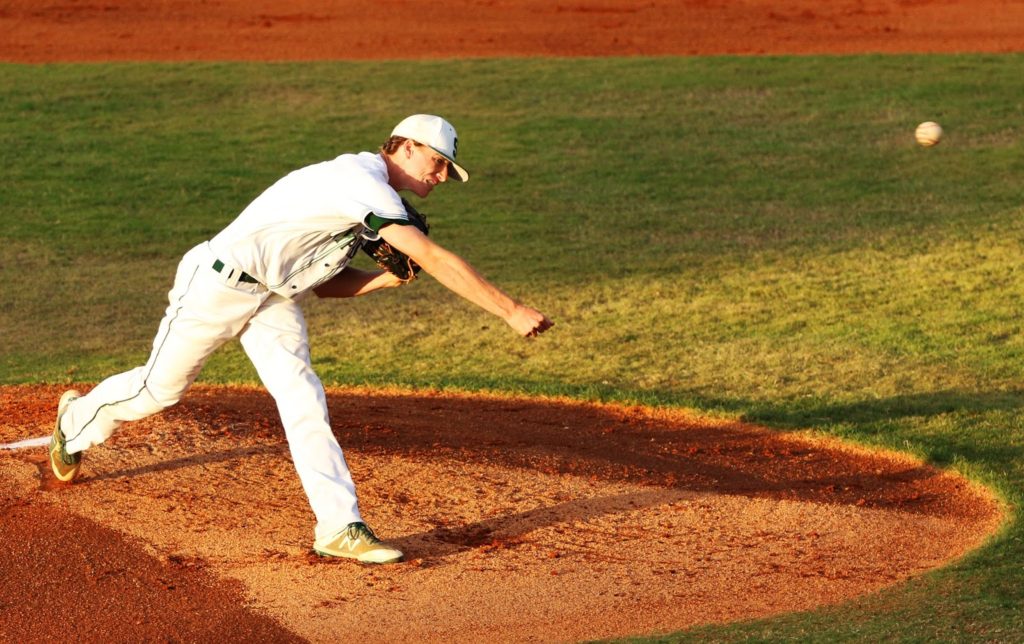 Sickles junior Dylan Eskew came up big for the Gryphons earning the win on the mound and providing his own run support with a  2-run home run in a 2-0 win over district opponent Plant. Photo by Will Turner, for 813Preps.com
By Will Turner 
TAMPA – Dylan Eskew, the second coming of Los Angeles Angels two-way player Shohei Ohtani?
Maybe an overstatement, but nonetheless, the University of Miami commit has been on a roll, whether it be on the mound or in the batter's box.
Sickles came into Thursday's Class 8A-District 5 showdown with Plant with a bit of revenge on its mind after a tough nine-run loss against the Panthers on March 6. They'd get just that with the home crowd behind them toppling the Panthers 2-0, in district play.
Eskew struck out a pair in the first, but the bigger story there was Plant's Connor Scott. The Florida commit, and likely high MLB Draft pick, exited the game after his first at-bat. He sprinted down the line to beat out a close play at first after an error and would then come up with what seemed to be a leg injury.
Scott would be taken out of the game at that time and would not return.
Eskew yielded a two-out double to J.D. Urso in the second, but would then shut things down from there. He would sit down 13 of his first 16 batters faced, only allowing four hits and a walk throughout his outing.
"In the bullpen, I was really feeling my cutter and my curveball, so we tried to work both in," Eskew said. "Get ahead with the fastball and then go to the curveball later in counts, that was the plan tonight."
The plan worked as the Panthers first four in the lineup in Mike Haydak, Evan Baisden (who replaced Scott), Chase Sanguinetti, and Brock Fagler went a combined 0-for-12 on the evening.
"One through three are really good for them, but they really have one of the better lineups in the county. I was more focused on us being able to handle every single one of their batters, since the end of their order really hurt us bad last time out," said Sickles Head Coach Erik Luksis. "Tonight, we were locked in on their entire lineup, not just the main guys. We were focusing on those other guys, so they wouldn't be there for the bigger guys."
Eskew would continue his fantastic start at the plate, in turn helping himself out, giving himself the two-run breathing room with a jack to straightaway left field, scoring Trey Bacon.
"I've been putting in a lot of work towards hitting lately," Eskew said. "(It was a) 2-0 count, just sitting on a fastball and hit it out."
— x – Will Turner (@TBTurner813) April 5, 2018
The junior increased his batting average to an impressive .435 on the season with 19 RBIs.
On the flip side, Fagler matched Eskew pitch for pitch, minus Eskew's home run. Fagler pitched a complete game for the Panthers, allowing four hits, while striking out five. He gave Plant a chance to win it throughout his start.
Tyler Green had a pair of hits, including a double for the Gryphons. Chase Centala came in and picked up the save with a runner on second and two outs to preserve the win in the seventh.
Sickles now muddies things up in Class 8A-5, where one final Steinbrenner-Plant matchup, and possibly a coin flip, will determine who will advance onto the district final automatically.
"Here we are, year two, and guys have really continued to buy into what we're getting after. Sickles is a pretty historic school, but not once, has this baseball program won a district title, so that's something we are eyeing and something that we think we are more than capable of getting done," Luksis said.
The Gryphons will have another couple of days rest before heading to Alonso to take on the Ravens, who have lost four straight. Plant will host Riverview in a non-district matchup on Tuesday.
– Will Turner is a student at USF majoring in mass communications, with a focus in news and editorial journalism, and a minor in history. You can follow Will on Twitter:@TBTurner813