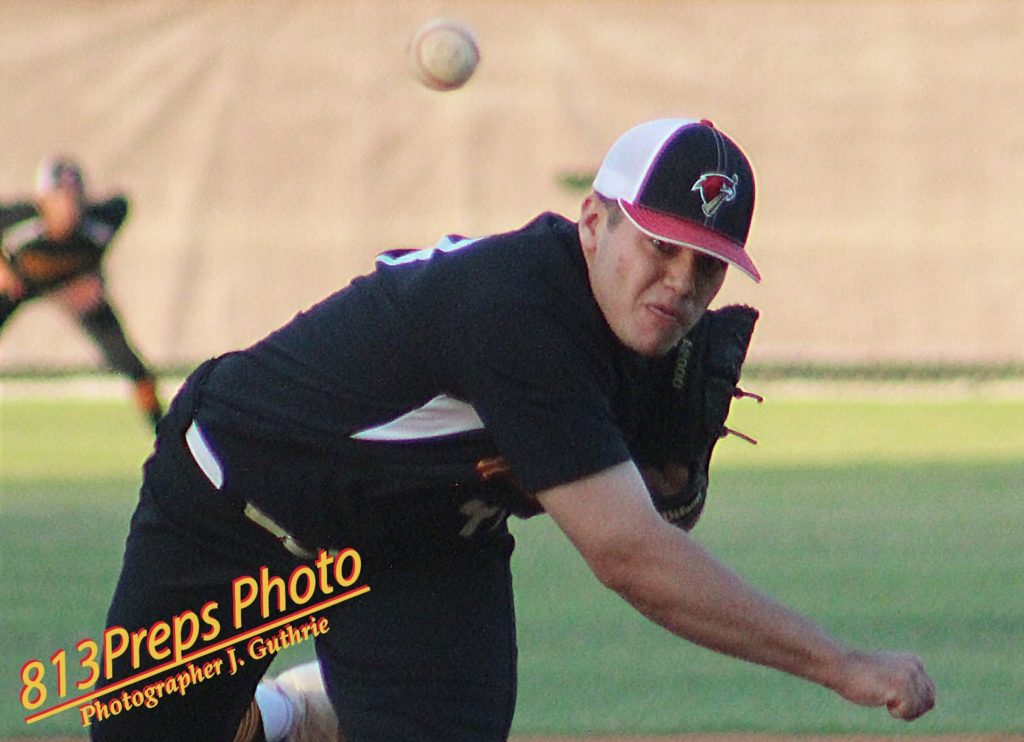 Leto junior Christian Suarez improved to 7-0 on the season, holding Brandon to just one run on four hits, while striking out nine on the road on Friday.


By Jarrett Guthrie
BRANDON – Leto ace Christian Suarez was ready to move on from a shaky and short start against Hillsborough on Tuesday, where the Falcons escaped with a win but the junior gave up four runs (one earned) in just two innings of work.
Suarez again found himself in some early trouble Friday in a visit to Brandon, as the Eagles scored one quickly in a three-hit first inning. From there however, the righty composed himself in a hurry, and allowed just one more hit the rest of the game, while hammering the strike zone as Leto scratched out a pair of runs to win 2-1, winning its sixth-straight.
"As a pitcher you are always told to have a short memory, and sometimes that's not the easiest thing to do," Suarez said. "But Coach (JJ) Pizzio and my pitching coach, Coach Nevin (Griffith) helped me work hard for the three days between games so I would be ready for this game and make the adjustments I needed to make."
————————————————–
Unlike many independent news organizations, we haven't put up a subscription paywall – and we hope to be able to keep bringing you the great stories from high school athletics in the 813 area free of charge. But we are still a small business with just a handful of people involved, so there are costs including travel, equipment, and other costs associated with running this business. We are looking for advertising partners, but we also need to count on our readers for support. If everyone who reads our reporting, who likes it, helps fund it, we will be able to continue covering these athletes' endeavors. Support 813Preps.com for as little as $1 by clicking "Donate" button below. 
Brandon (7-8) got going in a hurry as senior Jermaine White sent a screaming groundball down the leftfield line that traveled into the corner and then showed off his speed, motoring around the bases for a triple.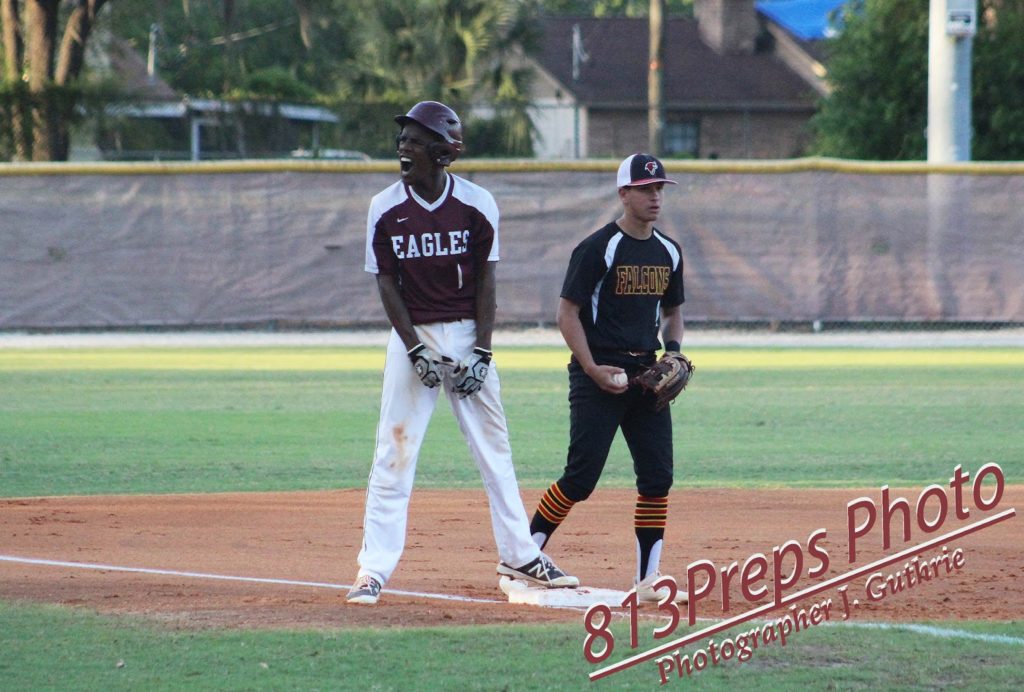 Brandon senior Jermaine White (2-for-3) tripled and scored a run in the first inning for the Eagles and also worked a scoreless inning on the mound in the loss.
Senior Zach Pommier instantly cashed in the three-bagger with an RBI groundout to second. The Eagles followed with a double to the left-center gap from George DeLeon and a single from Gabriel Rosado, but Suarez tightened the belt stranding the runners in scoring position with a pair of strikeouts.
"Early on my fastball was a little flat, so my focus was just to contain it to one run," Suarez said. "I knew my team would go out there and score some runs, and from there I just did all I could to hold them the rest of the way."
Suarez fanned nine in the game, including a 12-pitch, three-strikeout fifth inning as Brandon had no answer for the right-hander who moves to an impressive 7-0 on the season, with an 0.62 ERA and 50 strikeouts.
"That (fifth) inning set the tone for the rest of the game," Suarez said. "We knew we had it after that, we knew we had secured this win."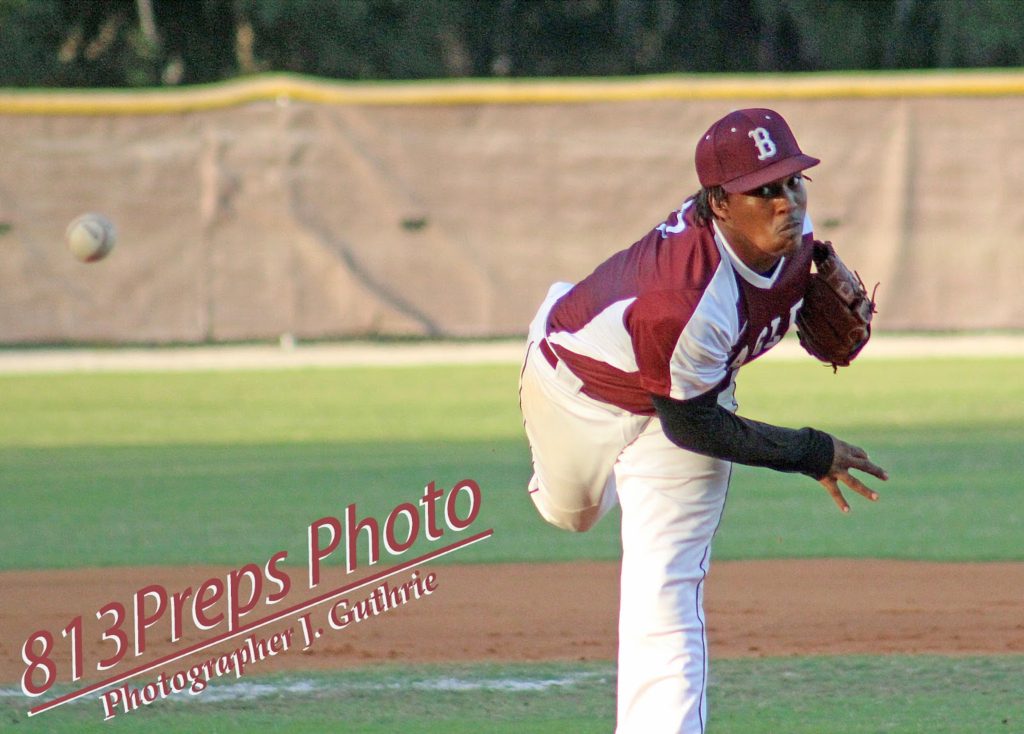 Brandon senior BJ Carter was tagged with a tough loss, allowing two runs (one earned) and striking out six for the Eagles.
Matching Suarez in the duel, was Brandon senior BJ Carter, who mixed an impressive fastball and a great curveball to strike out six.
Leto (13-4) tied the game in the fourth as Javy Hernandez drew a leadoff walk, moved to second on a Jackson Alvord single, and scored as Jorge Carrero picked up an RBI single.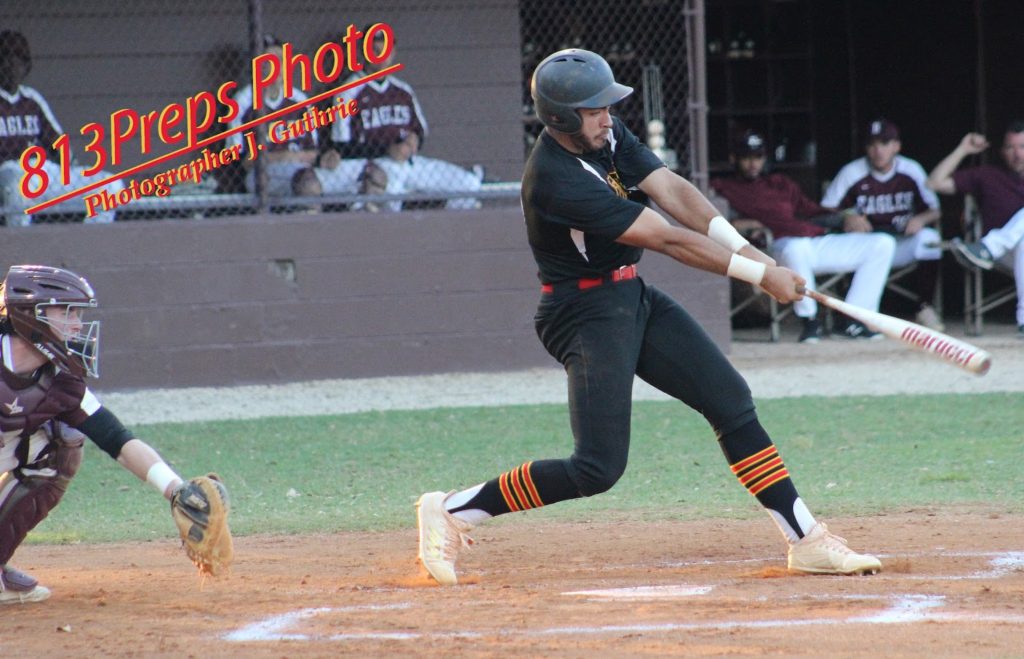 Leto senior Jorge Carrero singled in the tying run in the fourth inning for the Falcons.
Alvord led off the Falcons' sixth inning with a swinging-bunt single, and the catcher was replaced at first by speed-up runner Damien Benton, who promptly stole second, moved to third on a wild pitch and eventually scored as Abel Diaz poked a ball through the five-hole of the Eagles shortstop as the error plated the eventual decider.
"I just stayed relaxed at the plate, and didn't try to do too much," Alvord said of his two-hit night. "I trusted my hands that they could get to the ball, and I just hit it where they were pitched."
Carter finished the sixth inning, allowing two runs (one earned) in the game as the Hillsborough Community College commit falls to 1-4 on the season, but deserves much better as he has a 2.03 ERA and is averaging just over one strikeout per inning this season.
Leto's defense was huge in support of Suarez, highlighted by senior shortstop Fernando Muniz, who made three excellent, charging plays on high choppers up the middle. The first ended a 1-2-3 fourth inning, and two came in the sixth – erasing a leadoff single by White with a flip to second, and ending the half-inning with a great transition from glove-to-hand followed by a dart to first base for the third out.
"When Christian is on the mound, I feel like I have to be at my very best out there," Muniz said. "He's always giving us his all, so when there are plays at me I need to perform and have his back, always."
Leto, which claimed secured the top spot in the upcoming Class 7A-District 8 tournament, improving to 7-0 with a win over Gaither on Thursday, faces Freedom on Tuesday and travels to face district opponent King on next Thursday. Brandon has Class 7A-District 9 games against Lennard (Tuesday) and Braden River (Thursday) next week.