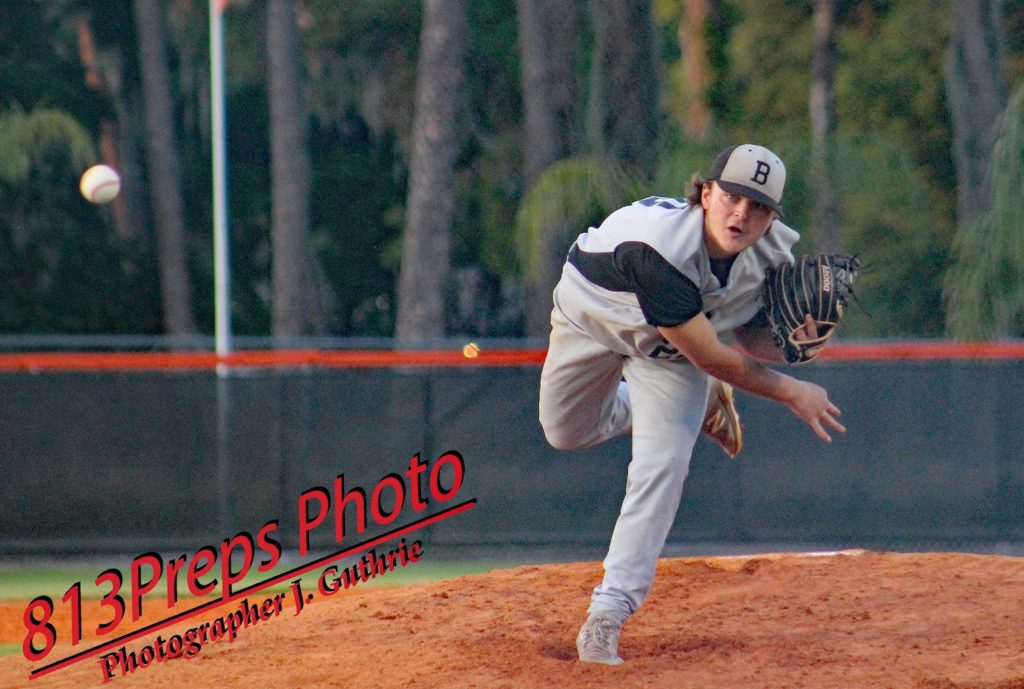 Bloomingdale junior Nico Saladino worked three shutout innings to start the game for the Bulls, then came up with a seventh-inning single and eventually scored the decider on a wild pitch.


By Jarrett Guthrie
PLANT CITY – Bloomingdale needed a step-up game on the mound as the pitching staff is battling some nagging injuries in the eighth week of the regular season. So in one of its biggest games of the year, a patchwork of arms gave the Bulls everything needed Wednesday as Bloomingdale took a 2-1 win over Class 8A-District 6 opponent Plant City.
Bloomingdale (12-5, 5-2 in 8A-6) junior Nico Saladino was tasked with the start and did not disappoint working three quick, shutout innings, allowing just one hit and striking out four in a no-decision.
Matching up for the Raiders was junior, lefty Parker Messick, who was efficient on the mound, letting Plant City's defense back him up. Messick stymied Bloomingdale's hitters through five innings, allowing just one hit and one walk before a pair of sixth-inning Bulls hits resulted in the game's first run as junior Bryce Hazzard sent an RBI grounder into left field.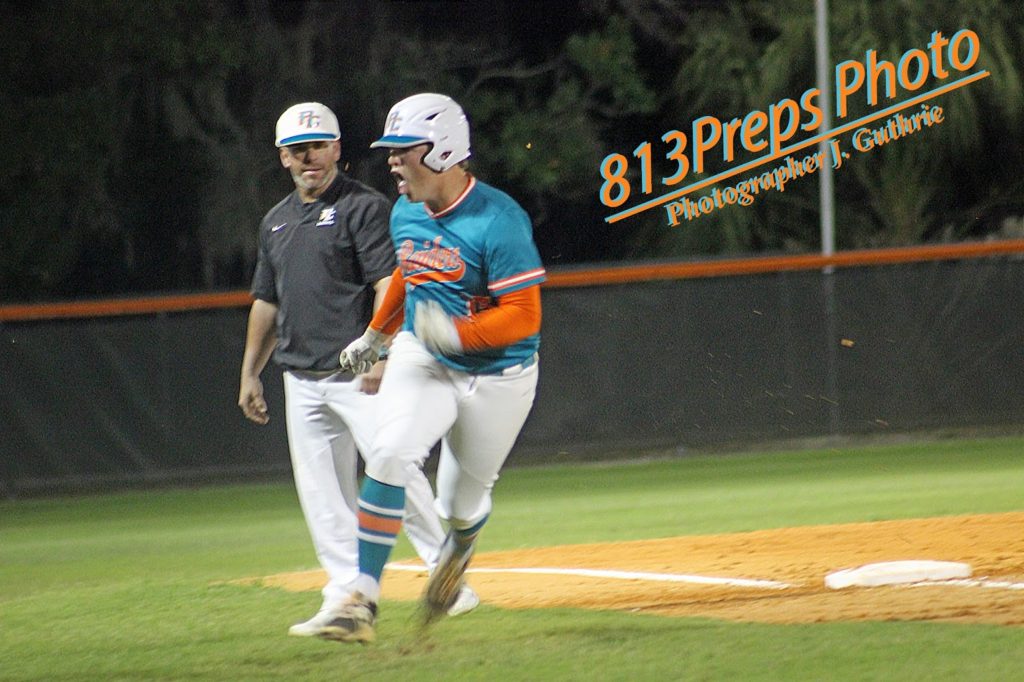 Plant City junior Parker Messick is fired as he rounds third base, after crushing a game-tying home run to center in the sixth inning.
Messick, an FSU commit, answered the run himself in the home-half of the sixth, tattooing a ball over the centerfield fence for a solo home run, however Plant City couldn't capitalize on another hit and a walk in the inning.
Though unable to get the win on the mound, Saladino was determined to have an impact on the outcome of the game and knocked a one-out single into right in the seventh. He moved to second on a wild pitch, to third on a groundball out and scored the decider as Messick spiked a ball in front of the plate and it skipped to the backstop.
"I wanted to get that lead run on them so bad," Saladino said. "I knew if we could get that one, we'd be able to win from there."
The Raiders tried to come back again in the seventh, as Cade Shissler lined a two-out double down the left field line, but reliever Myles Caba composed himself and picked up his third strikeout of the inning to strand the runner, seal the win and earn the save.
"It's all about who doesn't make the moment too big," Caba said of responding to allowing the double in the seventh. "Whoever makes the moment too big, likely is going to fade under the pressure."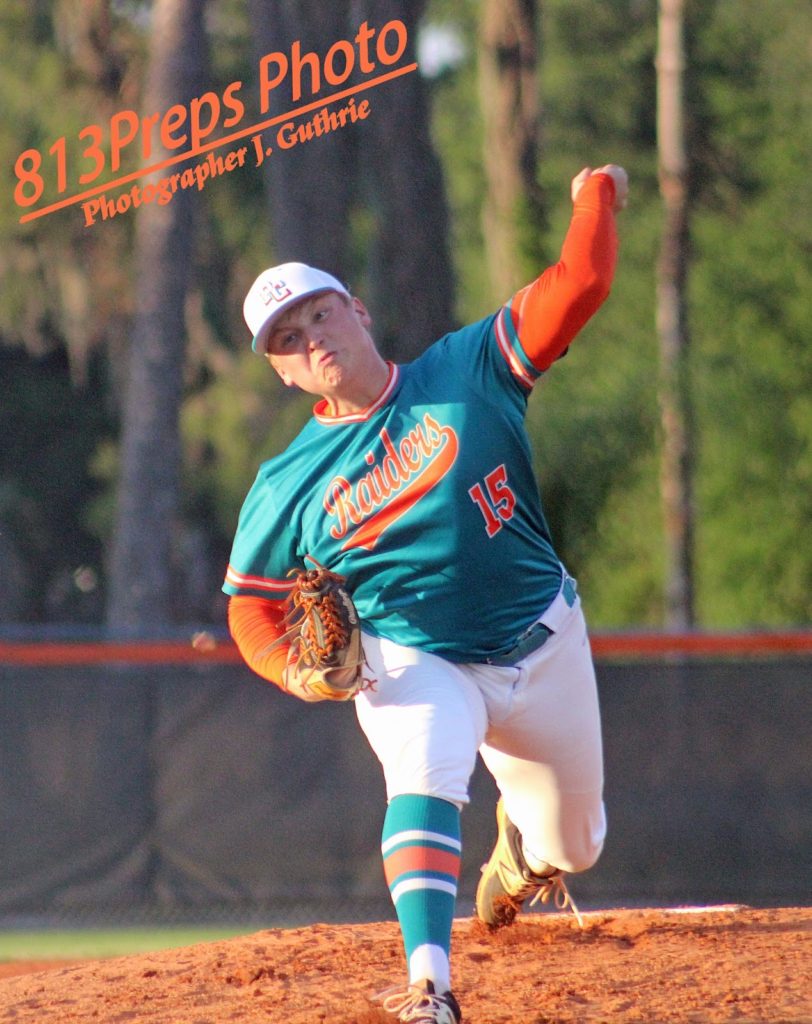 Plant City SP Parker Messick
Shissler was outstanding for the Raiders at shortstop, as the junior and Stetson verbal commit started seven outs on ground balls hit his way in the game – none bigger than in the fourth inning, when he adjusted to a nasty, last second hop to snag the chopper, throw across his body, and start a 6-4-3 double-play. First baseman Casey Mawhinney also made two nice grabs in foul territory for outs in the game.
Hunter Emerine had a two-hit night for Plant City in the loss, while Jackson Hobbs and Dominic Gonnella each had singles for Bloomingdale.
The Bulls got good relief outings on the mound from Brock Wilken, who worked two innings, walked three, but didn't allow a hit, and Hazzard earned the win on the mound tossing one inning, allowing just one run.
Bloomingdale has now won five-in-a-row after hitting a three-game skid in mid-March, and for head coach Kris Wilken the run has been made all the more impressive by the commitment by his players to take on any challenge asked of them.
"I'm really proud of my guys, just because we've been banged up a little bit on the pitching side of it," Coach Wilken said. "Guys are being asked to do things that they haven't been asked to do all season … and these guys have been coming through wherever we've needed them."
Bloomingdale and Plant City split in two meetings this season, but the Bulls hold a one-game lead in 8A-6 play and have a big game on Friday hosting district opponent Riverview (10-8, 4-3 in 8A-6); Plant City finishes its regular-season district slate at East Bay tomorrow.
——————————————————–
Unlike many independent news organizations, we haven't put
up a subscription paywall – and we hope to be able to keep bringing you the great stories
from high school athletics in the 813 area free of charge. But we are still a small
business with just a handful of people involved, so there are costs including travel, equipment, and other costs associated with running this business.
We are looking for advertising partners, but we also need to count on our
readers for support. If everyone who reads our reporting, who likes it, helps
fund it, we will be able to continue covering these athletes' endeavors.
Support 813Preps.com for as little as $1 by clicking "Donate" button below.
(adsbygoogle = window.adsbygoogle || []).push({ google_ad_client: "ca-pub-4669923380710005", enable_page_level_ads: true });