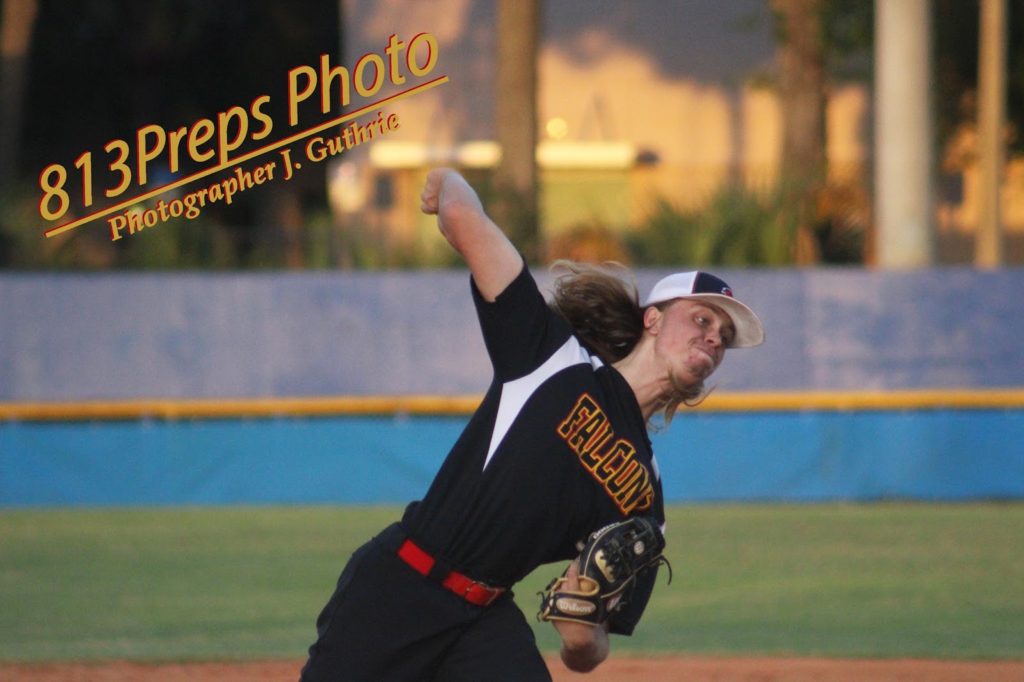 Leto senior Jakob Ryley worked a complete-game win over King, his third-straight victory against a district opponent.
By Jarrett Guthrie
TAMPA – Leto plays at a fast, frenetic and frantic pace from its aggressive, first-pitch swinging offense to a no-nonsense starting pitching staff, to a base-running strategy that would have Ricky Henderson saying, "hey, Ricky thinks they run a lot. Just like Ricky."
So at Monday's team practice, gearing up for a trio of games this week, Leto coach JJ Pizzio took his players out to the field … and made them lay on their backs and look up at the sky?
A practice Pizzio, ever the strategist, has employed in the past he said is a "psychological exercise" meant to "teach concentration and focus … helping players embrace the moment and eliminate distraction."
For Leto the buy-in has been complete and the Falcons have more than lived in the moment, especially against district opponents. Such was the case Thursday, as Leto traveled to King and dominated the Lions in a 7-1 victory.
"Coach Pizzio had us go out after practice on Monday and just lay out on the field and visualize winning this game," first-year Falcons pitching coach Nevin Griffith said. "They buy in to it, they just sat down and thought about it, no questioning it. They love this game, they are focused on it and they want to do well. It's about believing in yourself and that has not been a problem for this team."
Pitcher Jakob Ryley found himself mired in a bit of a funk in March dropping four-straight starts. However, with the help of Griffith (a standout pitcher at Middleton, who was drafted in the second round of the 2007 MLB first-year players draft by the Chicago White Sox, and played seven seasons in the minors), over his last three the senior righty has found a new rhythm winning three straight-district games, including an impressive complete-game effort to top King, where he allowed one unearned run on eight hits and struck out four.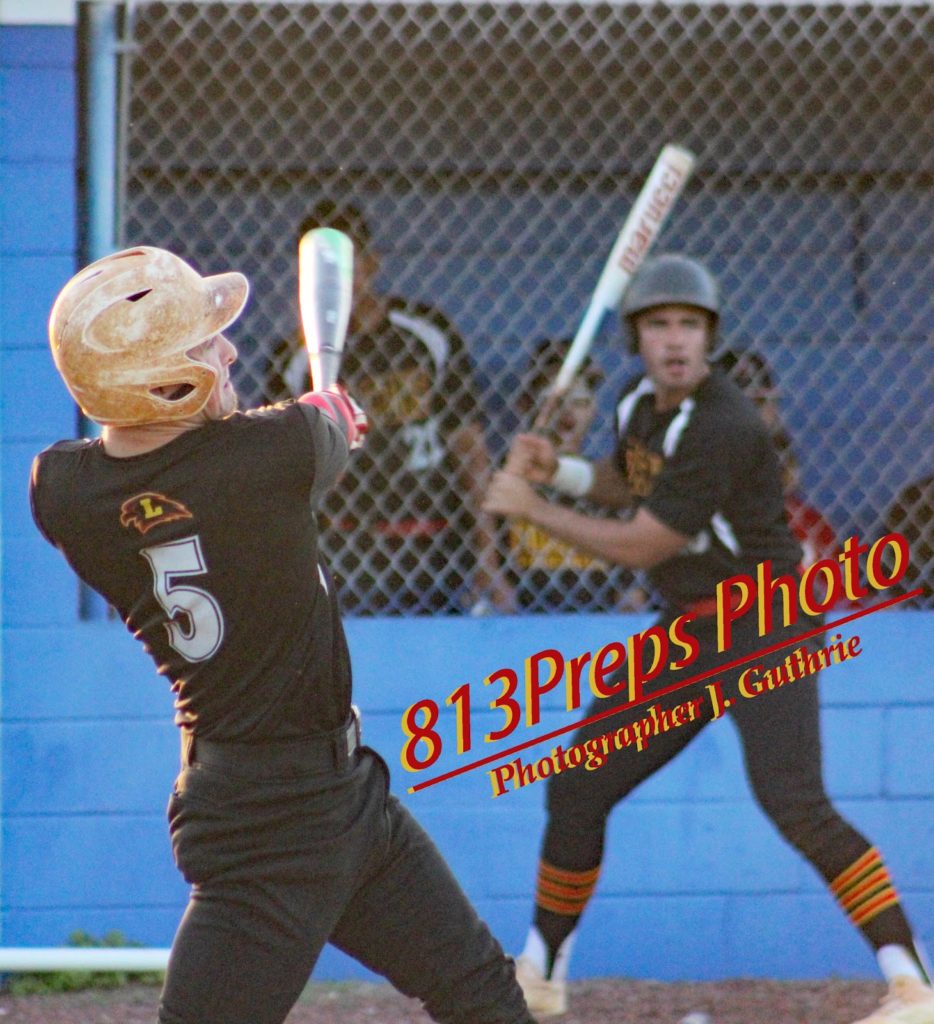 Leto senior Jackson Alvord connects on his third inning RBI
single. Alvord added an RBI double later in the game as well.
"I've been listening to my coach – Coach Nevin – to keep my fastball down and work my change-up more than I was and it's been effective," Ryley said. "King is tough and they got hits off of me, so I just had to mix it up out there, change speeds and keep them off balance and was able to do that tonight."
Leto (15-4, 8-0 in Class 7A-District 8) got ahead quickly as Fernando Muniz reached on an error to start the game, moved around on two wild pitches and scored on an RJ Gutierrez sac fly. The Falcons added another in the third as Muniz singled and scored on an RBI single by Jackson Alvord. From there, Ryley and the Falcons defense took care of the rest.
King (16-4, 5-3 in 7A-8) put runners in scoring position nine times in the game, but a Keyon Floyd single cashed in later on a Hishaam Shafiq RBI single was the only run the Lions could hang on the scoreboard.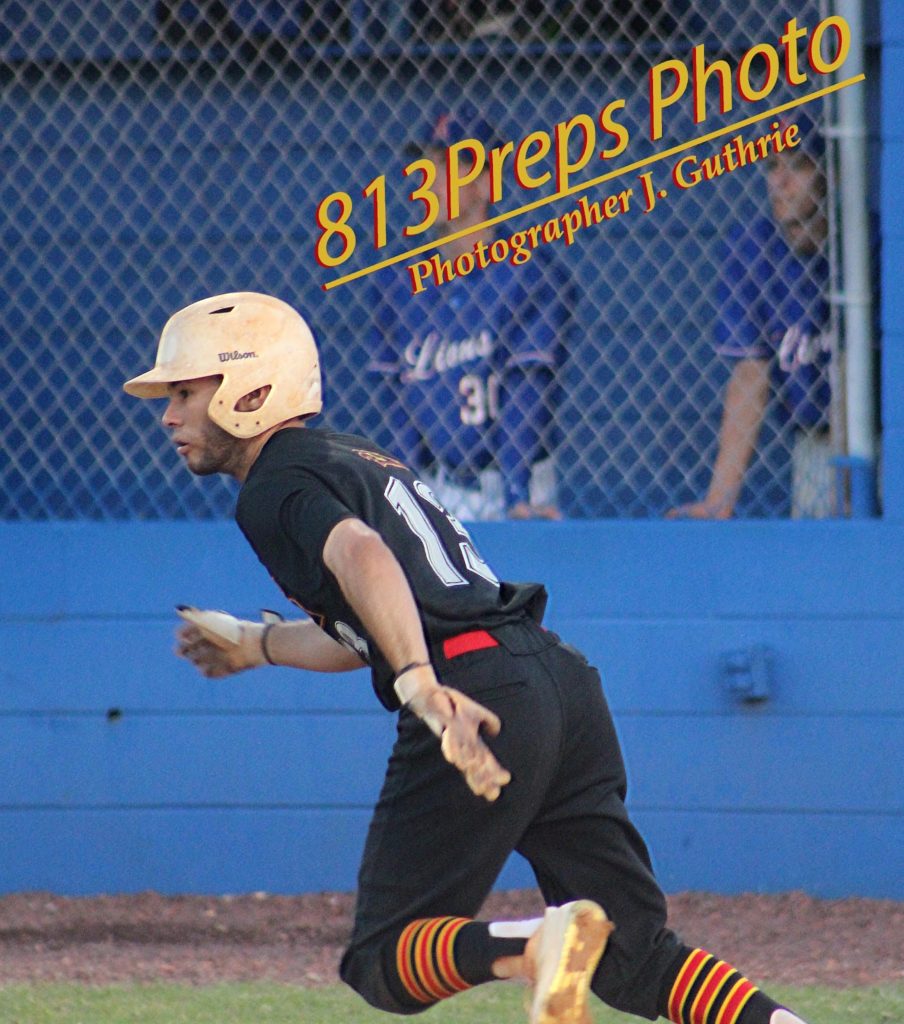 Speedy Leto sophomore Jon Santos busts out of the box
after one of his four hits in the Falcons win. Santos
was 4-for-4, scoring a run and stealing four bases.
The Falcons added insurance in the sixth, scoring three runs including a leadoff single from Javy Hernandez (2-for-4, double, two runs scored), a Jorge Carrero RBI single, and Jon Santos (4-for-4) using his impressive speed to beat out a bunt down the third base line and later scoring.
"My approach is just to do everything I do in practice every time I have an at-bat (in a game)," Santos said. "And when I get (on base), I just use my mind. I watch the pitcher and then I use all my speed and just go."
Leto added more with a two-run seventh led by an RBI double by Alvord, and a delayed double-steal keyed by Santos' fourth stolen base of the game.
"They got me that extra insurance, and I could go back out there and do my best to hold my team up," Ryley said. "It was a confidence booster when they put me ahead early and those extra runs just pushed me the rest of the way."
Ryley lowers his ERA to 2.00 on the season and evens his record at 4-4, to go along with the 8-0 record held by Leto junior Christian Suarez. The expectations Leto's players and staff had for the team were high after an excellent Fall/Winter season.
"Championship teams have a chemistry about them," Griffith said. "I was lucky to play on a few championship teams and I feel like this could be another one."
Fittingly after sound defense supported Ryley the entire game, Falcons centerfielder Tomas Lozano sealed the win with a highlight reel run and diving catch to end the game.
King senior Addison Barger was 3-for-4, with two stolen bases in the loss, Justice Thompson had a double in the third inning, and catcher Jacob Cordell made two excellent, on-target throws to second base to catch runners trying to steal.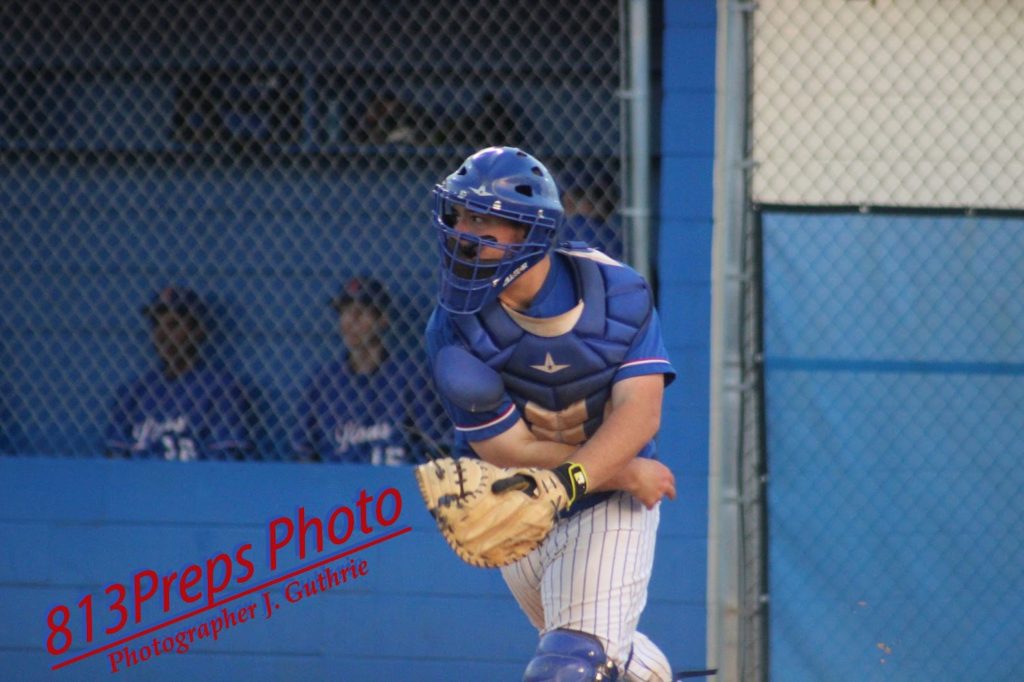 King senior catcher Jacob Cordell threw out a pair of would-be base stealers for the Lions Thursday night.
————————————————-
Unlike many independent news organizations, we haven't put
up a subscription paywall – and we hope to be able to keep bringing you the great stories
from high school athletics in the 813 area free of charge. But we are still a small
business with just a handful of people involved, so there are costs including travel, equipment, and other costs associated with running this business.
We are looking for advertising partners, but we also need to count on our
readers for support. If everyone who reads our reporting, who likes it, helps
fund it, we will be able to continue covering these athletes' endeavors.
Support 813Preps.com for as little as $1 by clicking "Donate" button below.