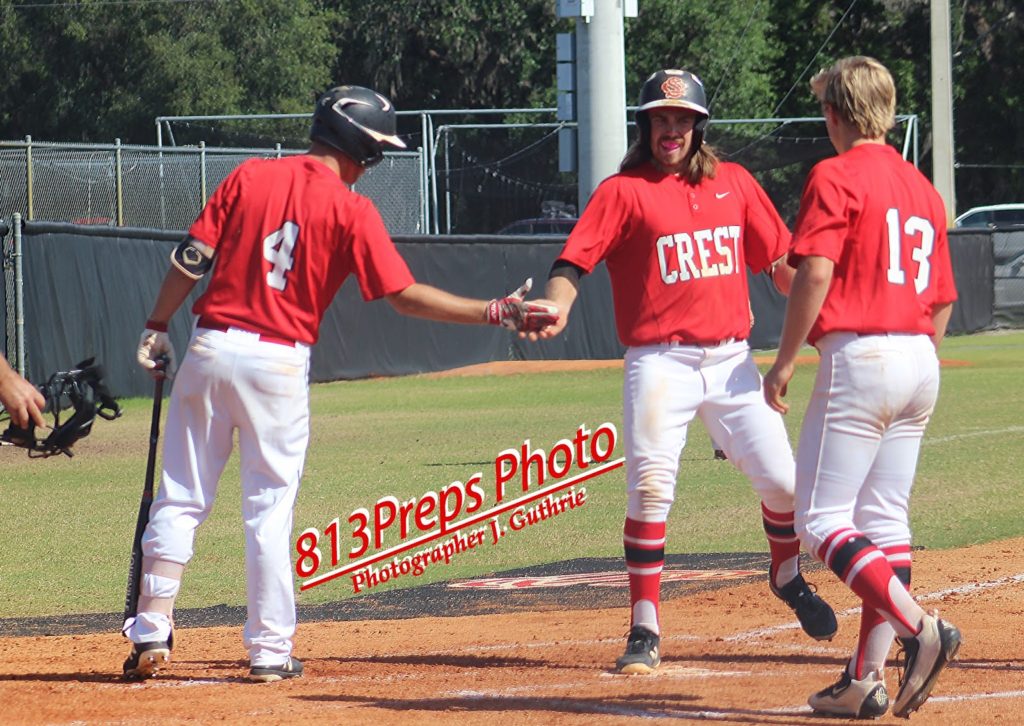 Strawberry Crest senior Derek Barone is congratulated as he steps on home plate by Tanner Kelley (No. 4) and Ryan Dell (No. 13) after smacking a two-run home run – the first of his high school career in the Chargers 10-2 win over Gaither.
By Jarrett Guthrie
DOVER – Pitchers beware – Strawberry Crest's hitters are looking to eat.
The Chargers have 56 hits across the team's current six-game winning streak, including a 13-hit showing Saturday morning as Strawberry Crest defended its home field in a win against Gaither, by a score of 10-2.
Crest worked around a pair of first inning base runners, including a two-out triple by Cowboys senior Danny Gutcher, and once on offense got going in a hurry.
———————————————–
Unlike many independent news organizations, we haven't put
up a subscription paywall – and we hope to be able to keep bringing you the great stories
from high school athletics in the 813 area free of charge. But we are still a small
business with just a handful of people involved, so there are costs including travel, equipment, and other costs associated with running this business.
We are looking for advertising partners, but we also need to count on our
readers for support. If everyone who reads our reporting, who likes it, helps
fund it, we will be able to continue covering these athletes' endeavors.
Support 813Preps.com for as little as $1 by clicking "Donate" button below.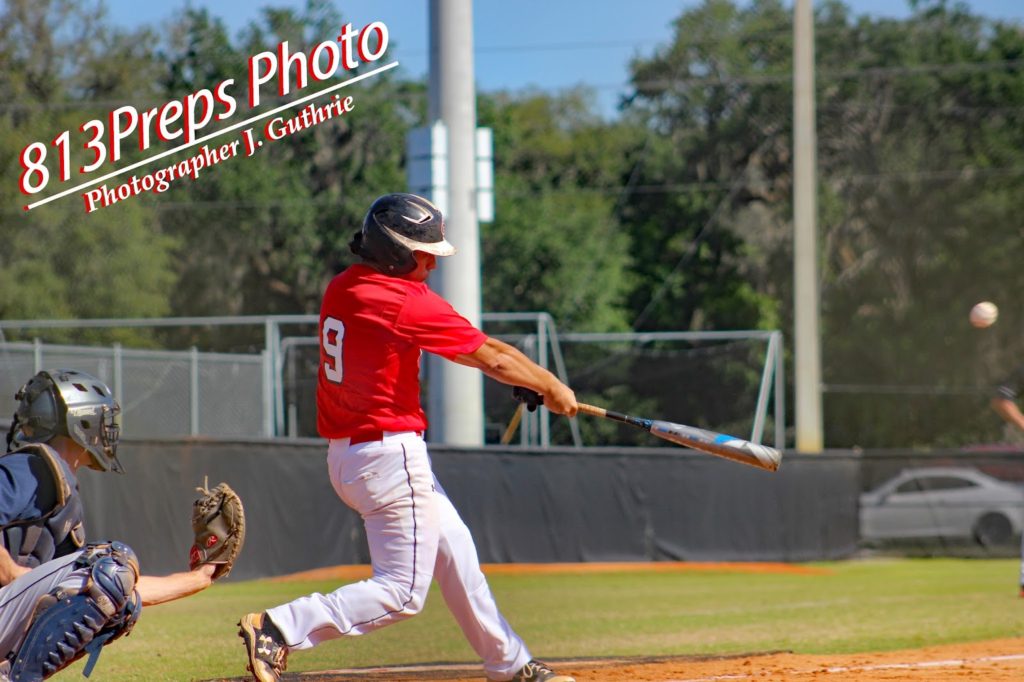 Strawberry Crest's Damien Torres connects on one of his two
RBI doubles Saturday. Torres also worked three innings
on the mound to pick up the save.
Junior Joey Parrillo led off the bottom half inning with the first of his three singles in the game, followed one batter later by a Derek Barone single, before Jacob Heath burned the Gaither left fielder for a two-run double to open the scoring. The Chargers added a third run on a Juan Gonzalez RBI groundout, and a fourth as Damien Torres added his own double to the ruckus.
"It's good to come out here and set a tone early in the game," Heath said. "We know Gaither is a great team, and so starting like we did, I think, showed we were just more ready today than they were and that was able to put us over the top."
In the second the Chargers offense kept up the pace as Barone belted his first high school home run to center adding two more runs.
"I was locked in on a 3-1 count and I was almost positive it was going to be a fastball, I saw that it was and I put a good swing on it," Barone said. "I hit it well and it got up in the wind."
Barone is getting it done during the win streak, going 10-for-17 at the plate over the last six games, with nine RBI, seven runs scored and two doubles, to go along with his Saturday morning dinger.
"We're feeling really strong right now," Barone said. "We started the season a little slow, but that's six-straight right there and we are still heating up."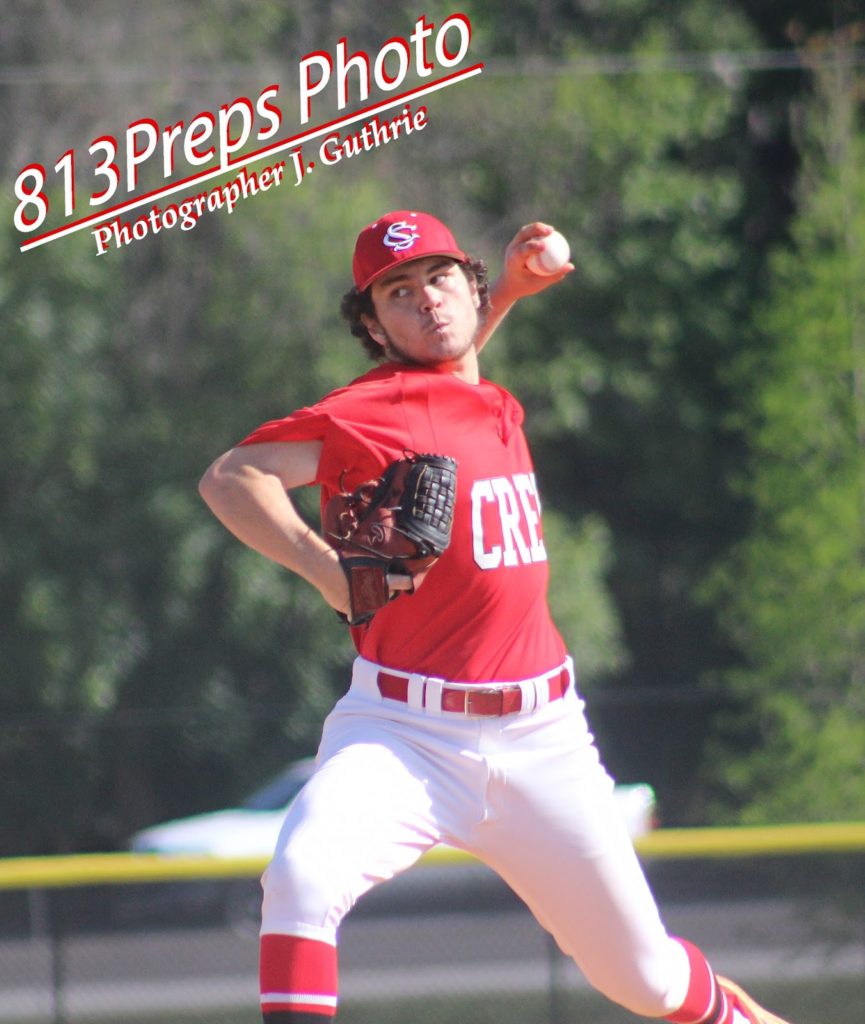 Chargers junior lefty Alex Marshall allowed one run
in his four innings of work to earn the win.
Strawberry Crest (11-6) starting pitcher Alex Marshall did his job on the mound letting his defense do the work behind him. The left-handed junior ran into a little bit of trouble in the third inning as Jordan Williams led off the inning with a single and was eventually driven in on a Julian Lopez single up the middle. But finished with a scoreless fourth inning and improved to 3-0 this year.
"We're just clicking right now, coming together as a whole team," Marshall said. "We're hitting the ball really well, making all the plays on defense and picking up our pitchers. We have to keep it loose, keep doing us, and not try and do too much. Right now, it's working."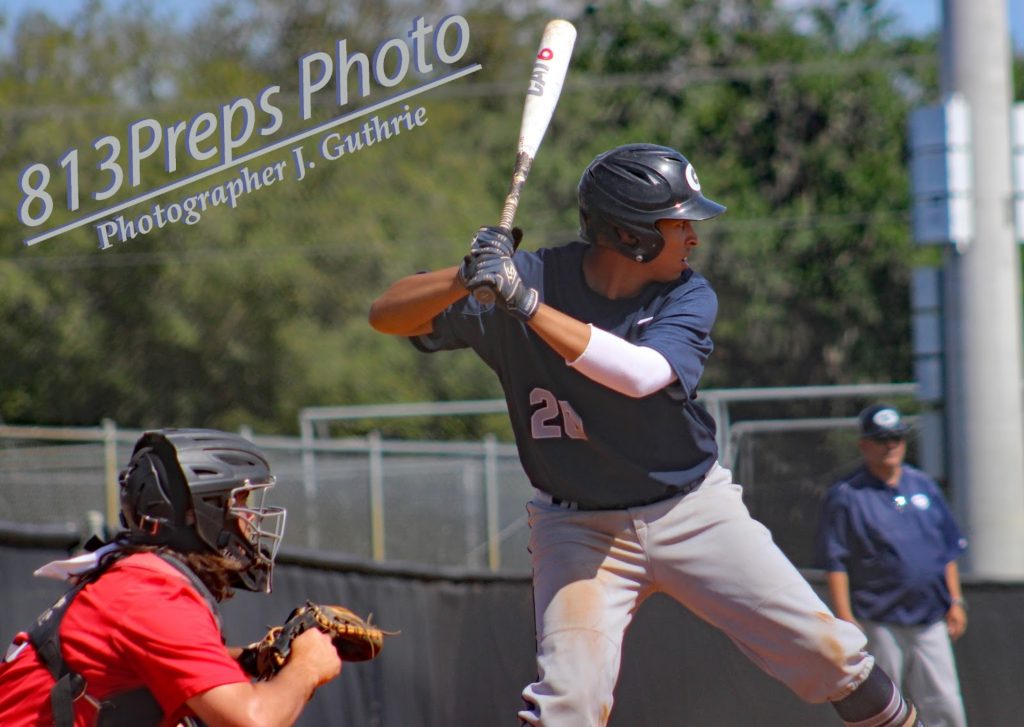 Gaither's Julian Lopez had an RBI single in the third scoring Jordan Williams.
Torres transitioned to the mound in the fifth and picked up the three inning save, striking out seven and allowing one unearned run.
Another four-run inning for the Chargers in the sixth included a second RBI double by Torres, a two-run single by Alex Mussenden, and an RBI on Parrillo's third single of the game.  Parrillo was solid behind the plate for the game's first five innings before being replaced, and his three-hit game extended his hit streak to eight games and bumped his team-leading average to .380.
The second Gaither (11-7) run came in the sixth, after a catcher's interference call gave the Cowboys a base runner and Adison Dubin drove in the run two batters later.
Chargers centerfielder Tanner Kelley (2-for-4, two runs scored) made a great catch in the second charging hard to his right and rolling through while holding on to the ball for the first out, and Barone flashed his glove at first to end the half-inning diving for a hard-hit line drive that would have allowed a run and perhaps gone for extra-bases.
Strawberry Crest goes on the road to start next week with a game Tuesday at Bloomingdale, Thursday at Riverview, and look to avenge a Saladino Tournament loss to Lennard at home next Saturday.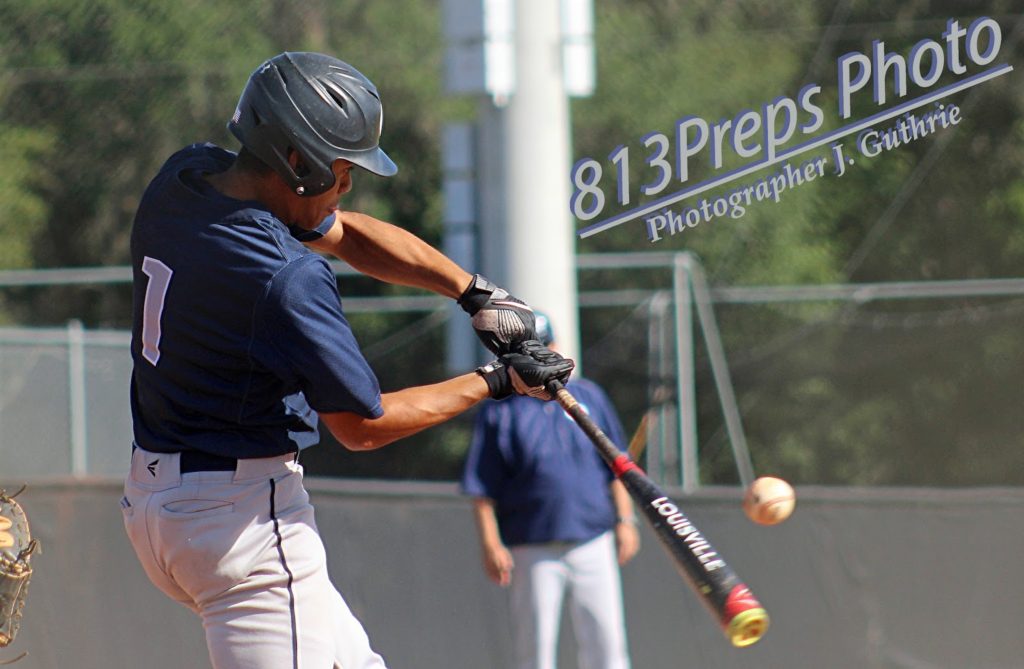 Gaither senior Orlando Arevalo was 2-for-3 for the Cowboys and bumps his team-leading average to .409.
Gaither's schedule stays difficult as the Cowboys host Jefferson (Tuesday) and Sickles (Thursday) next week.