Brought to you by Todd Allen and Florida Executive Realty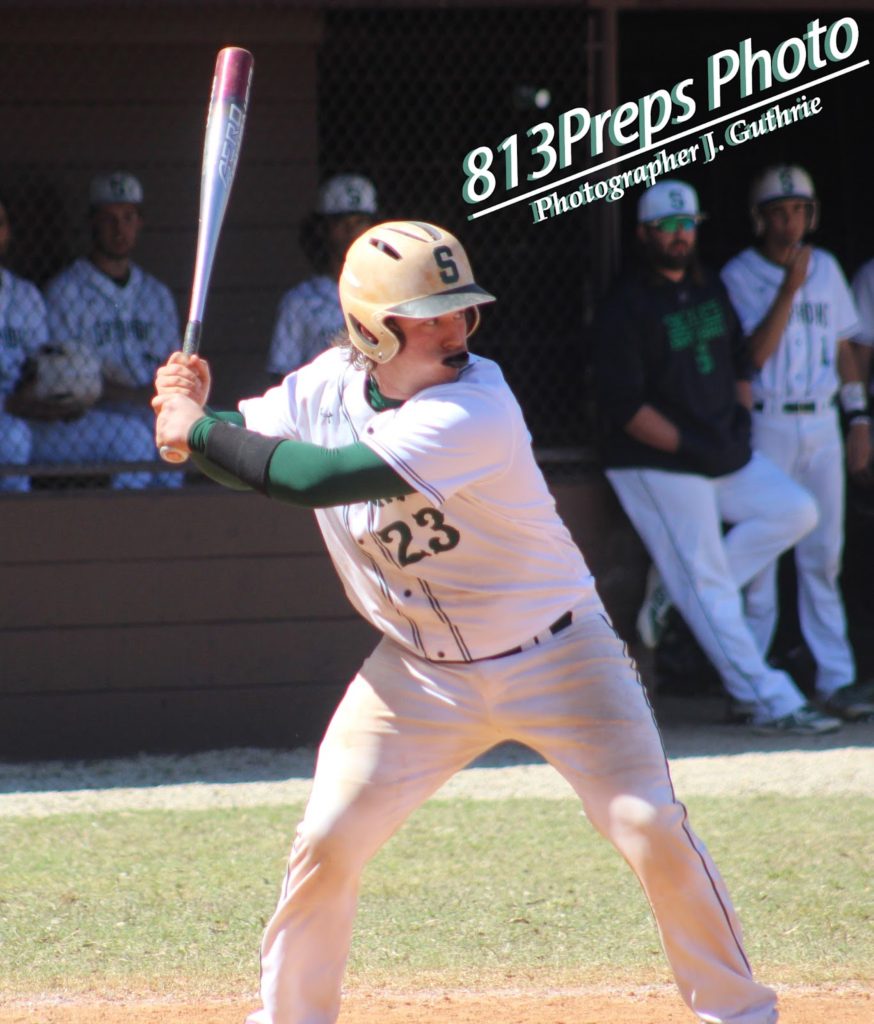 Sickles C Danny Bernstein
1. Sickles (17-3) – The Gryphons offense has no let-up right now as Sickles handily defeated Alonso, Hillsborough and Middleton last week by a combined 33-2. Sickles senior Leandro Alvarez (HCC signee) and junior Danny Bernstein each had five RBI on the week, and senior Rolando Linares scored five runs.
Sickles faces Wharton Tuesday – a chance to avenge one of its three losses this season, and takes on Gaither on Thursday. [Last Week's Ranking: 1]
2. Leto (16-4) – Leto picked up three wins last week, none bigger than completing its Class 7A-District 8 schedule undefeated as senior Jakob Ryley led the Falcons with a complete-game effort to top King 7-1. At Middleton on Tuesday and hosting Tampa Bay Tech on Thursday should give the Falcons a chance to get some experience for its bench depth. [Last Week's Ranking: 5]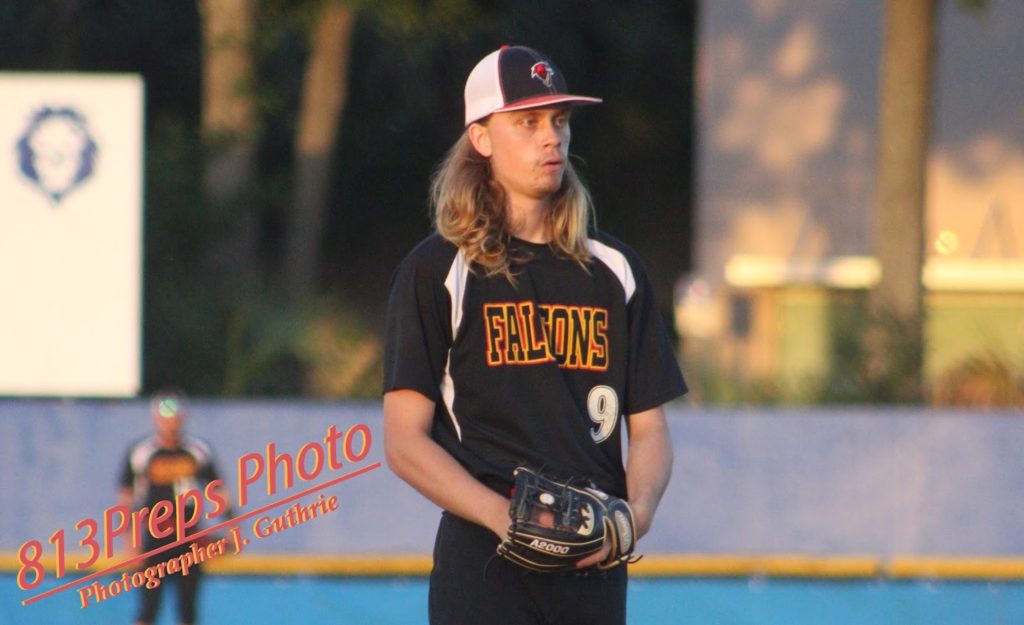 Leto senior Jakob Ryley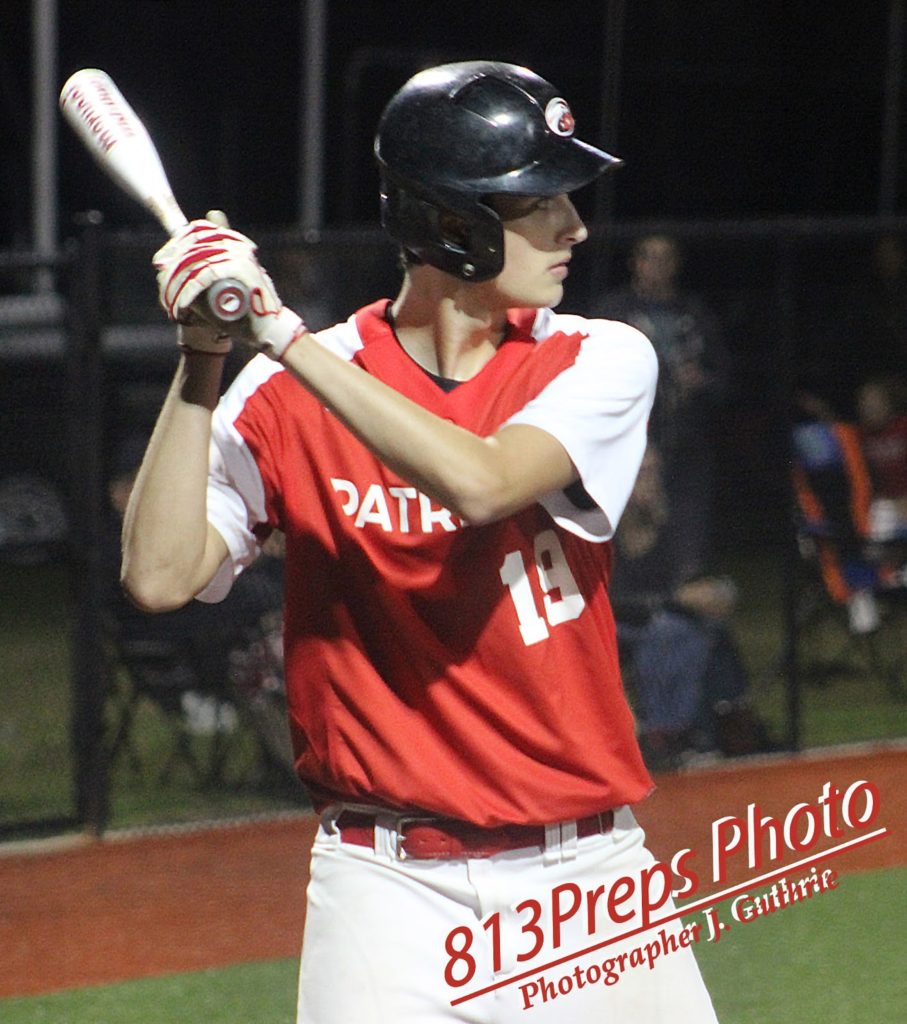 CDS senior Andre Hevesy
3. Carrollwood Day (15-2) – A washout on Tuesday, meant Carrollwood Day only played one game last week. But what a game as the Patriots gave undefeated (for nearly two years) Clearwater Calvary Christian (ranked NO. 2 in MaxPreps.com's Xcellent 25 poll) all it could handle, dropping a tough one 5-4 in eight innings. Senior Andre Hevesy is hitting .306 with 12 RBI and has a 0.36 ERA in nearly 20 innings on the mound this season. CDS doesn't have an easy week as they wrap up district play against Cambridge Christian on Tuesday and at home against Seffner Christian on Friday. [Last Week's Ranking: 4]
4. Plant (15-4) – The Panthers won a tight game over Riverview on Wednesday, but got stung by district opponent Steinbrenner Thursday, breaking the potential tie atop Class 8A-District 5 and giving the first round district tourney bye to Sickles. Plant plays Hillsborough and Freedom this week. [Last Week's Ranking: 2]
—————————————-
Unlike many independent news organizations, we haven't put
up a subscription paywall – and we hope to be able to keep bringing you the great stories
from high school athletics in the 813 area free of charge. But we are still a small
business with just a handful of people involved, so there are costs including travel, equipment, and other costs associated with running this business.
We are looking for advertising partners, but we also need to count on our
readers for support. If everyone who reads our reporting, who likes it, helps
fund it, we will be able to continue covering these athletes' endeavors.
Support 813Preps.com for as little as $1 by clicking "Donate" button below.

5. Bloomingdale (13-5) – Bloomy's six-game win streak could not have come at a better time this season as the Bulls saw red through the second half of the district slate, winning six-straight, and wrapping up the Class 8A-6 top seed by claiming wins over Plant City and Riverview last week. Junior Myles Caba picked up the win in relief against the Raiders, then made the start against Riverview to earn his second win on the mound in the span of three days, collecting 10 strikeouts in seven, shutout innings of work. [Last Week's Ranking: 8]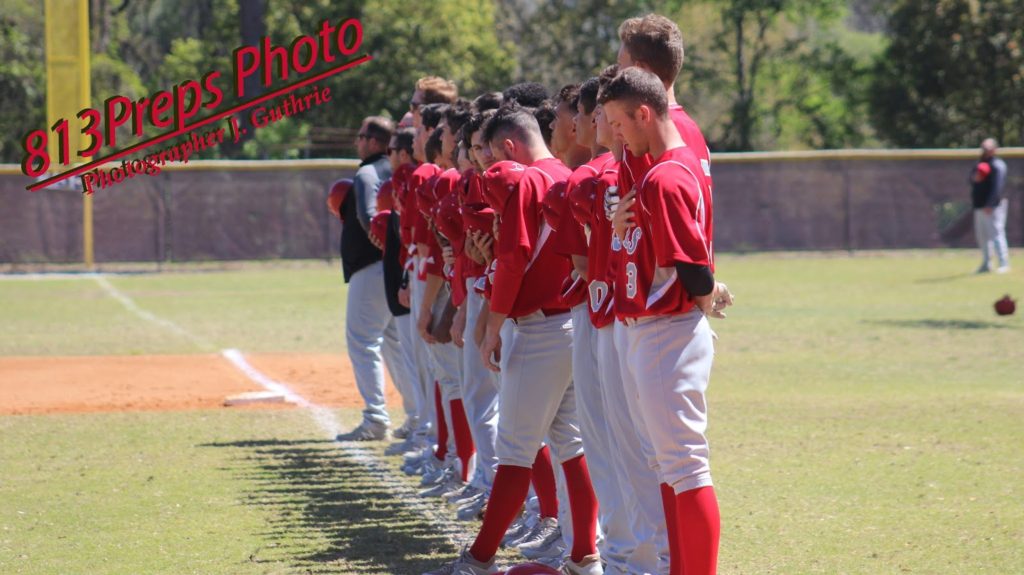 6. King (16-5) – The Lions started the week with a win over Gaither, then had a bit of a spinout losing to Leto and Jefferson in its other two games. No need to panic in dropping two games to Top 10 teams, but the injury bug is hitting the pitching staff at an inopportune time. Addison Barger was 5-for-8 with a home run last week, and Justice Thompson has a hit in six straight and leads the team with a .400 average. It is go time for King as it travels to Freedom on Tuesday and hosts Alonso on Thursday. [Last Week's Ranking: 3]
7. Cambridge Christian (14-3) – The bats fell silent at the wrong time as the Lancers only had three hits, dropping a district game to Bishop McLaughlin last week. We will see how emotions play on Tuesday as Cambridge Christian hosts Carrollwood Day at Skyway in its final district game. Can the Lancers catch an emotional drained CDS sleeping after the Calvary game, or will the Patriots be out for blood after coming so close to defeating the reigning 4A champs? [Last Week's Ranking: 6]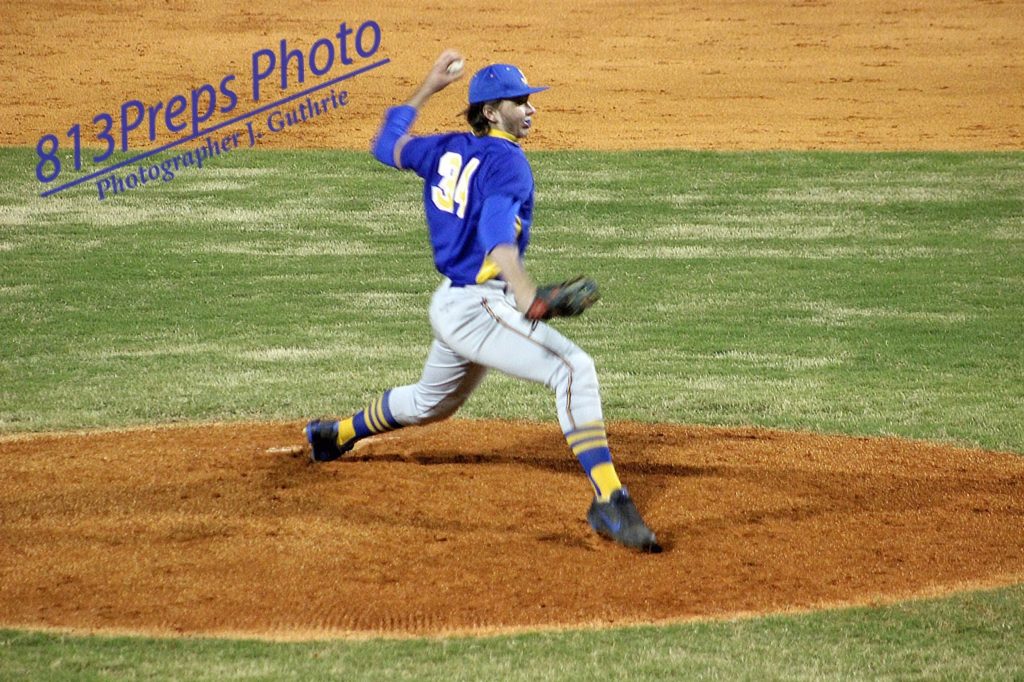 Jefferson junior Marc DeGusipe
8. Jefferson (13-5) – So there have been some bumps in the road for Jefferson this season, but last week could have the Dragons speeding down the blacktop now after district wins of Spoto, Jesuit and a non-district win over King. Senior Charlie Welch cranked RBI doubles in the latter two wins, while junior Marc DeGusipe struck out eight in the win over Jesuit. The Dragons travel to two very tough teams this week in Gaither and Bloomingdale. [Last Week's Ranking: 14] 
9. Newsome (12-5) –Newsome defeated Steinbrenner on Wednesday, and then salted away the district top seed by putting up 11 hits and defeating Palm Harbor on Thursday. Auston Spires had multi-hit games against the Warriors and Hurricanes and leads the team with a .418 average, five doubles and a triple. The Wolves have a three-game week against East Bay, Plant City and Bloomingdale ahead. [Last Week's Ranking: 13]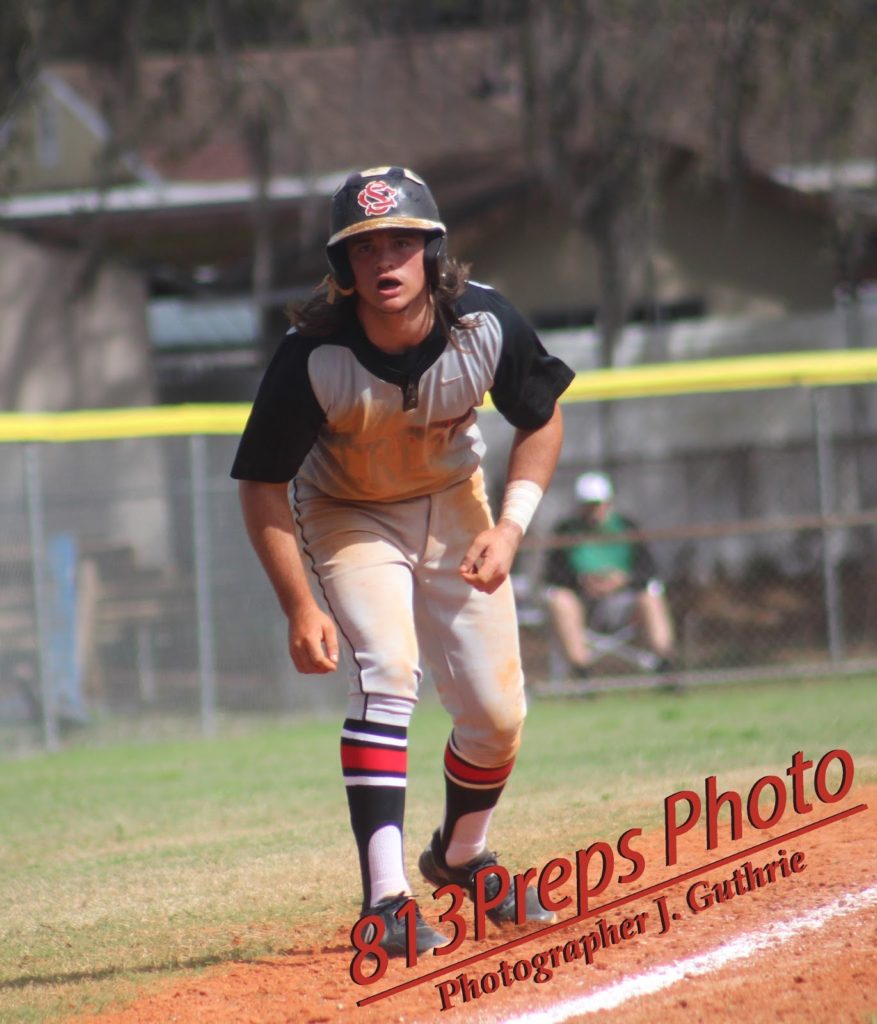 Strawberry Crest junior Joey Carrillo
10. Strawberry Crest (11-6) – The Chargers picked up two wins, upping its current streak to six wins in-a-row, with a big district win against hit-show effort against Wharton and, followed by a 10-2 drubbing of Gaither on Saturday. The current run has been led offensively by an eight-game hit streak by Joey Parrillo (where he's had 10 hits and scored eight runs), a seven-game hit streak from Derek Barone (which includes stretches back through 12 hits, three doubles, a home run, nine RBI and seven runs scored), and a five-game run by Tanner Kelley (three doubles, six RBI, and four runs scored). Road games at Bloomingdale and Riverview will test the streak this week. [Last Week's Ranking: 15]
The Next Five
11. Plant City (12-5) – [Last Week's Ranking: 7]
12. Wharton (13-5) – [Last Week's Ranking: 10]
13. Robinson (11-7) – [Last Week's Ranking: NR]
14. Berkeley Prep (13-7) – [Last Week's Ranking: 13] 
15. Gaither (11-7) – [Last Week's Ranking: 9]
Falling out of the rankings this week: Jesuit (13-7)
(adsbygoogle = window.adsbygoogle || []).push({ google_ad_client: "ca-pub-4669923380710005", enable_page_level_ads: true });