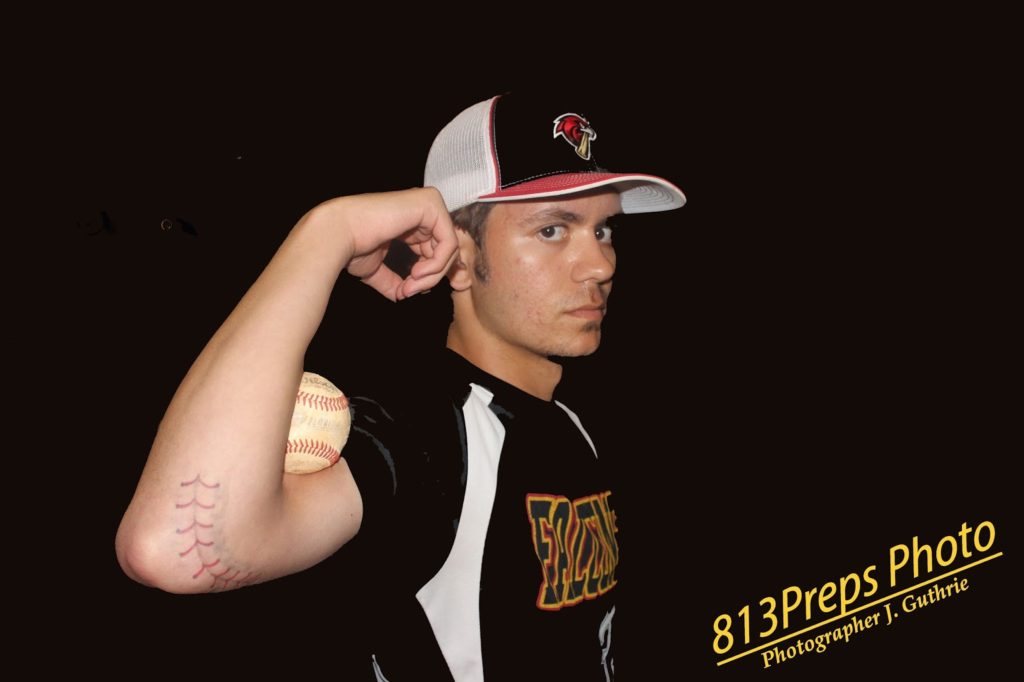 By Jarrett Guthrie
TAMPA – It was a long road back to the mound for Leto senior Austin Suarez. It had its share of fears, unknowns and struggles. But it also was paved with support, determination and a lot of hard work.
That work paid off, as Suarez toed the pitching rubber Tuesday night at Middleton, playing in his first varsity game since having ulnar collateral ligament reconstruction, or as it's known in the sports world Tommy John surgery (so named after the first baseball player to undergo the procedure in 1974), in March of 2017.
There were butterflies in his stomach, sure, but more than that Suarez was ready to get back to what he loves doing – and for a team he love doing it with. Those nerves disappeared five pitches later as he retired the first batter he faced by strikeout, and he settled in for three, no-hit innings as the Falcons hitters supported his cause in a four-inning, mercy-rule win. The lone, visible reminder of the surgery for Suarez are the baseball stitches he had tattooed over the surgical scar on the underside of his elbow.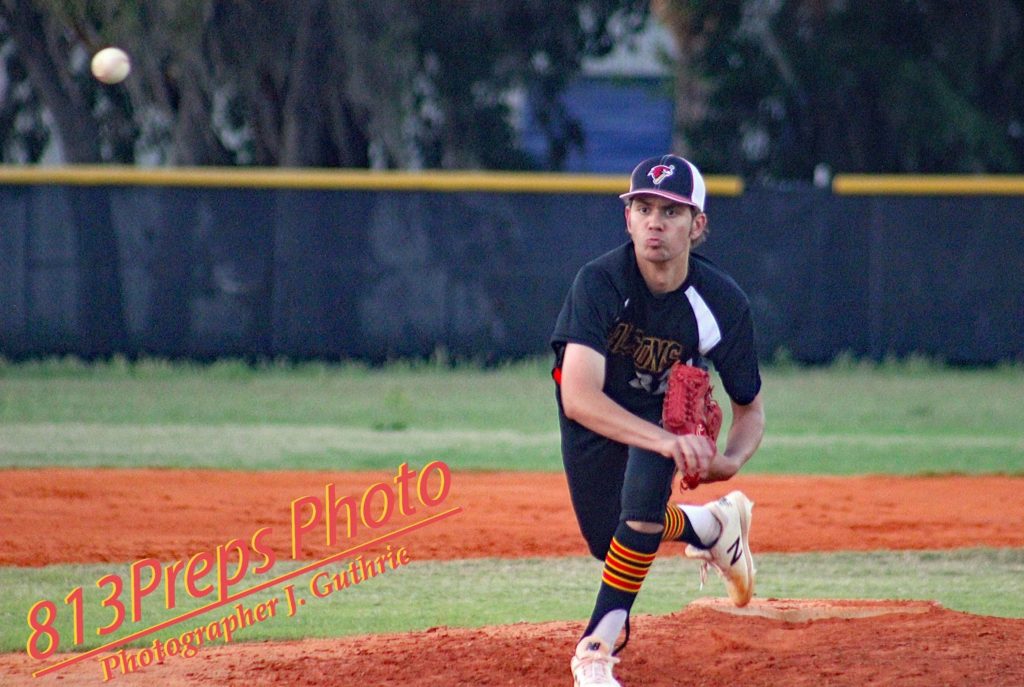 Leto senior Austin Suarez pitching for the varsity team for the
first time since having Tommy John surgery in March of 2017.
"I was pretty confident going into tonight, but there were some nerves," Suarez said. "But after that first strikeout, it just felt like any other day, I was just happy to be back out there."
Suarez took big strides as a freshman in the 2015 season, making seven appearances, including four strong innings against district opponent Hillsborough and earning the win with five shutout innings against East Bay. His sophomore season was a bit of a wash as he made just five relief appearances, as coaches noticed a downtick in velocity and other issues. But it wasn't until the winter of 2016 in a scrimmage at Jesuit, where Suarez said he felt the dreaded "pop" and immediately knew something was wrong.
"It wasn't really painful in the moment," he said, "I guess because of adrenaline, but I knew."
Though pretty confident in the diagnosis, Suarez said he avoided getting it officially checked out and even more so, dreaded the possibility of surgery.
"I had accepted the fact that I had blown it out, but I was a little afraid of the surgery," Suarez said. "I waited like a month, then I got it checked out and they didn't even have to do an MRI, the doctor could just feel it in the elbow."
"I had never had surgery, I was afraid of being put to sleep, I was afraid of everything. But after it was done, I wished I would have done it right away so I could have been back at the beginning of this season, instead of coming back here at the end."
Tuesday's return meant almost as much to his team and coaches as it did for the senior righty.
"Him just getting out there on the mound is gigantic, not just because of baseball, but because this was a personal mission for him," Falcons head coach JJ Pizzio said. "This got taken away from him … he was lost, but he found it himself. I told him we'd be here for him, and his spot would be here waiting for him, but he pushed himself to get to this point."
Along the road to recovery, Suarez said he had tremendous support from his teammates, especially from fellow pitchers Christian Suarez (no relation) and Jakob Ryley, and senior shortstop Fernando Muniz.
"Jakob, Christian and Fernando – they have been tremendous and have been there for me through this whole thing," Suarez said. "They came out with me when I first started throwing again, like four months after the surgery. Standing 10 feet from me, they weren't benefiting from that, but they just wanted to help me however they could."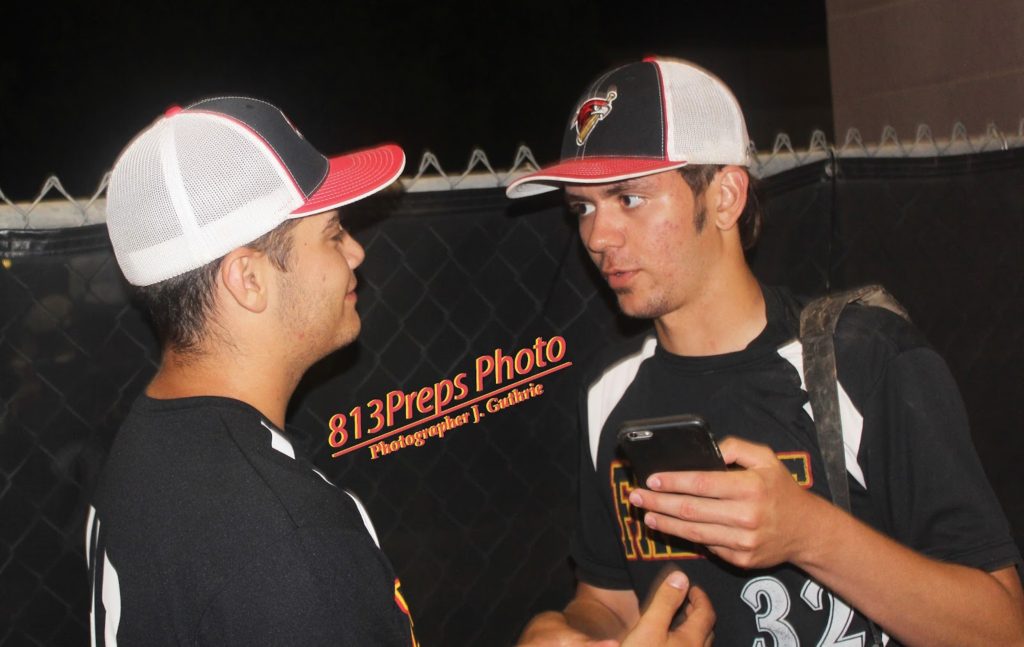 Teammate Christian Suarez (no relation) can't help but wear a smile after Austin Suarez made his return to the mound in a win over Middleton. Austin said the support of his team motivated him on his road to recovery.
The support Suarez admits was a big mental boost as he went through the constant physical therapy and training to be able to just get on the mound, and he said it only made his devotion to his team grow in strength. You could see it after his third and final inning when his entire team encircled him in front of the dugout with congrats and hugs.
"It's almost necessary, for recovery," Suarez said. "To be successful, we all have to be there for each other and that is exactly why we have been so successful. When I couldn't throw, I've been the hype-man in the dugout, and them coming out for me (after the third inning) made all this that much better."
He never stepped away from the team, using their successes like playing an undefeated Winter Ball season that included winning the Steinbrenner Baseball Classic, and an impressive going thus far this season, which has seen Leto post a 17-4 record and an 8-0 Class 7A-District 8 record and secure the top spot in the upcoming district tournament, as extra motivation.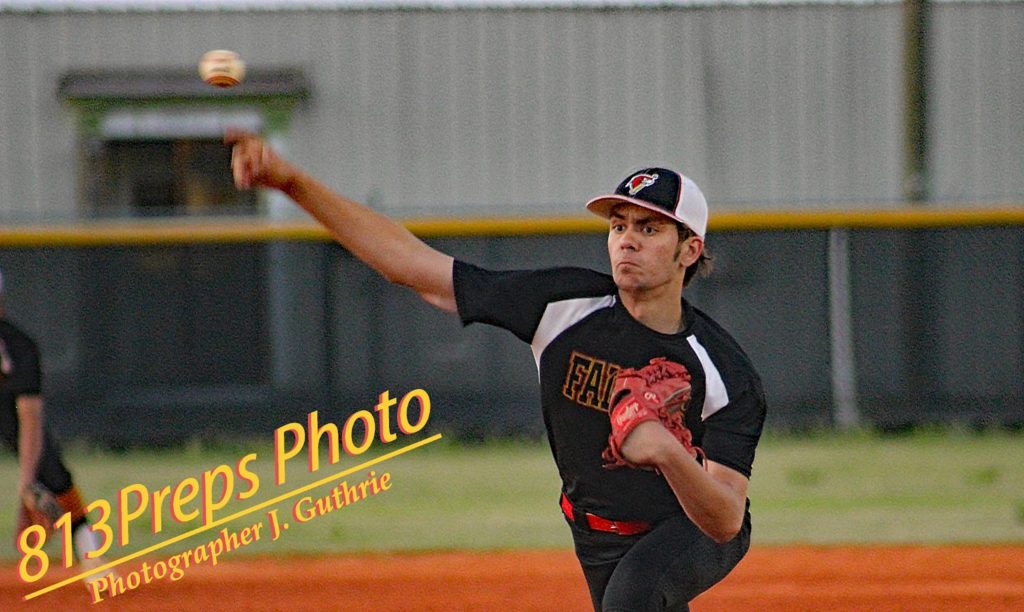 "I love being a part of this team," Suarez said. "If I wasn't with this team, like if I were at another school, I don't know if I'd have had the surgery and worked to get back out there. I've known half of the people on this team for years and years, so I wanted to be back with them."
For Pizzio, the balance between having a player want to come back from such a significant injury, and making the right decisions on their behalf, weighed on him, but the results Tuesday night, where just one lone walk kept Suarez from a perfect three innings, was a satisfying reward.
"He might have been ready to go a little bit early this year, but I wasn't sure and told him to get ready for today," Pizzio said. "He said he was good for around 40 pitches, and he threw 41 today and it looked like he had fun out there."