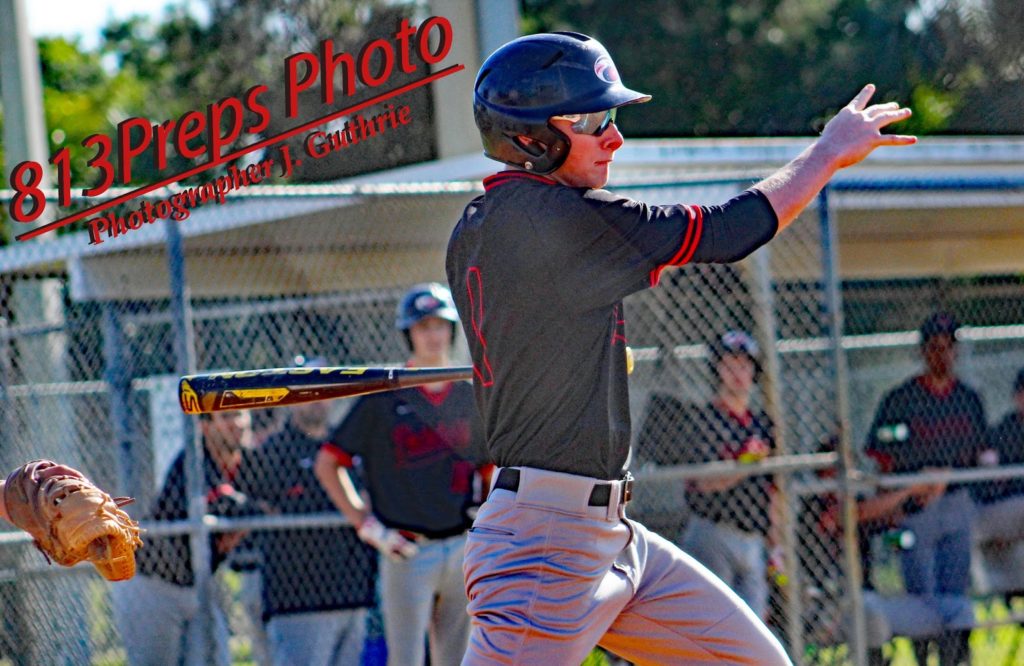 Carrollwood Day senior Zach Watts, moved to the cleanup spot for the first time this season, came through with a pair of RBI including the game
By Jarrett Guthrie
TAMPA – Make something happen, that was the role for Carrollwood Day senior Zach Watts, as he walked to the plate in the seventh inning of a tied, district game against Cambridge Christian, Tuesday afternoon.
After Blake Hooker had led off the top of the inning with a walk and moved to second on a stolen base during a strikeout, Watts stepped to the plate initially planning to just move the runner over. But a wild pitch moved Hooker to third for him and changed things a bit, as Watts was given his new assignment and drove a groundball into the dirt to the right side, allowing a run to score as Carrollwood Day stayed perfect in Class 3A-District 4 play with a 3-2, victory.
"I know my coach trusted me in that position and when he was at second, coach actually called for a hit-and-run just to get him to third," Watts said "But once he got into position at third, Coach (Ken) Akins put his faith in me with two strikes and just said put it in play. Make something happen."
Carrollwood Day (16-2, 5-0 in Class 3A-4) has had few points of frustration on the season as the Patriots have been outstanding, dropping just two games both in extra-innings and both by a single run, including last Friday's 5-4 loss to Calvary Christian. However, of late the cleanup spot in the lineup has been a little under-productive. So for the first time this season, the four-hole spot was filled by Watts, and although he went 0-for-3, he plated a pair of crucial RBI from the middle of the lineup spot.
"Zach is the kind of kid who will run through a brick wall for you, he'll simply do whatever you ask of him," Akins said. "That four-hole has been an Achilles Heel for us all year long, but he had absolutely no fear taking on that role."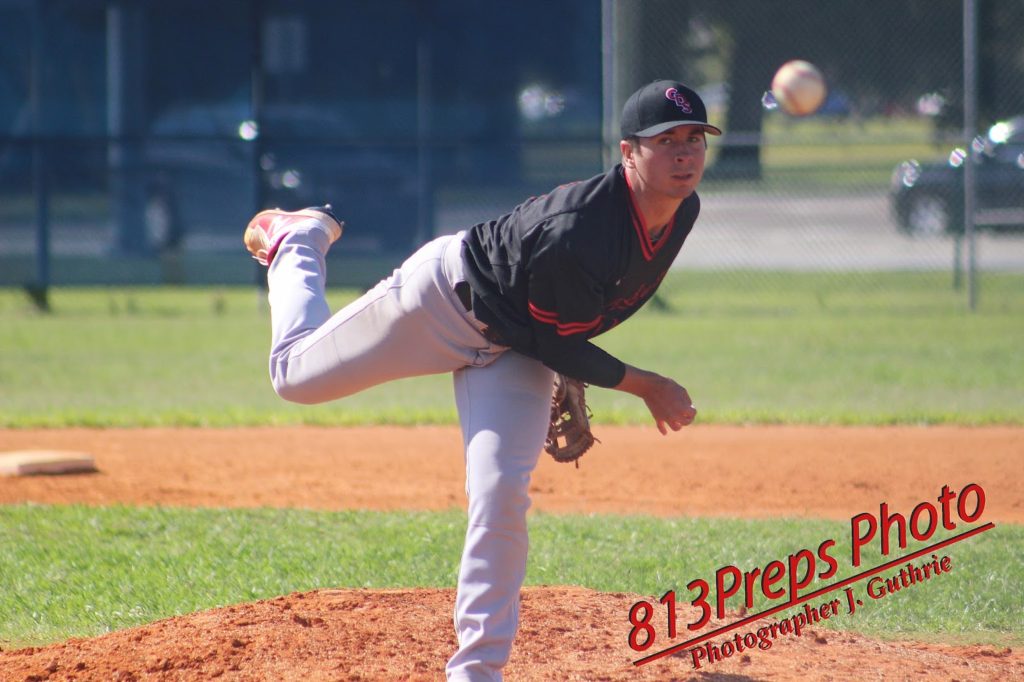 CDS senior Gabriel Partridge improved to 7-0 on the season, working six innings and striking out seven.
Both teams got quality starts on the mound as Patriots senior Gabriel Partridge (7-0) filled the strike zone, allowing two runs (one earned), scattering seven hits, while walking no one and striking out eight to earn the win, and the Lancers answered with senior Austin Carter, who likewise allowed two runs (one earned) on four hits, walking four and striking out six in a no-decision.
Carrollwood Day turned to Will Grisack to work the final inning, where the junior walked one, and struck out one to earn his sixth save of the season.
"I've trusted our pitchers – I've done it all year long, in any situation," Akins said. "Gabe today, once again, eight strikeouts, no walks, pinpoint control, that's the way he's been all year long. I thought long and hard about sending him out for the seventh and would have been confident doing so, but Will was ready and he's done it all year for us at the end of games."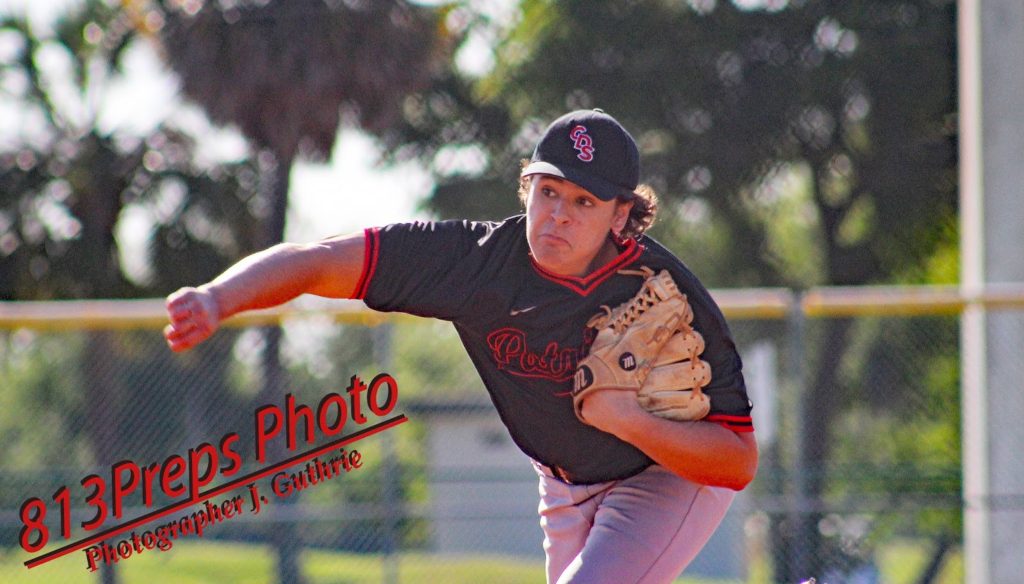 Junior Will Grisack shut the door in the seventh to earn his sixth save of the season and preserve a 3-2 win for the Patriots.
Partridge said he and his teammates came in with a win-at-all-costs mentality and that pushed him while out on the mound.
"We new this was a must-win, district game and we knew this was a very tough team we were facing," Partridge said. "We battled from the beginning, and this was not our best game of the year, but we got the job done and a win is a win."
Carrollwood Day got on the board in the third as Carter had his roughest inning, starting with hitting a batter, adding three walks and giving up a single. CDS scored its first run on a throwing error on a pickoff attempt, and Watts drew a bases loaded walk to add another run later in the frame.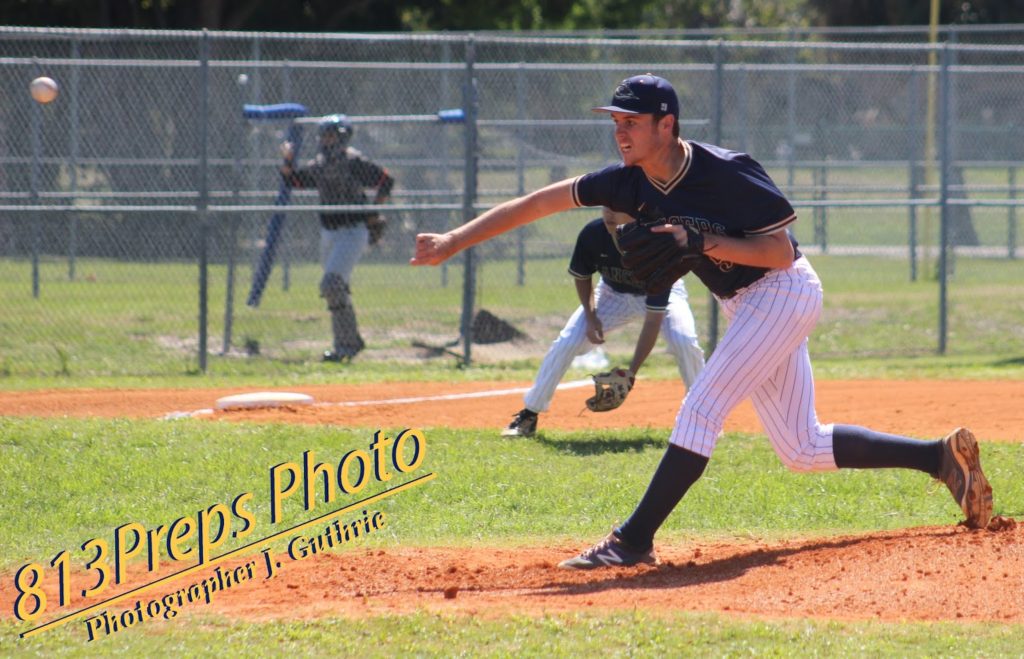 Cambridge Christian senior RHP Austin Carter got a no-decision, striking out six.
Cambridge Christian (14-4, 4-3 in 3A-4) chipped away at the lead in the bottom of the third as Ethan McCoy led off with a single, moved around on a Jonah Rawls single, and scored as Austin Hessinger drove a single to the outfield. The Lancers tied the game in the fifth when Tilden Agee crushed a two-out, RBI double to left-center.
CDS came out in the sixth and got three straight singles from Andre Hevesy, Kyle Benedict and Dillon Baker (bunt), but Carter found another gear striking out a pair on swinging fastballs and got the final out on a rollover ground ball to second base to keep the score tied.
However, momentum never shifted to the Lancers offense as Partridge added a 1-2-3 sixth inning and Grisack shut the door for the win.