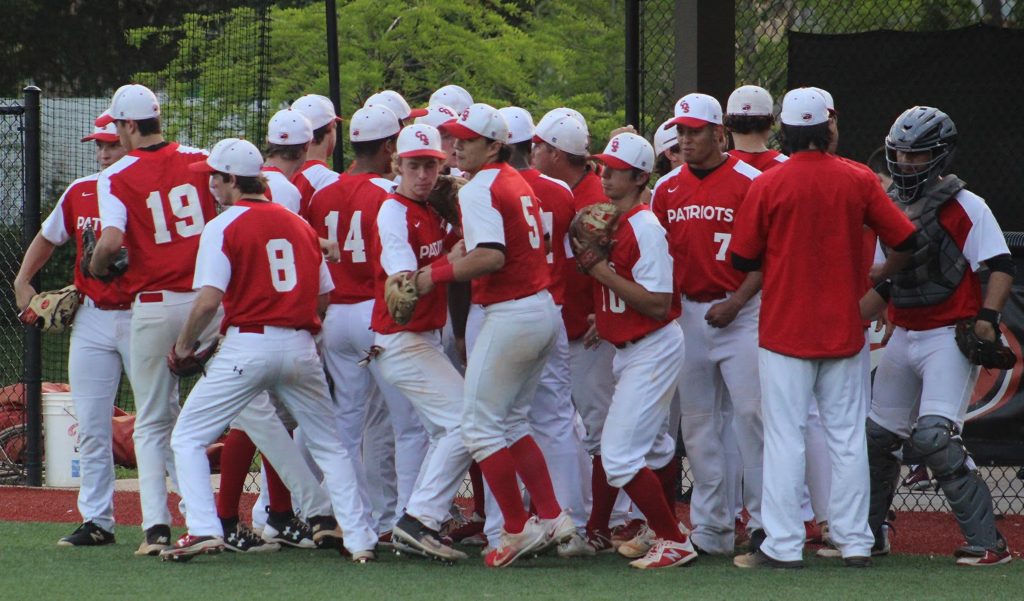 Carrollwood Day wrapped up its regular season district slate with a 12-0 win at Winter Haven All Saints (813Preps file photo).
Hillsborough Co. Baseball Round-Up 4/21/18
Carrollwood Day 12, Winter Haven All Saints 0
Patriots finish the district season undefeated with a 12-0 win over All Saints. N. Watts 5in, 3K's, 1 hit, and the win. D. Vassallo 2 in, 2 hits. R. Montenegro 2-3, dbl, RBI, 2 runs. A. Hevesy 1-3 w/ dbl. Complete team effort. @CDS_Athletics @TBHomeTeam @813Preps— CDS Baseball (@patriotball1) April 21, 2018
Already holding the Class 3A-District 4 tournament top seed in hand, Carrollwood Day went ahead and finished business by wrapping its regular season, district play undefeated in a 12-0 win against Winter Haven All Saints. Junior Nick Watts scattered one hit and three walks across five innings of work on the mound to earn the win with three strikeouts. The Patriots hit six doubles including a pair from senior Andre Hevesy, while seniors Noah Torres and Frank Furey, and junior Blake Hooker each drove in two runs in the win.
CDS 100 222 5 — | 12 | 11 | 1
AS    000 000 0 — | 0 | 3 | 1
W – N. Watts (4-0). 2B – Hevesy 2, Montenegro, Owen, Garvey, Torres (CDS). Records – CDS 18-2, 7-0 in Class 3A-District 4; AS 2-17, 0-8 in 3A-4.
///*** 
Jefferson 10, Hillsborough 0 (six innings)
Junior pitcher Mike Dominguez struck out eight, while allowing just three hits to earn the win on the mound for Jefferson. Eight Dragon batters picked up hits, including a double from Ian Quelle (two RBI), two hits, an RBI and two runs scored from AJ Mathis, two hits and three runs scored from Ty Evans, and senior Robby Martin also had a pair of hits, a run scored and an RBI. Senior Elyjah West had a double in his third-straight game in the loss for the Terriers.
H 000 000 x — |  0  |  3  | 3
J  201 502 x — | 10 | 12 | 0
W – Dominguez. L – Gustafson. 2B – West (H); Quelle (J). Records – H 6-14; J 14-7.
///*** 
Jesuit 5, IMG Academy 0
Sophomore pitcher Camden Minacci struck out eight across six, shutout innings as Jesuit defeated IMG on the road Saturday. Senior Javi Baldor's line drive double in the third plated Joel Brewer and McGuire Weaver (2-for-4, two runs) to get the Tigers the runs needed for the win. A Henry Politz RBI sac fly, an RBI single from Reid Clark, and a bases loaded walk drawn by Carter Anderson accounted for the rest of Jesuit's runs.
Jes    002 002 1 — | 5 | 7 | 0
IMG 000 000 0 — | 0 | 3 | 2
W – Minacci (2-1). L – Beddow. 2B – Baldor (Jes); Westfall (IMG). Records – Jes 16-7; IMG 18-5.
///*** 
Strawberry Crest 6, Lennard 0
Strawberry Crest avenged a Saladino Tournament loss, putting together a good team win against Lennard on Saturday. Junior Kade Manderscheid tossed four innings on the mound, before Damien Torres picked up the three-inning save, wrapping up the shutout. Derek Barone (two RBI) and Joey Parrillo each had two hits for the Chargers, Antonio Mussenden and CJ Kirkland each had RBI hits, while Alex Mussenden and Cole Revoy also added hits to the win.
W – K. Manderscheid (3-3). S – Torres (2). Records – L 9-11; SC 13-7.
///*** 
Plant 11, East Bay 2
Records – EB 3-17; P 18-4.
———————————————-
Unlike many independent news organizations, we haven't put
up a subscription paywall – and we hope to be able to keep bringing you the great stories
from high school athletics in the 813 area free of charge. But we are still a small
business with just a handful of people involved, so there are costs including travel, equipment, and other costs associated with running this business.
We are looking for advertising partners, but we also need to count on our
readers for support. If everyone who reads our reporting, who likes it, helps
fund it, we will be able to continue covering these athletes' endeavors.
Support 813Preps.com for as little as $1 by clicking "Donate" button below.
(adsbygoogle = window.adsbygoogle || []).push({ google_ad_client: "ca-pub-4669923380710005", enable_page_level_ads: true });