813Preps Week 9 Baseball Rankings
Brought to you by Todd Allen and Florida Executive Realty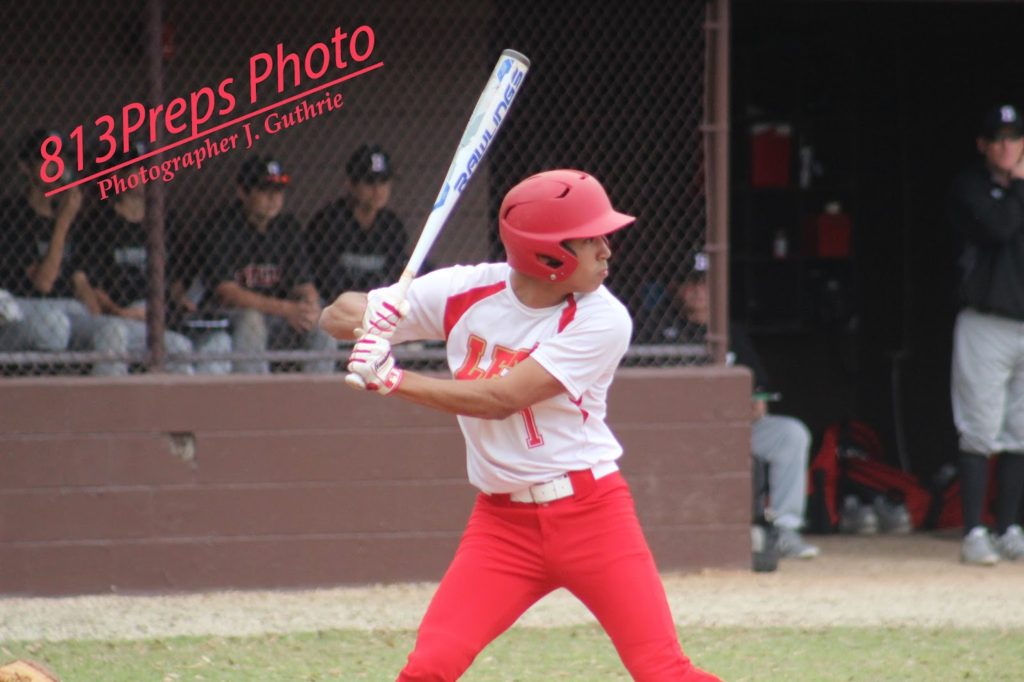 Leto senior SS Fernando Muniz
2. Carrollwood Day (18-2)
– The Patriots jump up a spot winning games over Cambridge Christian, Seffner Christian, and Winter Haven All Saints.
Senior Gabriel Partridge struck out eight in the big district win over the Lancers and is now 7-0 on the mound this season.
[
Last week's ranking: 3
]
Unlike many independent news organizations, we haven't put
up a subscription paywall – and we hope to be able to keep bringing you the great stories
from high school athletics in the 813 area free of charge. But we are still a small
business with just a handful of people involved, so there are costs including travel, equipment, and other costs associated with running this business.
We are looking for advertising partners, but we also need to count on our
readers for support. If everyone who reads our reporting, who likes it, helps
fund it, we will be able to continue covering these athletes' endeavors.
Support 813Preps.com for as little as $1 by clicking "Donate" button below.
3. Sickles (18-4) – By a 2-1 margin our voter kept Sickles over Plant this week, after the Gryphons rallied from a one-run loss to Wharton by clobbering Gaither, 12-1. Junior Dylan Eskew hit a pair of home runs and drove in five in the latter win. Sickles goes on the road against Brandon and Robinson to close out the regular season, and also holds the top spot in the three-team Class 8A-District 5, meaning the Gryphons have already clinched a region berth. [Last week's ranking: 1]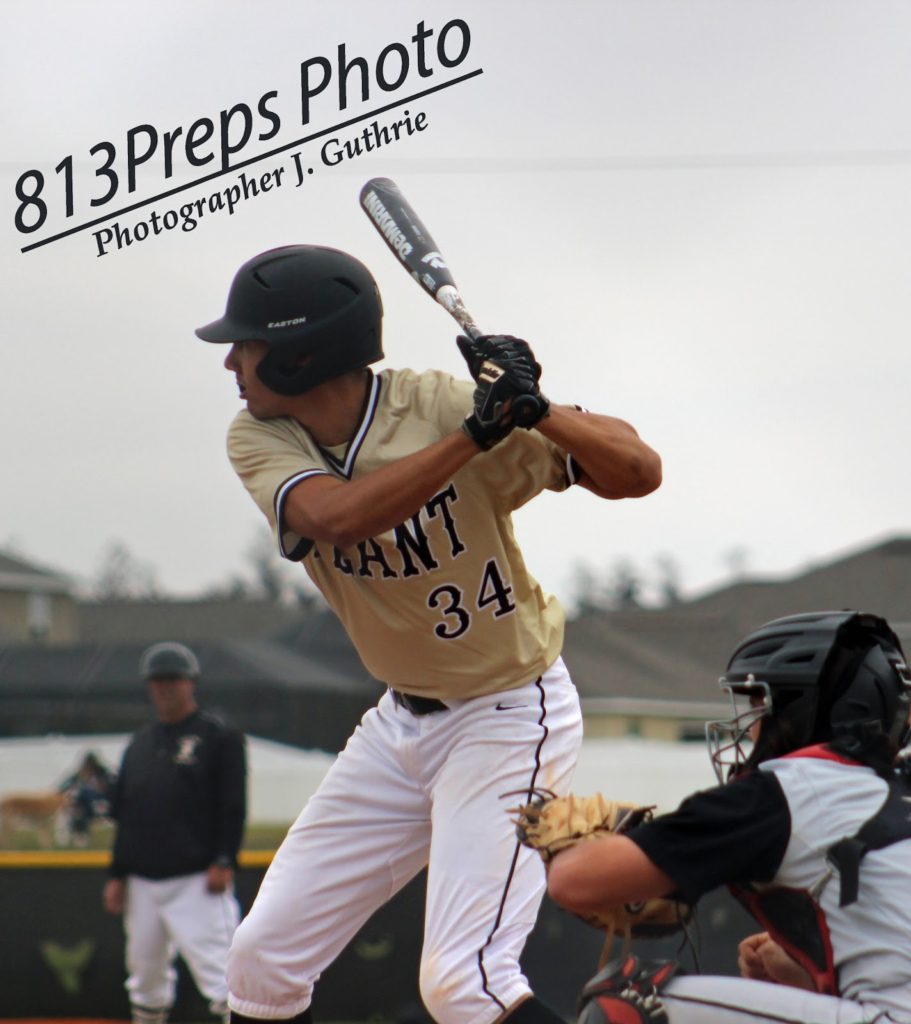 Plant junior Gabe Rincones
4. Plant (18-4) – Plant stands pat after doing its job over Hillsborough, Freedom and East Bay. Against Hillsborough on Tuesday the Panthers went yard three-straight times as Chase Sanguinetti, Brock Fagler and Gabe Rincones went back-to-back-to-back. Plant gets tested in a big way with two home games against Top 10 opponents this week in King and Wharton – one of the more challenging post-season tune-ups in the area. [Last week's ranking: 4]
5. King (17-6) – King stopped a two-game skid by defeating Freedom, thanks in part to Addison Barger's second home run of the season, but dropped an ugly one to Alonso, 9-3 to end the week. The Lions travel to face Plant on Tuesday, then wrap the regular season with Tampa Catholic on Thursday. [Last week's ranking: 6]
6. Newsome (14-6)
– If the top of this list was tough for our voters, this run may have been even tighter. Newsome's gone 7-3 over its last 10, and those three losses each came by one run. The Wolves dropped a tough, extra-inning game to Plant City,
but bookended that with wins over East Bay and Bloomingdale
. Sophomore Zach DeVito struck out six and gave up just three hits in 4 2/3 shutout innings to earn the win over East Bay. [
Last week's ranking: 9
]
T7. Plant City (14-5) – The Raiders had a nice bounce-back week with a win over TBT and defeating Newsome, 2-1 in nine innings. Parker Messick cranked his third home run of the season, and earned the win in relief over Newsome tossing three shutout innings. Catcher Hunter Emerine got it done with his arm, throwing out three would-be base stealers in the win against the Wolves. [Last week's ranking: 11]
— Plant City Baseball (@plantcityhighBB) April 21, 2018
T7. Wharton (15-5)
– The by-committee pitching of Wharton has produced all season and led to wins over Sickles and Armwood last week. This is the time of year where the Wildcats are known to shine. With the district top seed in hand, Wharton is in prime position to make its fourth-straight region appearance. A home game against Durant and a trip to Plant will wrap up the regular season for the Wildcats.  [
Last week's ranking: 12
]
9. Strawberry Crest (12-7) – One of the hottest teams in the county over its last 10, the Chargers won it's seventh straight over Bloomingdale, bfore dropping a one-run game to Riverview, last week. But Crest started a new streak with a win over Lennard on Saturday, and travels to Newsome and Brandon this week. Junior Joey Parrillo has a hit in 17-of-20 games this year, and in two of the three hitless games he scored at least one run. His offensive at the top of the lineup has been a spark all season and he has scored 19 runs and is hitting .383 on the year. [Last week's ranking: 10]
10. Bloomingdale (14-7) – The Bulls had a strange week with a close loss to Crest, a close win against Jefferson, and just came out flat in a six-run loss to Newsome. Chalk it up to youth. But with a dangerous district, the top seed here isn't as much of a blessing as in other groups around the area; 3-of-the-5 Class 8A-6 teams have winning records and 4-seed Durant holds a win over the Bulls this season. Should be a brawl in two weeks at Durant. [Last week's ranking: 5]
The Next Five:
11. Riverview (13-9) – [Last week's ranking: NR]
T12. Cambridge Christian (15-5) – [Last week's ranking: 7]
T12. Berkeley Prep (15-8) – [Last week's ranking: 13]
14. Jesuit (16-7) – [Last week's ranking: NR]
15. Gaither (12-8) – [Last week's ranking: 15]
Falling out of the rankings this week: Jefferson (14-7) [8]; and Robinson (12-8) [13].