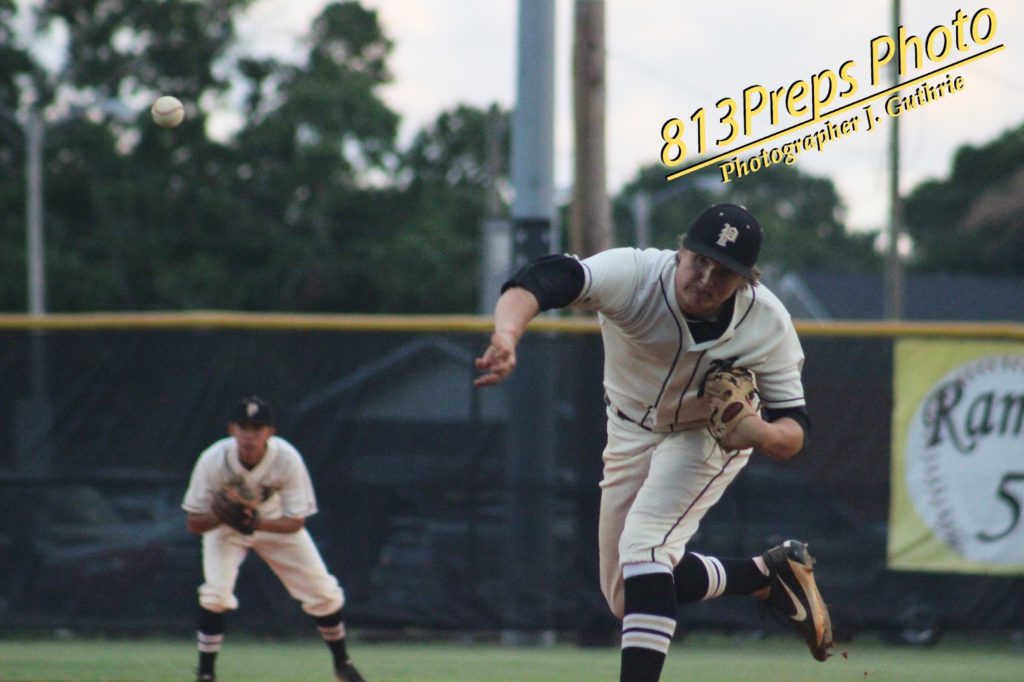 Plant senior Brock Fagler worked fast in his complete-game shutout effort, striking out seven and allowing just three hits as the Panthers defeated King 4-0.
By Jarrett Guthrie
TAMPA – Plant Pitcher Brock Fagler had a game-plan for the visiting King Lions on Tuesday, especially its potent top of the lineup, and that was to pitch them inside and work his off-speed stuff when needed to change the pace. The plan not only worked well, it worked fast as the Panthers senior scattered three hits, facing just one over the minimum as the defense had his back in a 4-0, Plant win that took just an hour and 14 minutes.
"Pretty much everything felt good with my location tonight," Fagler said. "I felt like even if they were on the plate, I could get it inside and we had a good game plan and I thought I executed it pretty well."
Fagler needed just 72 pitches as he pounded the strike zone, finishing with seven strikeouts in a complete-game effort.
Unlike many independent news organizations, we haven't put
up a subscription paywall – and we hope to be able to keep bringing you the great stories
from high school athletics in the 813 area free of charge. But we are still a small
business with just a handful of people involved, so there are costs including travel, equipment, and other costs associated with running this business.
We are looking for advertising partners, but we also need to count on our
readers for support. If everyone who reads our reporting, who likes it, helps
fund it, we will be able to continue covering these athletes' endeavors.
Support 813Preps.com for as little as $1 by clicking "Donate" button below.
The Panthers offense took care of things early getting on the board in the second inning as Reece Blanco (3-for-3) singled in the game's first run, followed by an RBI single by Mike Haydak, which scored Leo Oshinski, who had doubled and Evan Baisden, who was hit by a pitch and later had a double as well.
"Basically it was a fire-starter," Blanco said of his groundball single to left. "Once we get something to roll, everybody in our lineup gets going and we usually put something like that together."
Plant (19-4) added another run in the third as Matt Coker's RBI sac fly scored Gabe Rincones, who reached earlier on a single.
King (17-7) got a single from Jacob Cordell in the third, but Haydak started a double-play, flipping to shortstop J.D. Urso (2-for-2, run) who then threw on to fist baseman Chase Sanguinetti (1-for-3) to end the inning.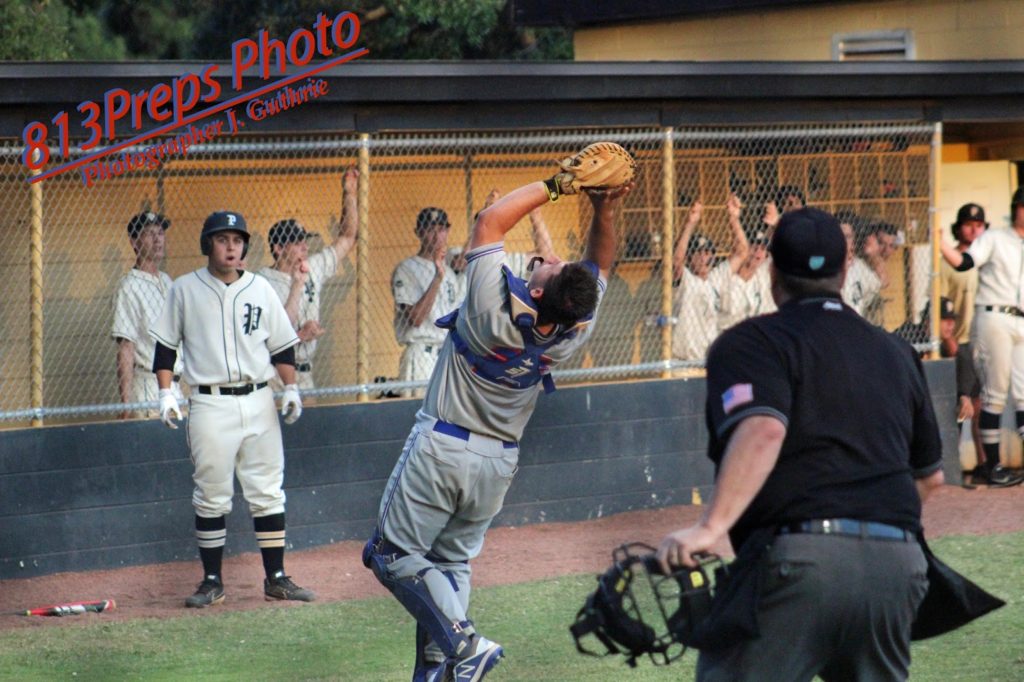 King C Jacob Cordell makes a good play on a foul ball popped behind the dish in the fourth inning, then went back to his position and tagged a runner out trying to advance on a delayed double-steal after the ball was caught.
The Lions got a leadoff hit from Justice Thompson to start the seventh, but the senior was thrown out trying to stretch it to a double as Plant centerfielder Carson Richards threw in to Urso at second. And because baseball likes to be cruel, senior Addison Barger immediately followed crushing a double to the right field wall the next at bat, but Fagler closed the door and preserved the shutout with two more outs.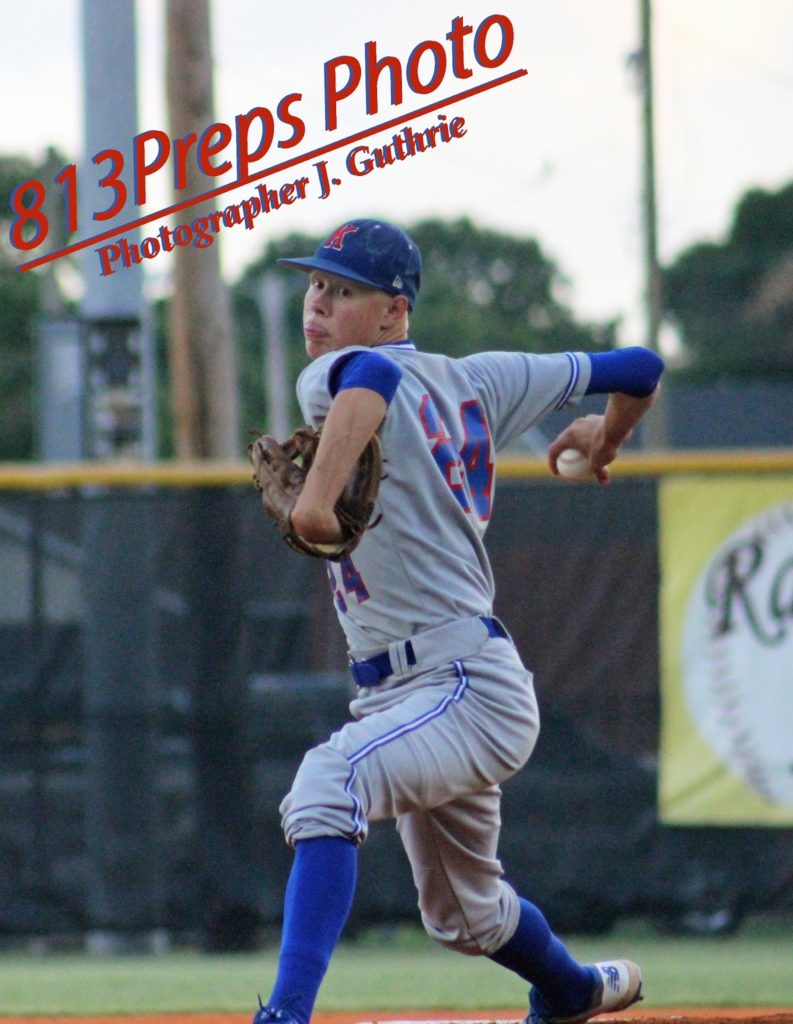 King SP Zan Rose
Fagler was pleased to preserve the shutout after a pair of starts he didn't feel were his best in his last two games.
"It means a lot since my last two starts haven't been up to par for myself," Fagler said. "To come out here and shutout a good team like King, that has been playing well and has beaten us the last two years, it means a lot."
The Lions did turn a pair of double-plays on defense as Keyon Floyd made a good stop at first base, threw over to get the out at second and then Barger completed the turn tossing back to first where pitcher Zan Rose stepped on the bag to stop the damage in the second; and then the Lions turned a 4-6-3 to end the sixth as Barger flipped to Jamarcus Lyons at second, who then finished things with a throw to Floyd.