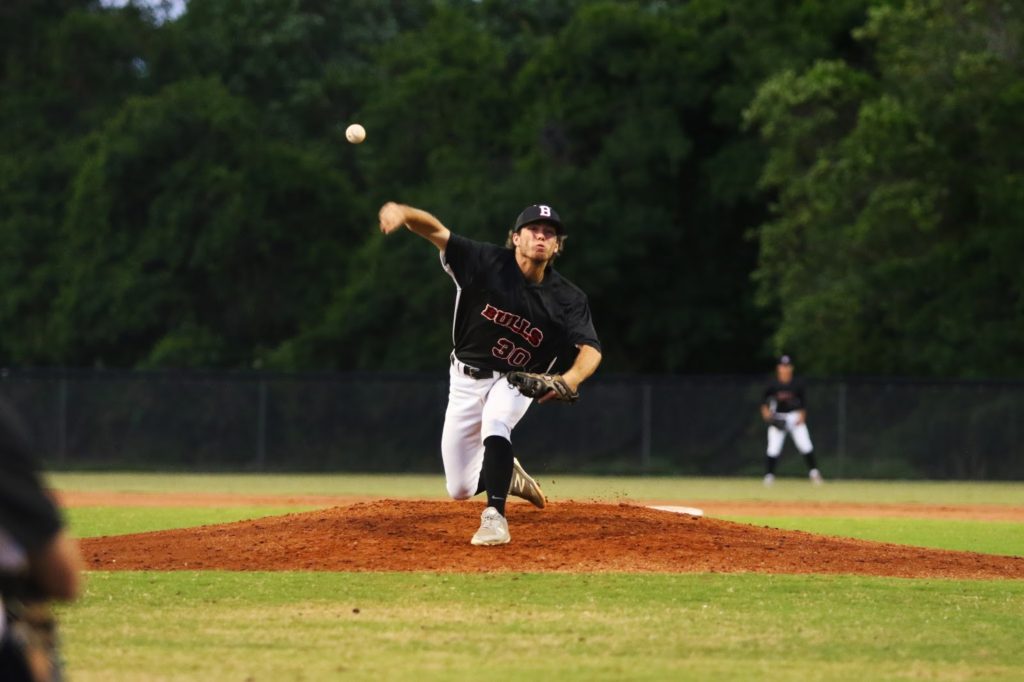 Bloomingdale junior Justin McAllister worked three innings of relief, allowing three hits and striking out two.
By Will Turner
813Preps correspondent
VALRICO – Jett Davis left his mark in his final regular season game as a Bloomingdale Bull. The senior infielder helped his Bulls walk-off against Alonso on Thursday night, 2-1 in 8 innings.
It would be a pitching duel between a pair of southpaws in Bloomingdale's Myles Caba and Alonso's Sam Drumheller within the first couple of innings.
Caba pitched three perfect frames before he would give way to Justin McAllister in the fourth inning. Caba struck out three and generated a number of groundball outs, as his defense worked quite well behind him.
Dominic Gonnela would be the first to reach base for the Bulls in the fourth, but a 6-4-3 double play would keep the offense at a halt.
Unlike many independent news organizations, we haven't put
up a subscription paywall – and we hope to be able to keep bringing you the great stories
from high school athletics in the 813 area free of charge. But we are still a small
business with just a handful of people involved, so there are costs including travel, equipment, and other costs associated with running this business.
We are looking for advertising partners, but we also need to count on our
readers for support. If everyone who reads our reporting, who likes it, helps
fund it, we will be able to continue covering these athletes' endeavors.
Support 813Preps.com for as little as $1 by clicking "Donate" button below.
Sehjin Daley hit a leadoff single in the fifth to get Alonso's offense rolling, but the Ravens weren't able to score him.
Ryan Drumheller knocked a two-out single in the sixth. McAllister would look to pick him off, but he bounced the throw, allowing the runner to advance all the way to third. USF commit Nick Gonzalez would drive him in with a single into left field off the glove of Nico Saladino.
Bloomingdale ended Sam Drumheller's no-hit bid in the home half of the sixth with a nice slide from Connor Berning (who reached on a walk) into second, which broke up Alonso's efforts to get an out on the play.
But with runners on the corners, Sam Drumheller got Bryce Hazzard to stare at a pitch to end the inning.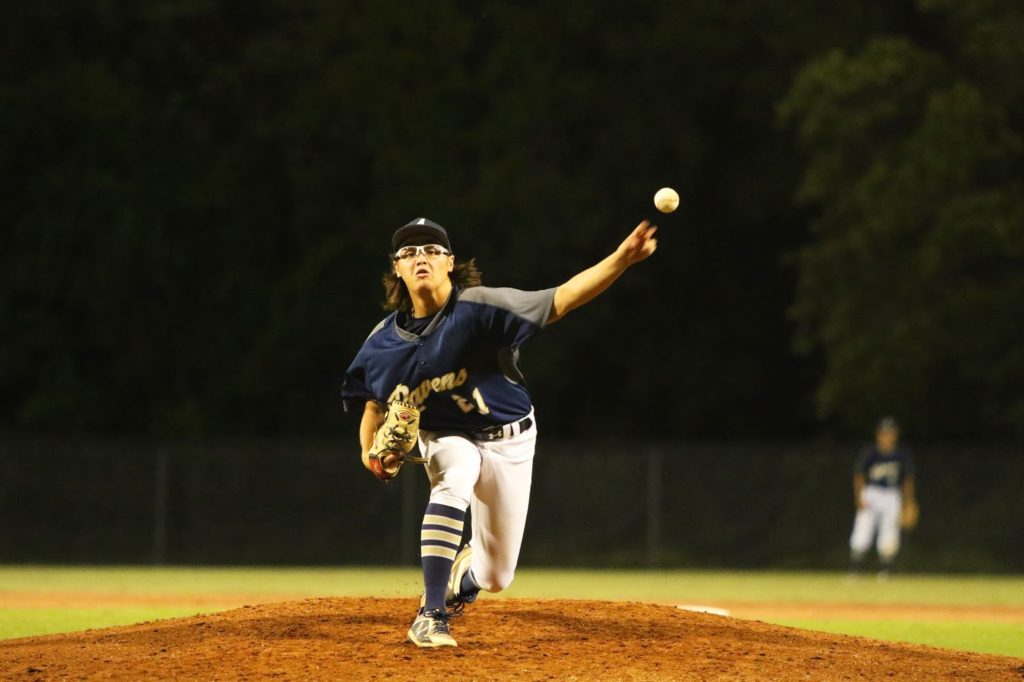 Alonso junior Sam Drumheller tossed six innings in his no-decision, striking out four.
Jesse Hunter would pitch for Bloomingdale in the seventh and hold the lead down, getting a pair of strikeouts in a big spot.
In the bottom half, Jackson Hobbs knocked a leadoff double, forcing the Ravens to pull Sam Drumheller, as they called in Ranzo Gonzalez to try and pick up the save.
Enter Nico Saladino.
With just one out in the inning, Saladino squared a ball to the right center field wall to score Hobbs, tying the game at one. Kyle Merkle would get plunked by a pitch, giving Jake Gilbert a chance to walk it off, however, a nice play at third from Ryan Drumheller kept it from happening.
Hunter came out just as strong in the eighth, getting another pair of strikeouts on the bottom end of the order.
"It was really nice to have Jesse back out there pitching the way that Jesse can," said Bloomingdale Head Coach Kris Wilken.
The senior had been dealing with a shoulder injury over the last month or so, and he looked his sharpest since that injury, when it really mattered.
"Jesse's my best friend in the whole world, so it was really awesome to see that kid do his thing tonight," Davis said.
But in the bottom half, Davis did his thing.
Gonnella drew a leadoff walk, then Hazzard would be hit by a pitch to place two runners on. Antonio De Jesus tried to advance the runner, but a nice play from Daley gunned down the runner at third, leaving Hazzard and De Jesus on for Davis.
Davis found a pitch he liked and promptly swatted it to the left center gap to score Hazzard, walking it off for Bloomingdale.
"It was hard, I mean that first pitcher didn't throw a lot of pitches that were straight and then with that second guy, I finally saw something straight, and I put my best swing on it," Davis said. "Tonight was our last guaranteed home game, so I wanted to go out with a bang."
What a bang indeed, as the Bulls finish the regular season at 16-7, going in as the first overall seed in the Class 8A-District 6 tournament next week.
"I'm just really proud of them, I like the fight, especially going into next week," Wilken said.
The Ravens finish the regular season 13-12 and as the second seed in Class 9A-District 8, a battle with Sarasota Riverview awaits next week.
– Will Turner is a student at USF majoring in mass communications, with a focus in news and editorial journalism, and a minor in history. You can follow Will on Twitter:@TBTurner813
(adsbygoogle = window.adsbygoogle || []).push({ google_ad_client: "ca-pub-4669923380710005", enable_page_level_ads: true });