813Preps Week 10 Baseball Rankings
Brought to you by Todd Allen and Florida Executive Realty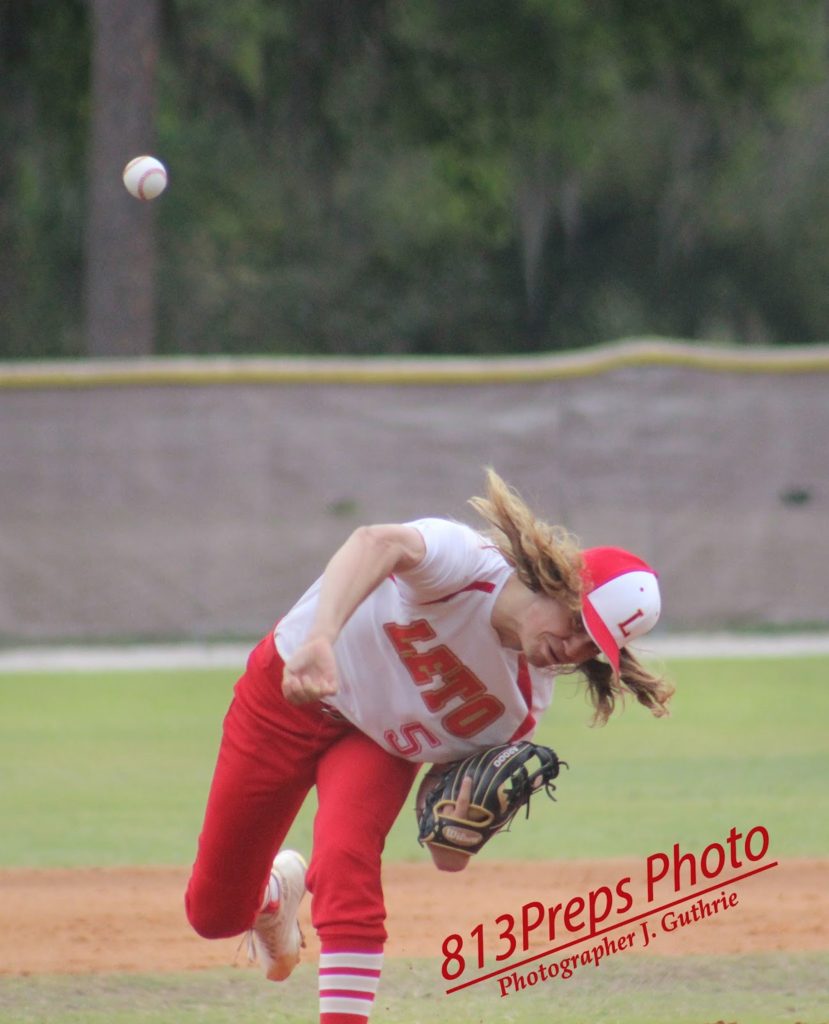 Leto senior Jakob Ryley
1. Leto (19-4) – The Falcons 2-0, win over Plant City last week keeps Leto at the top of our list to close the regular season. Senior Jakob Ryley is 4-0 in his last four starts and has allowed just one earned run across his last six appearances. The Falcons play host to the Class 7A-8 district tournament and face the winner of Hillsborough and Chamberlain's play-in game in the semifinals on Wednesday. [Last week's ranking: 1]


2. Plant (20-4) – The Panther pick up shutout wins over King and Wharton last week, including another impressive outing by senior Brock Fagler. The State College of Florida signee struck out seven against the Lions on Tuesday, before Leo Oshinski, Matt Coker and Chase Sanguinetti combined to hold Wharton to just two hits in another shutout. The Panthers will face Steinbrenner on Tuesday at Sickles for a spot in the district final and a region playoff berth. [Last week's ranking: 4]


3. Sickles (20-4) – Sophomore Chase Centala spun a three-hit, eight strikeout gem as the Gryphons set a school-best win mark in a 1-0 win over Robinson to close the week, and also topped Brandon, 11-1 on Tuesday behind a three-RBI game from Connor McTeer. Sickles is the to seed and already have a region title berth locked in in this week's 8A-5 tournament. The Gryphons await the winner of Tuesday's Steinbrenner-Plant game to decide the district crown. [Last week's ranking: 3]


4. Carrollwood Day (19-3) – Eight different players had hits as the Patriots defeated Hillsborough, 8-0 last week, but the team came up just short in its regular season finale against Steinbrenner. CDS holds the top seed and hosting duties of the final two round of the district tournament this week. The Patriots will face Winter Haven All-Saints in the opening round, and defeated the Saints 12-0 two weeks ago. [Last week's ranking: 2]
Unlike many independent news organizations, we haven't put
up a subscription paywall – and we hope to be able to keep bringing you the great stories
from high school athletics in the 813 area free of charge. But we are still a small
business with just a handful of people involved, so there are costs including travel, equipment, and other costs associated with running this business.
We are looking for advertising partners, but we also need to count on our
readers for support. If everyone who reads our reporting, who likes it, helps
fund it, we will be able to continue covering these athletes' endeavors.
Support 813Preps.com for as little as $1 by clicking "Donate" button below.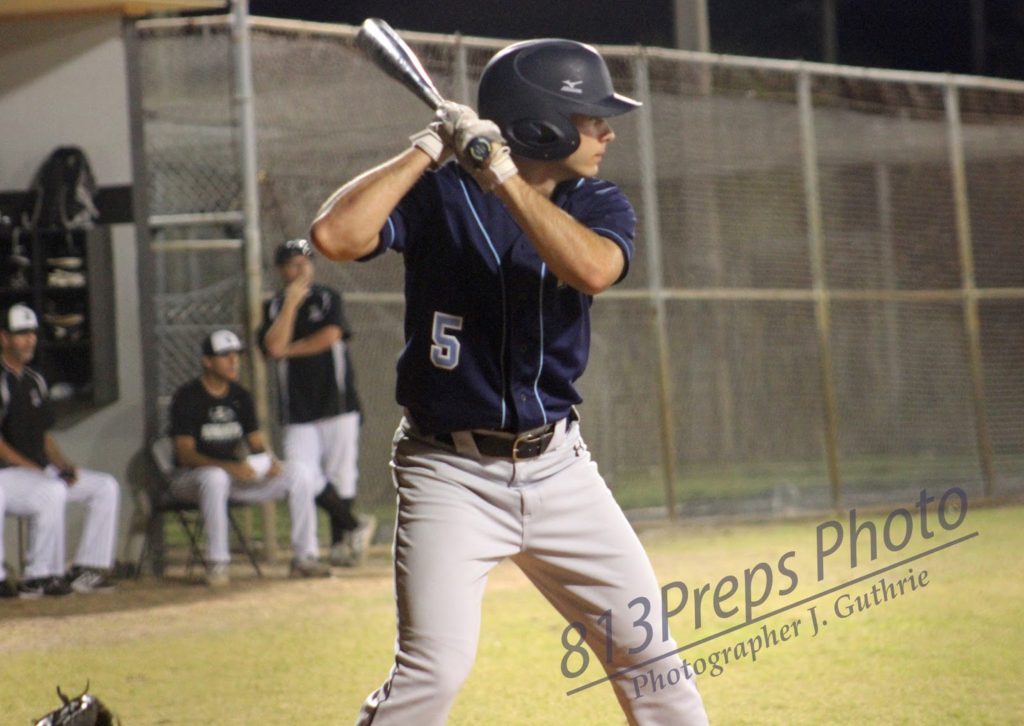 Newsome senior Josh Costlow
5. Newsome (16-6) – Closing the season out on a tear, the Wolves went 8-2 to close the regular season, and had a pair of 5-1 wins against Strawberry Crest and Spoto last week. Senior Josh Costlow hit a home run  to lead the win over the Chargers, and the Wolves went committee style on the mound in both wins including "W's" by Cole Stallings and Trey Cruz. The Wolves are the top seed in 9A-8 and will host Palm Harbor on Tuesday, and if victorious the winner of Sarasota Riverview-Alonso on Thursday. [Last week's ranking: 6]


T6. Plant City (16-6) – The Raiders went 2-1 in the final regular season week defeating Spoto and Freedom, but dropped a tough one to Leto in-between. Senior Johnathan Simpson and junior Grant Gifford both had nice outings on the mound to earn wins last week. A tough battle awaits the Raiders, as Plant City and Riverview go at it in the semifinals of the 8A-6 tourney, after splitting in two regular season meetings. [Last week's ranking: T7]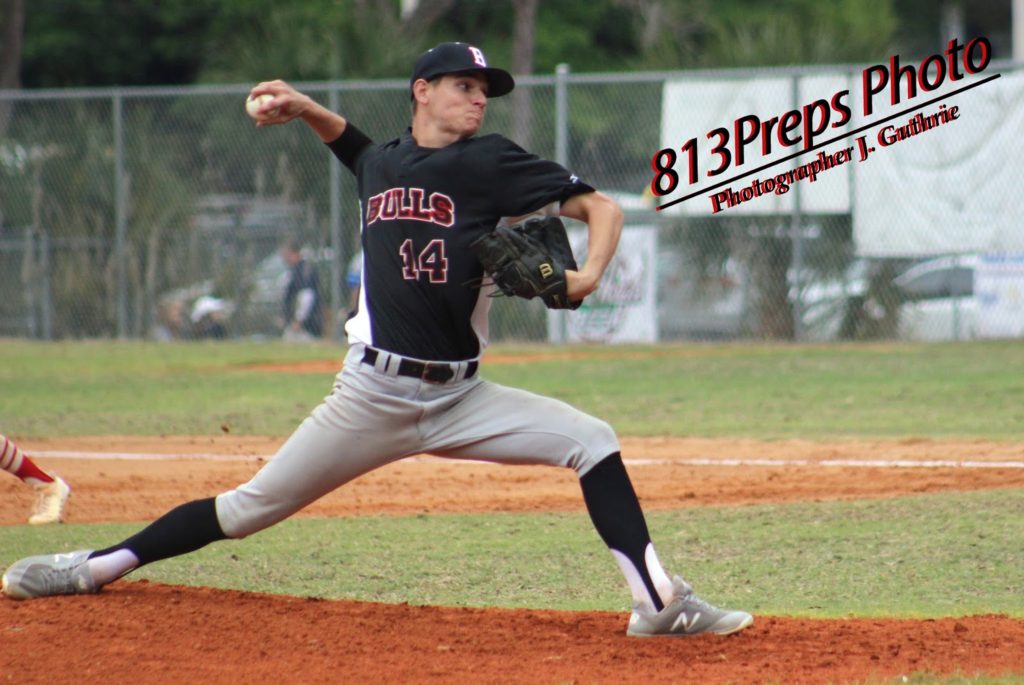 Bloomingdale senior Jesse Hunter
T6. Bloomingdale (16-7) – Another team in a full sprint at the close of the season, the Bulls are also 8-2, including a 4-1 win over Robinson, and a 2-1, extra-inning win against Alonso last week. Junior Nico Saladino had RBI in both wins, and senior Jesse Hunter earned the win in relief against Alonso, tossing two perfect innings, and striking out four. The top-seeded Bulls have a semifinal date with the winner of East Bay-Durant in Tuesday's Class 8A-District 6 semifinal. [Last week's ranking: 10]


8. King (17-8) – A pair of losses is not the way, King (which was at the top of our list after winning the Saladino Tournament) was looking to close the year. The Lions have a potent offense, but pitching injuries have been a hindrance the second half of the season. King has no easy task in an incredibly tough district, where the Lions will have to contend with Gaither in the 7A-8 semifinals on Tuesday. [Last week's ranking: 5]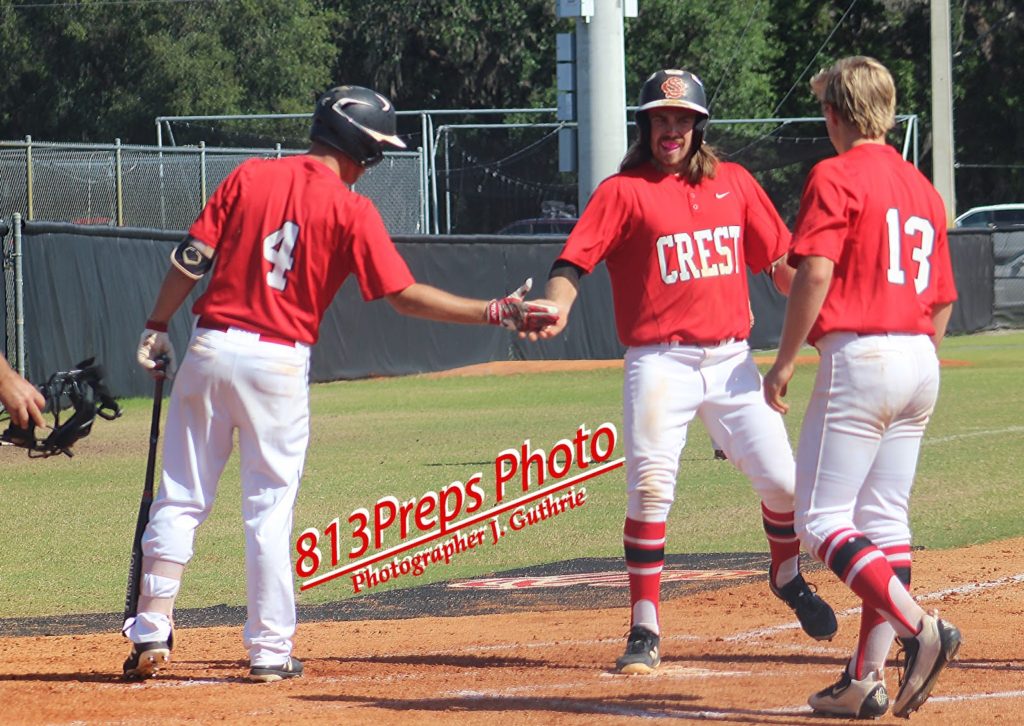 Strawberry Crest senior Derek Barone steps on home plate.
9. Strawberry Crest (14-8) – The Chargers split in the final week dropping a 5-1 game to Newsome and defeating Brandon 3-1 in 10 innings. Seniors Damien Torres and Derek Barone, lead a gritty team into the postseason as the Chargers will need to win a third time against Wiregrass Ranch to have a shot at the 8A-4 crown at Wharton this week. [Last week's ranking: 9]


10. Cambridge Christian (18-5) – The Lancers closed the regular season off with a strong final week, winning a 14-inning tilt with Lakeland McKeel, and topping Foundation Academy and Lake Gibson as well. Senior Austin Hessinger had a walk off single to win the game in extras on Tuesday, and Saturday's win over Lake Gibson featured two, shutout, relief innings from junior Ben Block to earn his first win of the year. [Last week's ranking: T12]
The Next Five(ish):
11. Wharton (15-7) – [Last week's ranking: T7]
12. Riverview (14-9) – [Last week's ranking: 11]
13. Jefferson (15-7) –  [Last week's ranking: NR]
14. Steinbrenner (13-10) – [Last week's ranking: NR]
T15. Gaither (13-9) – [Last week's ranking: 15]
T15. Jesuit (16-9) – [Last week's ranking: 15]
Falling out of the rankings this week: Berkeley Prep (16-9).
(adsbygoogle = window.adsbygoogle || []).push({ google_ad_client: "ca-pub-4669923380710005", enable_page_level_ads: true });