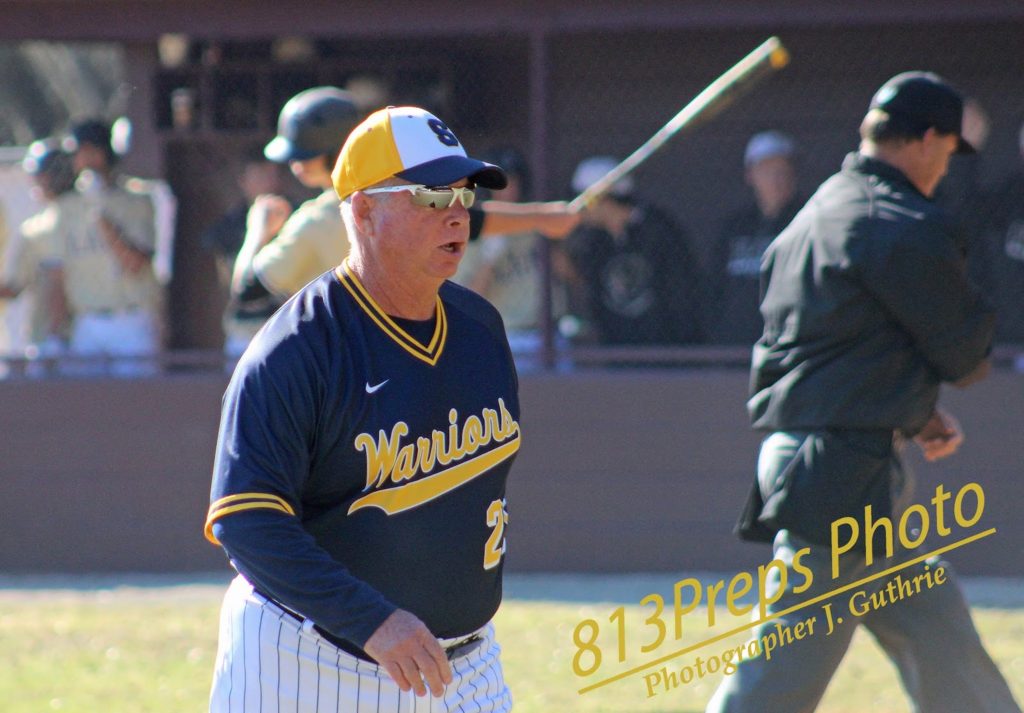 Longtime area baseball coach John Crumbley has been selected for the FHSAA's Hall of Fame Class of 2018.
By Jarrett Guthrie
LUTZ – When Steinbrenner baseball coach John Crumbley picked up the phone Friday afternoon and heard it was the Florida High School Athletic Association on the line, the legendary coach was preparing himself for a scolding after being limited to the dugout by the umpire during the Warriors win last Tuesday, at Berkeley Prep.
Instead, Crumbley found himself the recipient of some wonderful and well-earned news that after 746 wins, four state titles, and a Baseball America National Championship, that he can add FHSAA Hall of Famer to his list of accolades.
"The call came midday on Friday from the FHSAA to congratulate me," Crumbley said. "At first I thought it was a call about being put in coach's timeout after Tuesday's game. After they explained the call was about the Hall of Fame, I was glad they said they'd send the information soon by email because my mind was racing."
Crumbley, 57, started the baseball program at Steinbrenner High where he has served as the head coach for nine seasons and led the Warriors to a Class 8A state championship in 2016. Prior to that Crumbley spent 22 years as the head coach at Jesuit, where he skippered the Tigers to three state championships (1994, 1997, 2000), and in 1997 Jesuit was awarded the Baseball America National Championship after winning the Class 4A state title by defeating Pasco, 7-1.
A native of Miami, Crumbley moved to Tampa in childhood and graduated from Leto High School in 1978, he earned his bachelor's degree from the University of Tampa and holds a master's in administration supervision from Nova Southeastern.
He began his coaching career as an assistant at UT, before being named head coach at Jesuit in 1985.
In 2006, Crumbley stepped down to serve as Jesuit's Athletic Director for three years, while also serving as the school's golf coach. He has been the girls golf coach at Steinbrenner for the last four years, and also served as an assistant football coach at Jesuit for seven years.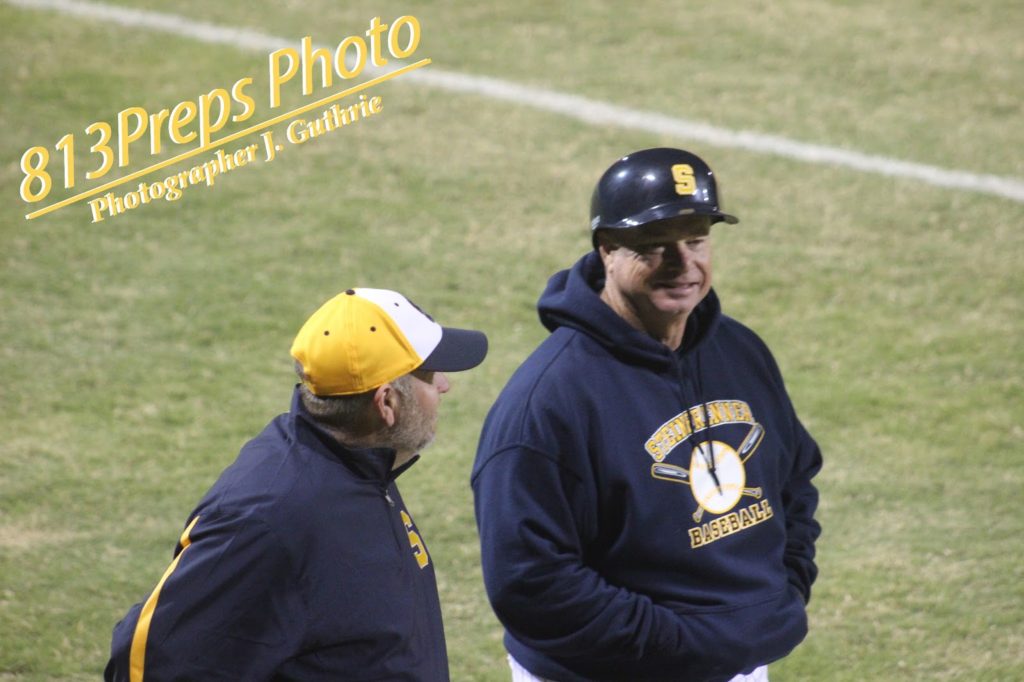 Coach Crumbley (right) talks with Steinbrenner assistant coach
Jason Gordon between innings earlier this season.
He is a charter member of the Baseball Coaches Association's National High School Baseball Association, has been a member of the Florida Athletic Coaches Association for more than 30 years and was named to FACA's Hall of Fame in 2007, and was inducted into Jesuit's Hall of Fame in 1997.
"Each honor I've received throughout my career, just like each championship, have their own special places in the memory and history of my career," Crumbley said. "The FHSAA is filled with such legendary coaches that it will always be humbling to be included in that group."
Crumbley will join eight other inductees, including Venice baseball coach Craig Faulkner (click here to see the full list), in the Class of 2018 enshrinement ceremony in Gainesville on September 23rd.
"I'd like to thank my wife Lisa, my son JJ and daughter Amy for all their love and support throughout my career," Crumbley said. "Also these types of honors wouldn't have happened without all the coaches and players I was blessed with for my entire career."
"It's a tremendous honor to be recognized for all the years and dedication. To be inducted to such a prestigious group of coaches and athletes throughout this state is mind blowing."
(adsbygoogle = window.adsbygoogle || []).push({ google_ad_client: "ca-pub-4669923380710005", enable_page_level_ads: true });