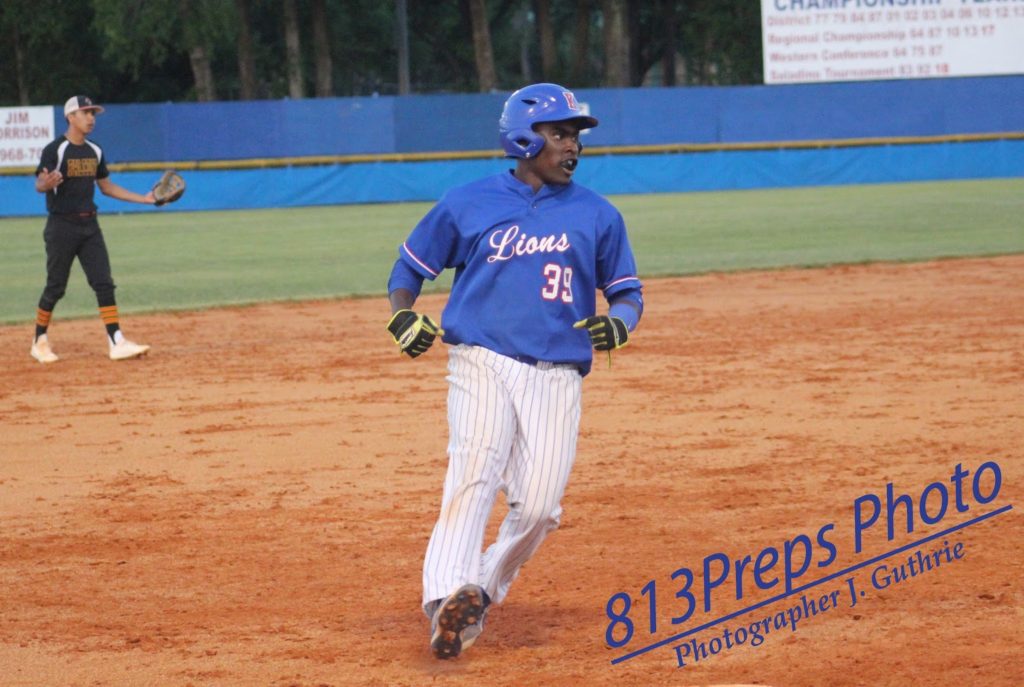 King senior Keyon Floyd waited for his shot to get on the field, but has had an impact his entire career on the Lions baseball team.
By Jarrett Guthrie
TAMPA – Keyon Floyd did just about everything he could to carve out a place on the baseball team in his four years at King.
The senior started out as a backup catcher, worked time in both corner outfield spots and even took to the mound for offseason work and winter ball, before finally finding a permanent spot as the Lions starting first baseman this season. Through all the transitions, all the scratching and clawing to find a way into the lineup, one thing that Keyon Floyd never did – complain.
Quite the opposite, in fact – Floyd's most valuable impact for the Lions during his career has been "teammate."
"He's just so valuable to us," King coach Jim Macaluso said. "He's done everything we've ever asked, played right and left, was our backup catcher for a time and even pitched for us, and he's done all of it without complaint."
"He always has a great attitude and that lifts up the rest of this team, who see the way he handles things. That's invaluable."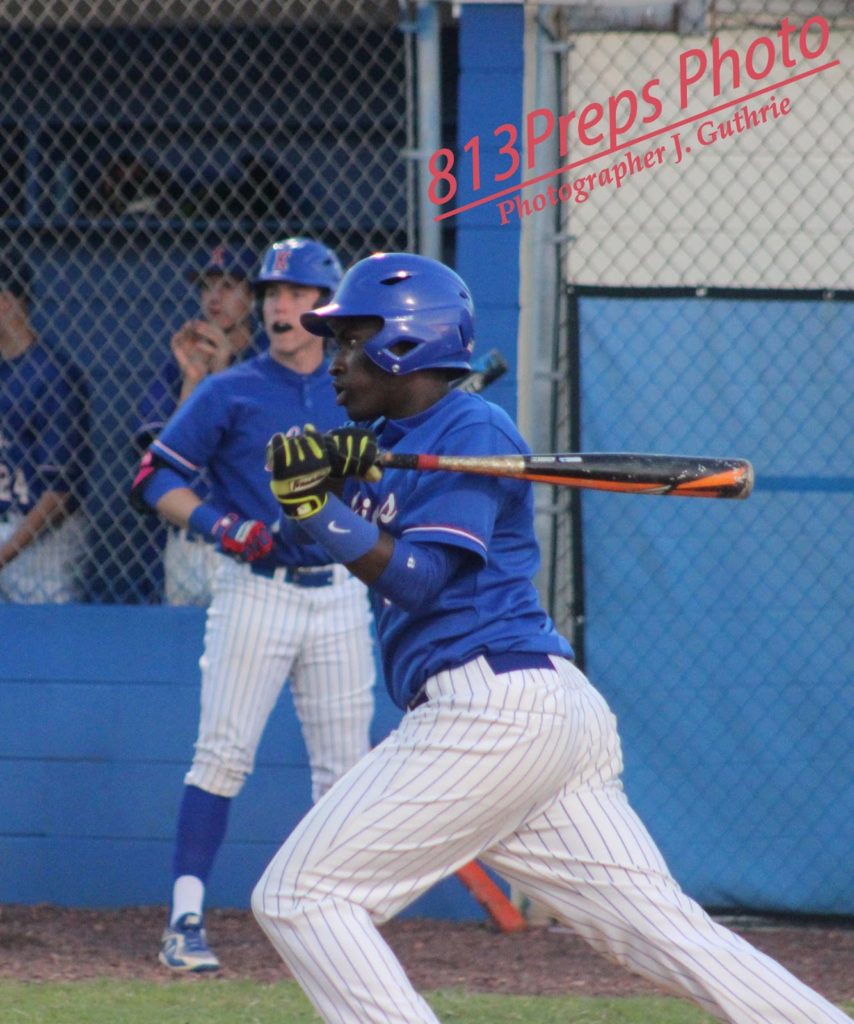 Floyd is hitting .284 this season for the Lions with
13 runs scored and seven RBI.
With lest than 25 at-bats in his first three varsity seasons, Floyd was a tireless motivator, often the first guy off the bench with a slap on the back, a good-natured joke, or a smile in tough times.
"He's funny and on the field he is always up, no matter what is happening," Lions senior Justice Thompson said. "That keeps a smile on our faces and when you are having fun, good things happen."
Floyd has an infectious spirit, his positivity and ability to lift his teammates up has been a benefit to the team long before he began making an impact on the field.
Unlike many independent news organizations, we haven't put
up a subscription paywall – and we hope to be able to keep bringing you the great stories
from high school athletics in the 813 area free of charge. But we are still a small
business with just a handful of people involved, so there are costs including travel, equipment, and other costs associated with running this business.
We are looking for advertising partners, but we also need to count on our
readers for support. If everyone who reads our reporting, who likes it, helps
fund it, we will be able to continue covering these athletes' endeavors.
Support 813Preps.com for as little as $1 by clicking "Donate" button below.
He said for him, the team has served as a form of extended family for the only child of Tameika Chapman.
"Being a part of this team helps me out so much, I know these guys are good people and being around them makes me want to be better," Floyd said. "This is a brotherhood, I'm an only child and being at the house by myself is boring. Any and everybody, this group is so close and I'm thankful for all of them."
Floyd's father, Keyon Floyd, Sr. passed away in 2006 – a loss he said he still struggles with today, but one that motivates him and his drive to be successful on the field.
"Ever since my father passed when I was six, baseball became a big part of my life," Floyd said. "The only reason I play today is because of my Dad. I want to prove to him and myself that I can make it to the MLB – that's the dream."
"Where I come from, I see a lot of people end up in a bad place, and I will do whatever it takes not to find myself in that place."
Floyd is an excellent student, holding a 3.5 un-weighted GPA, and plans to attend St. Leo next year, where he hopes to try out for the baseball team.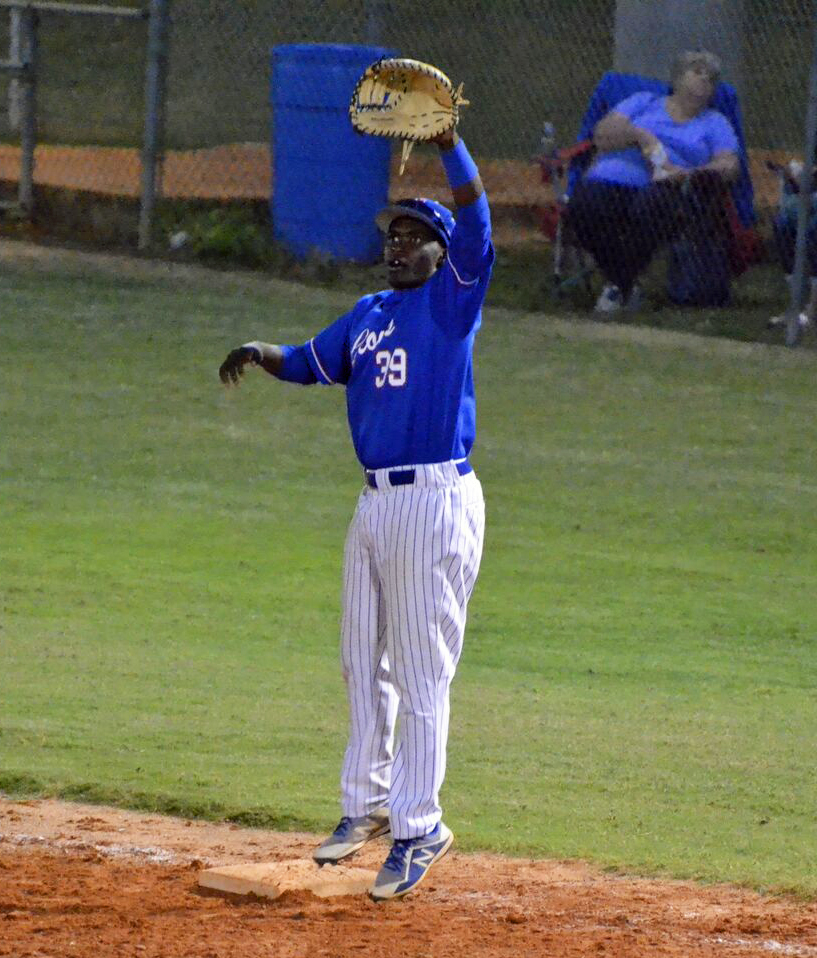 Floyd has an excellent glove and has committed just
two errors in 24 games this season at first base.
(Photo courtesy of Marjorie Terp).
His popularity stretches well beyond the diamond as well. Floyd was named homecoming king last fall, and has been a part of King's Elite Men of Tomorrow (EMT) mentorship and leadership program for the past two years. The program was headed by former assistant principal Yuri Higgins, who has since left King to help launch a charter school opening for the 2018-19 school year. Higgins said Floyd was a natural leader in school and in the community for the EMT program.
"We focus on community service, manhood development and academic achievement and Keyon is one of my top guys," Higgins said. "He did that while balancing academics, baseball and other things in his life and he's one of the key guys who made that program work."
"We hound them on being men of character, Keyon gets that everything that you do is being watched. We stress doing things the right way and he is going to be great in the future."
On the field, Floyd has found a spot in the meat of the King lineup this year and he has a .284 average, with 13 runs scored and seven RBI, and on defensively he has a steady and sure glove, leading the defense with a .986 fielding percentage, making just two errors in 24 games this season.
"I had to wait for my time, I waited for the opportunity," Keyon said. "And when Coach Mac gave me the chance at first base this year, I had to step up for these guys. They are my teammates."
The No. 2-seed King faces (3) Gaither in the Class 7A-District 8 tournament semifinals at Leto High today at 7 p.m.