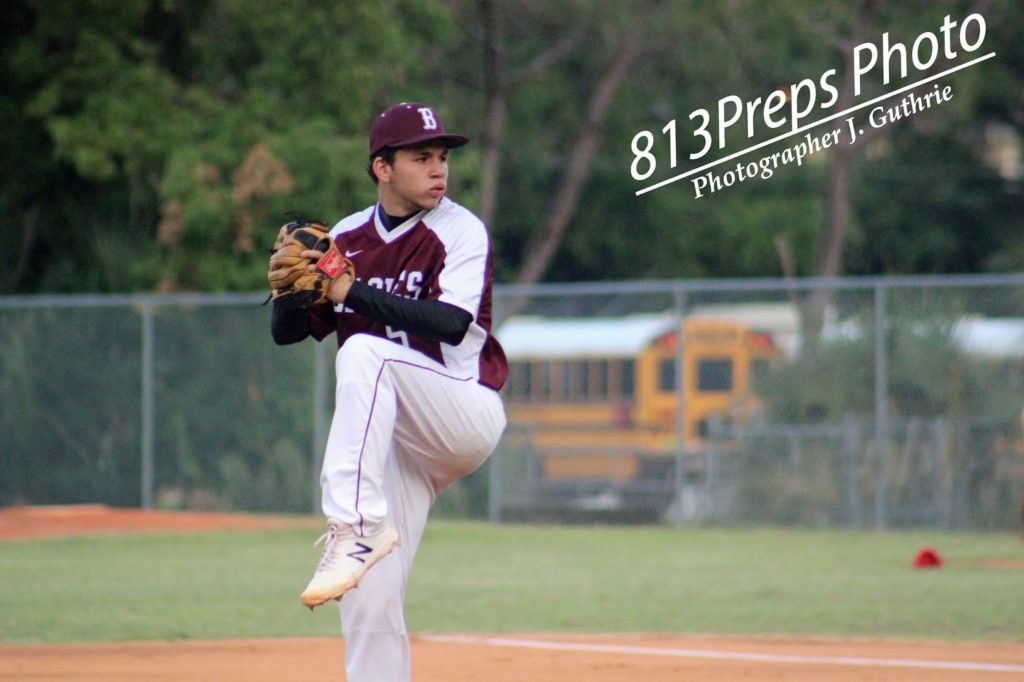 Brandon senior Wildiomar Roman-Morales earned the win on the mound as the Eagles topped Lennard in the 7A-District 9 semifinal game. (813Preps file photo)
By Bob Bellone 
RUSKIN – Brandon coach Matt Stallbaumer was in no apparent hurry to arrive for Tuesday's Class 7A-District 9 semifinal against tournament host Lennard, his tardy team bus delaying the first pitch by an hour and a half.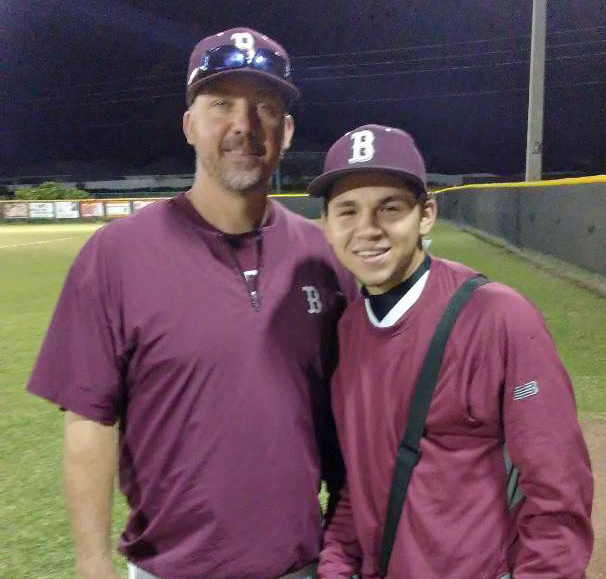 Brandon coach Matt Stallbaumer and winning pitcher
Wildiomar Roman-Morales (photo by Bob Bellone)
The 16-year veteran was even less eager to ride off into retirement without one last shot at a deep postseason run. A dramatic 5-3 victory keeps that hope alive as Brandon heads into Thursday night's title game against defending champion Braden River, a 5-2 winner against Armwood.
Eagles starting pitcher Wildiomar Roman-Morales gave up a run on two singles and an error in the first inning, but he didn't allow another hit until he took a 5-2 lead into the seventh. A one-out walk, a base hit and a throwing error produced a run that prompted Stallbaumer to call upon fellow senior right-hander B.J. Carter, who pitched a no-hitter to eliminate Lennard in the same round last year.
Carter hit the first batter he faced, struck out the next, then issued a walk to load the bases. He escaped the jam with another strikeout and his coach exhaled.
"We made it interesting for sure in the seventh, but overall we kind of came through and made some plays when we needed to," said Stallbaumer, who has taken the Eagles to the state tournament three times.
Brandon also was limited to three singles by Lennard starter Edward Tarrant – two of them off the bat of Cody Wagner at the bottom of the batting order – and Brendan Herrick pitched two hitless innings in relief. Leadoff batter Jermaine White drew two walks, was hit by a pitch and came around to score each time.
In the early game, Braden River right-hander Henry Nelson came within one out of a complete-game shutout when he was pulled near his pitch-count limit.
"That's the most he's thrown by far all year," Pirates coach Craig Page said. "I wanted to let him finish it, but … we didn't even want to get close to the rule with the regionals coming up."