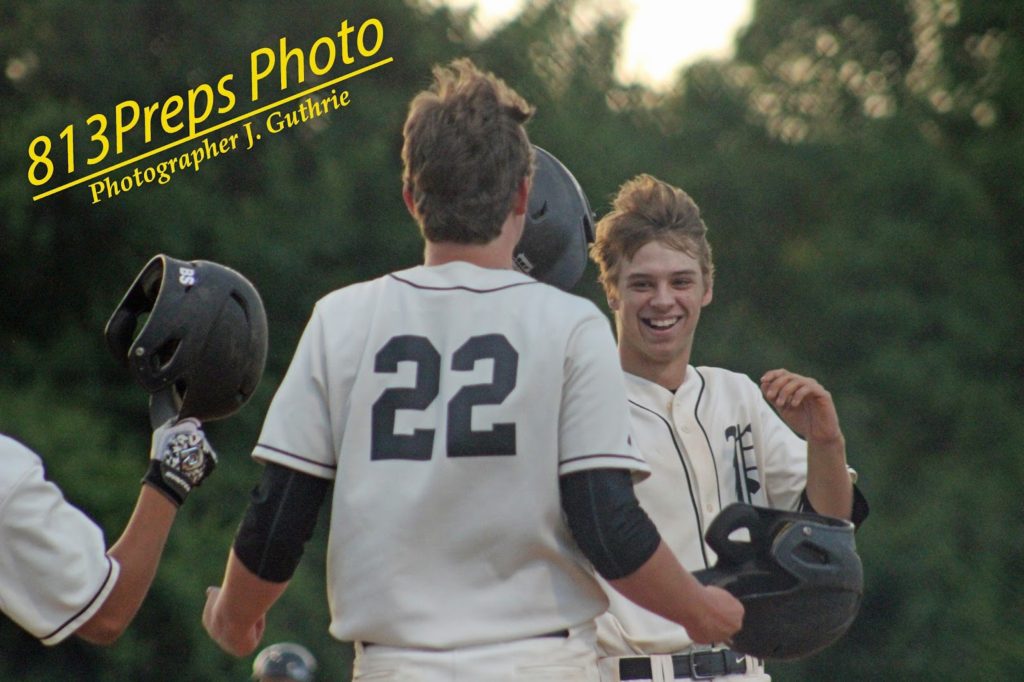 Plant senior Connor Scott is all smiles after his third inning home run in the Panthers district semifinal win. After a hamstring pull kept Scott out of the lineup for three weeks, he showed no rust going 3-for-4 with two runs scored and two RBI.
By Jarrett Guthrie
TAMPA – It had been 19 days since Plant senior Connor Scott played in a game after pulling a hamstring in a regular season loss to Steinbrenner on April 12. The rest of the Panthers responded with five straight wins to close the season as the potential early round MLB prospect and University of Florida commit watched from the dugout.
Scott said he learned some things as he sat next to his coaches during his absence from play, encouraging his teammates and soaking up knowledge, but he was done watching Tuesday as Plant traveled to Sickles to play in the Class 8A-District 5 semifinal against Steinbrenner. Serving as designated hitter, Scott singled in the first to right field and scored the games first run. But it was his second at-bat, when Scott clobbered a first-pitch fastball over the fence in right that proved their was no rust on the Panthers' slugger. then kept his and the Panthers season going by belting a solo home run in the third and an RBI single in the fourth as Plant earned a spot in Wednesday's district final and a region playoff berth with a 7-2 win over the Warriors.
"It was all positive and I actually had a pretty good time the last two weeks, just slowing things down, helping out my other teammates, watching the game and just learning," Scott said. "I was sitting on fastball first pitch, because they threw me two change-ups in my first at-bat. He left it belt high and I let it ride."
Unlike many independent news organizations, we haven't put
up a subscription paywall – and we hope to be able to keep bringing you the great stories
from high school athletics in the 813 area free of charge. But we are still a small
business with just a handful of people involved, so there are costs including travel, equipment, and other costs associated with running this business.
We are looking for advertising partners, but we also need to count on our
readers for support. If everyone who reads our reporting, who likes it, helps
fund it, we will be able to continue covering these athletes' endeavors.
Support 813Preps.com for as little as $1 by clicking "Donate" button below.
Scott added an RBI single in the fourth as Plant earned a spot in Wednesday's district final against Sickles.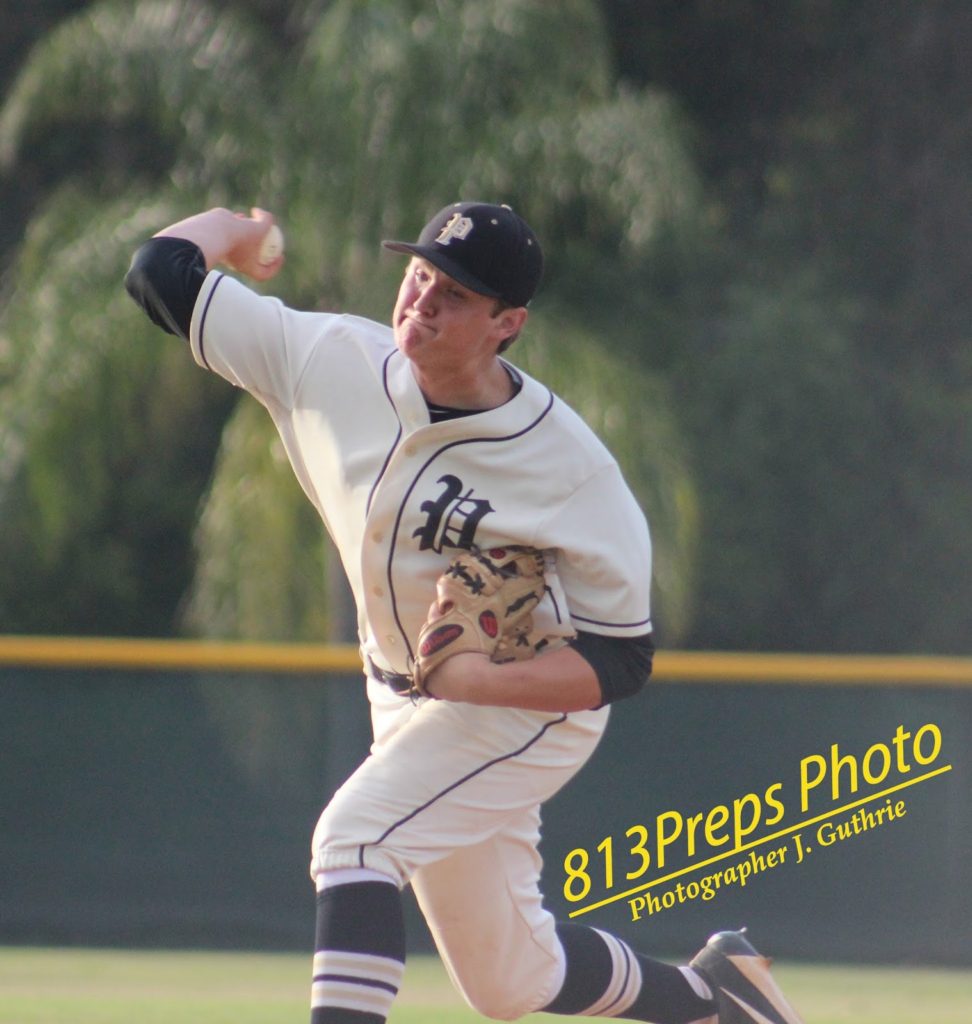 Plant senior Brock Fagler tossed a complete-game, striking out nine.
Plant's loss to Steinbrenner back in April was also a tough outing for starting pitcher Brock Fagler, one of the few for the senior righty this season. But charged up by early offense from his teammates, Fagler worked his way out of jam after jam, to toss his fifth complete-game of the year, allowing two runs, while scattering 11 Warriors' hits and striking out nine. Fagler also turned in two of the games best defensive plays in the fourth, fielding  bunt with two runners on and throwing a rocket to third base for the force out, then ended the inning fielding a comebacker to the mound and spinning with a dart to second to start a double-play.
"We knew what they had and (Steinbrenner) tattooed me last time out," Fagler said. "I just executed my pitches, hit my spots and didn't let them take advantage when they got on, and look what happened."
Plant (21-4) junior Gabe Rincones also got in on the action with a long fly over the left field wall in the third and picked up an RBI single as well later in the win.
"As hitters we just have always go out and back up our pitcher and let Brock do his thing," Rincones said. "We focus on quality at-bats and if we get enough of those types of ABs then we are going to score runs."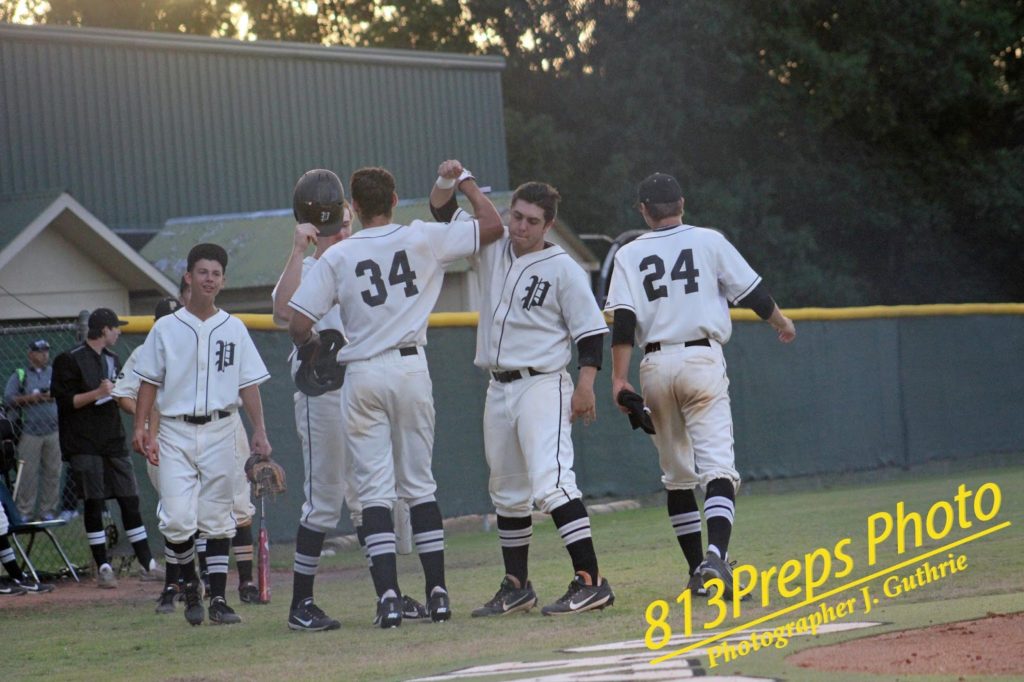 Plant junior Gabe Rincones is greeted by his teammates after following up on Connor Scott's home run with a solo shot of his own in the third innings.
Steinbrenner (13-11) tied the game at one in the second inning as Garrett Reynolds drove in Jesse O'Rorke who led off the inning with a double. The Warriors added another run on a Jacob Baker (3-for-4) RBI single in the fifth, but Steinbrenner left 10 runners on in the loss. O'Rorke and senior Jordan Lala (double) each finished with a pair of hits.
For Plant, Mike Haydak (run and RBI) and J.D. Urso (run) each had a pair of hits.
Plant will take on the top-seeded Gryphons on Wednesday at 7 p.m. at Sickles as both teams look to take the rubber match and claim a district title.