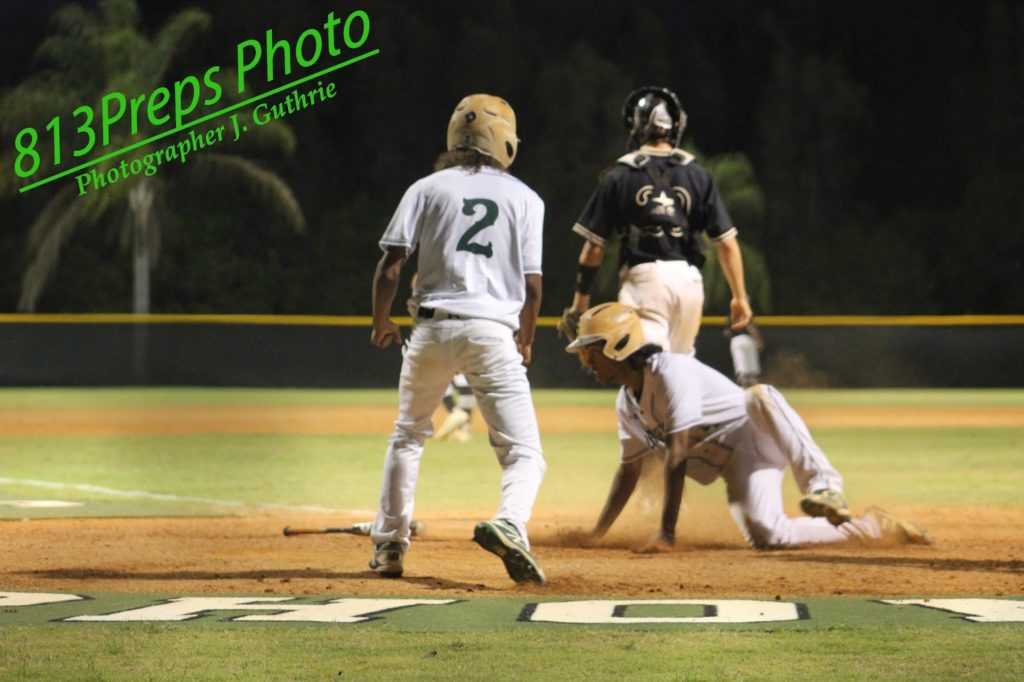 Josh Luther (No. 2) tells Trey Bacon to get down after the two scored all the runs the Gryphons would need off of Danny Bernstein's two-run single in the sixth.
By Jarrett Guthrie
TAMPA – Sickles wanted this one bad.
After a split with Plant in the regular season and a one-win district record advantage, the Gryphons got to sit back as Plant had to take on Steinbrenner in Class 8A-District 5 semifinal game on Tuesday. Plant did its part and Wednesday the two top seeds battled for five innings of the championship game. Then the levee broke, and "want to" won out, as Sickles captain Dylan Eskew ramped it up each inning and the Gryphons finally put up a championship inning on offense.
And finally, Sickles claimed the program's first district title with a 5-0 win.
"This feels great," Sickles head coach Luksis said. "We've made history here tonight, the first time we've won this thing here. This started last year with this group, everyone of them bought in, doing things a certain way, and you can see the results."
Eskew walked back out to the mound in the top half of the fifth inning with purpose. The junior right-hander wasn't throwing his best stuff early, but he was more than getting the job done, keeping Plant off rhythm and more importantly keeping the Panthers off the scoreboard.
Unlike many independent news organizations, we haven't put
up a subscription paywall – and we hope to be able to keep bringing you the great stories
from high school athletics in the 813 area free of charge. But we are still a small
business with just a handful of people involved, so there are costs including travel, equipment, and other costs associated with running this business.
We are looking for advertising partners, but we also need to count on our
readers for support. If everyone who reads our reporting, who likes it, helps
fund it, we will be able to continue covering these athletes' endeavors.
Support 813Preps.com for as little as $1 by clicking "Donate" button below.
Luksis said he approached his pitcher in the dugout with a simple message, if you keep throwing like this we are going to win this game.
"He struggled early, I don't think he had his best stuff early," Luksis said. "So I went over to him in the third inning and told him, 'buddy, if that's the worst you are going to throw, we are going to win this thing – no doubt about it.'"
The problem through the early part of the game was Sickles offense didn't give him a lead to defend.
But in the fifth, Eskew's battery mate, catcher Danny Bernstein said you could tell there was a bit of anger, a bit of an uptick for the University of Miami commit on the hill. Eskew fielded a comebacker to the mound and threw for the first out, then picked up a pair of strikeouts.
"Dylan was kind of mad because we weren't scoring for him, and I think he started to over-throw a little bit," Bernstein said. "But when he gets like that he finds a way to make it work. That adrenaline starts going and he just refuses to let anyone hit him."
Plant junior lefty Leo Oshinski kept stride on the mound with his counterpart working five scoreless frames.
Our complete postseason coverage is brought to you by the 
Law Offices of George Hunter, P.A
And again in the bottom half Eskew was sharp, striking out the side while waiting for things to take a turn for his offense. Then a break, Josh Luther's speed forced a rushed play and the nine-hole hitter found himself standing on second base on an error, an out later Trey Bacon drew a walk, and Eskew was given the courtesy pass to setup the force out.
A smart baseball move, but one Bernstein didn't appreciate as the junior burned a drawn-in infield with a hard hit single through third base to plate two runs.
"It was a little nerve-racking, but I didn't really focus on anything other than doing the job," Bernstein said. "Off the bat I knew it was getting through and my heart started racing and I almost forgot to run to first, but I had to."
For Eskew, the free pass was a sign of respect, but it also gave the opportunity to the right man for the job in his opinion.
"I've known Danny all my life, we grew up playing together, he's one of my best friends," Eskew said of his catcher. "He is a wall as my backstop, and I can't think of a better guy to have up at the plate in that situation."
Then Sickles clicked, adding an RBI line drive single by Connor McTeer (2-for-3, run) and a two-run single by Leandro Alvarez (2-for-3).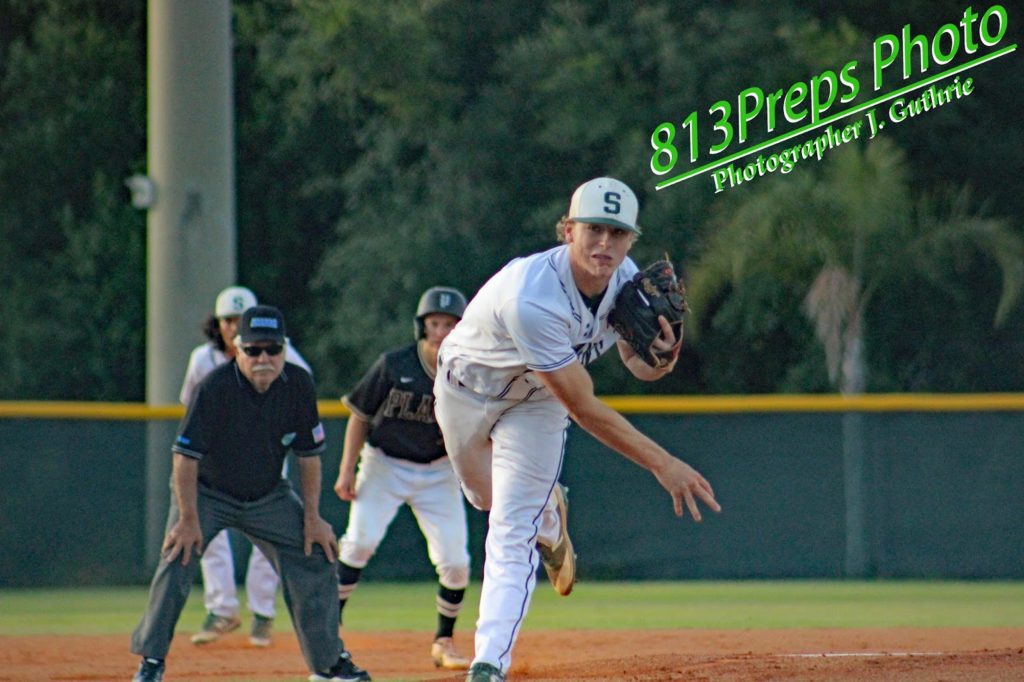 Sickles junior Dylan Eskew fanned 10 in a complete-game win as the Gryphons claimed its first ever district title, defeating Plant, 5-0 in the Class 8A-District 5 championship.
It was all Eskew needed, but that didn't mean his intensity lowered as he added two more strikeouts, finishing with 10 in total, in his complete-game effort, allowing just five hits and no walks.
Plant started the game with singles by Mike Haydak and Chase Sanguinetti, but weren't able to get runners in from second two times in the game. Eskew wasn't giving away anything as he picked off two runners in the win.
And Plant's offense never found a way to support five-plus innings from Oshinski.
— 813Preps (@813Preps) May 3, 2018
Both teams advance to next Tuesday's region championship with Sickles hosting the loser of Thursday's Bloomingdale-Riverview, Class 8A-6 championship. Plant goes on the road to face the winner.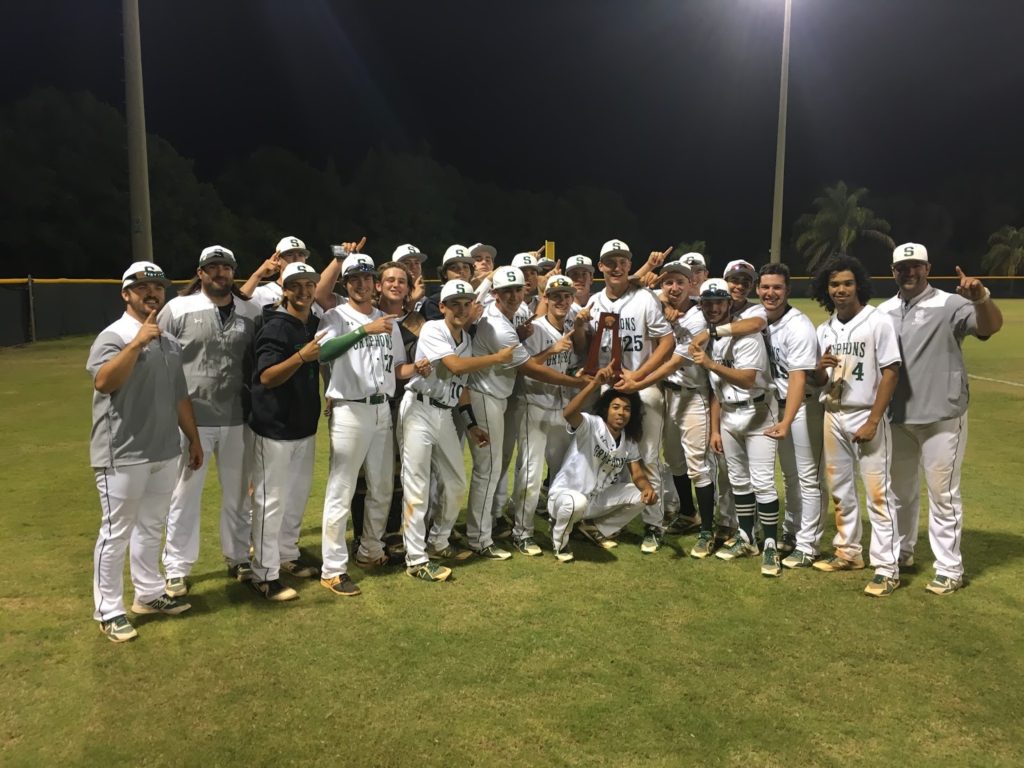 The 2018 Class 8A-District 5 Champion – Sickles Gryphons