2018 Class 8A-District 6 champion – Bloomingdale Bulls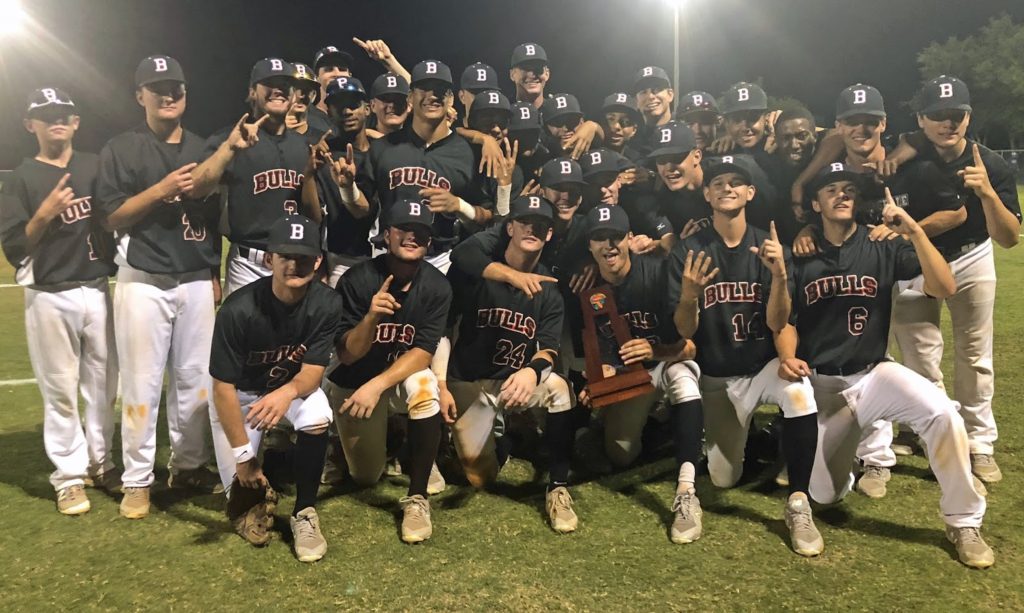 Photo courtesy of Tara DeJesus.
By Nick Nahas 
Special to 813Preps 
PLANT CITY – The Bloomingdale Bulls started off the 8A-District 6 championship game with a bang. After senior starting pitcher Jesse Hunter got the final out of the top half of the first inning by striking out Riverview's Reagan Jorgensen looking with runners on second and third, Dominic Gonnella stepped to the plate to lead off the home half of the inning.
"He just missed a little bit with a fastball and I hit it hard, as hard as I could," he said.
The ball went over the right field wall to give the Bulls a 1-0 lead.
Gonnella was on last year's 8A-District 6 championship team, but as a member of the Riverview Sharks. He transferred to Bloomingdale this year, and helped turn the tide on his former team as the Bulls went on to win, 5-2.
"We won it last year, but I was on the bench as a pinch runner," he said. "It feels so much better to play in the game and actually contribute and have a trophy to our name. The amount of hard work and dedication we put in during the offseason — we don't have breaks, we work all day, every day, and it's just a great thing to be a part of when it pays off."
Unlike many independent news organizations, we haven't put
up a subscription paywall – and we hope to be able to keep bringing you the great stories
from high school athletics in the 813 area free of charge. But we are still a small
business with just a handful of people involved, so there are costs including travel, equipment, and other costs associated with running this business.
We are looking for advertising partners, but we also need to count on our
readers for support. If everyone who reads our reporting, who likes it, helps
fund it, we will be able to continue covering these athletes' endeavors.
Support 813Preps.com for as little as $1 by clicking "Donate" button below.

Gonnella wasn't the only hero of the game. Myles Caba came in to pitch after a nice outing from Hunter. After the Sharks drove in a run to cut the Bull's lead to 3-2, Caba came in to pitch with two outs in the 5th and the potential tying run on second. Jorgensen then made it to third on a passed ball.
"Compete, compete," Caba thought as he worked. "I have the lead, I just have to go out and compete."
Caba went to work and struck out Ben Migliarese with a full count fastball.
Caba wouldn't need any more run support, as he would only allow one more baserunner on a hit-by-pitch. That didn't stop the Bulls from tacking on though. Nico Saladino stepped to the plate after a walk to Jett Davis. Saladino would fail to put down the bunt, but it worked in his favor, as he would then drive the ball over the right field fence to give the Bulls its 5-2 lead. Bloomingdale avenged last year's 4-3 district championship loss to Riverview.
— Tara DeJesus (@TaradejesusTara) May 4, 2018
This district title is a first for 11-year head coach Kris Wilken, who has won the Saladino Tournament and has made it to the state championship game with the Bulls but had never claimed a district title before. This is Bloomingdale's first title since K.B. Scull's 2007 team.
"I'm so proud of my guys," said Wilken. "My coaching staff and I and all the players that we have coached over the last 11 years have fought so hard for this, and this group was able to get it done. This is for them."
The Bulls will host the Plant Panthers Tuesday at 7 p.m. for the regional quarterfinal game.
– Nick Nahas is a freelance writer in eastern Hillsborough County and covers a wide range of topics. Be sure and follow Nick on Twitter by clicking here.