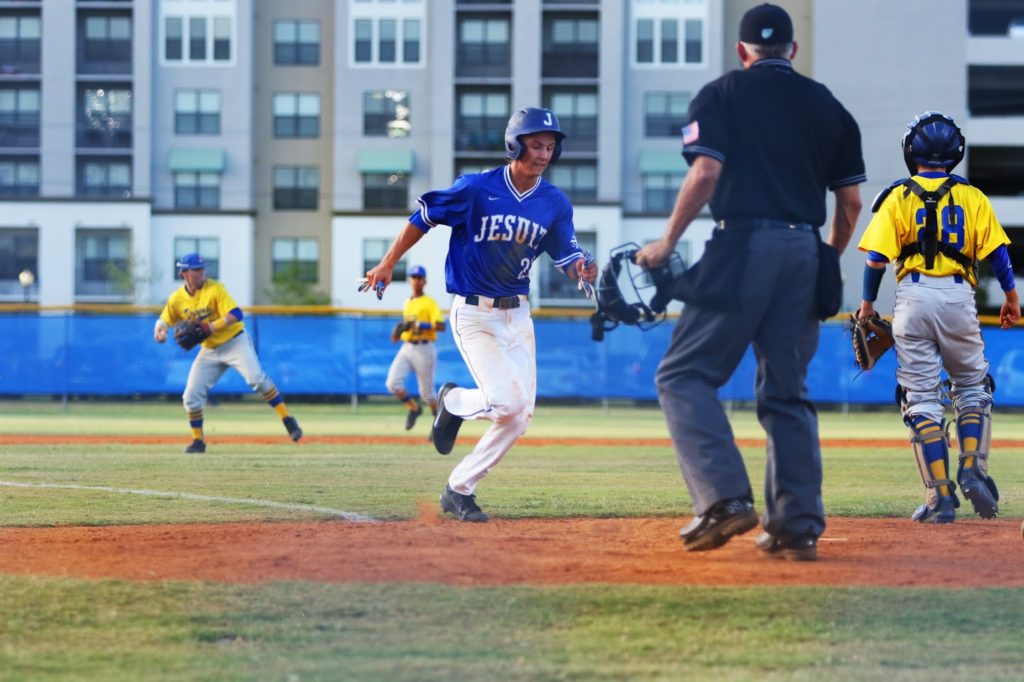 Jesuit senior McGuire Weaver scores in the first inning as the Tigers defeated Jefferson 5-1. Weaver was 3-for-4 with a pair of runs scored in the win. (Photo by Will Turner)
By Will Turner 
813Preps correspondent
TAMPA – For the seventh consecutive season, the Jesuit Tigers hoisted a district championship trophy after a 5-1 victory over Jefferson on Thursday clinched the Class 6A-District 8 title, making sure they host at least one more game.
The Tigers relied on a little bit different of an approach, focusing on a lot of small ball tactics to catch a familiar foe off-guard.
Jefferson started out with a run in the top of the first after Marc DeGusipe reached on an error that scored AJ Mathis. Following that, Jack Anderson and the rest of the Tigers wouldn't allow the Dragons a second run.
McGuire Weaver scored on a suicide squeeze from Javi Baldor. The Tigers sacrifice bunted twice in the opening frame.
"We played a lot of small ball tonight," Jesuit catcher Bennett Lee said. "It really paid off for us."
Anderson and DeGusipe retired six straight before another baserunner would reach in the fourth for Jefferson. Lee gunned down a runner at first in the same frame to thwart any possible offense.
Unlike many independent news organizations, we haven't put up a subscription paywall – and we hope to be able to keep bringing you the great stories from high school athletics in the 813 area free of charge. But we are still a small business with just a handful of people involved, so there are costs including travel, equipment, and other costs associated with running this business. We are looking for advertising partners, but we also need to count on our readers for support. If everyone who reads our reporting, who likes it, helps fund it, we will be able to continue covering these athletes' endeavors. Support 813Preps.com for as little as $1 by clicking "Donate" button below. 
In the fifth, Charles Ethan Clark knocked a one-out single, and then Weaver would follow that up with one of his own on a beautifully executed hit-and-run. Lee dumped an RBI single to right to score Clark.
A double-steal would allow Weaver and Lee to move into score position, where Baldor did the rest. On an 0-2 count, Baldor hammered a fastball up the middle to score two, giving the Tigers an important three-run cushion.
— Jesuit Tampa (@JesuitTampaFL) May 4, 2018
"We did a great job with situational hitting tonight," Lee said. "It was nice to see those guys get big hits with that runner on third and less than two outs."
Clark scored his second run of the game on an error in the sixth when Weaver hit a popup and Mathis dropped the catch coming from center field to the infield on it.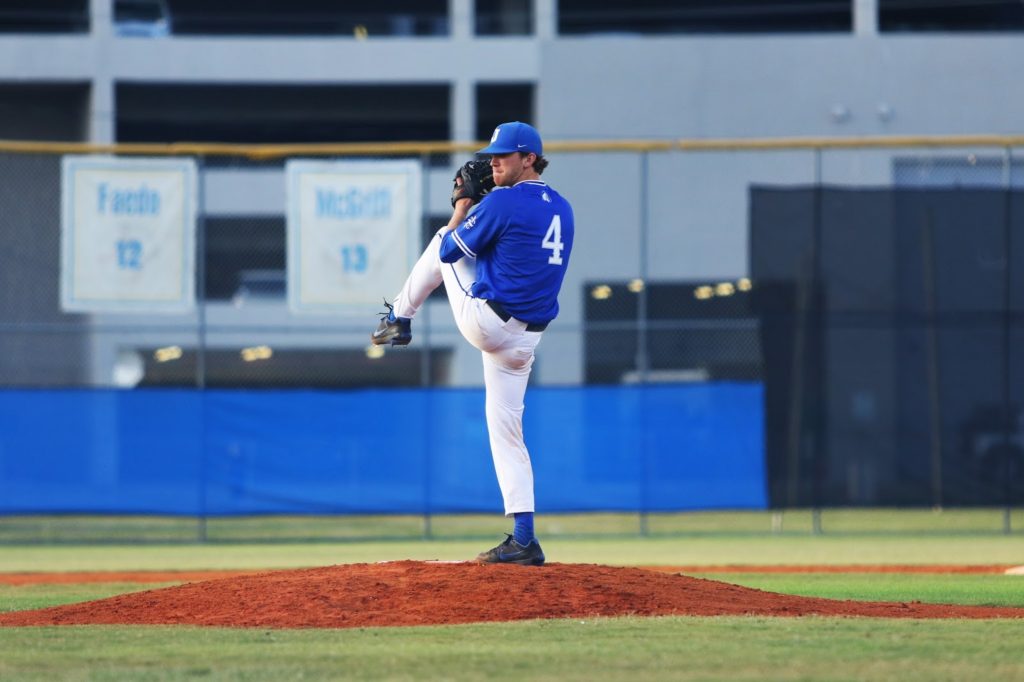 Jesuit senior Jack Anderson earned the win on the mound working four innings and allowing just one unearned run on three hits. (Photo by Will Turner)
Jack Anderson worked four innings in the start, striking out one, but letting his defense do a lot of good work behind him. He allowed just one walk. Camden Minacci and Will Swantek combined for the final nine outs, allowing just three baserunners in that time.
"Today we just limited Jack just so we could have him available for next week, Camden came in and pitched a nice inning, and we knew once we had the lead, we'd go to Will Swantek, so we really feel confident with what we have pitching-wise," said Jesuit Head Coach Miguel Menendez.
Our complete postseason coverage is brought to you by the 
Law Offices of George Hunter, P.A
Jesuit has topped Jefferson eight consecutive times since 2016, so a different approach in the offensive department really helped.
"There's not a lot left that we could use to trick them, just because we've seen them seven times over the past 12-15 months," Menendez said. "We did a lot of our small stuff early in the game, which really paid off, I think, then we came up with some clutch hits at the end."
Jesuit baseball wins its 7th consecutive District title! Jack Anderson (4 IP), Camden Minacci (1), and Will Swantek (2) combine to stymie Jefferson tonight in 5-1 triumph. The Tigers will host River Ridge or Land O'Lakes on Tuesday.

#AMDG #JesuitBaseball pic.twitter.com/p0JU0bOPin

— Jesuit Tampa (@JesuitTampaFL) May 4, 2018
The Tigers will host the River Ridge Royal Knights next Tuesday, as they were defeated in the 6A-7 District Final. Jefferson will hit the road to take on the Land O'Lakes Gators.
– Will Turner is a student at USF majoring in mass communications, with a focus in news and editorial journalism, and a minor in history. You can follow Will on Twitter:@TBTurner813