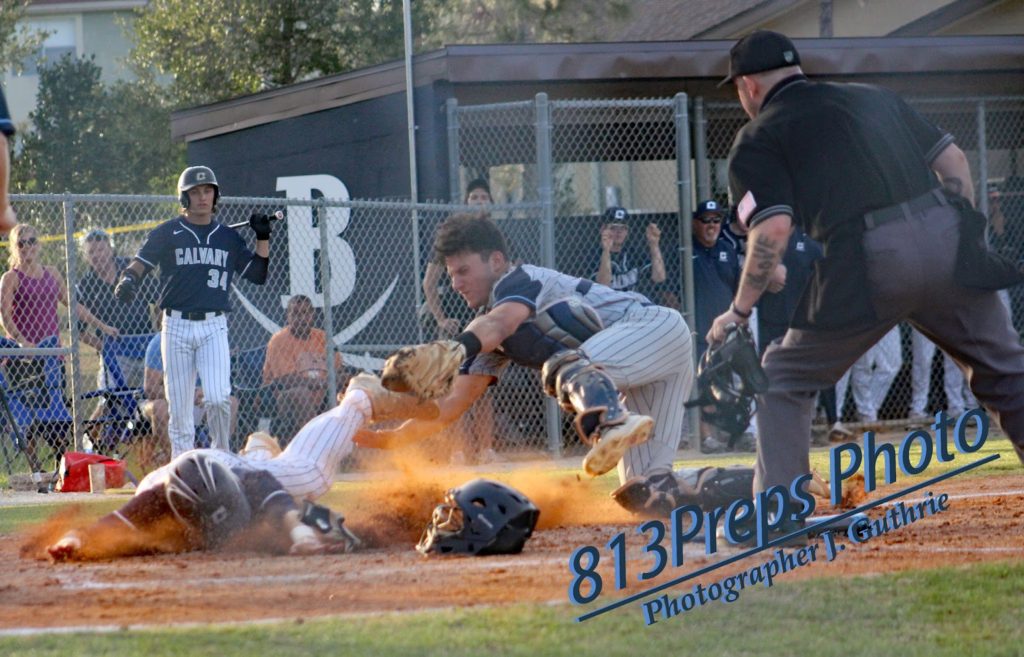 Calvary Christian senior Eric Kennedy goes max effort diving into home plate to get under the swipe tag of Berkeley Prep catcher Jakob Hines to tie the game at one each in the first inning of the Warriors Class 4A-District 4 championship win. Kennedy was 2-for-3, scoring three runs in the game.
By Jarrett Guthrie
TAMPA – There have been ugly wins, clean wins, lucky wins and decisive wins during the remarkable run for Calvary Christian baseball on its now 15-month streak. But the common theme for the 56-straight games the Warriors had won running up to Friday's Class 4A-District 4 championship is the "win" part. That didn't change as Calvary Christian claimed the title for the second-straight season against Berkeley Prep.
But the Buccaneers didn't lie down for the defending state champions, battling early scoring the most runs on the Warriors all season before things slipped out of reach in a 9-5, Warriors win.
Unlike many independent news organizations, we haven't put
up a subscription paywall – and we hope to be able to keep bringing you the great stories
from high school athletics in the 813 area free of charge. But we are still a small
business with just a handful of people involved, so there are costs including travel, equipment, and other costs associated with running this business.
We are looking for advertising partners, but we also need to count on our
readers for support. If everyone who reads our reporting, who likes it, helps
fund it, we will be able to continue covering these athletes' endeavors.
Support 813Preps.com for as little as $1 by clicking "Donate" button below.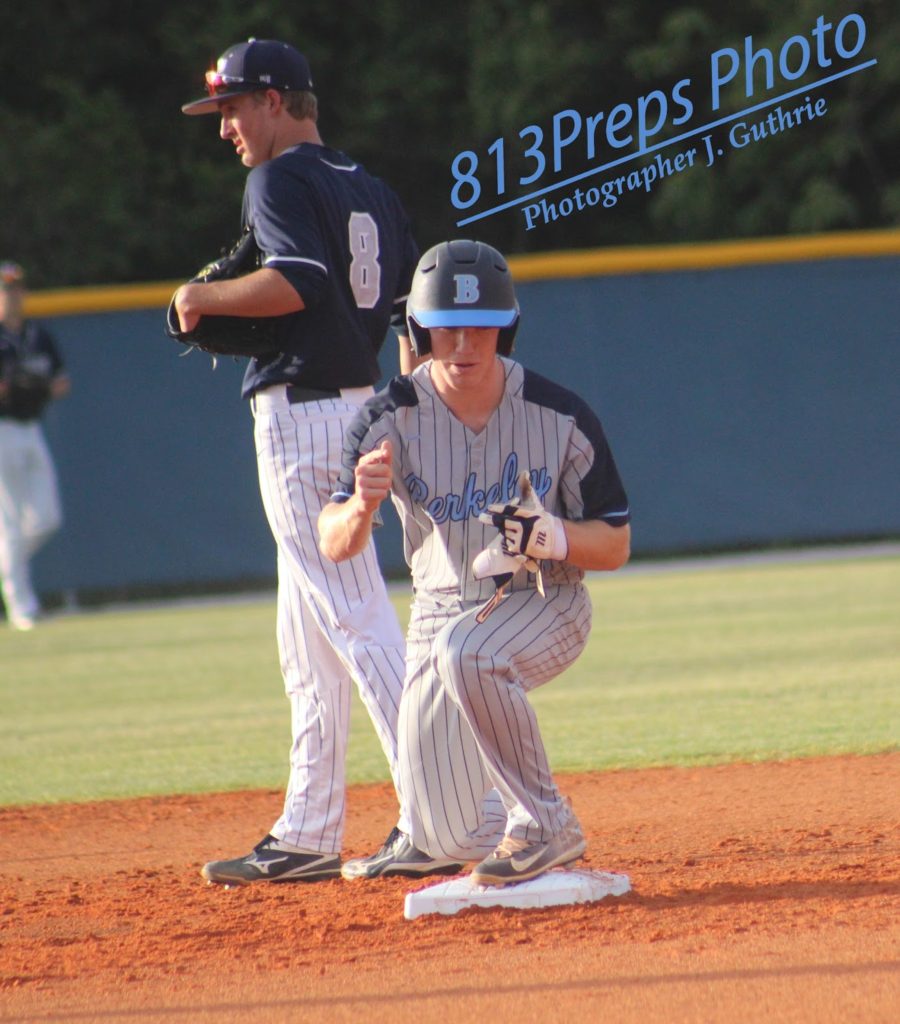 Berkeley Prep senior Carson Weekley fires his
pistols after coming up with a one-out single in the first
inning. Weekley scored twice in the loss.
Berkeley Prep (17-10) was the night's visiting team on its home field and got things started in the first as Carson Weekley doubled with one out and eventually scored on a Khalib Bayona single to give the Buccaneers an early lead.
The lead was short-lived as Calvary Christian immediately answered with three, first-inning runs of its own highliged by RBI from Justin Bench (sac bunt), Nolan Hudi (sac fly), and Tommy White (single).
But the Bucs looked to make it a battle all night with four runs in response in the second as Alex Haire (2-for-4, double), Julian Bosnic, Jakob Hines had RBI to tie the score and Bayona again came through with an RBI hit to give his team an advantage and chase Calvary starting pitcher Braden Halladay.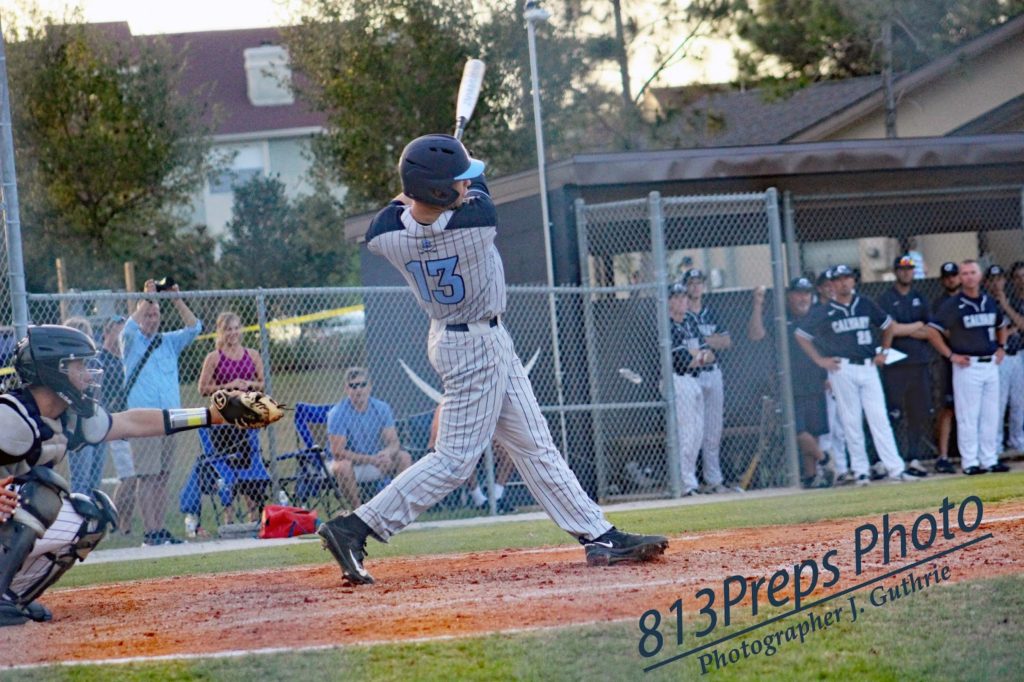 Berkeley Prep senior Khalib Bayona connects on his second RBI single of the game in the second inning.
Junior Josh Emerson took to the mound with two aboard and two outs, and dealt the rest of the way as the Buccaneers offense found not further success, and Calvary Christian plugged steadily away retaking the lead and holding on.
"Our coaches have instilled in us the will to prepare for anything," Emerson said. "The more we prepare, the more we are ready for situations like that and we come back, never quit fighting and get runs on the board."


Our complete postseason coverage is brought to you by the 
Law Offices of George Hunter, P.A
Emerson scattered six Buccaneers hits the rest of the game finishing with six strikeouts and improving to 4-0 on the year.
"Josh did such a great job coming in in that situation and took everything that excellent team (Berkeley Prep) threw at him," Calvary Christian head coach Greg Olsen said. "He didn't try and do too much, focused on one pitch at a time, and he's a great kid with a big heart."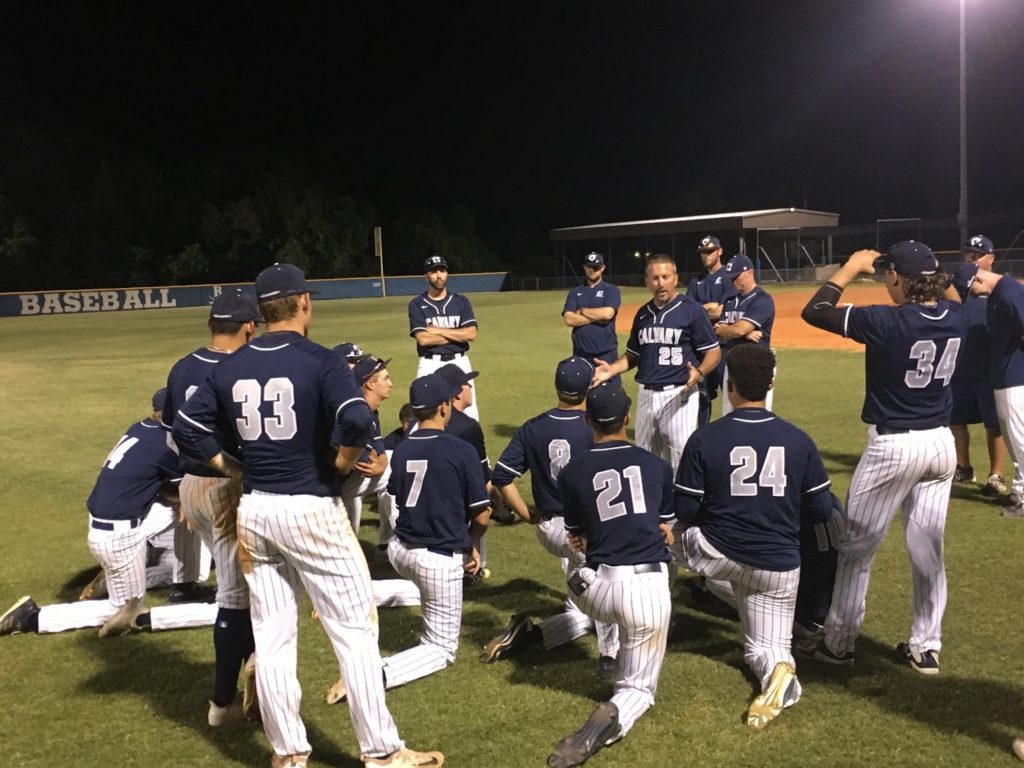 Calvary Christian head coach Greg Olsen (No. 25) talks to his team after the Warriors 9-5, district championship win.
The Warriors added two more to regain the lead in the second, as singles by Samuel Gordon (2-for-3) and Eric Kennedy (2-for-3, three runs scored) were cashed in on hits from Matheu Nelson and Bench.
"Them coming out and scoring in the first inning and taking the lead again in the second, we just know we are going to come back," Bench said. "It only takes one more run to win the game, so we are always ready to answer back and we have done it every game and we all know how special that is."
Ryan Coleman and Gordon padded the lead an inning later driving in two more runs in the third and the senior Bench capped off his 2-for-2 night with his second RBI sac bunt and third RBI of the game.
The 57th win in-a-row and the success of winning a state championship a season ago, did nothing to lesson the excitement of a district title for the Ole Miss signee, Bench and his teammates.
"Every championship we win is special," bench said. "Being out here with my brothers, my teammates, and these great coaches every day, every game, every win is so much fun."
Calvary Christian hosts Orlando's The First Academy next Wednesday, while Berkeley Prep travels to Ocala Trinity Catholic for the Class 4A-Region 2 semifinals.
2018 Class 4A-District 4 Champions – Calvary Christian