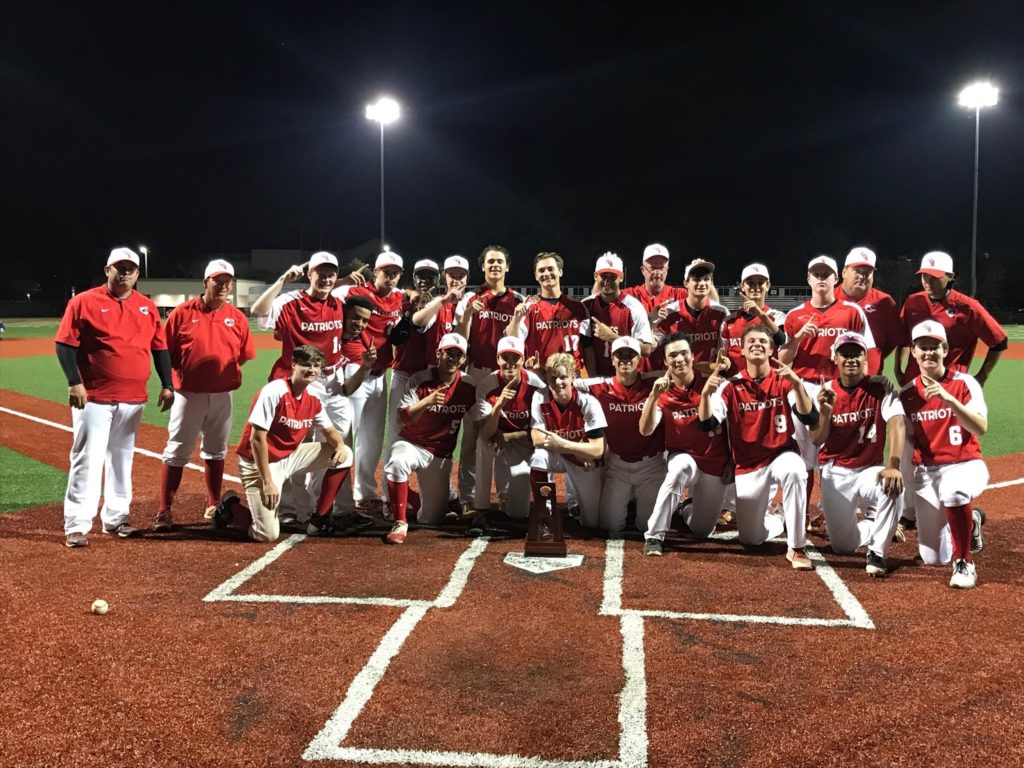 Class 3A-District 4 Champions – Carrollwood Day Patriots
(Photo courtesy of Maritza Torres)
By Jarrett Guthrie
TAMPA – Carrollwood Day has clawed and fought all week, and though it may have added a few grey hairs to the head of coach Ken Akins, the final product – a Class 3A-District 4 championship in a 8-7, win over Lakeland Christian – made the pressure worthwhile.
"This last three games have been unreal," Akins said. "This group has battled the entire week, starting in the (quarterfinal) comeback win against a (Winter Haven) All Saints team that eliminated us from the tournament the previous two years, to last night's comeback against Santa Fe, to tonight I don't know what to say other than this team just flat out refused to lose."
The district title win is a first for the program and came behind a five-run, seventh-inning comeback capped by a line drive, RBI walk-off over second by senior Gabriel Partridge.
Our complete postseason coverage is brought to you by the 
Law Offices of George Hunter, P.A
Partridge has been outstanding on the mound for the Patriots this season posting a 9-0 record with a 0.82 ERA, but his hitting hasn't exactly lit up the scoreboard.
However, for Akins the hit off the bat of Partridge was about the most fitting end that could have taken place.
"Gabe Partridge has been masterful on the mound, but his sub-.200 average hasn't been where he contributed the most," Akins said. "But man, when he needed to put together an at-bat I knew he would get it done. He took a called first strike, then slapped a beautiful, soft liner over the second baseman's glove. It was absolutely perfect."
Akins said the six seniors have put in years of dedication for the program and he said down four runs heading into the final frame he could just feel something special was in store.
"This group of seniors has always had a never say die attitude, and you could just feel something as those at-bats began," Akins said. "Rodrigo (Montenegro) led off and worked a walk, and the whole dugout just felt this vibe of, okay we aren't done yet. Something is happening."
"Guy after guy, hitter after hitter manages to get on and things just had to go our way."
Noah Torres singled in a pair to tie the game and setup Partridge to eventually end the game with just his fifth RBI of the year.
Carrollwood Day will host Oviedo Master's Academy in the Class 3A-Region 2 semifinals next Wednesday at 7 p.m.
— CDS Athletics (@CDS_Athletics) May 5, 2018