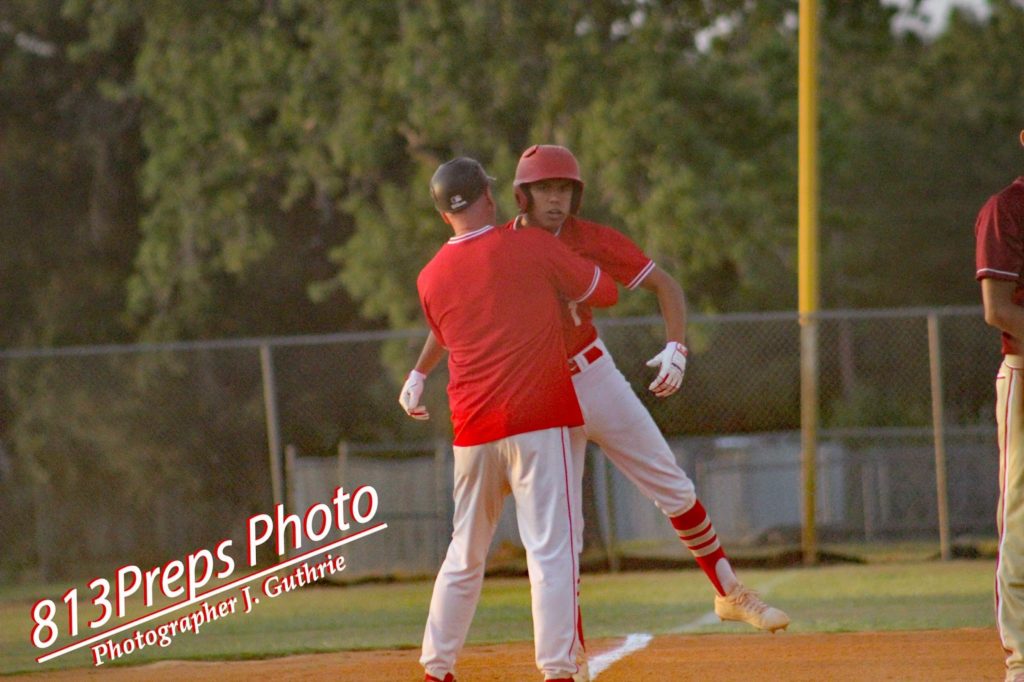 Leto third base coach Kevin Ahles gives senior Fernando Muniz a big hug after the HCC signee cleared the bases with a triple in the second inning of the Falcons 4-2, region quarterfinal win against Lake Gibson.
By Jarrett Guthrie
TAMPA – Leto junior Christian Suarez didn't have the stuff that has made him one of the areas best this season when he took to the mound in Tuesday's Class 7A-Region 2 quarterfinal against Lakeland Lake Gibson, but that didn't even begin to concern Falcons coach JJ Pizzio.
Suarez had a good lead in his pocket as the Braves started to chip away with a third inning run and then another in the fifth and with Leto's ace skidding a bit for one of the first times all season the move was an easy one. Pizzio called upon senior Jakob Ryley to take the hill, with a two-run lead and a runner on second, and his senior didn't disappoint.
"I knew as soon as Christian got into some trouble, I could absolutely count on Jakob," Pizzio said. "That was the plan, no hesitation, and I knew Jakob would have a great gameplan if he got in against these guys."
Unlike many independent news organizations, we haven't put
up a subscription paywall – and we hope to be able to keep bringing you the great stories
from high school athletics in the 813 area free of charge. But we are still a small
business with just a handful of people involved, so there are costs including travel, equipment, and other costs associated with running this business.
We are looking for advertising partners, but we also need to count on our
readers for support. If everyone who reads our reporting, who likes it, helps
fund it, we will be able to continue covering these athletes' endeavors.
Support 813Preps.com for as little as $1 by clicking "Donate" button below.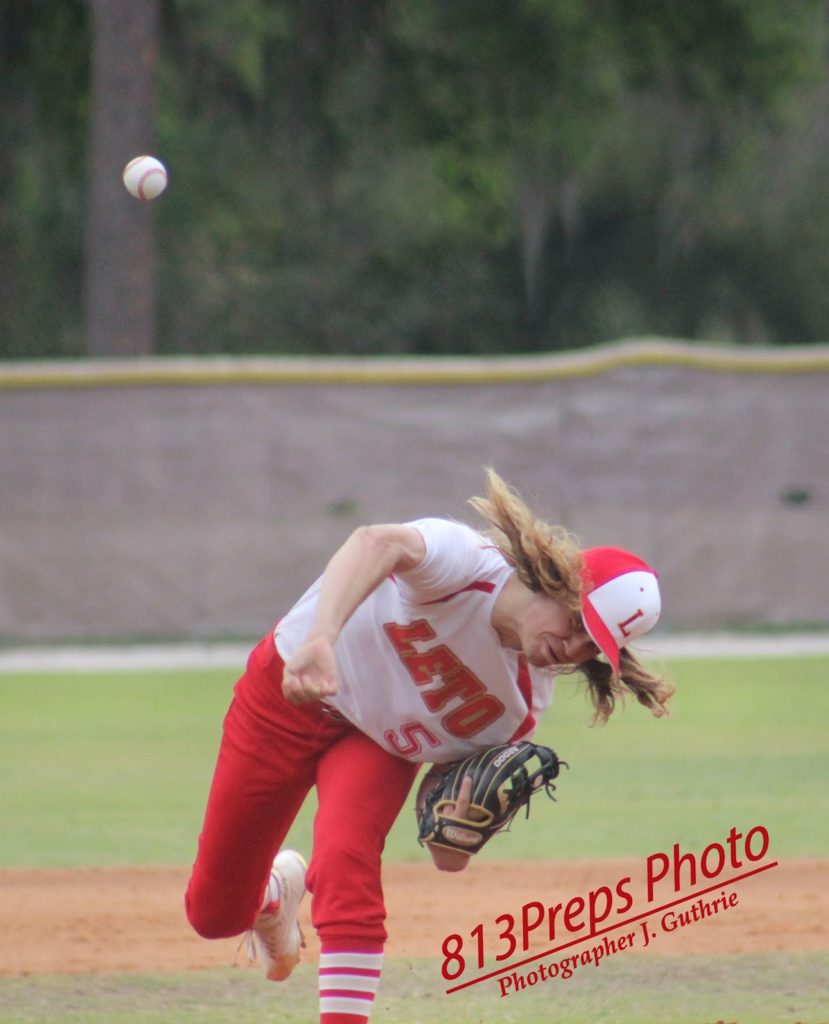 Jakob Ryley got it done in relief for the Falcons
working 2.2 innings and picking up his first
save of the year (813preps file photo).
Four pitches later, the lanky, long-haired righty casually strolled off the mound after recording two outs, and just as casually finished off the win allowing just one walk and another runner who reached on an error, and sealed the 4-2, win for his teammate, while notching his first save of the season.
"We don't take anything for granted," Ryley said. "We are definitely appreciating this and are doing everything we can as a team to keep playing."
Ryley, who himself hit a rough patch in mid-March's Saladino tournament, has been phenomenal in the second half of the season, allowing just two runs (one earned) in his last 30 innings of work.
"This is the Jakob I know, this is the Jakob everybody should know, because this man goes out there and competes every game," Suarez said. "We are glad the first half of the season happened, because it made the Jakob we have now – the one who just goes out and shuts people down for us."
Leto (22-4) taught a class in two-out hitting in the second inning as Joshua Cruz poked a single into right field and turned on the burners as the Lake Gibson outfielder let the ball skid under his glove, ending up at third base. Tomas Lozano and RJ Gutierrez followed with walks, turning over the lineup and bringing Fernando Muniz to the plate.
Muniz, modestly said after the game he hasn't always had the most clutch at-bats in similar situations, but that was not the case on Tuesday as the Hillsborough Community College signee cleared the bases with a triple giving his Falcons all the support needed.
"Coach Pizzio came over to me and I was like, 'dang, I always kind of choke in these moments, but right now I feel like I'm going to come up big,'" Muniz said. "He just told me to go out and get a chicken dinner … and they kept throwing me outside and I got a good pitch and it worked."
Our complete postseason coverage is brought to you by the 
Law Offices of George Hunter, P.A
"Fernando is a very special character," Pizzio said postgame while wearing an ear-to-ear smile. "He's the biggest headache, the one I count on the most, also the one I'd never let go out with my daughter, but I know would get my kids home safe every night … In 21 years of coaching he ranks up there. He's one of the special ones."
Suarez allowed two runs on six hits, but did improve to an incredible 10-0 on the mound this season and though tough on himself after his early exit, was quick to point to his teammates impressive defense regardless of what was happening on the mound.
"It's a blessing to have those guys behind me on the mound," Suarez said. "Knowing that I didn't have my best stuff, but having absolute confidence that I just had to throw groundballs and theyd get me outs. I know completely that I would not be where I am without those guys getting it done behind me."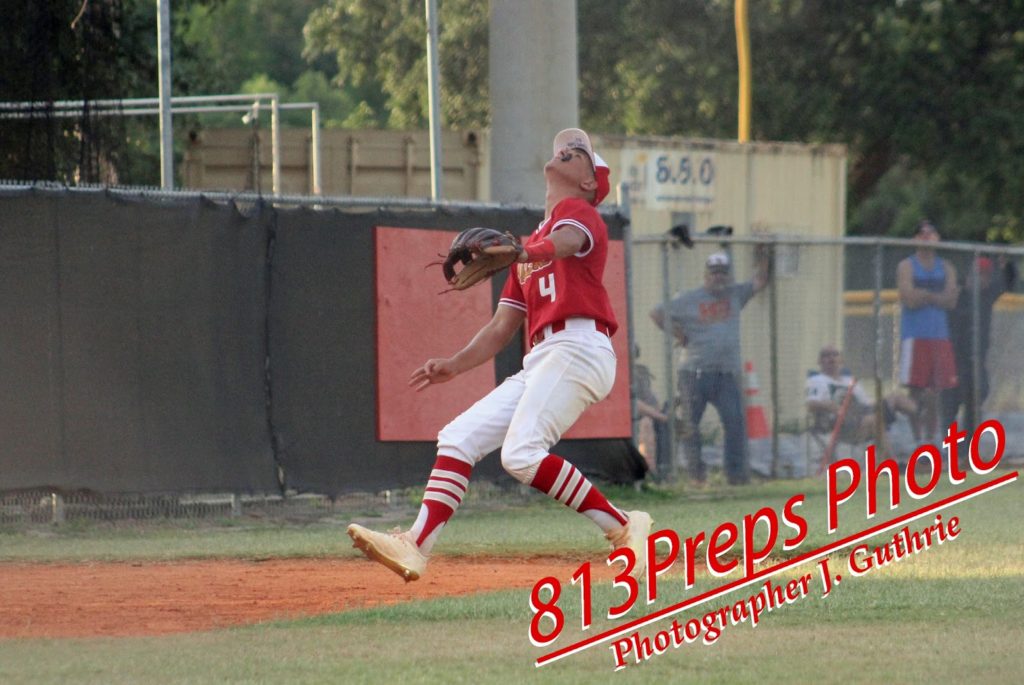 Leto third baseman Javy Hernandez tracks a foul ball he'd bring in to end the top of the second.
Senior catcher Jackson Alvord hit a double in the third, and Jorge Carrero added a little insurance as the big first baseman showed off his wheels as well with an RBI triple.
Leto travels to Winter Haven – winners 2-0 over Gaither – in next Tuesday's 7A region semifinal game.