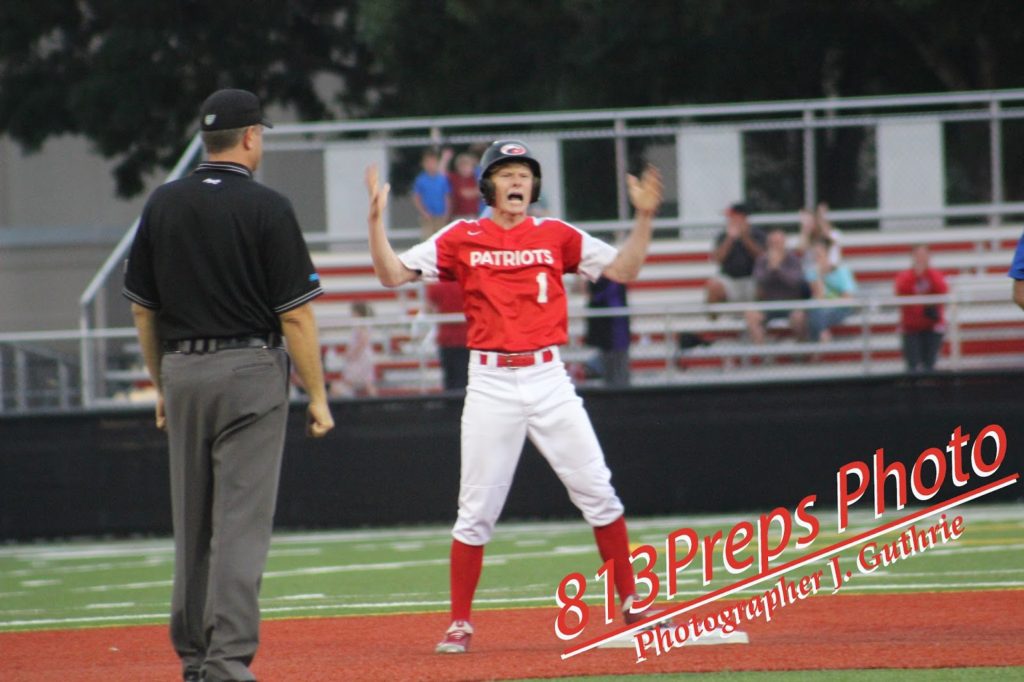 Carrollwood Day senior Zach Watts came up with a huge RBI double in the fourth to give the his team all the runs it would need to get the program its first state playoff win, as the Patriots defeated Master's Academy 2-0 in the Class 3A-Region 2 semifinals on Wednesday.
TAMPA – With composure for days, Carrollwood Day senior Gabriel Partridge walked out to the mound for his sixth inning with a two-run lead to work with and started to warm-up for the inning. Then feeling the tug of a charley horse in his right leg after his first toss, it looked to those watching like the righty might have to exit Wednesday's Class 3A-Region 2 semifinal game early.
But that thought never even crept into Partridge's head and really not even into Patriots head coach Ken Akins thoughts either.
Instead, Partridge punched out the next batter he faced – his eighth of the game – before finishing off Oviedo Master's Academy in a complete-game effort as the Patriots won the program's first ever state playoff game, 2-0 and advanced to next Tuesday's region final.
"First warm-up pitch I got a cramp in my calf and I told myself that I'm not letting this stop me," Partridge said. "I'm going back out there. I'm fighting for my guys and we are coming away with this win. No matter what."
Unlike many independent news organizations, we haven't put
up a subscription paywall – and we hope to be able to keep bringing you the great stories
from high school athletics in the 813 area free of charge. But we are still a small
business with just a handful of people involved, so there are costs including travel, equipment, and other costs associated with running this business.
We are looking for advertising partners, but we also need to count on our
readers for support. If everyone who reads our reporting, who likes it, helps
fund it, we will be able to continue covering these athletes' endeavors.
Support 813Preps.com for as little as $1 by clicking "Donate" button below.
Partridge was steady throughout and the Patriots defense was magnificent in support. Master's Academy junior Jacob Quigley led off the game with an infield single, but Partridge followed with a strikeout before third baseman Rodrigo Montenegro started a double-play to end the frame.
Partridge never really faced any significant trouble, allowing just three more singles and just one walk to go along with the eight K's.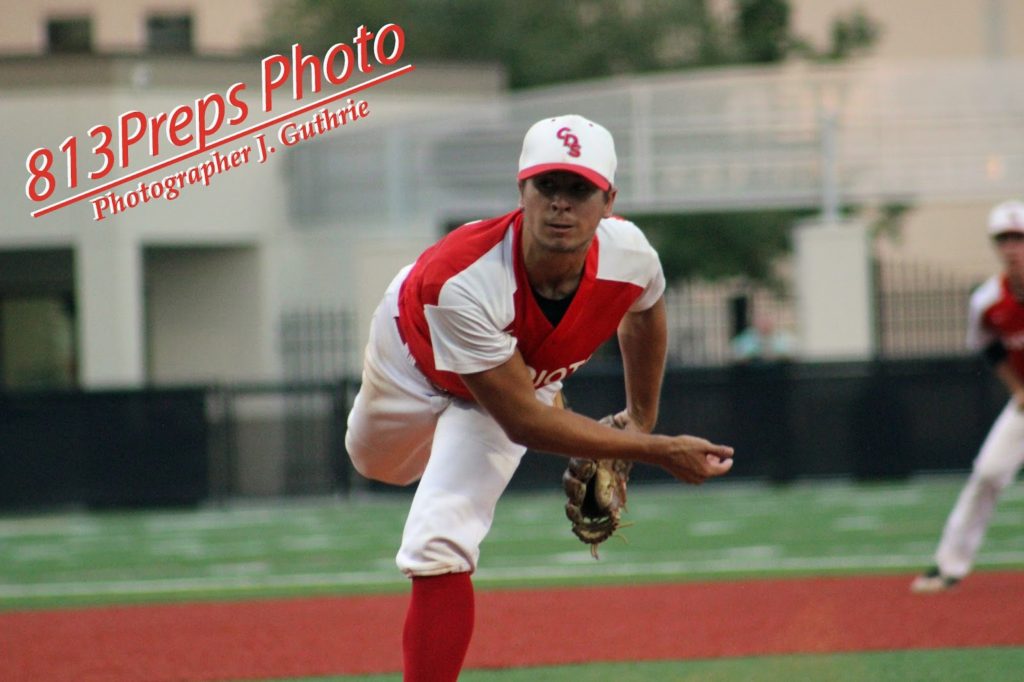 Carrollwood Day senior Gabriel Partridge earned his 10th win of the season, tossing a complete-game shutout.
"Gabe is the smoothest character I've ever seen on a baseball field," Akins said. "He hides his emotions, he's as calm as can be and it showed all day today, especially in the sixth when he got those cramps, but he never let it get to him."
Master's Academy (18-8) junior Ben Chestnutt did solid work on the mound to counter, holding CDS hitless through the first three innings.
Our complete postseason coverage is brought to you by the 
Law Offices of George Hunter, P.A
But Chestnutt ran into trouble to start the fourth, hitting Blake Hooker to start the home half. One out later and with Hooker moved to second on a stolen base, Zach Watts stepped to the plate as the four-hole hitter. The pesky senior, who committed to Guilford College two weeks ago, came through in a big way lacing a double to right field and driving in what would be the deciding run.
"My hitting coach has always preached to me you have to sit on one pitch, and no matter what pitcher you face, eventually they are going to have to show you a fastball," Watts said. "It's the easiest pitch to hit … and if you are sitting on it, waiting for it, and swing you can't be beat and I made sure I didn't miss it."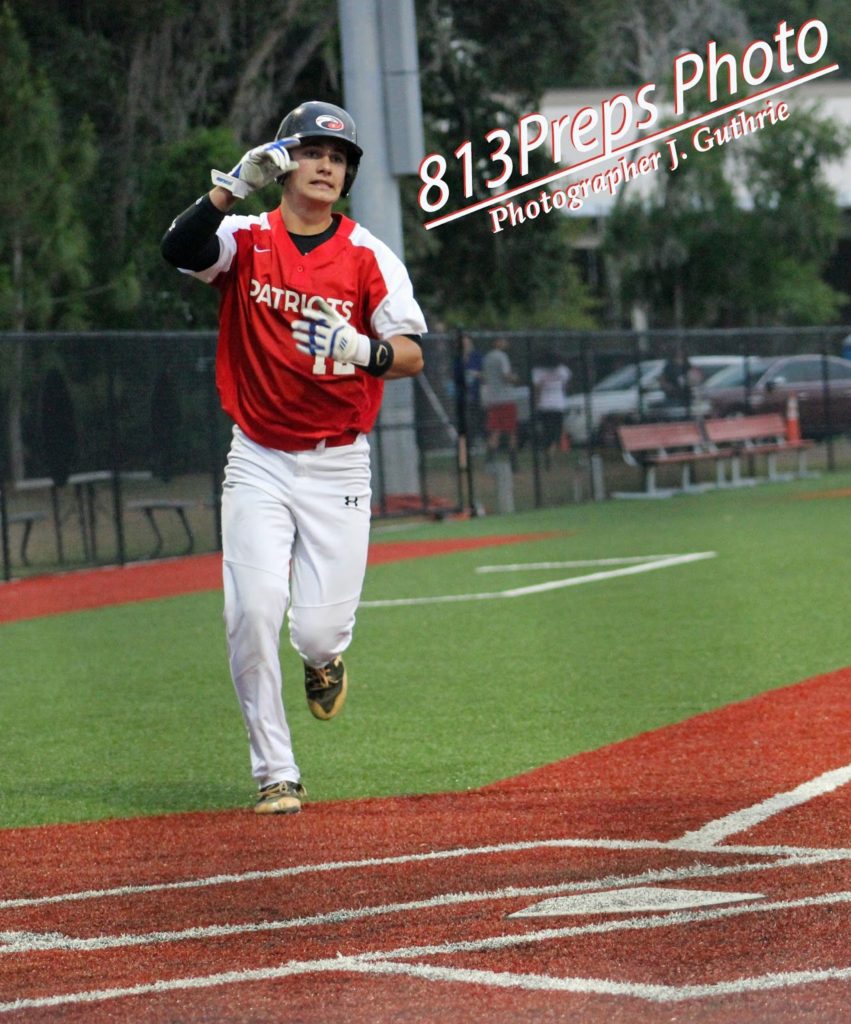 Blake Hooker scores the deciding run on Watts' double
in the fourth inning. The Patriots second baseman
also came up with a great diving catch in the seventh.
"That four-hole has been a spot for us all year and we've had issues, and Zach has been there for us in the past and tonight seemed like the right time where we thought, why not?" Akins said. "He's like that gnat, who won't stop flying at your face and you just want to get rid of him, but he keeps coming back and keeps coming back, and tonight he once again came through with a massive hit."
Watts added an insurance run later in the inning with a heads-up play called by the first-year head coach, Akins. With Watts now at third and senior Andre Hevesy at first, Akins called for Hevesy to head for second and draw a mistake from Chestnutt pre-pitch. The Eagles pitcher turned and threw to second and Hevesy stretched the game of pickle long enough for Watts to charge home – a play Akins credited to his predecessor Nick Rodriguez, for whom he spent seven years as an assistant.
"It's a play Nick had brought up in the past and we hadn't run it all year long," Akins said. "I figured this was the absolute best time to put it in and I knew Andre, being a veteran of our club, knows exactly what that means, what is expected of him and he executed it perfectly."
From there Partridge cruised, allowing just three more base runners the rest of the game, and letting no runner reach second base to improve to 10-0 on the season.
"Pure dominance, and trust above all things with Gabe," Watts said. "He really puts trust in us behind him when he is out there and that showed tonight. He had no fear, just filling up the strike zone knowing we were there to step up behind him."
The Patriots defense was locked in behind Partridge the whole night. Catcher Noah Torres erased a sixth inning single, catching an Eagles runner trying for second, shortstop Dillon Baker leapt for a liner shooting toward centerfield and snagged the ball to end the top of the sixth, and Hooker dove to his right to snag a dying line drive to start the seventh inning.
"The momentum in this game after those runs carried us the whole way through," Partridge said. "I knew if we got the lead, I knew these guys would hold it down."
Carrollwood Day (23-3) will host its district foe Lakeland Christian next Tuesday in the Class 3A Region Final for a chance to head to Fort Myers and the final four. Lakeland Christian defeated Maitland Orangewood Christian 5-1 earlier in the day on Wednesday.