Tuesday's (5/15/18) Region Schedule
Region Semifinals
(All games at 7 p.m.)
Class 8A-Region 1 – Wharton (17-8) at Strawberry Crest (17-8)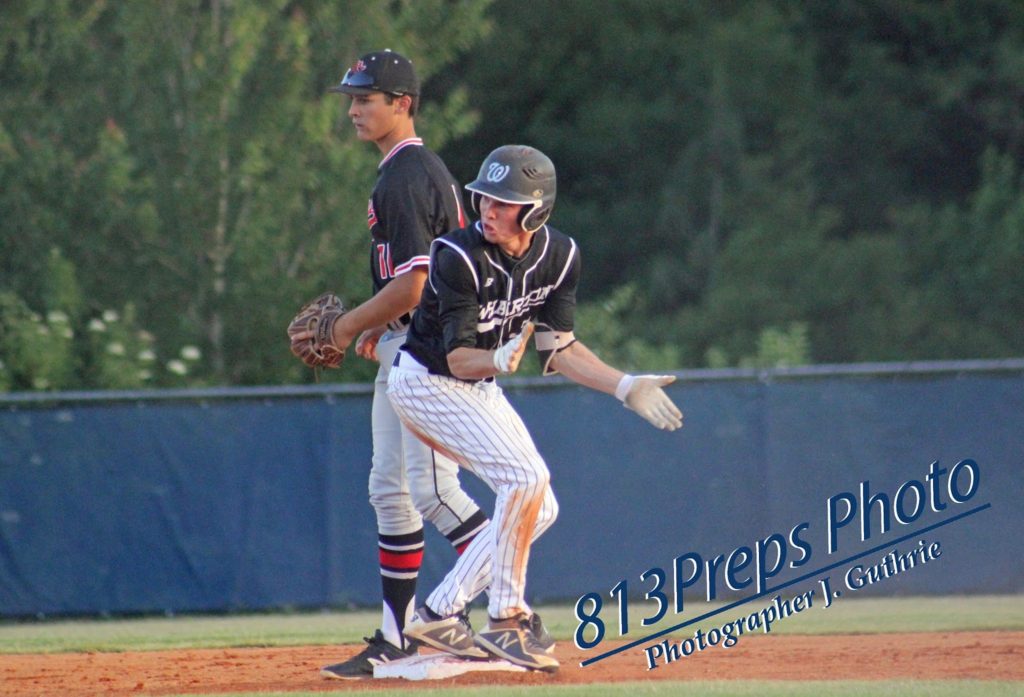 Wharton junior Brian Baughman is hitting .405, with 25 runs scored, and is also 6-2 on the mound with a 1.63 ERA.
Outlook: Meeting for the fourth time this season, the Chargers and Wildcats are very familiar foes with Strawberry Crest holding the 2-1 advantage and also claiming the program's first district title against Wharton at the start of the month. Wharton junior lefty Brian Baughman has made two postseason starts for the Wildcats, striking out 10 in a complete-game win over Freedom in the district play, and earning the win in the region quarterfinals, while striking out eight in six innings of work in the 8-1 victory at Ocala Forest. Seniors Leo Alfonzo (.394, 19 runs, 17 RBI) and Duncan Pastore (.429, 23 runs, 17 RBI) key a potent offense for Wharton.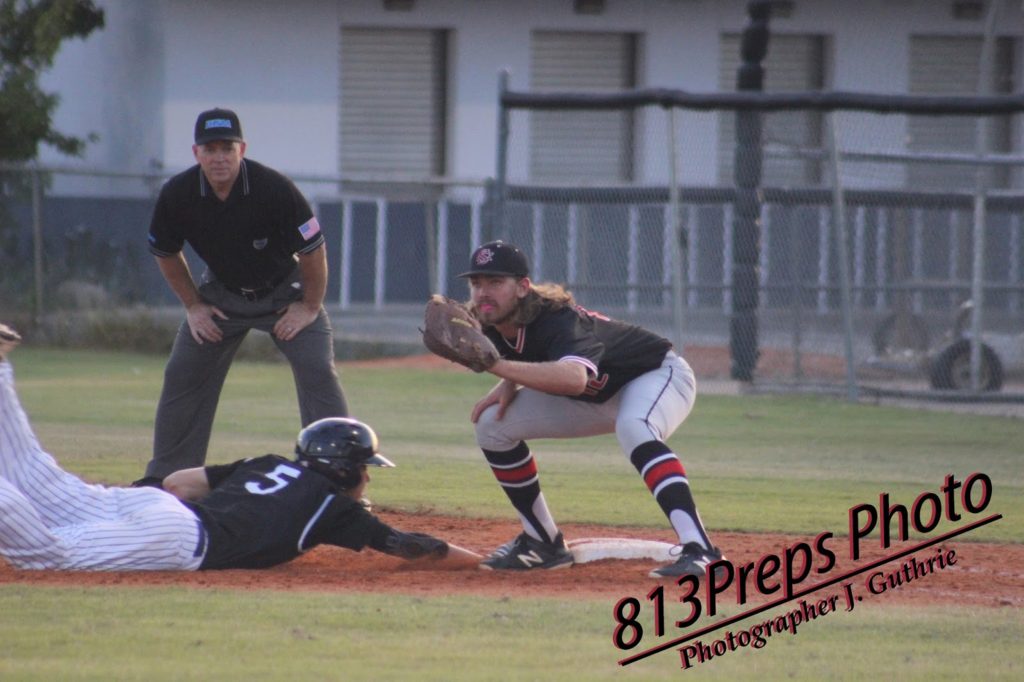 Strawberry Crest senior 1B Derek Barone is hitting .328 this year.
Strawberry Crest got ahead early and held off Gainesville Buchholz in last week's region quarter. The well-rounded Chargers have strong starting pitching and senior Damien Torres has carved out an impressive role as a late inning reliever (5-1, 1.45 ERA, in 17 appearances this season), while offensively junior Joey Parrillo (.408, 23 runs scored), senior Derek Barone (.328, 11 runs, 12 RBI), and junior Benny Pues (14 RBI) key things, with shortstop Ryan Dell and Parrillo behind the plate leading things defensively.


Class 8A-Region 2 – Plant (22-5) at Sickles (22-4)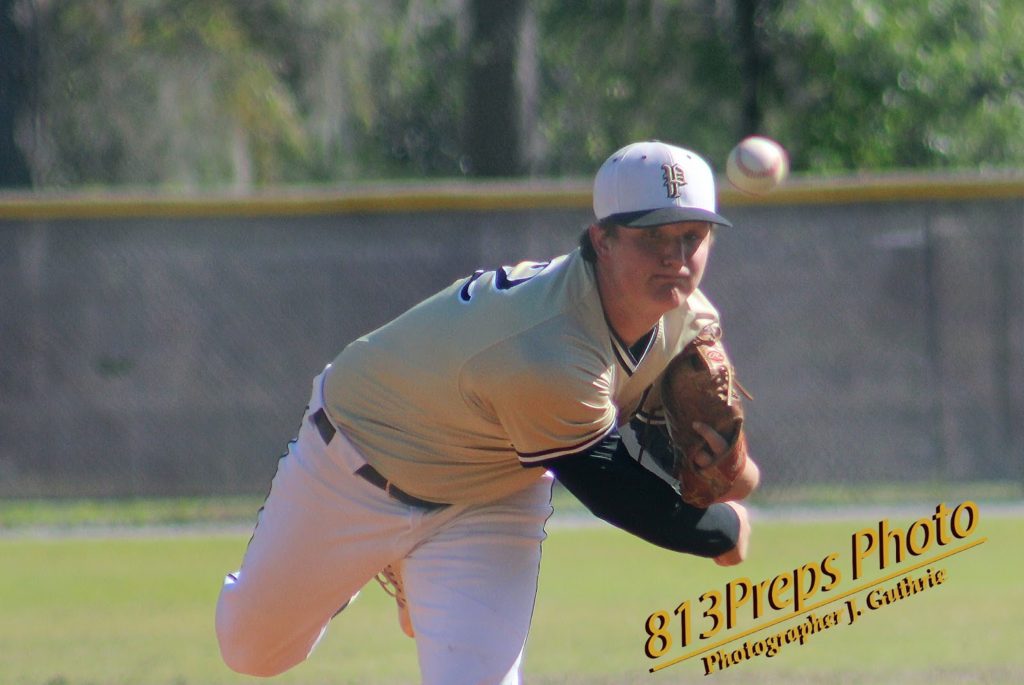 Plant senior RHP Brock Fagler.
Outlook: This one has "game of the year" written all over it. The Gryphons claimed its first ever district title with a 5-0 win over Plant two weeks ago. But we expect this one to be a tighter contest as both teams will have aces on the mound. Plant senior Brock Fagler (5-3, 1.43 ERA) has had an excellent senior campaign, and has faced Sickles two times on the mound this season. With a good fastball and a breaking pitch he loves to bury on hitters, Fagler has swing and miss stuff with 92 strikeouts in 68 innings.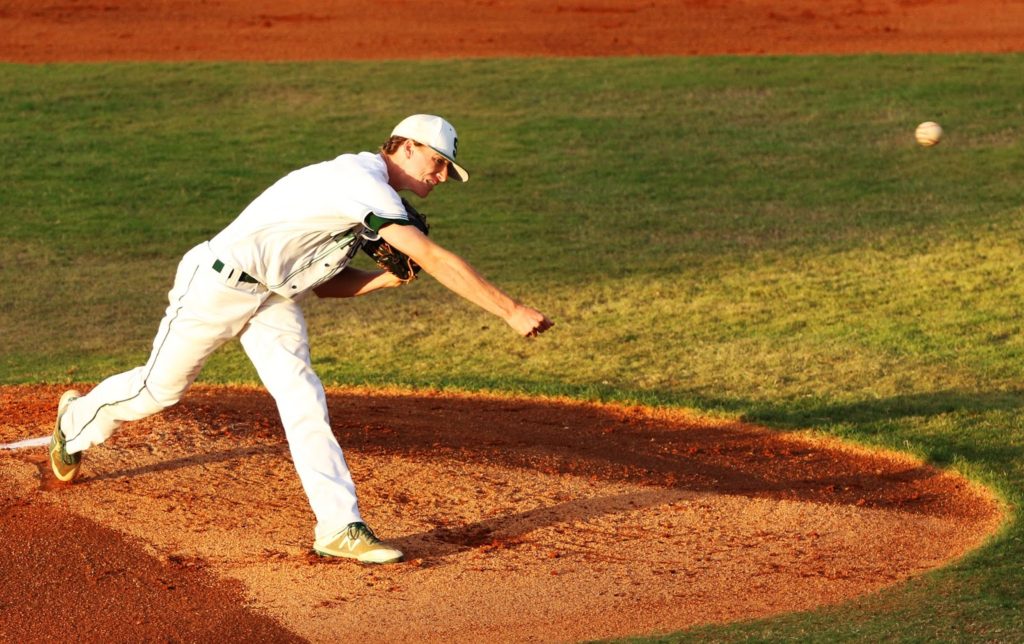 Sickles junior RHP Dylan Eskew. (Photo taken by Will Turner)


On the other side of things, Sickles will likely again turn to junior Dylan Eskew on the mound. Eskew in 9-1, with a 1.49 ERA, and 81 strikeouts and has shutout the Panthers in the last two meetings, however there was a relief outing in the two teams first meeting, where Plant got to the righty to the tune of five runs in an inning of work.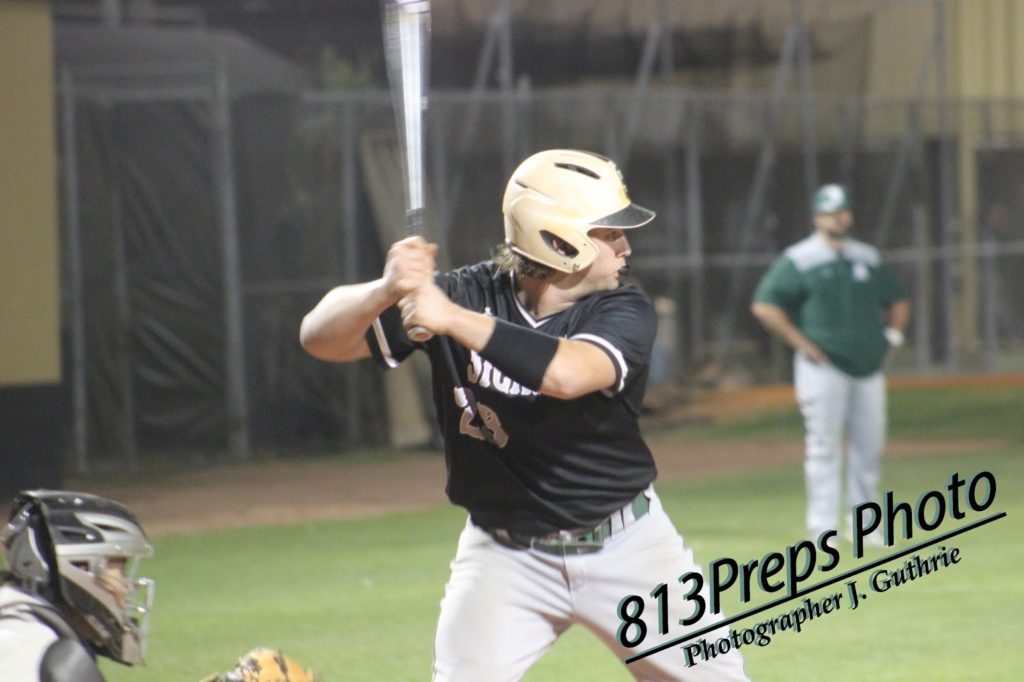 Sickles C Danny Bernstein.
Eskew also leads the way for the Gryphons at the plate, with a .471 average, 28 runs, 29 RBI and four homers, with senior Connor McTeer (.385, 18 RBI), sophomore Trey Bacon (.319, 22 runs, 16 stolen bases) and junior catcher Danny Bernstein (.319, 23 RBI) doing a lot of heavy lifting this season as well. The Gryphons are hungry to keep the best season in program history going, but Plant is looking to settle the season score in the fourth meeting between the two.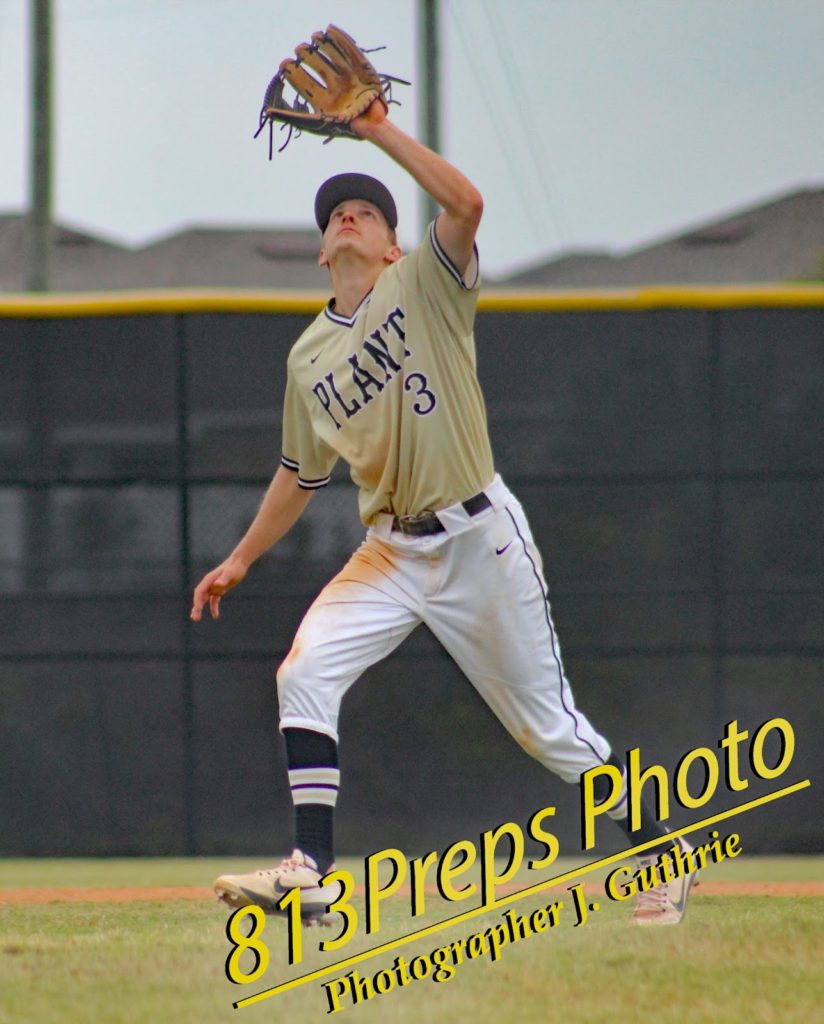 Plant senior Mike Haydak.
The Panthers have an excellent table setter at the top of the lineup in senior Michael Haydak (30 hits and 24 runs), while seniors Fagler (.328, 24 RBI), Chase Sanguinetti (.289, 21 runs), and juniors J.D. Urso (.356, 23 RBI) and Gabe Rincones (.315, 17 runs) are imposing hitters. The last time the two faced off in the district final, Plant was without senior Connor Scott, who was hampered by a hamstring pull late in the season. Scott played in the district semifinal win over Steinbrenner, belting his fifth home run of the season, along with two singles, but was held out of the district final. He walked three times in the Panthers region quarter win over Bloomingdale and brings a .527 average with 19 runs scored and 17 RBI in 55 at-bats this season.
Our complete postseason coverage is brought to you by the 
Law Offices of George Hunter, P.A
Class 7A-Region 2 – Leto (22-4) at Winter Haven (22-6)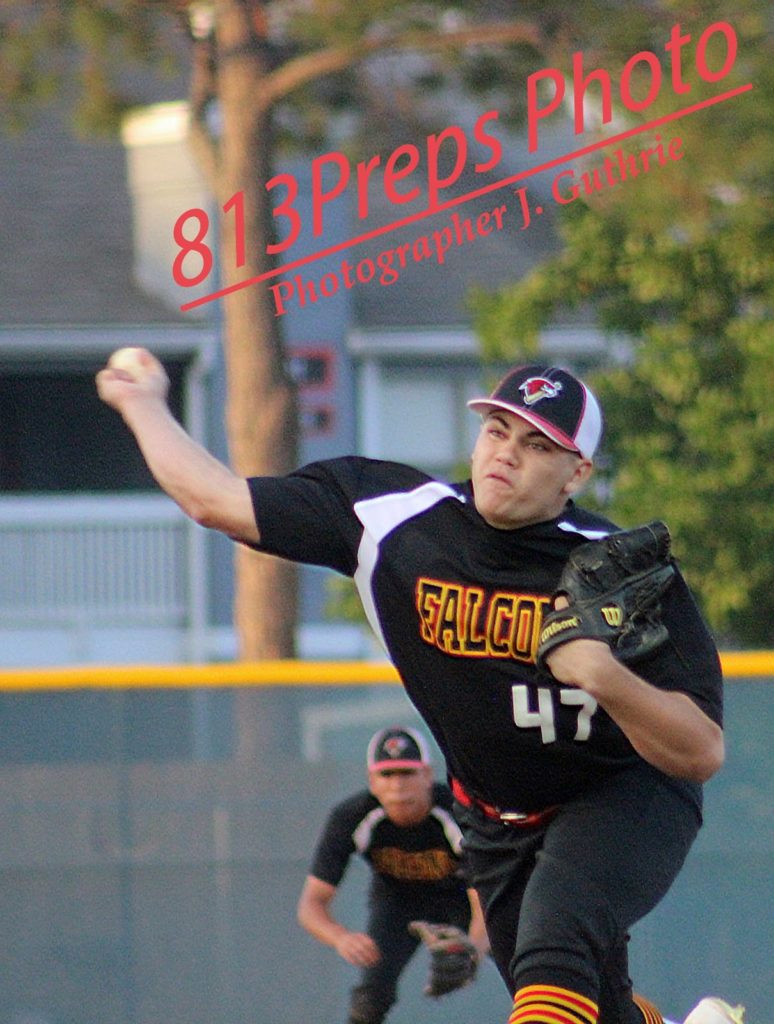 Leto junior RHP Christian Suarez.
Outlook: The Falcons are about as fundamentally sound on defense as it gets with senior shortstop Fernando Muniz and junior third baseman Javy Hernandez vacuuming up everything hit their way all year, while backstop Jackson Alvord has been a wall behind the dish and has an outstanding arm. Then there is the pitching and the tandem of junior Christian Suarez (10-0, 0.84 ERA) and Jakob Ryley (5-4, 1.77 ERA), who has allowed just one earned run in his last 30 innings to contend with.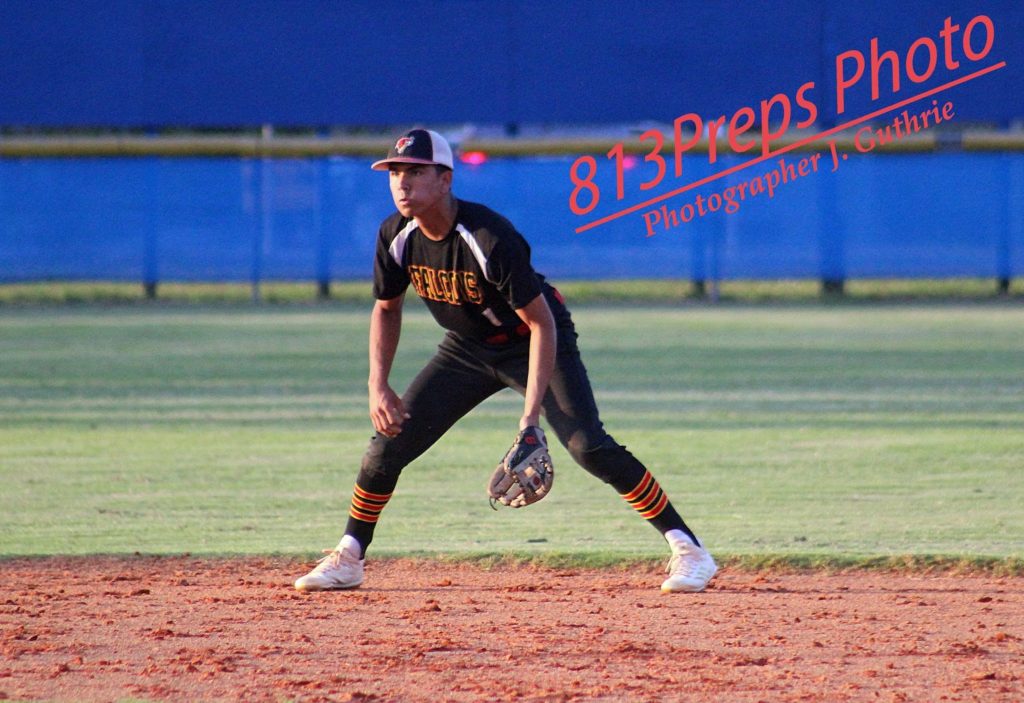 Leto SS Fernando Muniz.
And the offense hasn't missed a beat either with four players hitting above .400 on the year, led by Hernandez (.482, 30 RBI), Muniz (.409, 30 runs, 33 stolen bases), Alvord (.412, 17 runs, 18 RBI) and Jon Santos (.464, 22 runs). The Falcons have won 15 straight and look to advance to the region final for the first time since 1970. Winter Haven has reached region play for eight straight seasons and have five state runner-up finishes in its 92 years of baseball history. The Blue Devils squeaked past Gaither 2-0 last week on an RBI from Connor Davis and a balk for another run. Senior righty Ben Adams held Gaither to just two hits in 5 1/3 innings of work to earn the win while striking out six.


Class 6A-Region 2 – Jefferson (18-8) at Jesuit (19-9)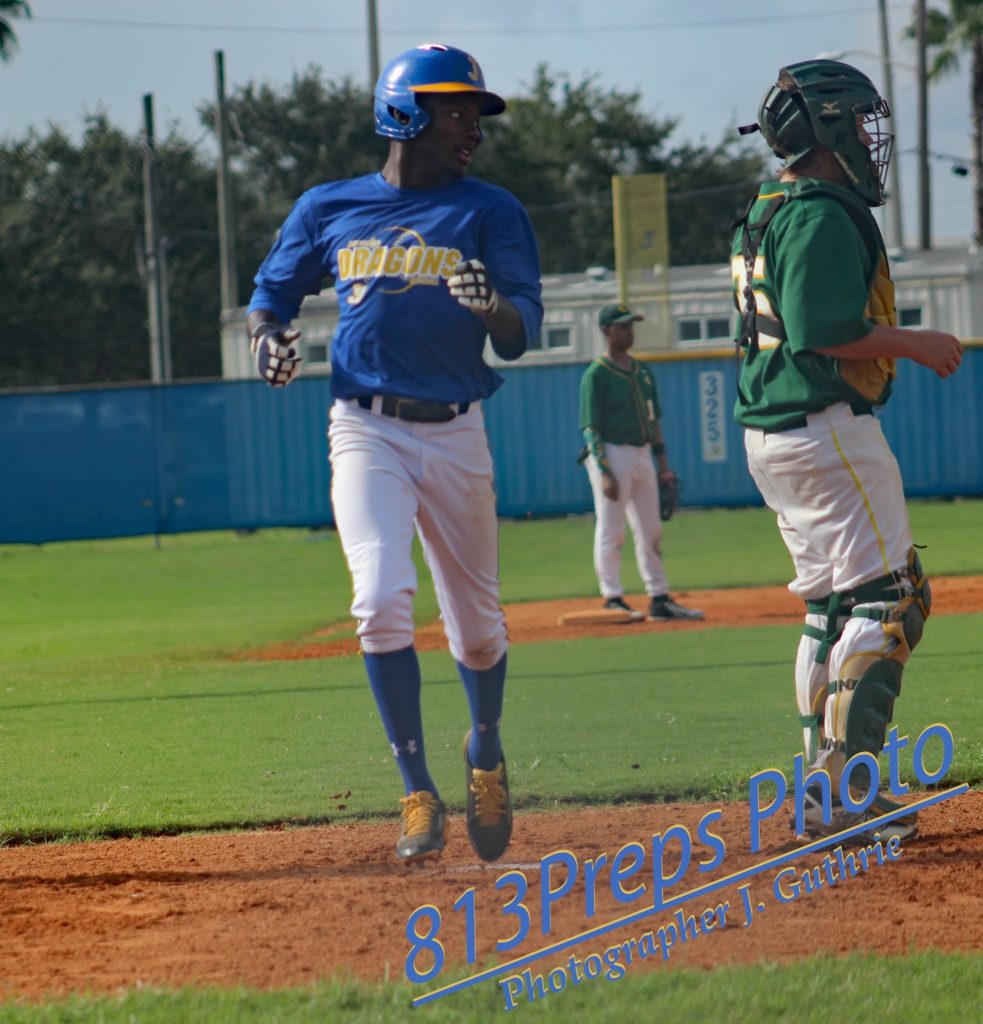 Jefferson senior AJ Mathis.
Outlook: Another meeting of very familiar foes as the Dragons and Tigers square off for the third time this season. Jesuit won the district title, 5-1 to take a slight advantage in the three-game series thus far, but the Dragons also hold a quality 6-2 win over the Tigers during the regular season and on the road to boot. The Dragons have a solid senior-led offense including FSU commits Robby Martin and AJ Mathis (who hit a game-winning, two-run home run to lead the Dragons over Land O'Lakes last Tuesday) and Pepperdine signee Charlie Welch.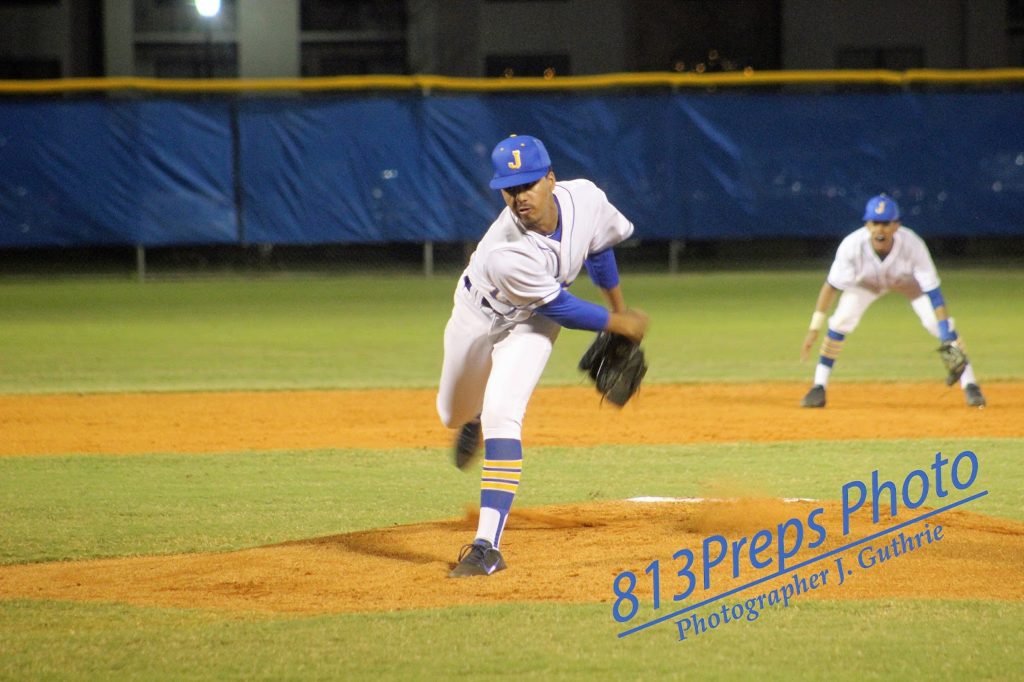 Jefferson junior Mike Dominguez.


Jefferson junior Mike Dominguez (University of Tampa commit) took a loss to the Tigers in the first meeting of the year, but struck out 11 Jesuit batters and fell in a 1-0 defeat. The Dragons offense will need to support the University of Tampa commit a little better in this go-round.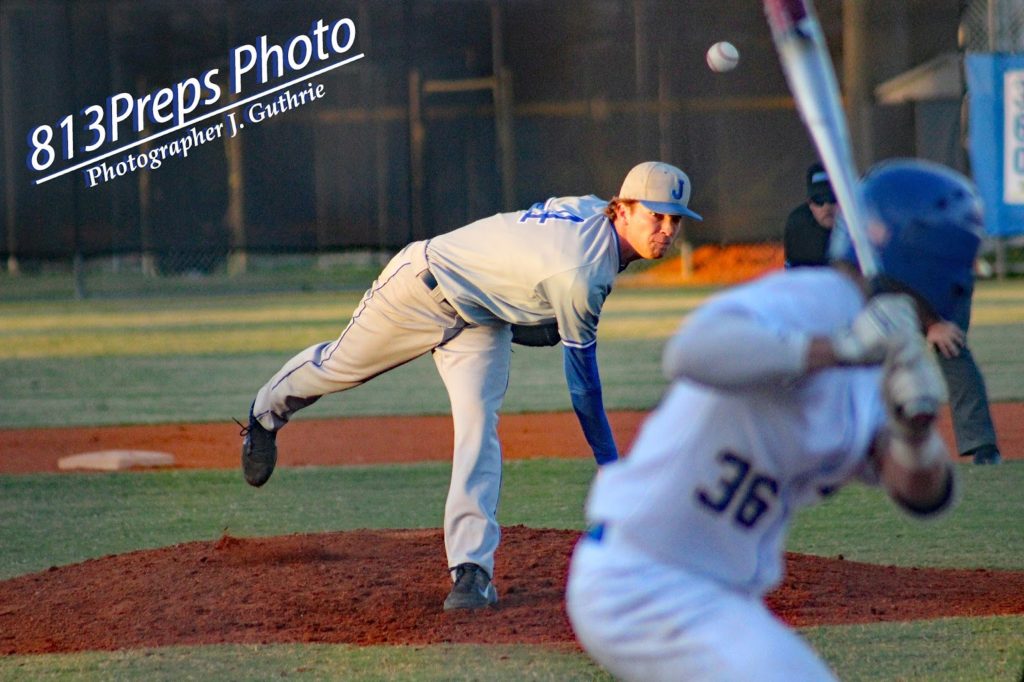 Jesuit senior RHP Jack Anderson.
On the other side, the Tigers will likely look to senior and FSU signee Jack Anderson on the hill. Anderson is 6-2, with a 1.44 ERA this season, but is a postseason beast. In three seasons, Anderson is 8-1 during the postseason, with 49 strikeouts and an 0.87 ERA across 40 innings of work, and he is 2-0 against the Dragons this year.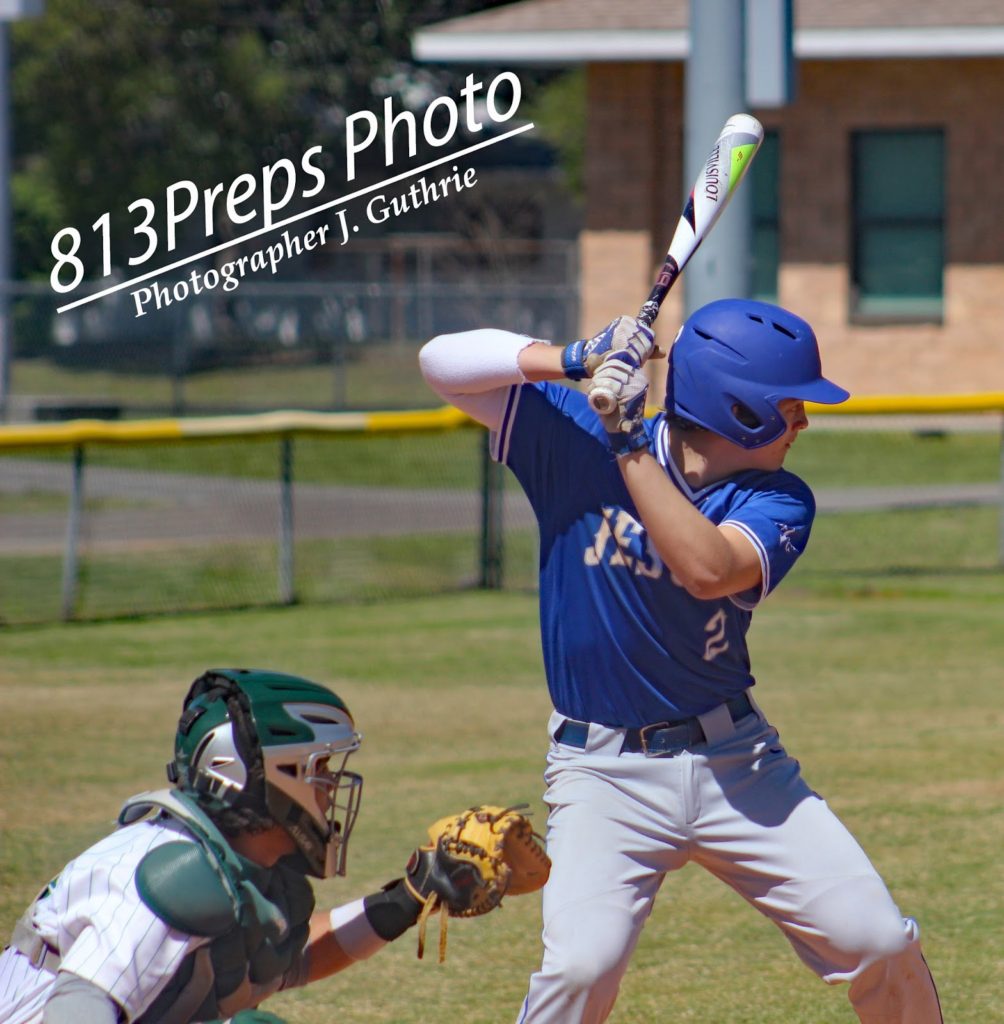 Jesuit sophomore Bennett Lee.
The Tigers defeated River Ridge, 5-0 to advance to the region semifinal as seniors Javi Baldor (.461, 25 runs, 24 RBI) and Joel Brewer, and sophomore Bennett Lee (.346, 14 runs, 14 RBI) each had a pair of hits and an RBI in the win. Jesuit was the Class 6A state runner-up last season, while Jefferson, which fell to Jesuit 1-0 in last season's region semifinal is in search of its first region final berth since 2007.
Region Finals
(All games at 7 p.m.)
Class 3A-Region 2 – Lakeland Christian (19-10) at Carrollwood Day (23-3)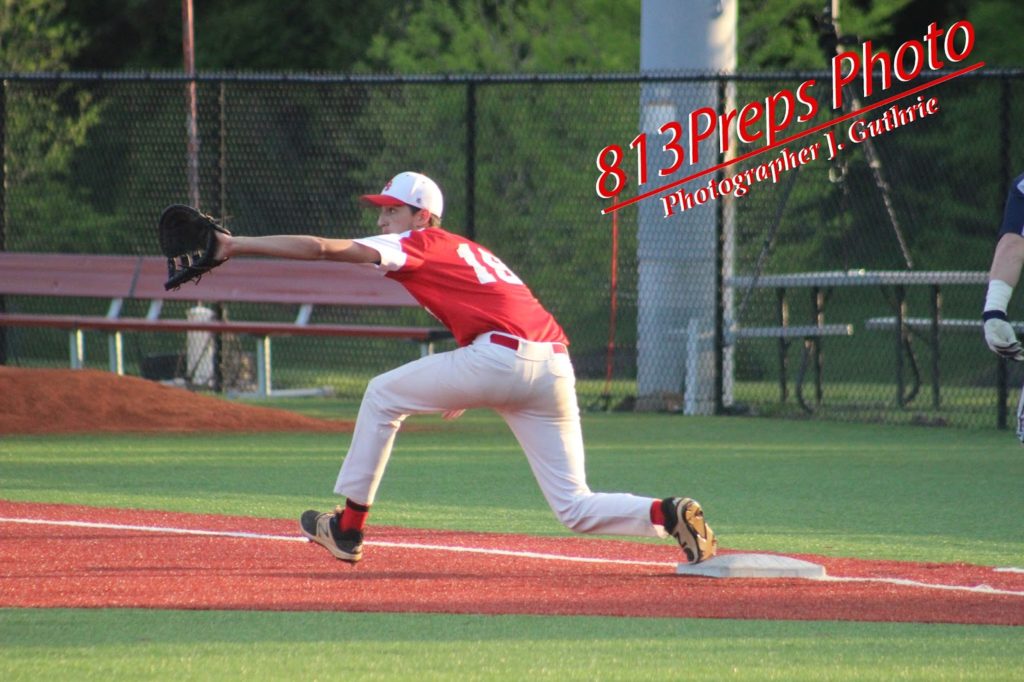 CDS senior 1B Andre Hevesy.
Outlook: Carrollwood Day demolished Lakeland Christian by mercy-rule in the two teams first meeting this season, and then stunned the Vikings with an epic, five-run, seventh-inning comeback in the district championship. The Patriots have won four thrillers in a row and are looking to add on to the best season in program history with its first state final four berth. With an upperclassmen heavy offense lead by RBI leader Frank Furey (.394, 23 RBI), runs leader Rodrigo Montenegro (.379, 30 runs scored) and solid numbers from Blake Hooker (.329, 24 runs, 22 RBI) and Andre Hevesy (.333, 16 RBI, six doubles) the CDS offense can bang.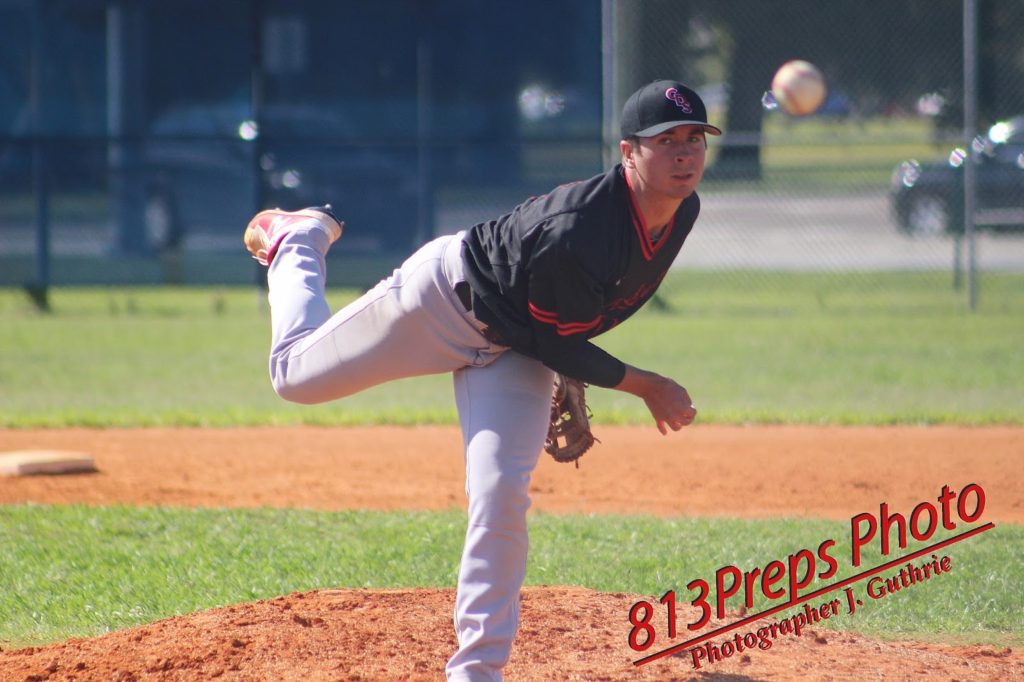 Carrollwood Day senior pitcher Gabriel Partridge.
Senior Gabriel Partridge is an impressive 10-0 on the mound with a 0.72 ERA and 70 strikeouts this season, and tossed a six-inning, three hit shutout in the Patriots regular season win over Lakeland Christian. But there is the dreaded sports adage of beating a good team three times in a season, and Lakeland Christian is a potent offense that has averaged more than eight runs a game, with seven players with more than 20 runs scored this season. Senior shortstop Case Hannum (.486, 24 runs, 22 RBI) and sophomore Cole Cothren (.396, 22 runs, 28 RBI) led an offense that has gone 7-3 over its last 10 games. Last Wednesday, the Vikings defeated Maitland Orangewood Christian 5-1, behind a complete-game, eight-strikeout performance from senior Griffin Ryan (5-1, 1.66 ERA).


Class 4A-Region 2 – Calvary Christian (28-0) at Ocala Trinity Catholic (16-5)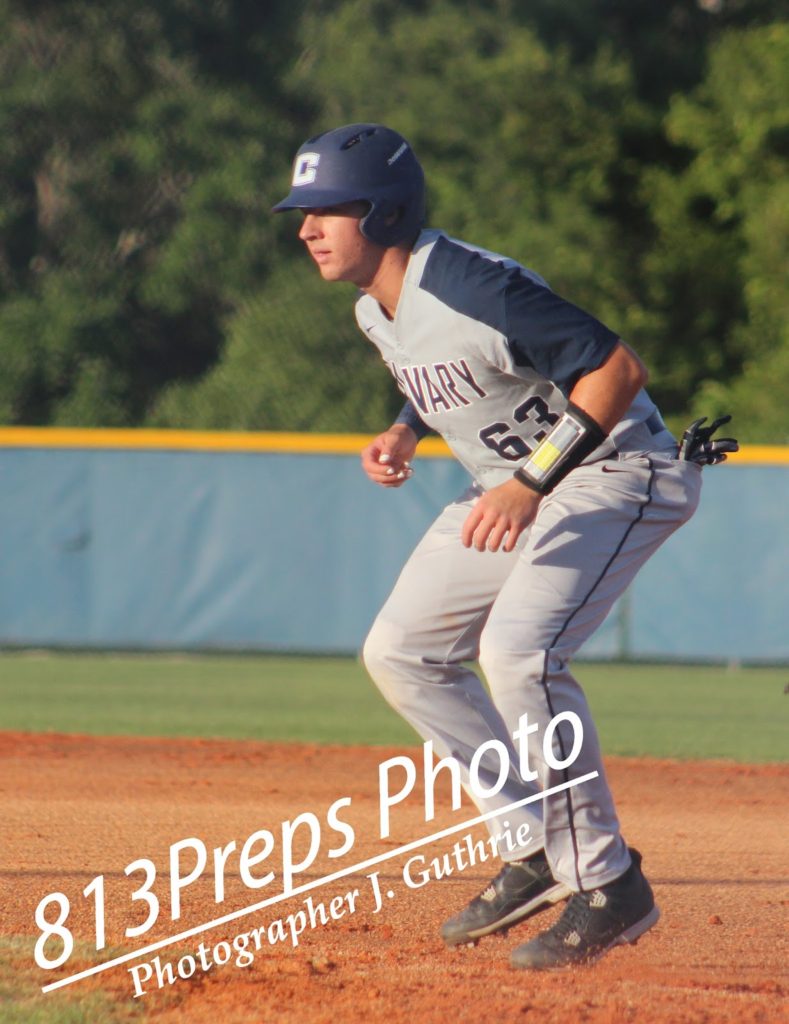 Calvary Christian senior C Matheu Nelson
Outlook: We've run out of superlatives to describe the defending Class 4A state champions as the Warriors win streak has hit 58. Calvary Christian has across-the-board videogame numbers on offense, so lets just take you up the middle.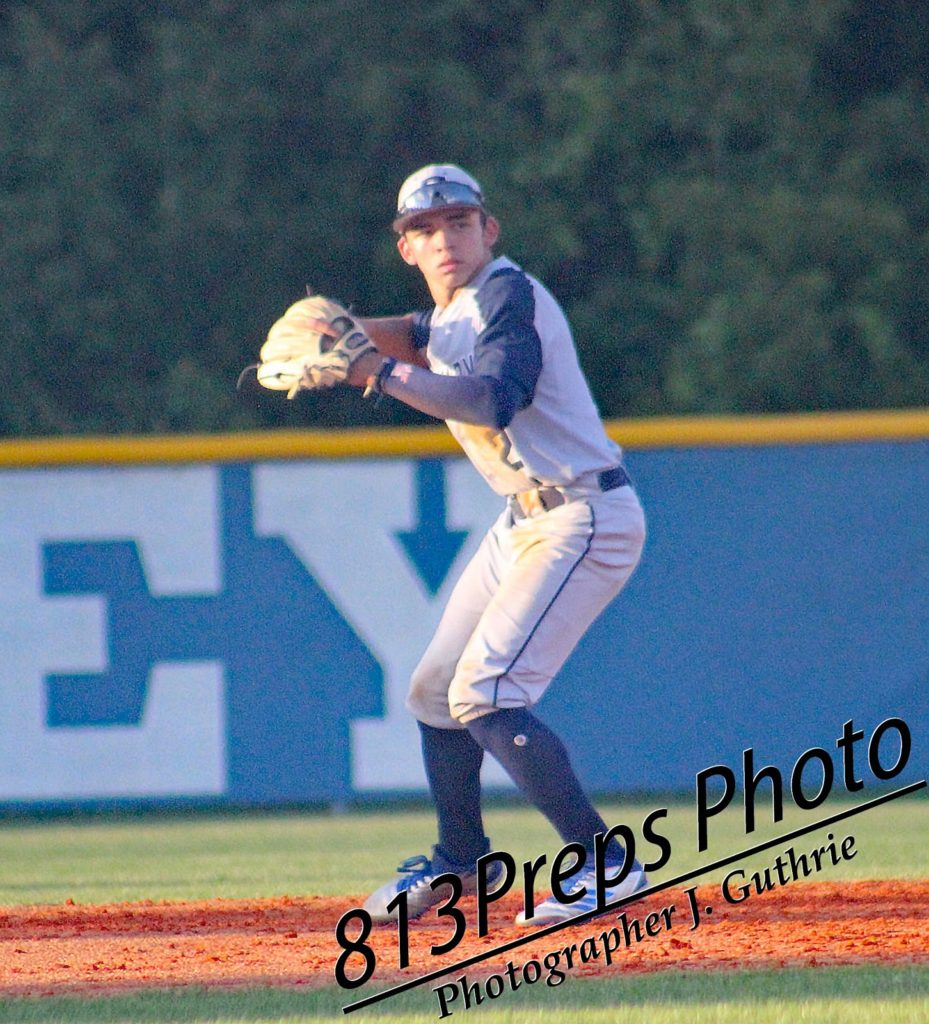 Calvary Christian junior SS Christian Cairo
Senior catcher and FSU signee Matheu Nelson is hitting .481 with 43 RBI and 20 of his 38 hits this season are for extra bases, junior shortstop Christian Cairo (an LSU commitment) has scored 43 runs, stole 20 bases and driven in 25 runs, and senior second baseman Justin Bench (Ole Miss signee) is hitting .397 with 30 RBI. The Warriors dispatched Orlando's The First Academy in the region semifinal behind an 11-strikeout night from ace junior Nolan Hudi (TCU commit). Ocala Trinity Catholic returns to the region final for the first time since winning the 2014 Class 4A state championship. The Celtics came from behind to defeat Berkeley Prep, 2-1 last Wednesday as juniors Bryce Boone (FSU commit) and Mac Gibas held the Buccaneers to just one run and seven hits.