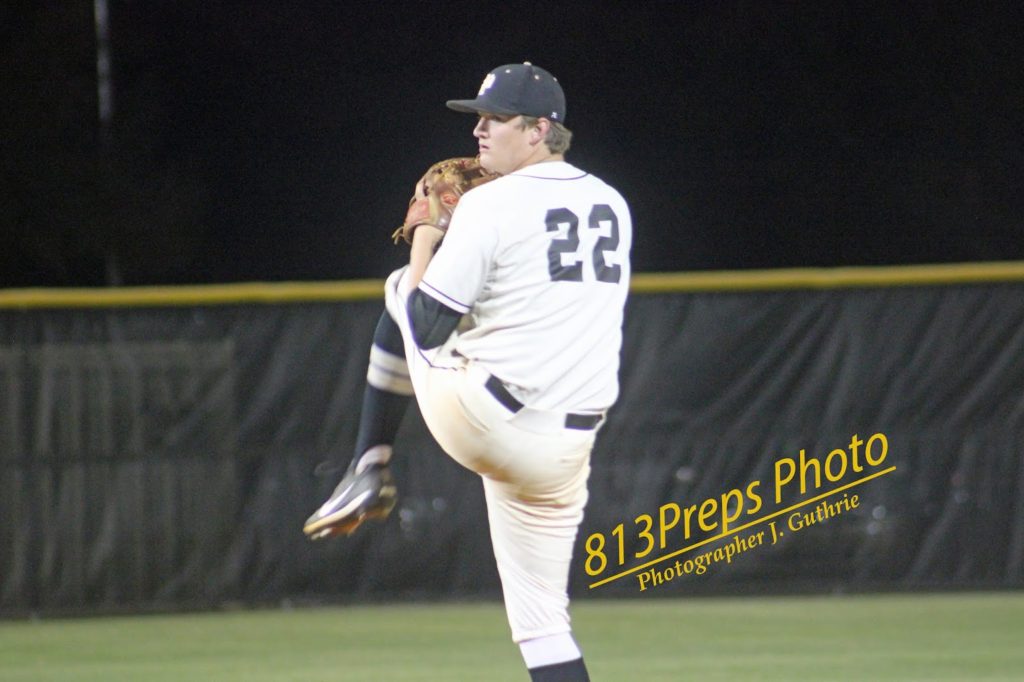 Plant senior pitcher Brock Fagler earned the win on the mound, working 6 2/3 innings and struck out 11 leading the Panthers to a region final berth. (813Preps file photo).
By Mike Camunas 
Special to 813Preps
TAMPA — Plant knew it had to capitalize.
The Panthers defeated Sickles 7-3 on a rainy Tuesday night in the 8A regional semifinals, not only ending the Gryphons (22-5) historic season, but propelling the Panthers (23-5) to a region final matchup with the winner of Sarasota vs. Lakewood Ranch next week.
The Sarasota and Lakewood Ranch game was postponed to Wednesday afternoon at 4.
Plant was finally able to score runs off Sickles ace Dylan Eskew, who hadn't allowed runs to the Panthers in the last two of three appearances against the district rival this season.
"It's taken us a while to figure out Eskew," Plant coach Dennis Braun said. "Keeping that pressure (on them) I think is a big thing about high school baseball."
With a 4-3 lead, the Panthers scored three runs on two outs in the top of the fifth inning. Starter Brock Fagler pitched 6 2/3 innings striking out 11, but maxed out his pitch count, and Leo Oshinski picked up the save with a strikeout of Trey Bacon, who worked a 14-pitch at bat to end the game.


Our complete postseason coverage is brought to you by the 
Law Offices of George Hunter, P.A
"It wasn't a big decision — Brock is our guy and we'll go as far Brock'll take us," Braun said. "He's done a helluva job so far."
Fagler also knocked in two RBI on a double and sac fly in the win, while Connor Scott also drove in a pair on a single in the three-run fifth. Senior Mike Haydak was 3-for-4 in the game, with a double, two runs scored and two RBI, while Matthew Coker also scored a pair of runs
Sickles was able to take 3-2 lead in the bottom of the second as Josh Luther plated three on a triple, but base-running errors, such as a pickoff of a runner at second in the fourth, became three-straight, inning-ending rally killers for the Gryphons.
"In these games, you can't make those little mistakes," Sickles coach Eric Luksis said. "It's hard to get outs, and if we're going to give away outs, which we did tonight, its just going to make it easier for them all night."
The Gryphons also saw their best season in program history come to an end Tuesday evening. After the best season record and first district title, Luksis held his head high for some special players he'll see graduate.
"This was a really special group of kids and they were able to accomplish a lot this year — I'm extremely proud of them, especially the senior class, who was the catalyst for all of this from Day One when I took over two years ago," Luksis said. "Sad to see it come to an end, but it was a really good run for us this year."


Plant 7, Sickles 3
P 021 130 0 — | 7 | 11 | 0
S 000 000 0 — | 3 | 8 | 1
W – Fagler. L – Eskew. S – Oshinski. 2B – Haydak 2, Baisden, Fagler (P). 3B – Luther (S). Records – P 23-5; S 22-5.