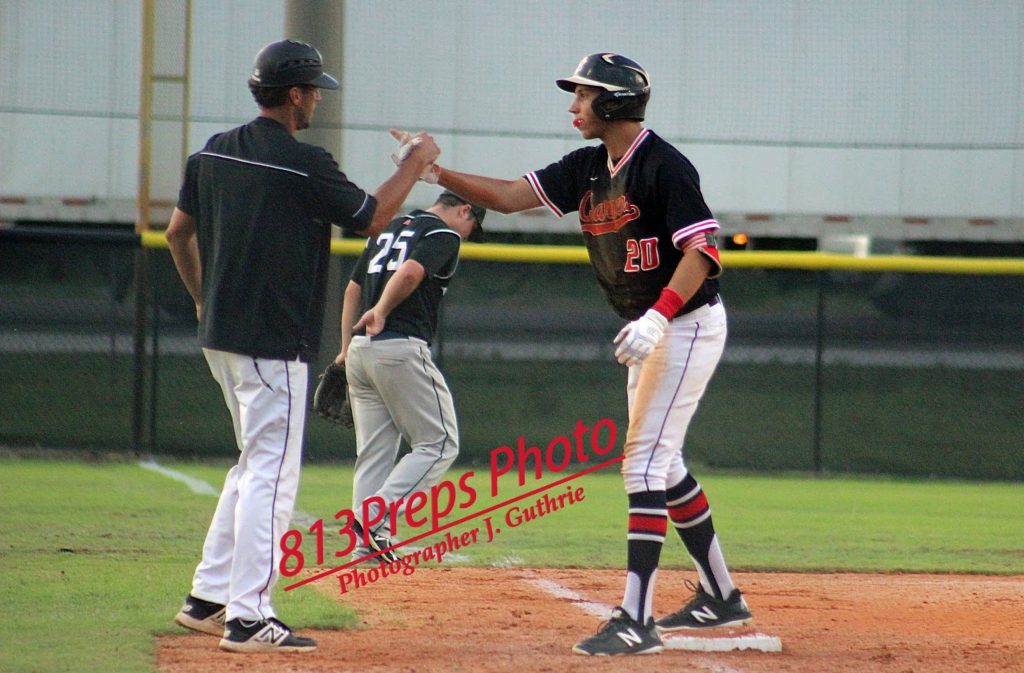 Strawberry Crest's Benny Pues is congratulated by Chargers head coach Eric Beattie after his RBI triple in the second inning.
By Jarrett Guthrie
DOVER – Maybe not a total surprise, but Strawberry Crest backstop Joey Parrillo has exceeded expectations for Chargers head coach Eric Beattie. Knowing he had a solid player behind the plate was easy, but Beattie admitted he wasn't expecting the fire-starter on offense from his season-long leadoff man. Parrillo, a junior entered Wednesday's Class 8A region semifinal with a .408 average and a team-leading 23 runs scored, and despite not recording a hit in the game, his abilities as a chaos-creator proved pivotal as the Chargers got by Wharton 3-2 and advanced to the program's first region final berth next week.
"I don't want to say he has been a surprise for us offensively, I've seen the capabilities of a big, strong kid," Beattie said. "But he's just feeling really, really good (at the plate). It doesn't matter if it's 2-0, 3-0 or 3-1, he's gonna fight until the end and that is the type of player he is."
Parrillo drew a leadoff walk with the game tied in the fifth and then caught the attention of the Wildcats' pitcher. An off-target throw to first allowed Parrillo (14 stolen bases in 2018) to move all the way to third, and a stutter-step off third induced a balk to plate the deciding run.
————————————————
Unlike many independent news organizations, we haven't put
up a subscription paywall – and we hope to be able to keep bringing you the great stories
from high school athletics in the 813 area free of charge. But we are still a small
business with just a handful of people involved, so there are costs including travel, equipment, and other costs associated with running this business.
We are looking for advertising partners, but we also need to count on our
readers for support. If everyone who reads our reporting, who likes it, helps
fund it, we will be able to continue covering these athletes' endeavors.
Support 813Preps.com for as little as $1 by clicking "Donate" button below.
"I saw him balk and was like 'Wow'," Parrillo said. "I've seen it happen, but I didn't expect it in this game. I almost started walking home before the call, but I didn't until the umpire finally made called it."
Wharton (17-9) has a history of success in the postseason, and opened things aggressively in the first. Brian Baughman led off with a single, followed by a bunt single by Grady McGuire before Leo Alfonzo reached to load the bases. The Wildcats added two in the opening frame on a Zach Ehrhard bases-loaded walk and Dylan McDonald's RBI groundout off Strawberry Crest starter Brent May.
But May found his rhythm after that, working 4 1/3 innings and allowing just two more hits. The sophomore righty struck out one, letting his defense support his cause before being lifted following a fifth-inning, one-out walk.
In the meantime, Strawberry Crest (18-9) evened the score in the second as Ryan Dell led off with a single and scored on an RBI triple to the right field wall by Benny Pues, who was in-turn cashed in on a Jacob Heath single.
— 813Preps (@813Preps) May 17, 2018
Trying to keep the game knotted, Strawberry Crest turned to Damien Torres in relief. The senior did not disappoint. Torres induced a ground ball on the next batter, which was smoothly transitioned by senior Derek Barone at third to start a double play.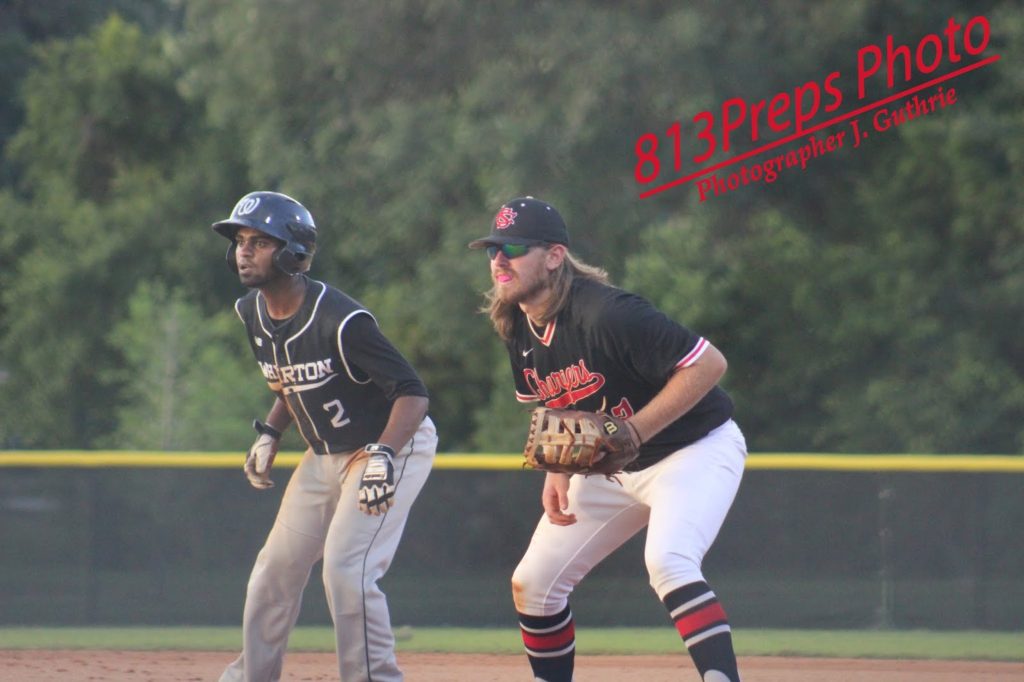 Wharton senior Leo Alfonzo scored a run and had two hits takes his lead off first as Chargers senior Derek Barone sets for the play. Barone worked at first and third in the win, turning an inning-ending double play in the fifth.
The Chargers responded in the home half with Parrillo's run and Torres went back to work with the lead.
"My mindset after we got that one run lead is that I have to get out and attack these guys," Torres said. "My only thought is to make sure they don't score."
Torres worked the rest of the way, striking out three, including a game-ending swinging punchout to seal the Chargers first region final appearance for a male sports program.
"This whole week, which turned out to be a long week, that was our whole motto, we can make history again," Beattie said. "We've been to this game, our men's basketball team has been to this game, but this is the first time one of our men's teams has done this and that is something we thought about all week."
Alfonzo had two hits for the Wildcats and Ehrhard had two excellent plays at second base, including a diving catch on a liner to end the fourth inning.
"That's a great team," Beattie said. "To go out and play against them the way we did this year – my team battles, they just battle. It's fun to watch."
The Chargers will travel to Orange Park Fleming Island for next Tuesday's Class 8A region final aiming for a shot at the state final four.