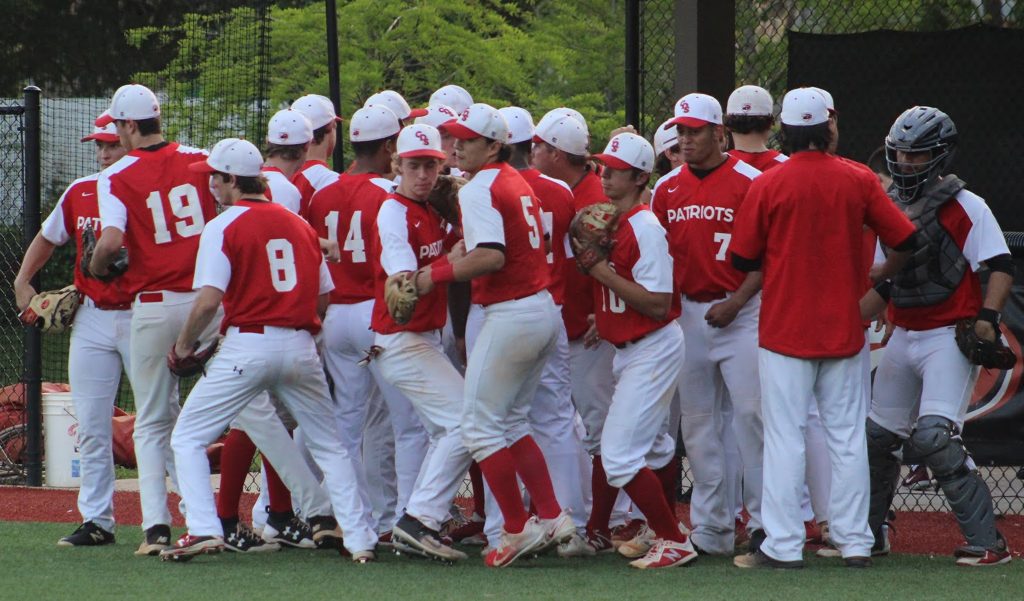 Carrollwood Day is set to face Tallahassee North Florida Christian in Wednesday's FHSAA Class 3A state semifinal in Fort Myers.
CARROLLWOOD – Of the many successes for Carrollwood Day's recently graduated seniors, the one that coach Ken Akins may take the most pride in as that the chance to bring home the school's first baseball state title, which begins Wednesday morning in the FHSAA state semifinals in Fort Myers, will not be the last games for all six seniors on the roster as each have accepted offers to play at the college level.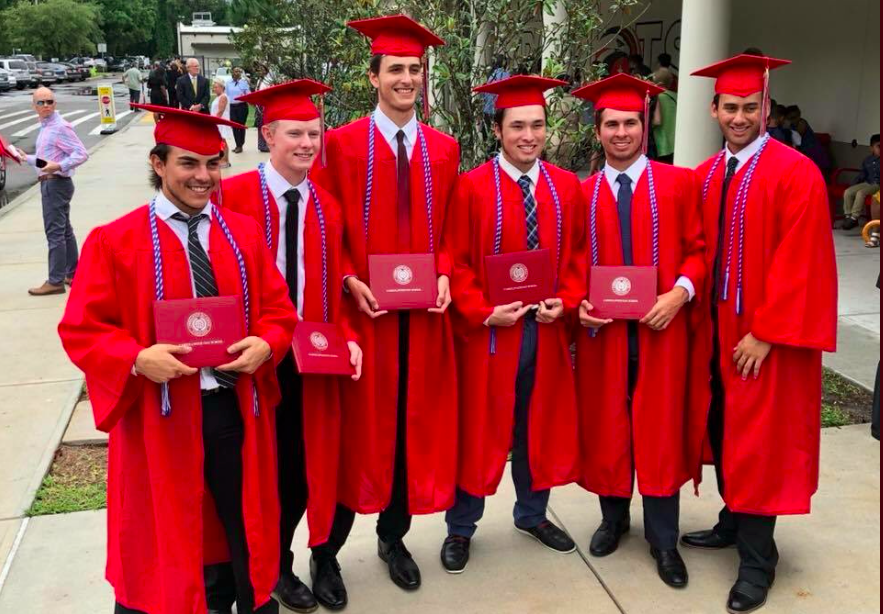 Carrollwood Day Baseball's senior class, which graduated last weekend: (left to right) Rodrigo Montenegro, Zach Watts, Andre Hevesy, Frank Furey, Gabriel Partridge and Noah Torres. (Photo courtesy of CDS baseball)
CDS (24-3) has shown no quit in the post-season battling through tough district games, before getting a pair of back-to-back shutout wins in the region tournament. The Patriots will take on Tallahassee North Florida Christian in the Class 3A state semifinal at 10 a.m. at the Spring Training home of the Minnesota Twins – Hammond Stadium.
At 813Preps we have enjoyed getting to talk about this tremendous group – many of whom have been a part of the program for five years – all year, but we thought that we'd let you hear what they mean to each other in their own words and the words of head coach Ken Akins.
Frank Furey, P/1B/DH
Future plans: Gulf Coast State College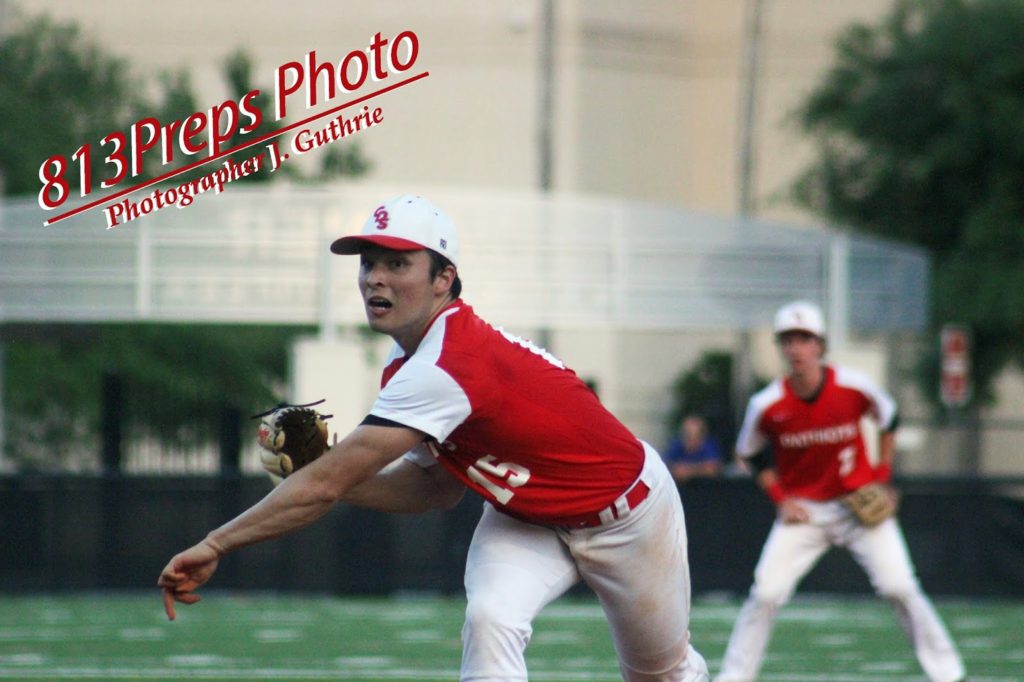 Coach Akins' take: "Frank is an absolute bulldog. He will do everything he is asked to do, but the great thing about Frank is he has the absolute desire to compete and that means he will give you everything he has got, every time he steps on the field."
Teammate's take: "For frank it's simple he just wants it more than everyone else he doesn't need to say it for it to show on the field the kid can just play and he loves doing it. Frank has always been the spark for this team we know whenever he's on and going hot we can just as easily follow suit. He's that switch that turns this team on and off and we look at him just as he looks at me and the rest of the team … to get the job done." – Zach Watts
"Frank has been on the varsity team as long as I have (since 8th grade) and we have both had the same mentality since then, to win the state championship. He has helped CDS baseball in a way that nobody else on the team has. His spot in the 3-hole is the key to our offense. When Rodrigo gets on base and Frank comes up, the entire team is sure that run will get driven in. His pitching has been great as well. Whenever he is on the mound the whole team knows he will shut them down. He is also very vocal in the dugout and makes for a great leader that the underclass players look up to." – Andre Hevesy
Andre Hevesy, P/1B
Future plans: Belmont Abbey College in Belmont, NC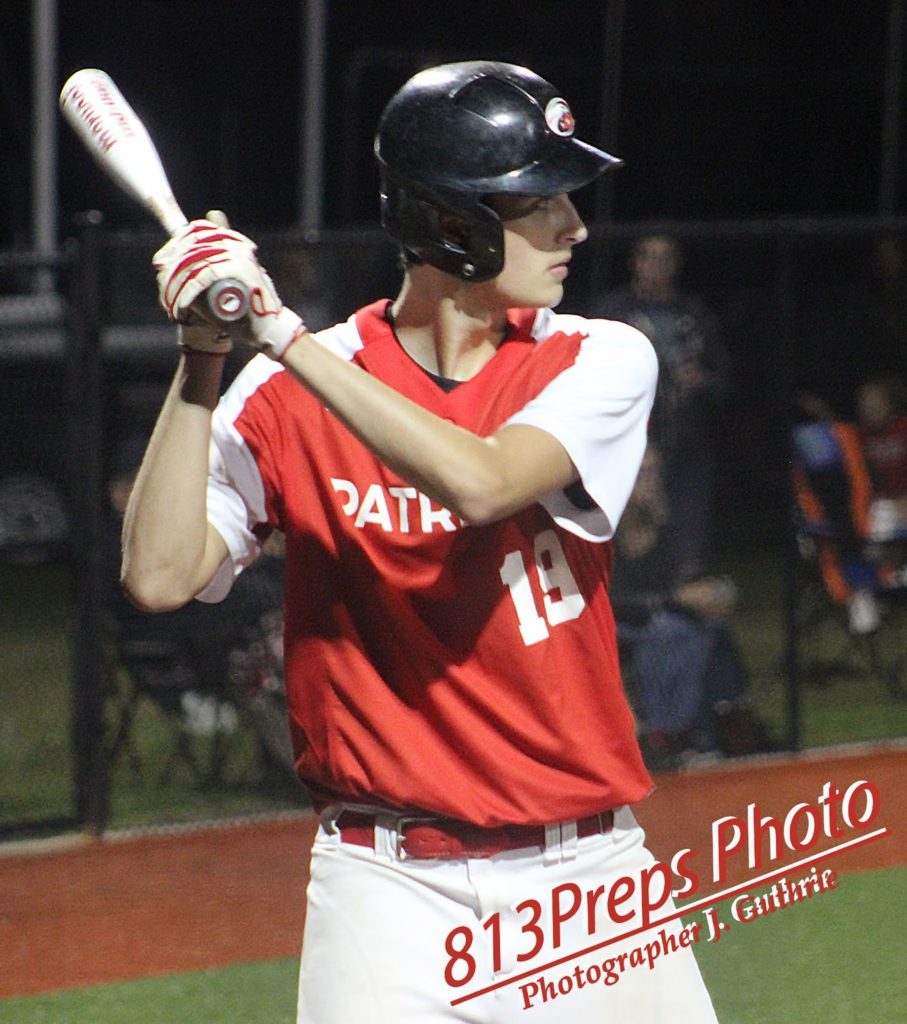 Coach Akins' take: "Andre has developed a killer instinct in his senior year. He used to be a quiet kid who would go out there on the mound and throw. But over the last few years he has developed a curveball that is the nastiest pitch we may have as a staff. But he has turned into a fierce competitor and though he's still a quiet guy, his actions speak loudly with the rest of this team."
Teammate's take: "Andre's talent is exponential and quiet hard to put a cap on, whenever you think he's gonna slow down, he can kick it into an extra gear for this team and he'll do whatever it takes to keep this train moving. He's not the loud mouth so he's not the one to look for to hype the team up. Except he does something better, he's always got a cool head on his shoulder and always seems to rise to the occasion. He's never rattled and is up for any challenge just looking over and seeing someone like that seeming as if they have the game figured out makes this high pressure (situation) or intense game seem like they're in our control the whole time." – Zach Watts
Rodrigo Montenegro, 3B
Future plans: St. Petersburg College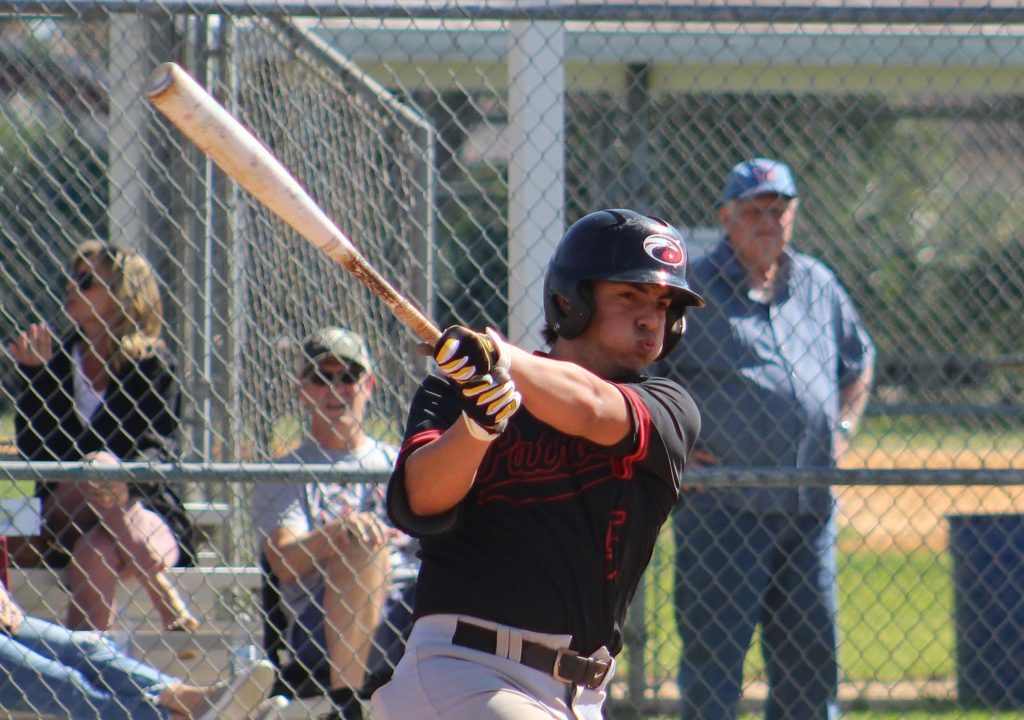 Coach Akins' take: "Rodrigo is just one of those natural ball players and you smile every time you see him take the field. He can do it all, he is a phenomenal defender at third base, he has skills at the plate, and though he hasn't caught much for us this year because of Noah, but he is equal to any high level high school or college catcher as well. He just has that talent that allows him to do whatever he wants out there."
Teammate's take: "Rodrigo has been such a big part of CDS baseball since he came to the school. His leadership and energy that he brings to every game has helped our team fight through situations. Also having him in the lead off spot in our lineup has increased our offensive production by a ton. It seems like every at bat he gets on base one way or another and allows for the rest of the lineup to drive him in to get ahead in games early. His defense at third base is great, too. I can't remember the last time he made an error over there." – Andre Hevesy
"Rodrigo has been a great teammate and means a lot to the team (for his) excellent lead off hitting and always setting the tone for the game, and he is a great defender at third base." – Frank Furey
Gabriel Partridge, P
Future plans: St. Petersburg College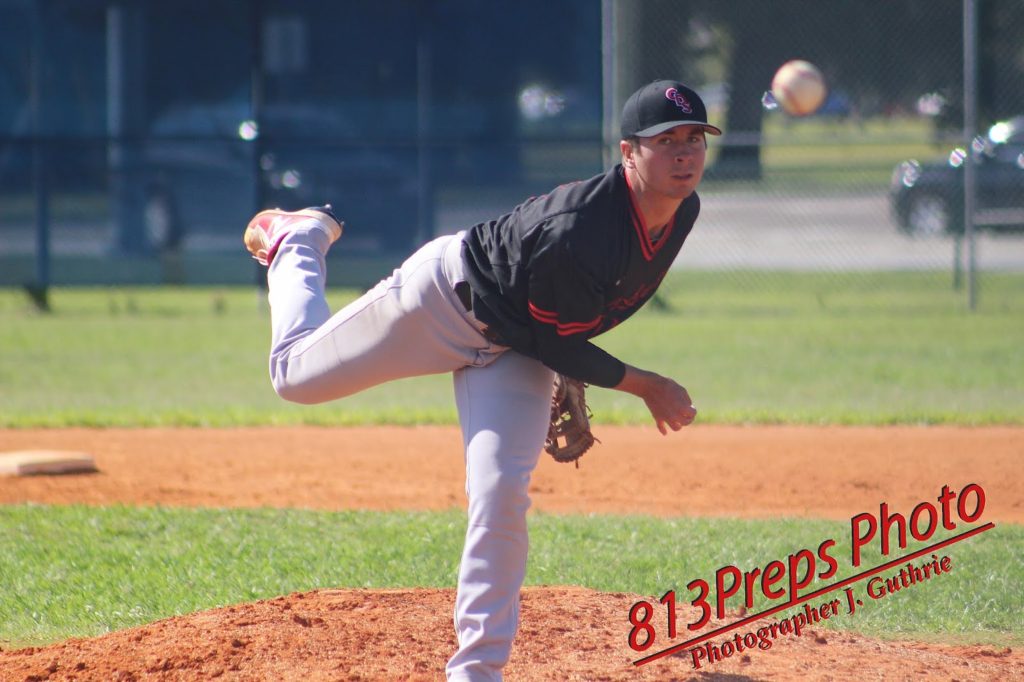 Coach Akins' take: "Gabe is smooth, and you can add as many 'O's' in that as you want. He is as cool and calm as it comes and he never shows his emotions in any situation he may come up against. He will remain calm and produce outs. Gabe gets outs."
Teammate's take: "Gabe is a heck of a pitcher. He has been such a great piece for our team to be successful! When you have him on the mound, it is a great feeling that you have. We believe in him and we know he is gonna pound the zone. Not only has he been great for us on the mound, but he is a great leader and an example for our young players on the team." – Rodrigo Montenegro
Noah Torres, C
Future plans: Christian Brothers University in Memphis, Tenn.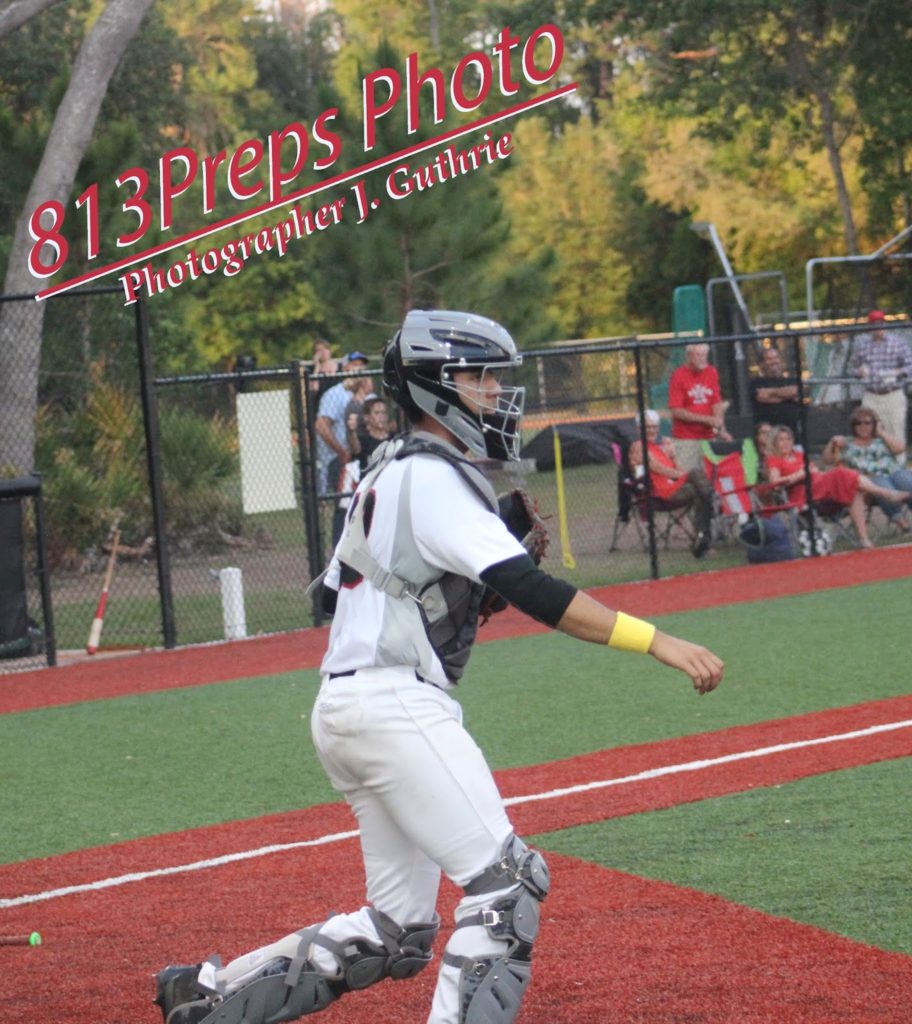 Coach Akins' take: "Noah is my general, my leader and runs the show out on the field. He is not afraid to challenge anybody, but he is also the first guy up to support, high-five, or pat you on the backside – success or failure. He is the true leader of this ball club."
Teammate's take: "Noah and I have a great pitcher-catcher relationship and I am always comfortable when he is behind the plate. He's got a great arm and has received the respect of opposing teams. He works well with our younger catchers and is also always working on his own trying to better himself." – Gabriel Partridge
"Noah he's been one of the leaders of the team for us behind the plate. He is a brick wall back there and will do anything to help the team win." – Frank Furey
A catcher on his battery-mates: "Andre, Frank and Gabe have made my job as about as easy as a high school catchers job can get. What they can do is amazing. With how accurate Gabe is, we can make adjustments immediately with all pitches and that's what makes him nasty. Andre keeps everybody on their toes, the next pitch is always a mystery, even for me! Frank let's the ball dance and simply has nasty stuff. The trust these guys have put on me behind the plate is incredible and the bond we have in unbreakable." – Torres said of his three senior pitchers
Zach Watts, OF
Future plans: Guilford College in Greensboro, NC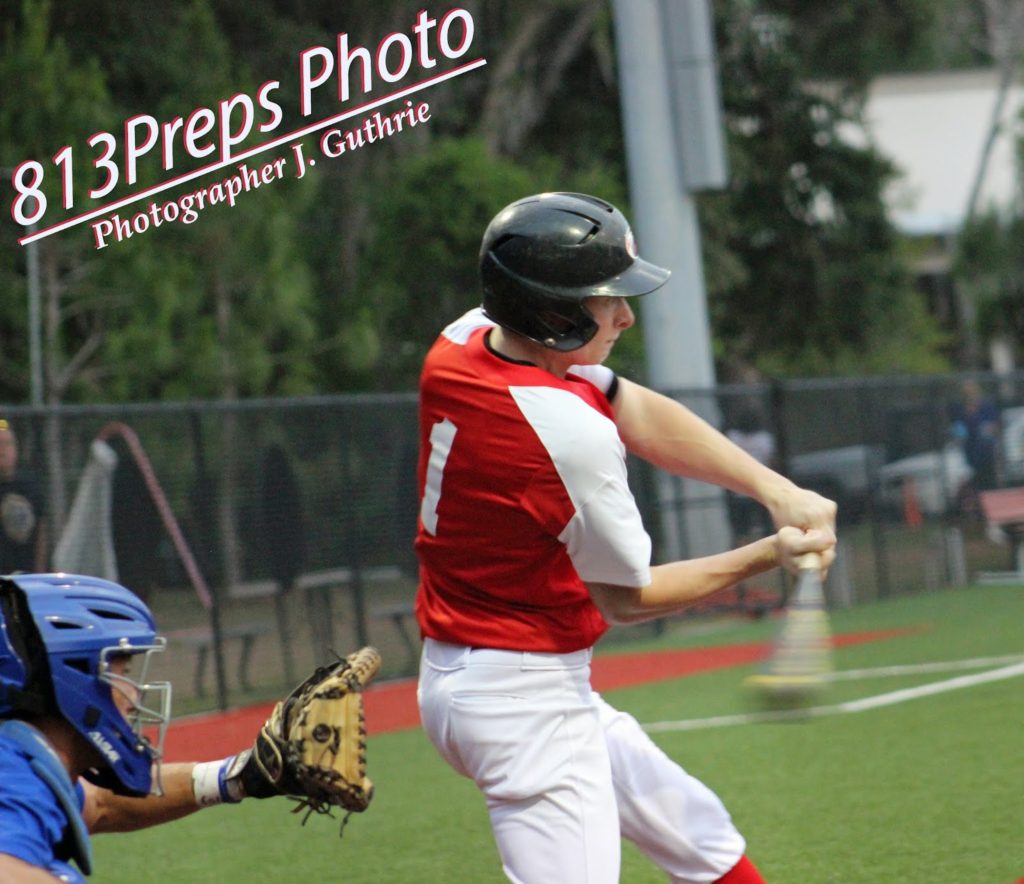 Coach Akins' take: "Here comes this 5-foot-10 right-hander, who will tell you he's a switch hitter, and when we needed someone to step up as our No. 4 hole hitter, he embraced it 100 percent. Zach is a phenomenal outfielder, who can track with the best of them, with very good arm strength and great baseball knowledge. Zach is just the perfect fit and the perfect piece for this team's puzzle this year."
Teammate take: "Zach was the first guy I met on the team and since then he's brought me in as family. He's a clutch bat in the lineup and rarely ever disappoints with his production on the field. He's a scrappy player, which fits our team perfectly and a great leader on and off the field." – Gabriel Partridge
"(Zach) has been a great example for our team, not only on the field but off the field. He also has been great in the cleanup spot and with his speed and ability to track fly balls it is amazing to have him in the outfield." – Rodrigo Montenegro
Unlike many independent news organizations, we haven't put
up a subscription paywall – and we hope to be able to keep bringing you the great stories
from high school athletics in the 813 area free of charge. But we are still a small
business with just a handful of people involved, so there are costs including travel, equipment, and other costs associated with running this business.
We are looking for advertising partners, but we also need to count on our
readers for support. If everyone who reads our reporting, who likes it, helps
fund it, we will be able to continue covering these athletes' endeavors.
Support 813Preps.com for as little as $1 by clicking "Donate" button below.
Class 3A State Semifinal
Who: North Florida Christian (24-3) vs. Carrollwood Day (24-3)
When: Wednesday, May 23, 10 a.m.
Where: Hammond Stadium, 14100 Ben C. Pratt Six Mile Cypress Parkway, Fort Myers, FL 33912.