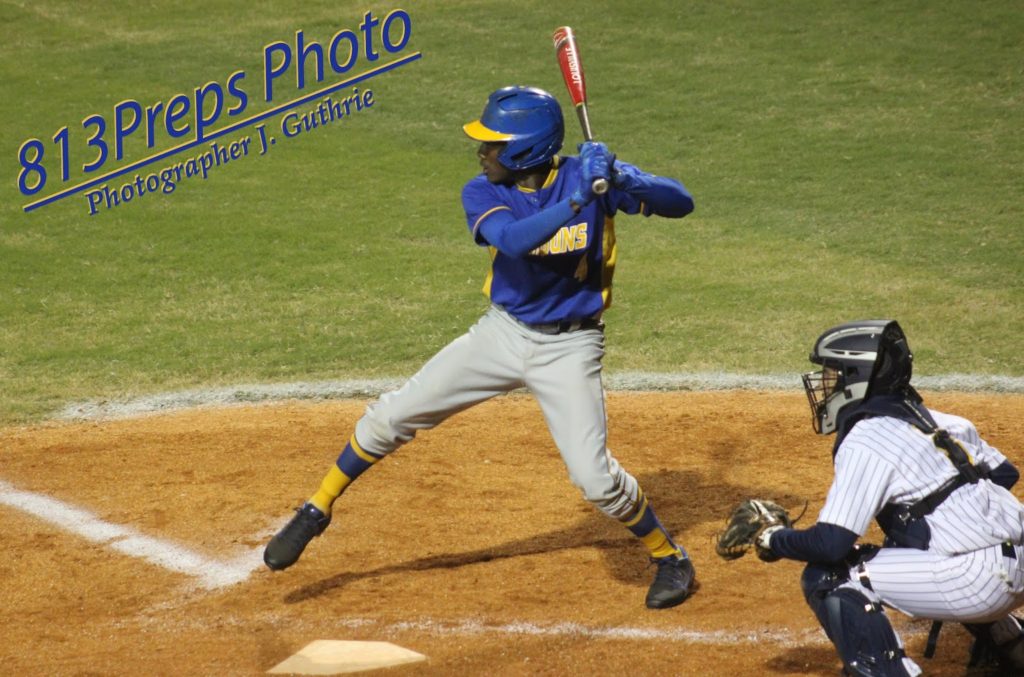 Jefferson senior AJ Mathis is the spark that keys the Dragons offense with a .478 average, 38 runs scored and 43 stolen bases this season.
By Jarrett Guthrie
TAMPA – While still an eighth grader, AJ Mathis asked his father to take him to a high school baseball game in Brandon. That game – the 2014 Saladino Tournament Championship – featured a dominating run to the title by a Plant culminating a 4-0 victory for the Panthers. But it was the team on the other end of that tilt the Jefferson Dragons that Mathis said immediately drew him in.
"I asked my Dad to take me to the game, and watching it, even though they lost, I just had a feeling that I needed to be a part of that team," Mathis said. "Seeing how they played for each other, how they treated each other like family, that really made me want to be a part of that."
Four years later, Mathis has made himself a big part of the team and a leader on and off the field, a superb defender with instincts and speed, a solid hitter, and an absolute terror on the base paths. Among a group of senior leaders, Mathis has Jefferson (19-8) in Tuesday's Class 6A region final on the road against Dunnellon, aiming at a first state semifinal berth since 1985.
Unlike many independent news organizations, we haven't put
up a subscription paywall – and we hope to be able to keep bringing you the great stories
from high school athletics in the 813 area free of charge. But we are still a small
business with just a handful of people involved, so there are costs including travel, equipment, and other costs associated with running this business.
We are looking for advertising partners, but we also need to count on our
readers for support. If everyone who reads our reporting, who likes it, helps
fund it, we will be able to continue covering these athletes' endeavors.
Support 813Preps.com for as little as $1 by clicking "Donate" button below.
Jefferson has solid offense with senior co-captains Robby Martin and Charlie Welch, and junior Marc DeGusipe all producing from the meat of the lineup, but it is the Dragons leadoff hitter who is the catalyst for success.
"The most unique thing about AJ, and I've studied it this year," Jefferson assistant coach Pete Scaglione said. "The team goes how he goes. If he doesn't get on base, like if he has an 0-for-3 game, we don't win that game."
As goes AJ, so go the Dragons. Mathis has posted a .478 average, with 38 runs scored this season. He broke Fred McGriff's school base-on-balls record last season, and set a new program mark in stolen bases this season with 43.
"With Robby, or Charlie, or Marc up there, it's AJ that makes all the things happen for us," Scaglione said. "He turns a single, or a walk into much more. Anything can happen with him on the bases. In three pitches he can be standing on third base, and we've made that work so many times this year."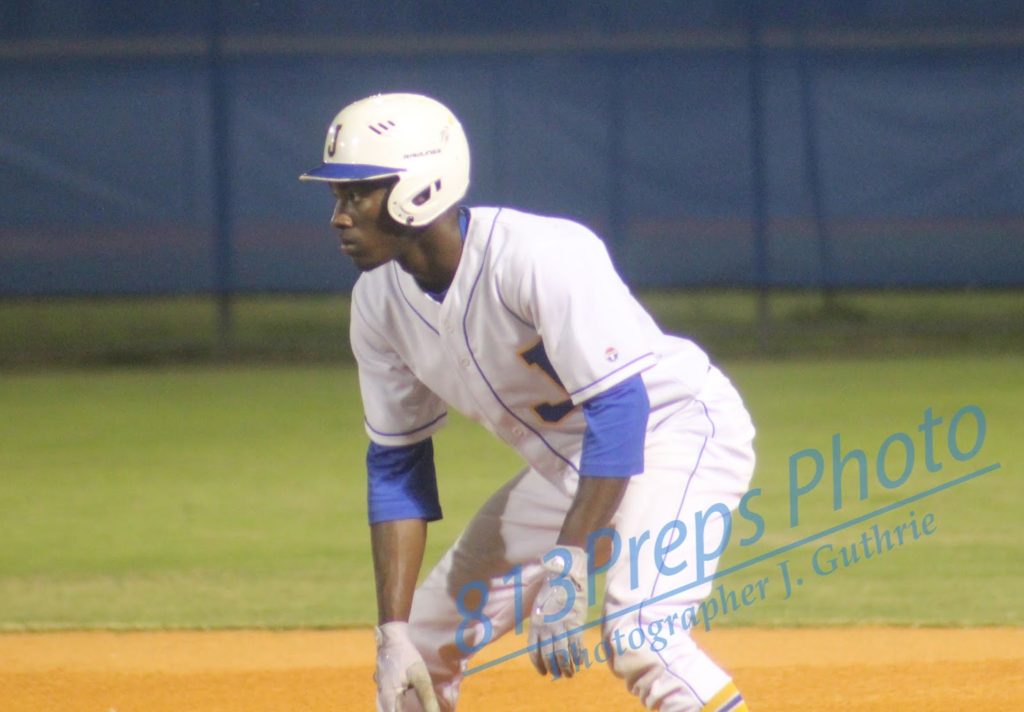 AJ Mathis set a new school record for stolen bases in a season with 43 in his senior year.
Mathis said the team had high expectations entering this season, but there were moments this year where they lost their focus. That all changed after the Dragons dropped its district championship game to Jesuit on May 3.
"Leadership clicked for us after that," he said. "We started this season with everyone doing their own thing, and practice wasn't as serious as it should have been. When we lost to Jesuit, that really fueled our fire and we had a meeting afterwards as seniors and said, 'look, if we want to go far this year, it starts with us.'"
The change has sparked two hard-fought efforts so far in the state region playoffs. Mathis launched a two-run home run to seal the Dragons' come-from-behind, 5-4, region quarterfinal win at Land O'Lakes two weeks ago.
He went 1-for-3 the following week as the Dragons topped Jesuit in the region semifinals, extending an 11-game hitting streak, while also making some nice defensive plays in center.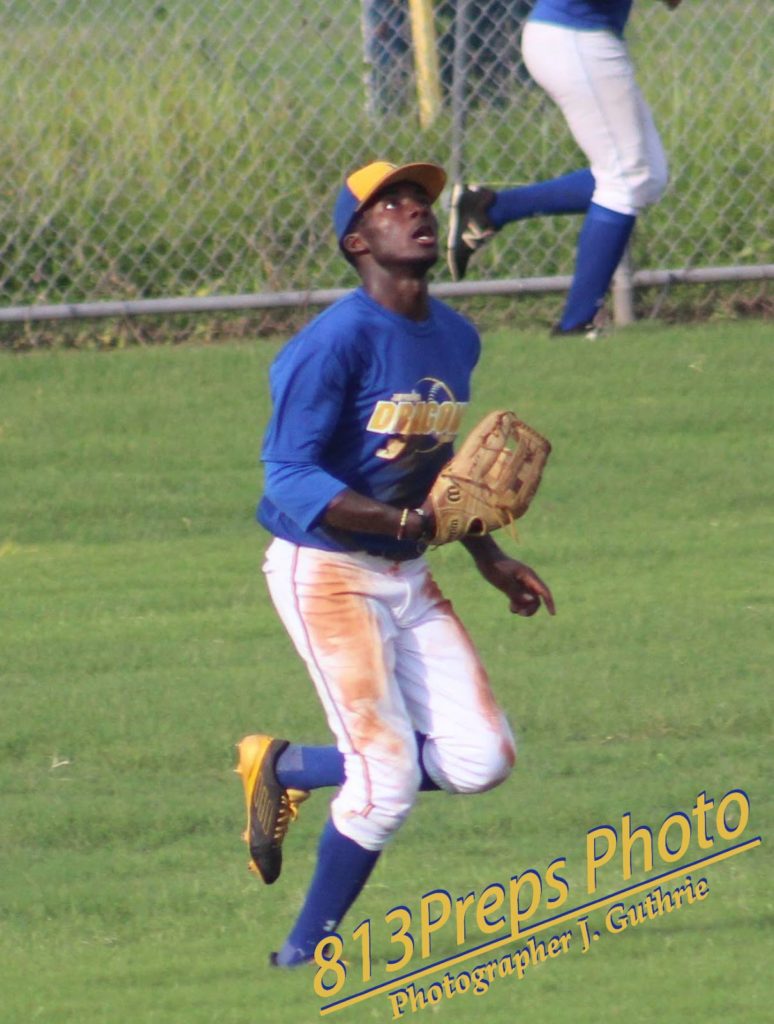 Mathis is a natural in the outfield with good instincts and a great first step.
His speed is evident on the bases, but on defense is where it may serve him the best. Mathis has great baseball instincts, and coupled with his speed, makes him a standout in centerfield and could mean he has an immediate impact in a corner spot at the next level.
"He does things in a way that looks so effortless," Scaglione said. "Sometimes there is a ball and it doesn't look like he's going to get to it, and suddenly he is there."
Mathis is signed to play next season for Florida State, along with current teammate and outfield partner Robby Martin.
Though he admits, baseball is his passion and his dedication to improving his game has gobbled up much of his time outside the classroom, that doesn't mean he has neglected his academics. Jefferson will hold its graduation ceremony on Wednesday, and Mathis finished with a 3.6 G.P.A.
But for Mathis, walking across the stage is just a prelude to the mission he feels his high school team is set to see through.
"Our coaches have told us that Jefferson hasn't been to a state final four in such a long time and our team wants to be that team that goes out with a bang," he said. "Everybody talks about that 1985 team with (future MLB players) Tino Martinez and Luis Gonzalez. We've heard comparisons to that team and we would love to make a mark like they did and that has motivated us to do better."
"I want to be remembered as the best team ever at Jefferson and the only way to do that is to win."
Catch up on our previous Senior Features here (click on title):


Leto P Austin Suarez: Austin Suarez returns to mound for Leto


King 1B Keyon Floyd: King's Floyd finds greatest role as "teammate"
Strawberry Crest P/3B Damien Torres: Chargers' Torres is prepared for life's challenges