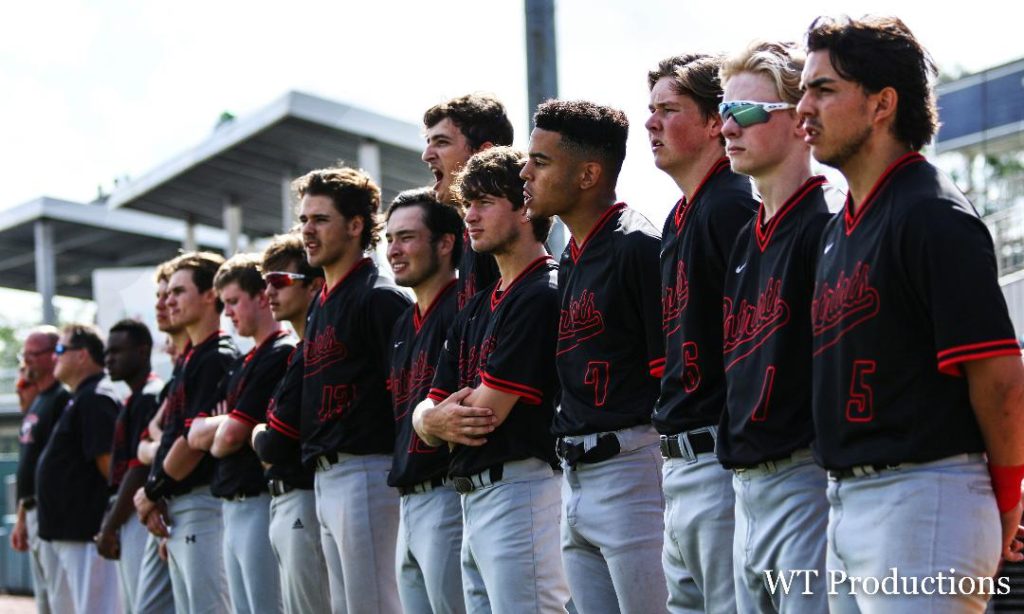 Carrollwood Day baseball players line up for the National Anthem prior to the FHSAA Class 3A state semifinal in Fort Myers. Carrollwood Day battled Tallahassee North Florida Christian, falling 3-2. (Photo by Will Turner)
FORT MYERS – A fly ball that caught a favorable wind spelled disaster for Carrollwood Day's hopes for a first-ever baseball state title. CDS fell just a run short to Tallahassee North Florida Christian, 3-2 in the Class 3A state semifinals from Hammond Stadium in Fort Myers.
In the third inning NFC (25-3) strung together timely hitting as Trent Phillips and JD Tease singled with two outs. That put cleanup hitter Carson Neal in the spotlight and he didn't disappoint sending a 1-2 changeup into the wind and chasing CDS left fielder Zach Watts to the wall, where he watched as the ball skirted the fence and gave the Eagles a three-run lead.
"What can I say? One swing," Carrollwood Day head coach Ken Akins said. "Wind-blown and that's all they got, three runs. We had the opportunities to battle back … but we just came up short without another two-out hit when we needed it. That's a great quality ball club over there."
CDS senior pitcher Gabe Partridge pounded the zone, moving from outside to inside with fluidity and tallying 10 strikeouts.
"I located my fastball pretty well because my curveball wasn't my best today," Partridge said. "… I pitched pretty well, but that one swing did it."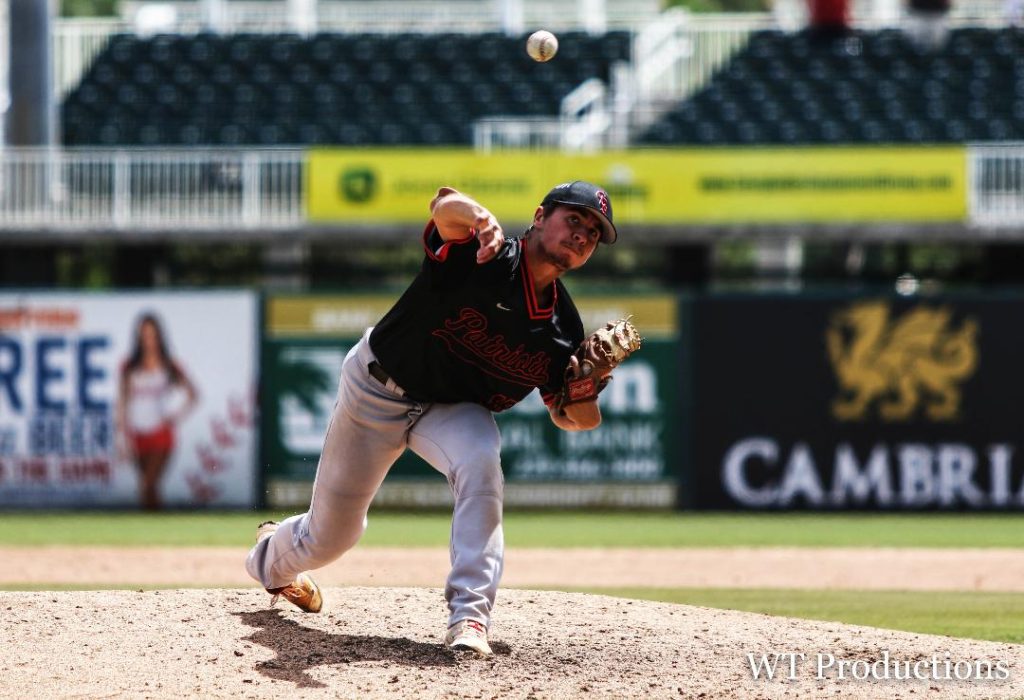 Carrollwood Day senior Gabriel Partridge tossed six innings, while striking out 10 for the Patriots. Partridge finishes his senior campaign 11-1, with an 0.88 ERA. (Photo by Will Turner)
Partridge would work all six innings on the mound, as the senior who plans to pitch at St. Petersburg College next season, allowed just two other hits and walked one. He finishes his senior campaign 11-1, with a 0.88 ERA and 88 strikeouts.
"I was telling the Partridge kid after the game, three of the last four games, we've faced (NCAA) Division I arms, and I think he's better than all of those guys we faced," North Florida Christian head coach Mike Posey said. "He moves the ball around, he was very smart and had a plan. He was tough."
CDS (24-4) responded with two runs of its own in the fourth, as Watts walked with two outs and Andre Hevesy moved him around with a single. Watts'otor had him into third easy, but a poor decision by NFC in the outfield saw a throw go high and allowed Watts to score and Hevesy ended up at third. Two hitters later, Dillon Baker drove in a second run on his second single of the game to cut the lead to a run.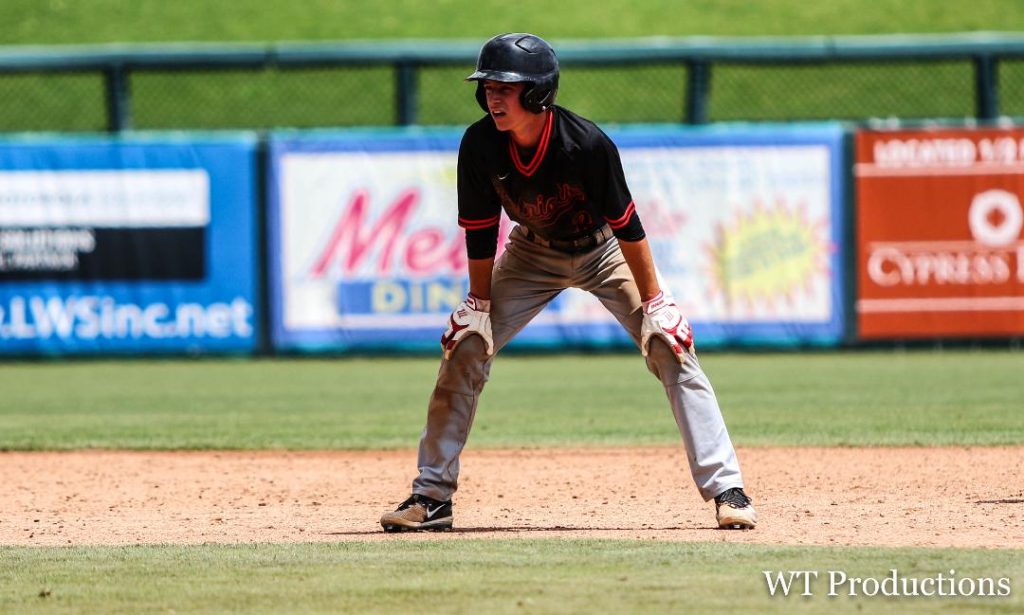 Carrollwood Day junior Dillon Baker was 3-for-3 with an RBI in the loss. (Photo by Will Turner)
Carrollwood Day's offense tried to spark another two-out rally the next inning as Rodrigo Montenegro and Blake Hooker picked up singles, but a strikeout ended that threat and the Patriots managed just a third one more hit – a single from Baker to start the seventh inning and left him on base to end the game.
"We've been a great team that has worked together for a long time," Montenegro said. "This isn't the way we wanted it to end, but in the long run it was a great season."
North Florida Christian starting pitcher Brandon Walker scattered just six hits, while striking out seven to earn the complete game win.
Our complete postseason coverage is brought to you by the 
Law Offices of George Hunter, P.A
According to Akins the legacy of Carrollwood Day's six graduated seniors – Montenegro, Watts, Hevesy, Partridge, Frank Furey and Noah Torres – leave a legacy far more important than its successful run during their careers including the program's first district and region titles.
"Words can't describe it," Akins said. "You don't get this group of kids to stick around this program and battle through the bumps in the baseball road that they have found a way to get through and not be two things, proud as can be and happy for them to go on and play at the next level."
"But if I could fudge a grade right now, I'd fudge a grade, because I don't want any of these guys going anywhere. They will always be part of my family and always be part of the CDS family."