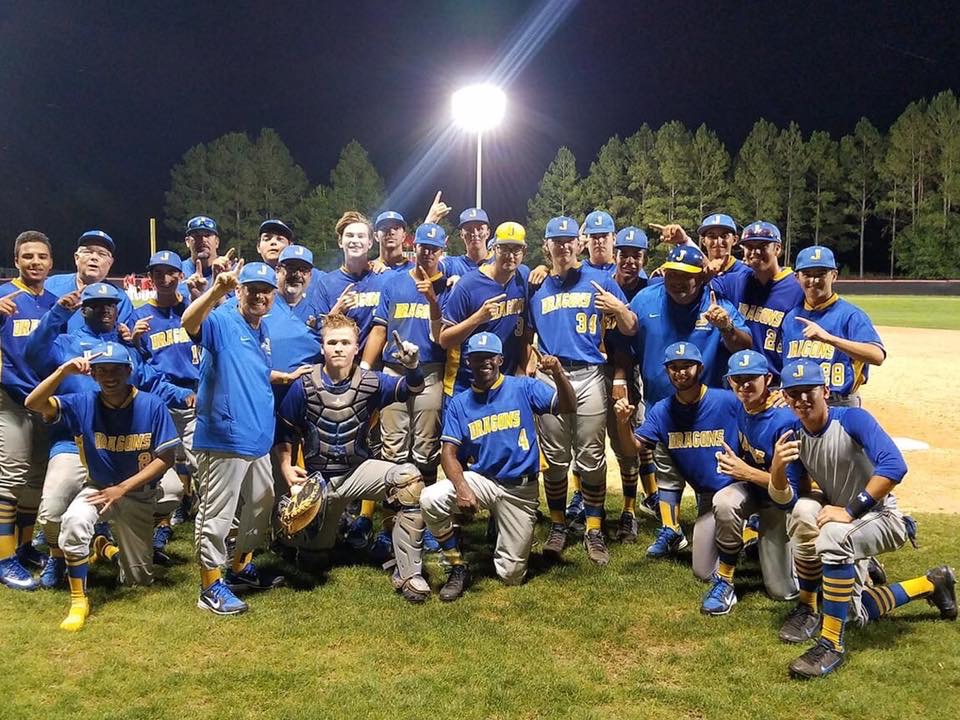 The Class 6A Region Champion Jefferson Dragons. (Photo provided by Jefferson High Baseball)
Staff Report
DUNNELLON – Jefferson got all the jitters out on Tuesday as the Dragons sat in the clubhouse in Dunnellon awaiting a decision on the weather conditions. According to interim head coach Pete Scaglione, Jefferson was a calm and composed as they have been all season on their return trip to make up the rained out Class 6A region final Wednesday evening.
Jefferson took little time to find a groove as senior AJ Mathis led off the game with a double to left and Robby Martin's line drive single to center gave the Dragons all they would need in a 5-0, region championship win over Dunnellon.
Our complete postseason coverage is brought to you by the 
Law Offices of George Hunter, P.A
With a two run lead after an error allowed another run in the first, pitcher Mike Dominguez dominated on the mound. The junior worked a complete-game, allowing one hit and three walks while striking out a dozen to lead the Dragons to the state semifinals for the first time since 1985.
— Oscar Galvez (@oscargalvez444) May 24, 2018
"Mike was lights out, his breaking ball and changeup had them fooled and their No. 2, 3 and four hitters couldn't even touch the ball," Scaglione said. "He dominated like I haven't seen him dominate this year."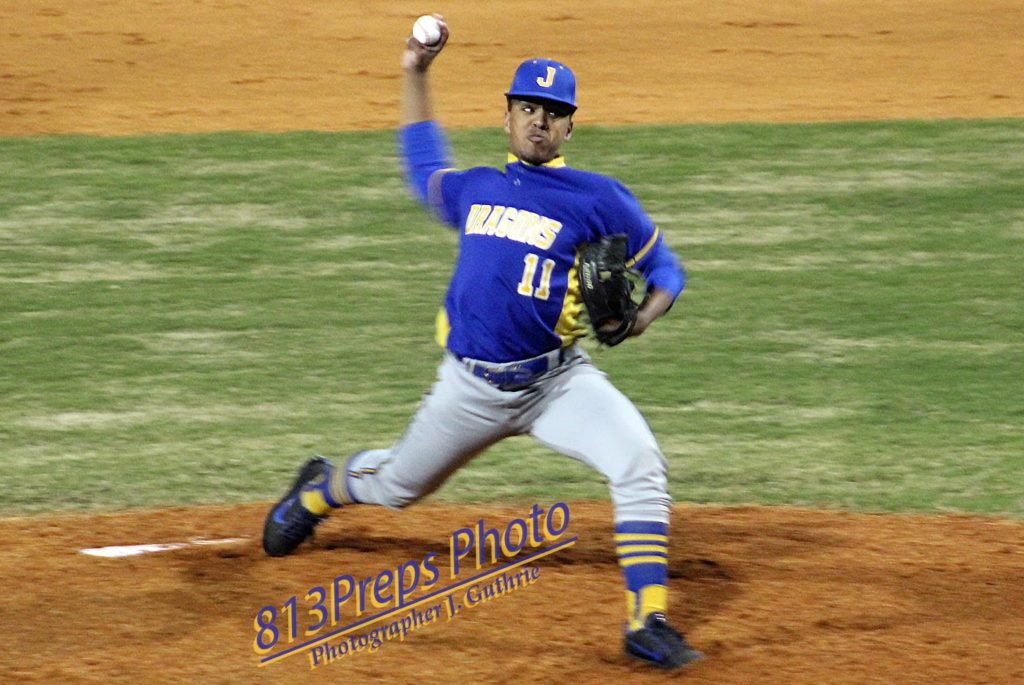 Jefferson junior SP Mike Dominguez struck out 12 to lead Jefferson to a Class 6A region championship.
(813Preps file photo).
Dragons senior Charlie Welch had a pair of hits in the win, including a two run single in the fourth inning, and junior Marc DeGusipe added an RBI single of his own to the inning.
"This team hasn't been there since 1985 and to get there to that final four is really special," Scaglione said. "This is the 78th year of Jefferson baseball and for this team to get back to the final four means a lot to our school."
Class 6A Region Final
Jefferson 5, Dunnellon 0
J 200 300 0 — | 5 | 9 | 1
D 000 000 0 — | 0 | 1 | 2
W – Dominguez. L – Graham. 2B – Mathis (J). Records – J 20-8; D 20-8.
Unlike many independent news organizations, we haven't put
up a subscription paywall – and we hope to be able to keep bringing you the great stories
from high school athletics in the 813 area free of charge. But we are still a small
business with just a handful of people involved, so there are costs including travel, equipment, and other costs associated with running this business.
We are looking for advertising partners, but we also need to count on our
readers for support. If everyone who reads our reporting, who likes it, helps
fund it, we will be able to continue covering these athletes' endeavors.
Support 813Preps.com for as little as $1 by clicking "Donate" button below.
Class 8A Region Final (nine innings) 
Sarasota 2, Plant 0


Plant senior Brock Fagler hung strong for 8 2/3 innings, but Plant's offense just couldn't find the timely hit to push the Panthers past Sarasota in the Class 8A region final. Fagler, a State College of Florida signee, struck out seven and held the Sailors to just three hits the first seven innings. Then in the eighth, Sarasota finally got to the Panthers ace as Michael Dorso lined a one-out single to left, and the next pitch Ben McCabe doubled in the eventual game winner. Evan Gibbs added an insurance run later in the frame and it was all Sarasota freshman pitcher Conner McCabe needed to close out his nine-inning win, allowing just five hits and striking out a pair on just 73 pitches.
"It has been an awesome to have been a part of this program for three years on varsity," Fagler said. "It stinks it comes down to one pitch to Ben. I made a mistake and he made me pay."
Plant coach Dennis Braun after the game lauded his senior pitcher's efforts.
"Brock went out there and pitched his absolute butt off," Braun said. "We just couldn't come through with that timely hit to get him a win."
S 000 000 002 — | 2 | 6 | 0
P 000 000 000 — | 0 | 5 | 1
W – Whittaker. L – Fagler. 2B – McCabe, Winklemeyer (S). Records – S 17-12; P 23-6.