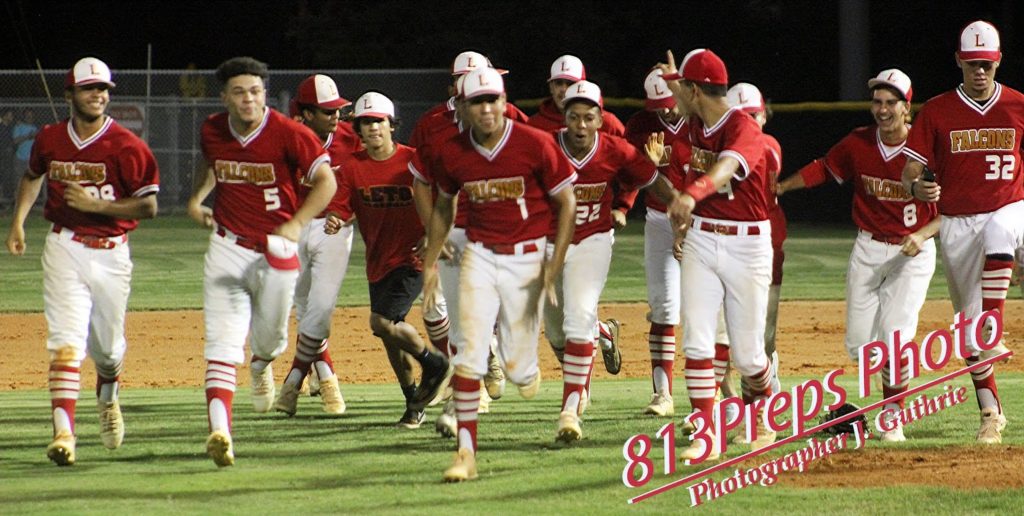 Leto's players celebrate the Class 7A region title after defeating Melbourne 4-0 on Wednesday.
By Jarrett Guthrie
jarrettguthrie@813preps.com
TAMPA – Having a second baseman generously listed at around five-foot tall has been no problem for Leto this season. What senior Jon "Chicalito" Santos lacks in size, he more than makes up for in heart, speed and all the come-through ability of any Falcon on the roster.
Wednesday night, Santos' size also played well for the Falcons 12-year head coach JJ Pizzio, who twirled his two-hole hitter in a helicopter spin after Leto's 4-0, Class 7A region final win against visiting Melbourne.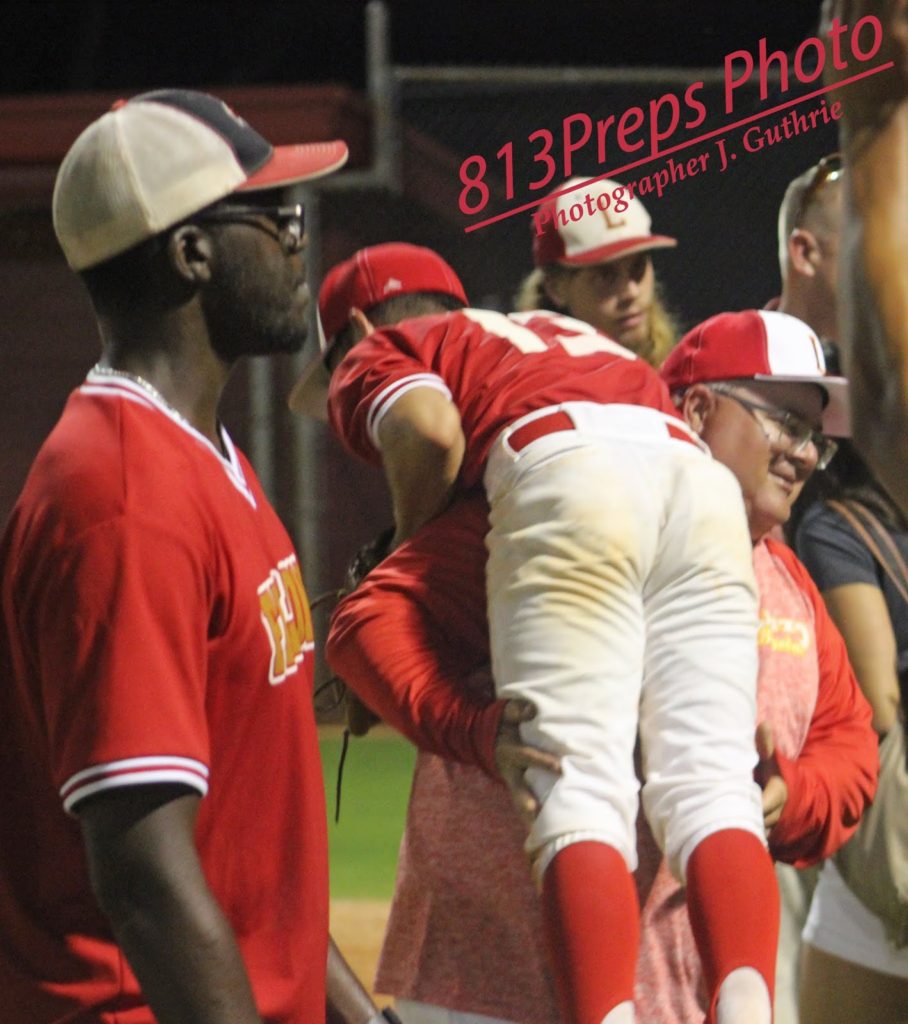 Leto head coach JJ Pizzio spins his senior second baseman
Jon Santos, who doubled in the game's deciding run.
"These guys are amazing and I love coaching them," Pizzio said. "… I know there are a lot of Leto alumni who have built this program for years, I played against them, I've coached against them, and I've always wanted to be part of this program."
Leto (24-4) advances to next Wednesday's FHSAA state semifinal game against Pace in Fort Myers – the first time the Falcons have reached that stage since 1970.
Falcons senior Jakob Ryley took to the hill against the Bulldogs and early didn't have his best stuff. The lanky right-hander however, was determined to push through and happily let his defenders back up his efforts in the first few innings.
Scoreless early, Leto's offense gave Ryley the support he needed in the third inning as RJ Gutierrez walked to start the home-half, and Santos stepped to the plate and smacked a double to centerfield to plate the game's first run. From there, Ryley caught fire scattering just two more hits (three total in the game) in a complete-game shutout, finishing with eight strikeouts.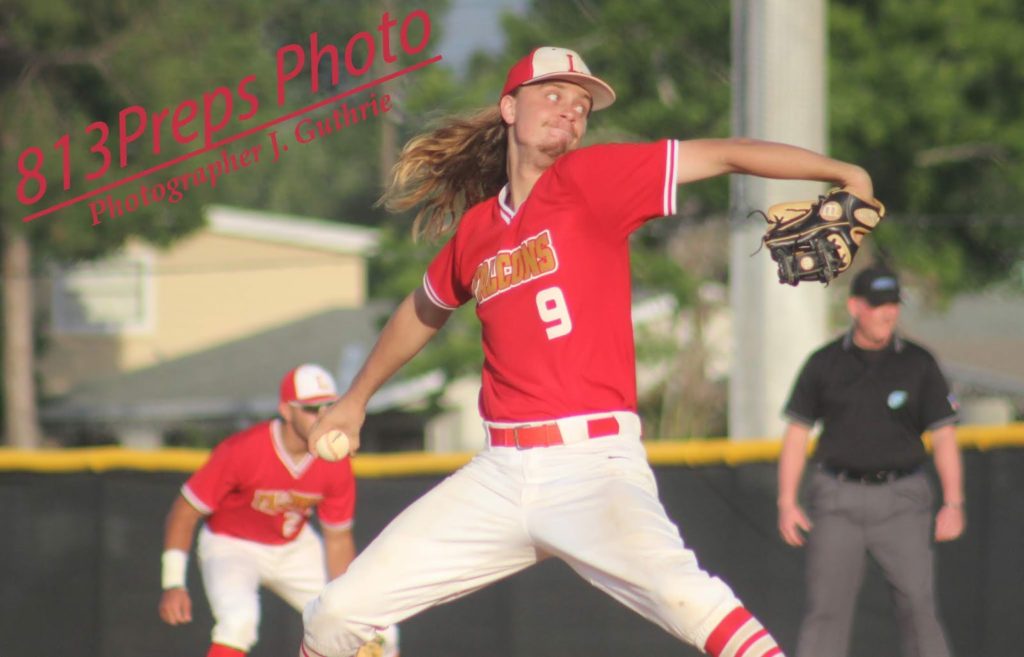 Leto senior Jakob Ryley tossed a complete-game shutout, striking out eight to lead the Falcons to its first state semifinal since 1970.
"The runs showed they had my back, so I just had to pick them up too," Ryley said. "I could dream about this, but I don't know if I expected this to happen … I don't know how I'm feeling yet, it's good, but I'm still figuring it out."
Our complete postseason coverage is brought to you by the 
Law Offices of George Hunter, P.A
Pizzio said though the team had options on the mound for the start including undefeated junior Christian Suarez who stood ready to enter in relief, Ryley was the right man for this game without question.
"It wasn't a choice, Jakob was pitching no matter what," Pizzio said. "I wanted to know in the early innings, and I asked 'Did he have it?' and he looked at me and said, 'Don't worry, I've got this.'"
"So I went back to the front of the dugout and sat down and knew I didn't have anything to worry about."
Unlike many independent news organizations, we haven't put
up a subscription paywall – and we hope to be able to keep bringing you the great stories
from high school athletics in the 813 area free of charge. But we are still a small
business with just a handful of people involved, so there are costs including travel, equipment, and other costs associated with running this business.
We are looking for advertising partners, but we also need to count on our
readers for support. If everyone who reads our reporting, who likes it, helps
fund it, we will be able to continue covering these athletes' endeavors.
Support 813Preps.com for as little as $1 by clicking "Donate" button below.
In the fourth inning, Leto got a break to start things as senior Jorge Carrero reached and moved to second on a throwing error. For the Falcons, a team that has taught a clinic on small-ball this season, the move seemed a no-brainer to bunt the runner to third base. However, Falcons assistant coach Kevin Ahles said he had a feeling about Joshua Cruz as the senior stepped to the box and quietly spoke to Pizzio from the third base box, saying: "Let him hit."
The move proved to be the right call as Cruz cashed in the run two pitches later and added some insurance to Leto's lead.
"I felt Josh could get a hit even though I think Coach Pizzio wanted a bunt there," Ahles said. "I just had a feeling and he came through and made me look good. He did it, not me but I'm really glad I made that call."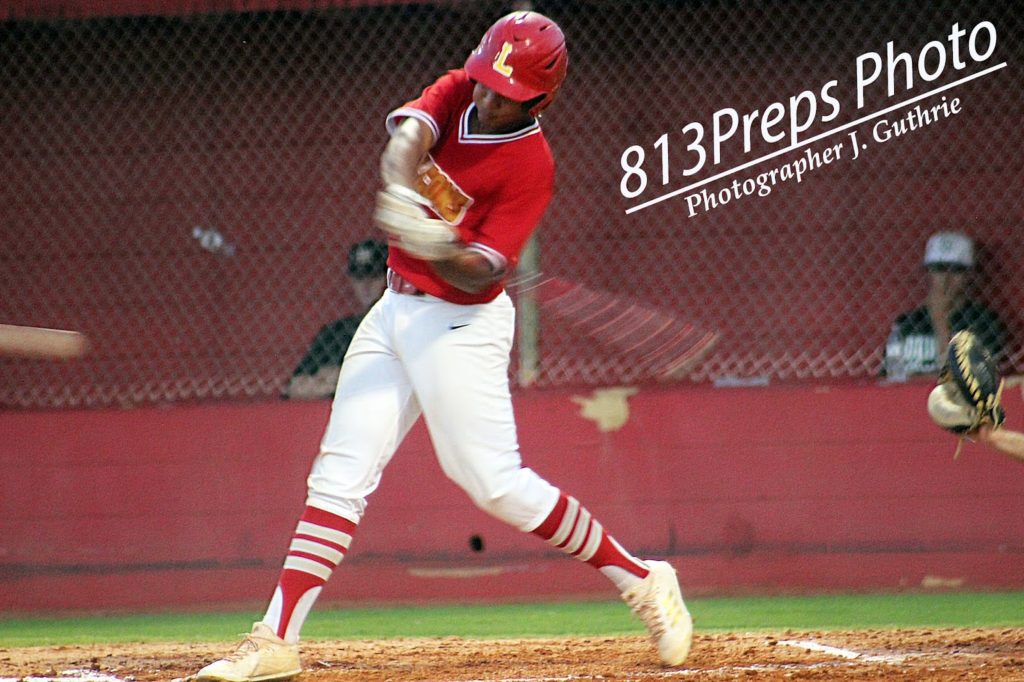 Leto's Joshua Cruz came through with a pair of RBI singles in the Falcons win.
Leto added two more in the fifth as Cruz picked up another RBI hit and Abel Diaz (3-for-3 with a double) added an RBI single.
"When my coach said let him hit (in the fourth) it just brought up a lot of confidence in me," Cruz said. "It means a lot to know these coaches have confidence in me, in all of us, to come up with those (kind of) hits."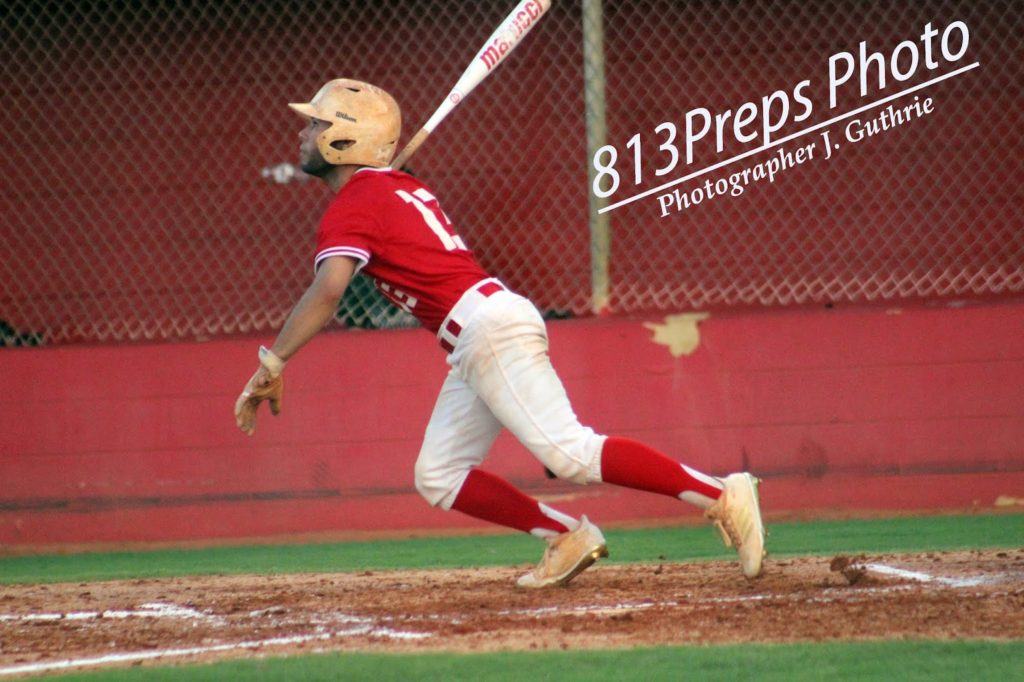 Leto's Jon Santos busts out of the box thinking double all the way here in the third inning as the Falcons senior drives in the eventual deciding run.