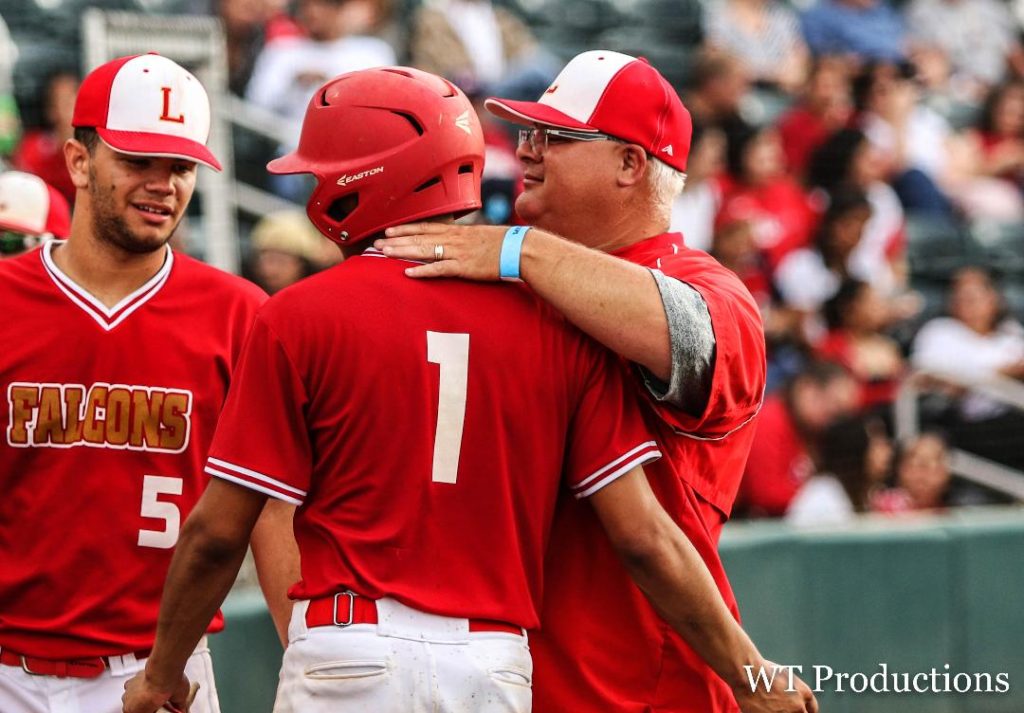 Leto head coach JJ Pizzio puts an arms around senior Fernando Muniz after the Falcons fell 5-3 to Pace in the Class 7A state semifinal game. (Photo by Will Turner)
By Jarrett Guthrie
jarrettguthrie@813preps.com
FT. MYERS – Leto fell behind, clawed back, but just couldn't take control as the Falcons magic season came to a close with a 5-3, FHSAA Class 7A state semifinal loss to Pace.
Postgame interviews after any season-ending disappointment have plenty of puffy eyes, stunned and hangdog looks, but Wednesday evening Leto head coach JJ Pizzio had a lot of perspective, lots of thoughts and enough jokes that the three players accompanying their veteran skipper in fielding reporters questions were each cracking smiles and lovingly teasing each other at the close of the nearly 15 minute discussion.
"It's high school baseball, it's not the big leagues," Pizzio said. "They don't get paid to do anything. Just go out there and have fun, go after it and build a memory."
Unlike many independent news organizations, we haven't put
up a subscription paywall – and we hope to be able to keep bringing you the great stories
from high school athletics in the 813 area free of charge. But we are still a small
business with just a handful of people involved, so there are costs including travel, equipment, and other costs associated with running this business.
We are looking for advertising partners, but we also need to count on our
readers for support. If everyone who reads our reporting, who likes it, helps
fund it, we will be able to continue covering these athletes' endeavors.
Support 813Preps.com for as little as $1 by clicking "Donate" button below.
It's not lip service. The game ended on a double-play off the bat of senior Johnny Diaz, a player who had just 15 at-bats this season.
"I let a guy pinch-hit in the last inning, he might have had like three at-bats the whole year," Pizzio hyperbolized. "He is a senior. I owed it to him. He hit into a double-play to end the game. I don't care. He'll have a memory now."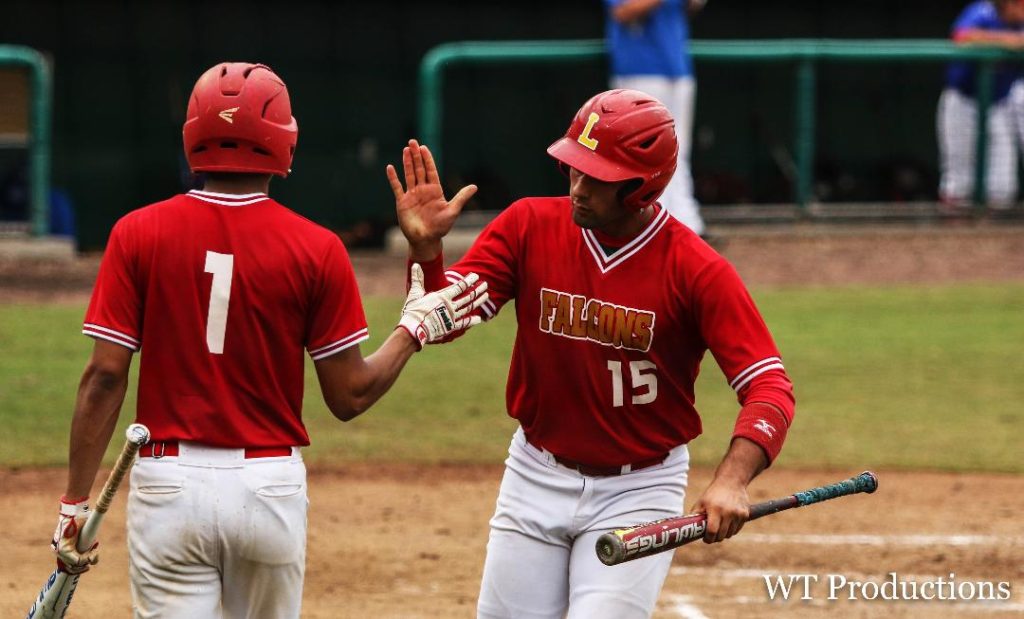 Leto senior Abel Diaz had an RBI double for the Falcons.
Pizzio is a player's coach and his guys love him for it.
"It's a real honor," junior pitcher Christian Suarez said of playing for Pizzio. "Not everybody gets to play for him, but everybody should wish they could."
Pace got ahead in the second of the semifinal game as Chase Bragg and Izzy Ham singled in runs to give the Patriots the early lead. An RBI single from JC Peacher next inning chased Falcons senior starting pitcher Jakob Ryley from the game.
Leto (24-5) turned to Suarez (11-0) in relief and Leto ended the frame with a caught stealing by senior catcher Jackson Alvord.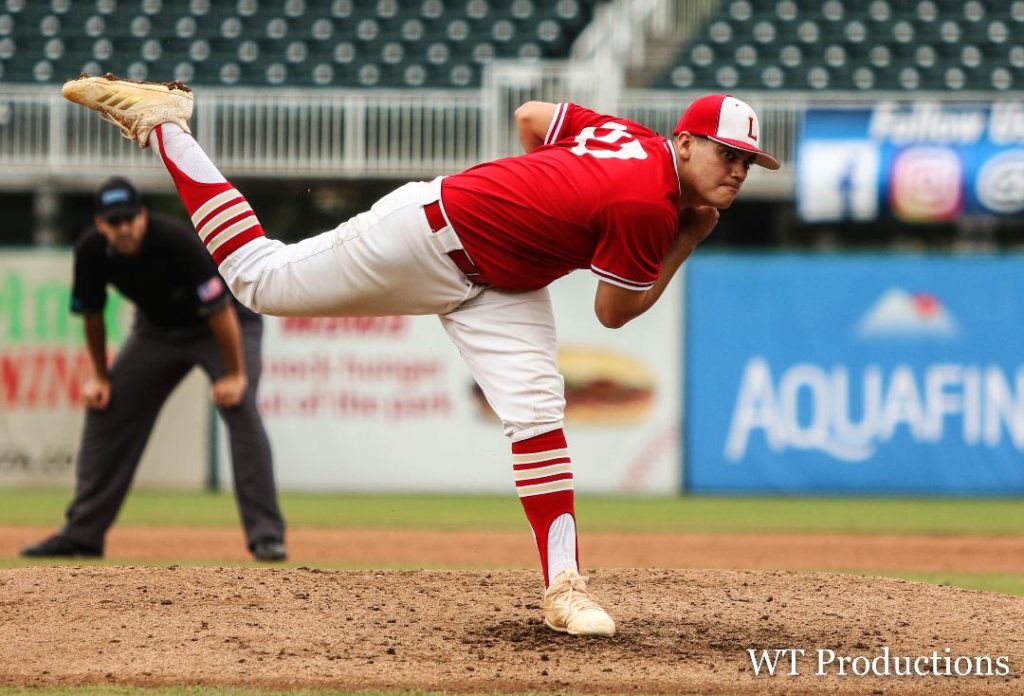 Leto junior Christian Suarez pitched the final four innings for the Falcons. Suarez finished the year with an 11-0 record. (Photo by Will Turner)
Pace extended its lead with another run scoring hit by Ham, but the Falcons answered well in the top of the fifth.
Senior Jorge Carrero (2-for-3) singled to lead things off and one hitter later Abel Diaz burned the Pace left fielder for an RBI double. After a second out, RJ Gutierrez hit a ball to short and reached on an error as the Falcons second run crossed. Captain Fernando Muniz made it hurt with an RBI single before Pace could stop the bleeding.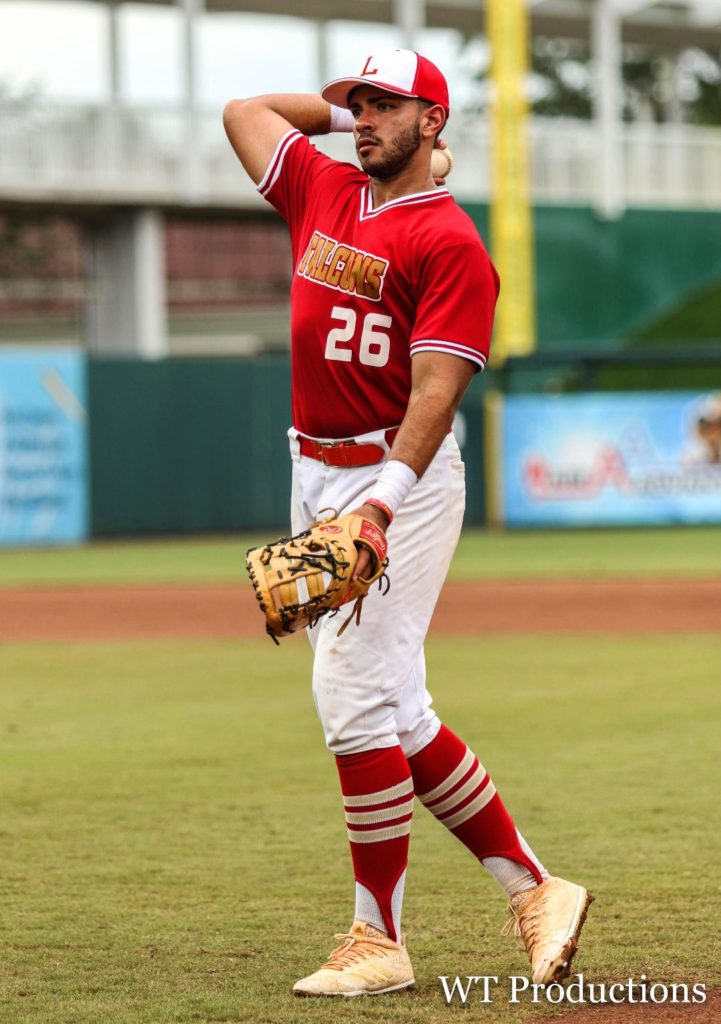 Leto senior Jorge Carrero.
But the Falcons couldn't find any further success, as Leto's first run to the state semifinals since 1970 came up just short.
"We went 28 games giving up an average of one run a game, and today we gave up five," Pizzio said. "They were a better team than we were today. I enjoyed coaching against them."
For Pizzio the loss stings in the moment but, ever the baseball man, he added that the loss Wednesday is just a game and he has plans to quickly start making new memories with his team. Pizzio jokingly told his players in the press conference they had Thursday off, but he expected them ready on Friday as most of them will participate with his summer American Legion Post 248 team.
"Losing sucks," Pizzio said. "Winning is a lot more fun."
"We didn't win today, so we need to find a way to have some more fun soon. We have a tournament this weekend and then we have like 35 more games after that … it's not the same thing, but it's baseball. And we love playing baseball."
Our complete postseason coverage is brought to you by the 
Law Offices of George Hunter, P.A