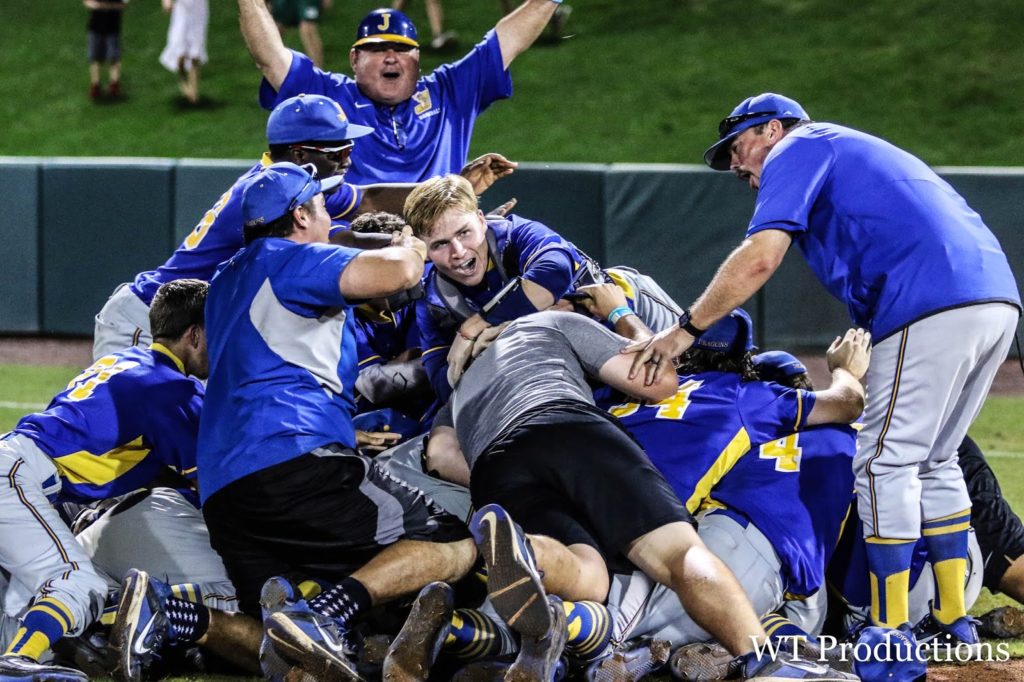 By Jarrett Guthrie
jarrettguthrie@813preps.com
FORT MYERS – Jefferson's Oscar Galvez said he didn't know that the focal point of the dog pile is supposed to go down as his teammates smother him. But why should the moments after the Dragons junior lined a game-winning, extra-inning, championship-clinching hit be any different than his two day's of hitting at the FHSAA State Tournament?
With two down in the ninth inning of Thursday's Class 6A state final against Merritt Island, Galvez stayed off a 1-1, breaking ball in the dirt and waited for a fastball. He got just that, and flared it over second base bringing home senior Ty Evans from third, his third single of the game and seventh hit in two days in Fort Myers' Hammond Stadium (after going 4-for-4 in Wednesday's state semi) and sealing the Dragons 6-5 win.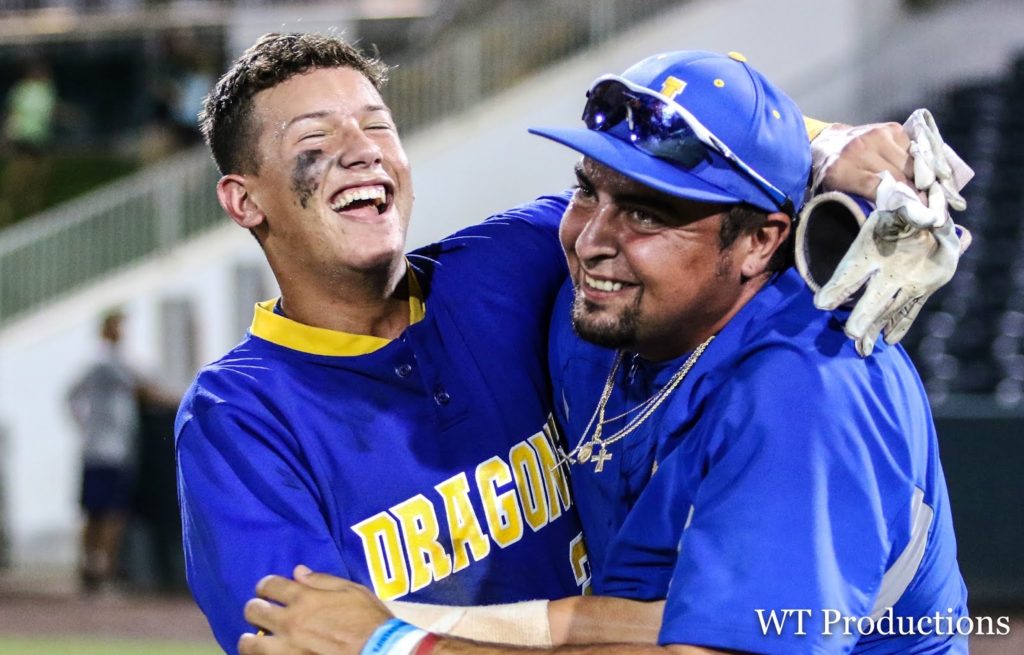 Oscar Galvez gets a hug from Dragons assistant coach Juan P. Fontela after driving in the game-winner for Jefferson. (Photo by Will Turner)
"I knew he would throw me a curveball in the dirt and then would follow it with a fastball, so I just wanted to stay inside of it and hit it all the way," Galvez said. "It hit the barrel and I was happy, and then I didn't go down in the dog pile."
Unlike many independent news organizations, we haven't put
up a subscription paywall – and we hope to be able to keep bringing you the great stories
from high school athletics in the 813 area free of charge. But we are still a small
business with just a handful of people involved, so there are costs including travel, equipment, and other costs associated with running this business.
We are looking for advertising partners, but we also need to count on our
readers for support. If everyone who reads our reporting, who likes it, helps
fund it, we will be able to continue covering these athletes' endeavors.
Support 813Preps.com for as little as $1 by clicking "Donate" button below.

Evans acknowledged that Galvez was the perfect man for the situation: "He did great the whole tournament, had four hits yesterday and had three hits today. We were confident in him that he'd go up there and do his job."
— 813Preps (@813Preps) June 1, 2018
One of the county's oldest and most storied programs, for 78 years the school that produced Major League Baseball players like Fred McGriff, Tino Martinez and Luis Gonzalez, a state title had proved elusive. Martinez and Gonzalez were members of the Dragons 1985 team, which reached the state semifinals but advanced no further.
"The first team was 1940 at Jefferson and they've had some tremendous years and tremendous ball players," interim head coach Pete Scaglione said. "In '85 the last time we were in the state tournament, a lot of us know we had Tino Martinez and Luis Gonzalez, a couple years prior to that Fred McGriff was here, but it had always eluded Jefferson … this was the year."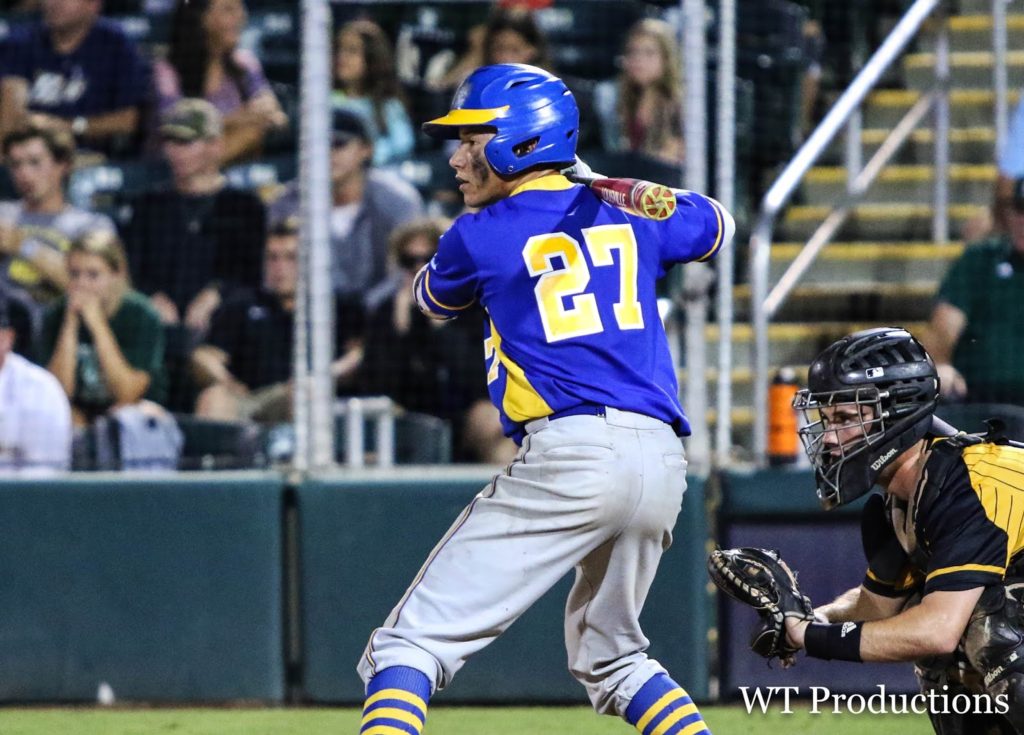 Oscar Galvez in his at-bat before walking the game off with an
RBI single (Photo by Will Turner)
For Galvez, who said Gonzalez was a baseball hero, the fact that his name could be forever be uttered in the same Jefferson history with a trio of MLB World Series Champions had just started to sink in minutes after the win.
"Just a little bit," he said. "Luis Gonzalez has really been a hero to me, he's been a guy to look up to."
After lightning delayed the game's start for two hours the Dragons took little time getting to work. In a moment almost expected of a scout-drawing prospect, Jefferson senior Robby Martin got his team going with a carrying solo-shot over the left field fence in the first inning, and the Dragons took advantage of two Merritt Island errors on the same play later in the frame to take a three-run lead.
But state championships aren't won that easily and the Mustangs battled back to take a lead forcing Jefferson to answer and push the game to extra innings.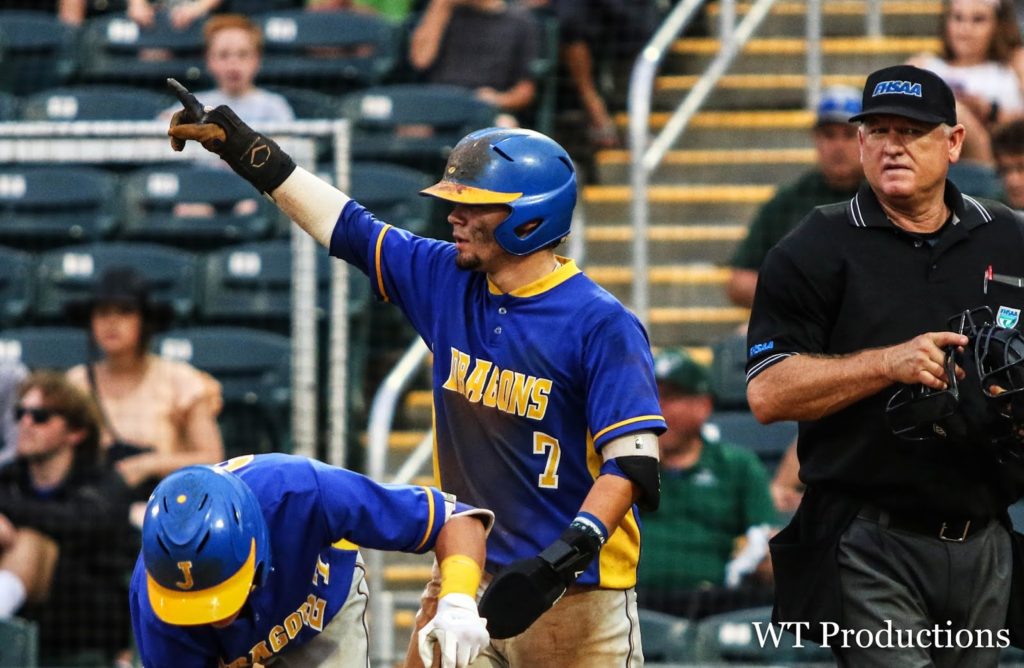 Jefferson senior Ty Evans scored the game tying run in the fifth and the game-winning run in the ninth. (Photo by Will Turner)
Jefferson (22-8) responded to a Mustangs run in the third by pushing the lead back to three as AJ Mathis punished a drawn-in third baseman, poking an RBI single into left.
Merritt Island came to life at the midway point with a four-run fifth inning keyed by RBI hits from Mason Denaburg, Kyle Dentmon and RJ Diaz (two run single) taking a one-run advantage.
The Dragons answered the Merritt Island rally by tying the game at five when freshman Sal Vega grounded a ball up the middle to plate a run.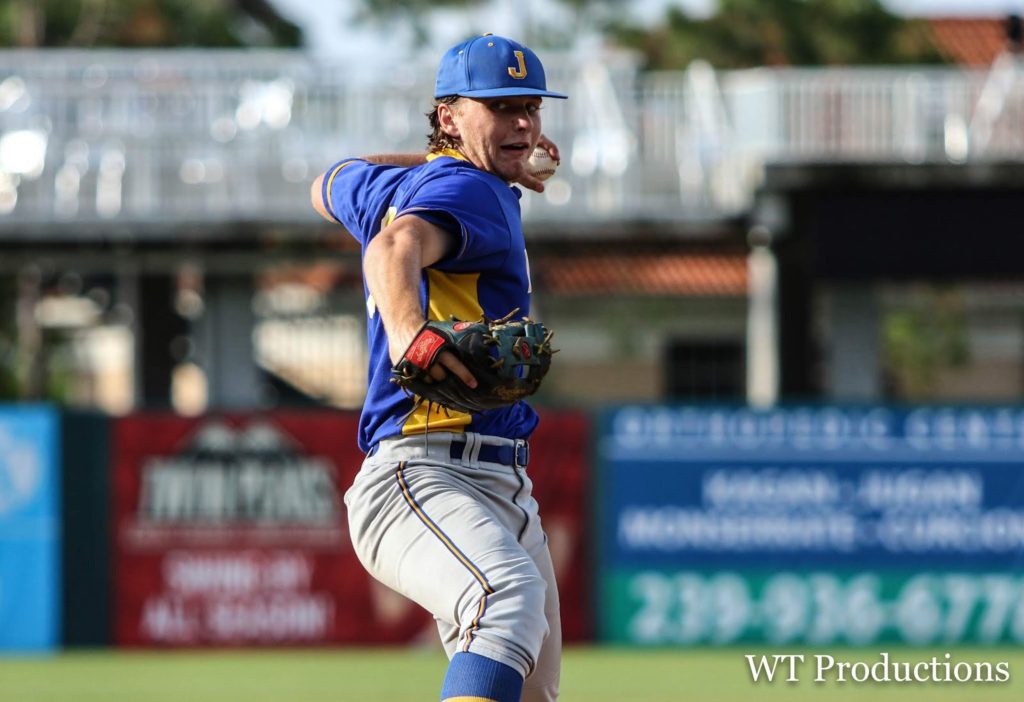 Junior pitcher Marc DeGusipe (Photo by Will Turner)
Dragons lefty Marc DeGusipe worked well through his first four innings, striking out three before running into trouble in the fourth. But despite leaving without the decision on the mound, DeGusipe who transferred to Jefferson this year, with the gold medal dangling from his neck answered a question on if this was the outcome he expected.
"I definitely did," DeGusipe said. "With this group of guys, anything was possible and I knew that from the get-go … as soon as I came in I know there was something special about this team."
Martin moved to the mound from right field in the fifth and instantly RJ Diaz singled in two to give the Mustangs the lead.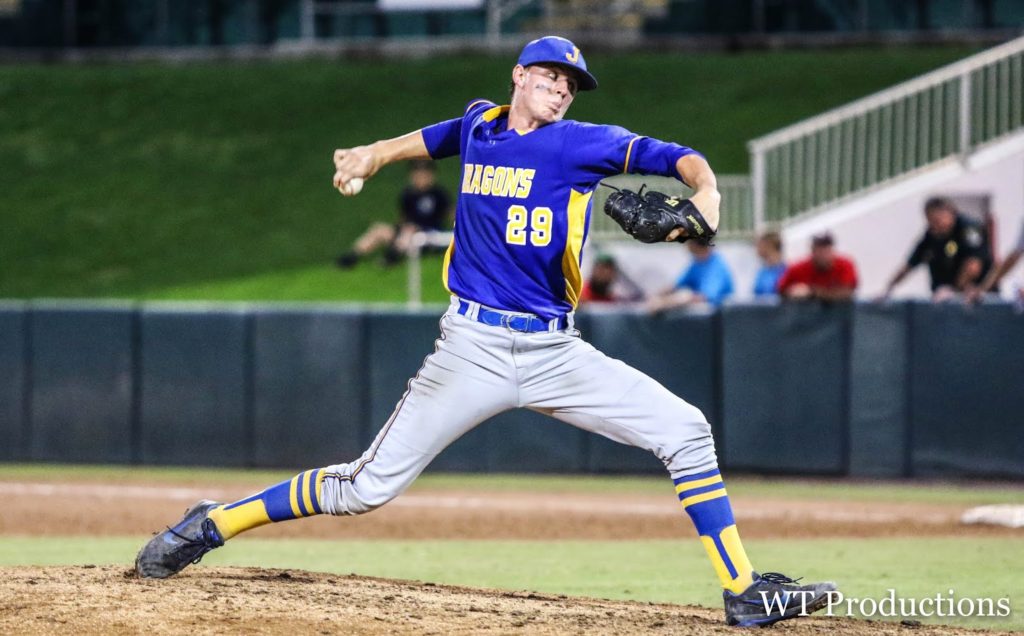 Senior Robby Martin hit a solo home run in the first and pitched five innings of relief to earn the win. (Photo by Will Turner)
Martin from there was steady working five innings allowing just the lone hit and walking four and earning the biggest win of his career. Martin, who has been a four-year starter for the Dragons said the senior-year payoff was worth the wait.
"Working together all these four years and being able to pull it off for the team after 78 years is big for us," he said. "We go down in history."
Scaglione who served as the team's coach for the final four wins of the season, along with 30-plus year assistant coach Lou Maggio, and the Dragons other coaches this team has more than honored the legacy of one of Hillsborough County's oldest programs.
"There is such a strong alumni base with Jefferson High School, because at one time there was just Jefferson and two other high schools, it's just been tremendous," Scaglione said. "We did this for everybody who has worn that blue and gold for the last 78 years."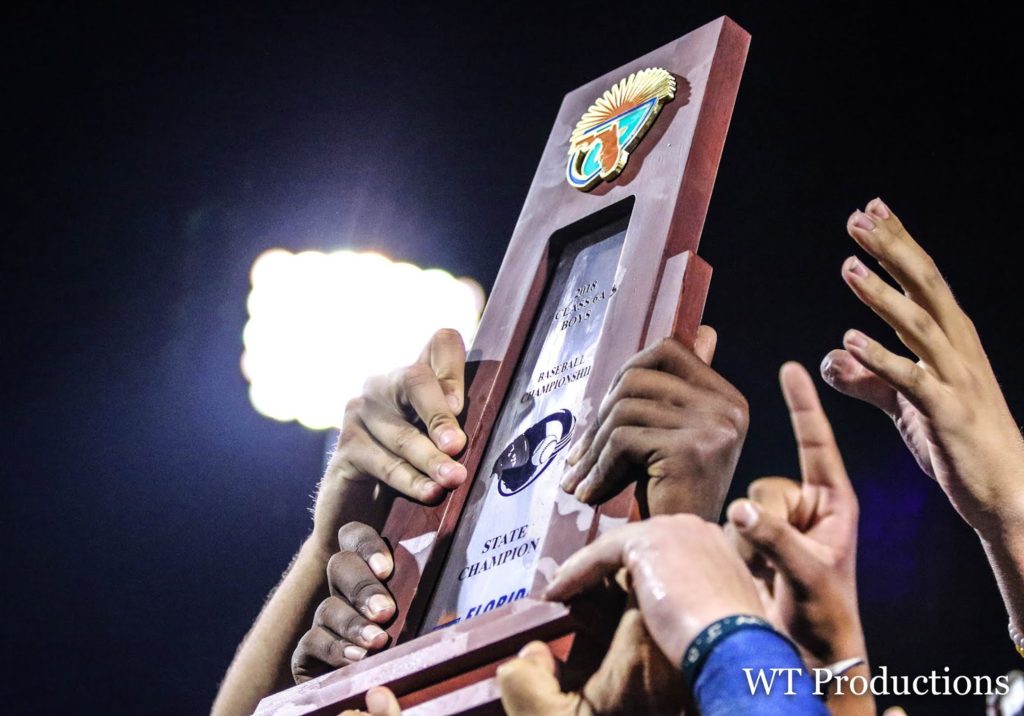 Jefferson claims its first state baseball championship in the program's 78 year history. (Photo by Will Turner)
(adsbygoogle = window.adsbygoogle || []).push({ google_ad_client: "ca-pub-4669923380710005", enable_page_level_ads: true });