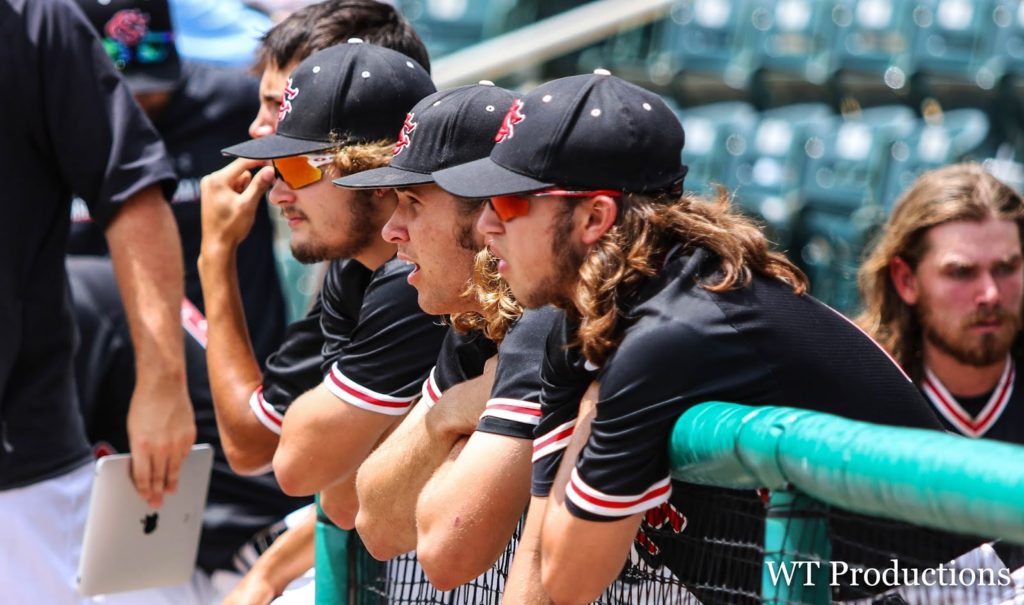 Strawberry Crest players disheartened at the top of the dugout steps after Sarasota defeated the Chargers 5-2, in the FHSAA Class 8A state semifinal. (Photo by Will Turner)
By Jarrett Guthrie
jarrettguthrie@813preps.com
FORT MYERS – An error against any average opponent can prove troublesome, but in a state semifinal game, a single mistake can have disastrous results.
Strawberry Crest learned that lesson early, and then saw the mistakes continue in Friday's Class 8A state semifinal against Sarasota, as seven errors proved a mountain too high to climb for the Chargers in a first-ever appearance at the FHSAA state tournament.
Unlike many independent news organizations, we haven't put
up a subscription paywall – and we hope to be able to keep bringing you the great stories
from high school athletics in the 813 area free of charge. But we are still a small
business with just a handful of people involved, so there are costs including travel, equipment, and other costs associated with running this business.
We are looking for advertising partners, but we also need to count on our
readers for support. If everyone who reads our reporting, who likes it, helps
fund it, we will be able to continue covering these athletes' endeavors.
Support 813Preps.com for as little as $1 by clicking "Donate" button below.
Sarasota, a seven-time state champion, advances to Saturday's state championship game with a 5-2 victory and ended Strawberry Crest's bid for a first state crown.
"It was a little bit of everything," starting pitcher Brent May said. "Especially for this game being the first time here, a new experience, such a big stadium."
"We all get excited to be here, and maybe we got a little too over-excited, got out of our element and couldn't get back."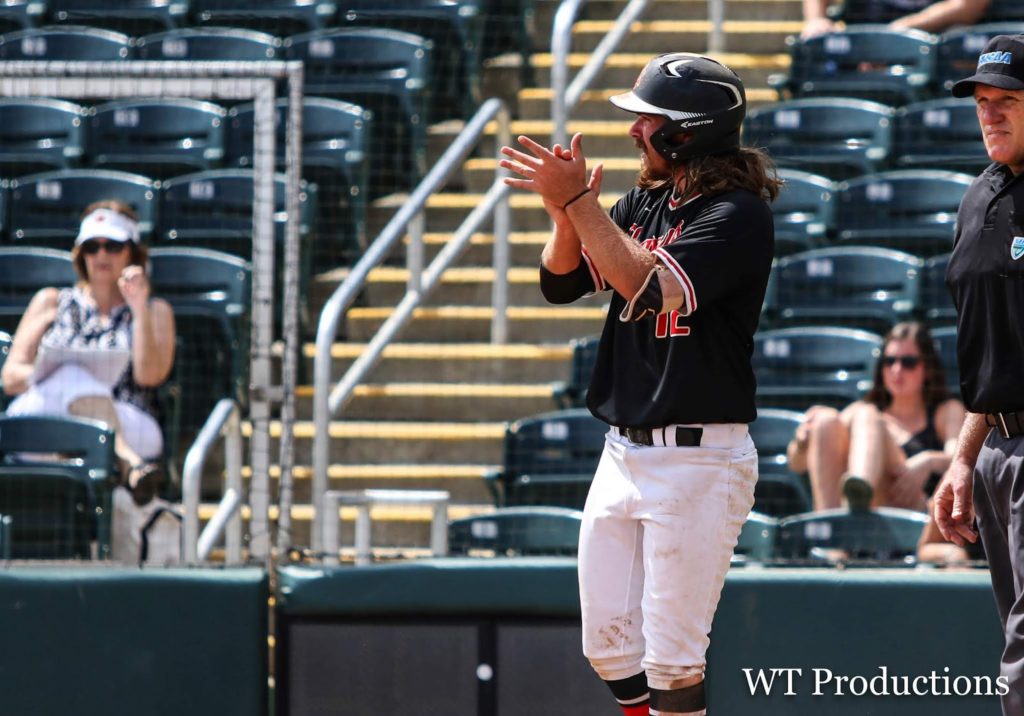 Strawberry Crest senior Derek Barone claps for teammate Damien Torres at first after scoring the Chargers second run on a single to right.
Sarasota scored a run in each of the first four innings, not picking up an earned run off May until the fourth on a ball that was lost by the left fielder and plated a run on a double in the book.
"Brent threw a heck of a game and got a ton of groundballs and gave us a lot of opportunities," Beattie said. "We made mistakes we don't normally make, but with that being said this is a special group and I'd go to battle with them yesterday, tomorrow, today and anytime again."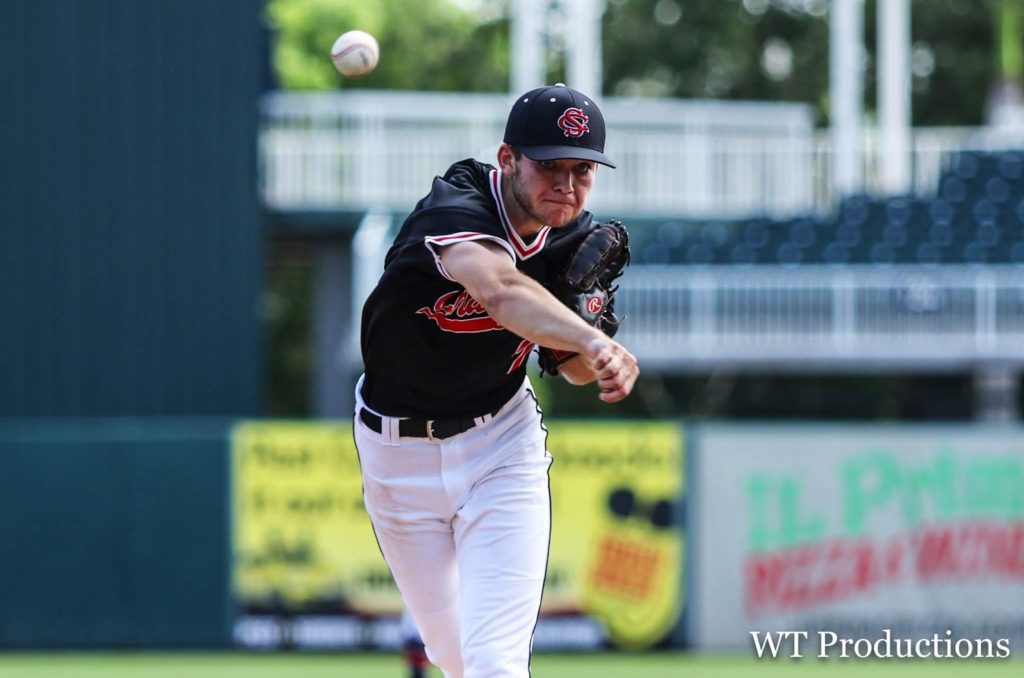 Strawberry Crest sophomore Brent May was tagged with the loss allowing five runs (one earned) against the Sailors. (Photo by Will Turner)
The Chargers sophomore starting pitcher went into the sixth before another Sailors run scored on a walk, an errant pickoff attempt, a passed ball moving the runner to third and a wild pitch bring him home. Another error followed on the next play and the Chargers went to stopper Damien Torres on the mound. But the damage was too severe.
Strawberry Crest (19-9) scored a run in the first as senior Derek Barone singled in a run to left. Barone walked and scored the Chargers second run in the fourth as Torres lined a single to the outfield grass.
The Chargers mustered just two more base runners the rest of the game (with a Tanner Kelley single being the team's third hit of the game) as Sailors freshman starting pitcher Conner Whittaker worked a complete game, allowing two runs on three hits and striking out five.
"There was no thought in my mind that we were ever out of that game," Barone said. "No matter how many runs they've scored, I always have faith in my teammates and what they can do and I felt that we were always in this game."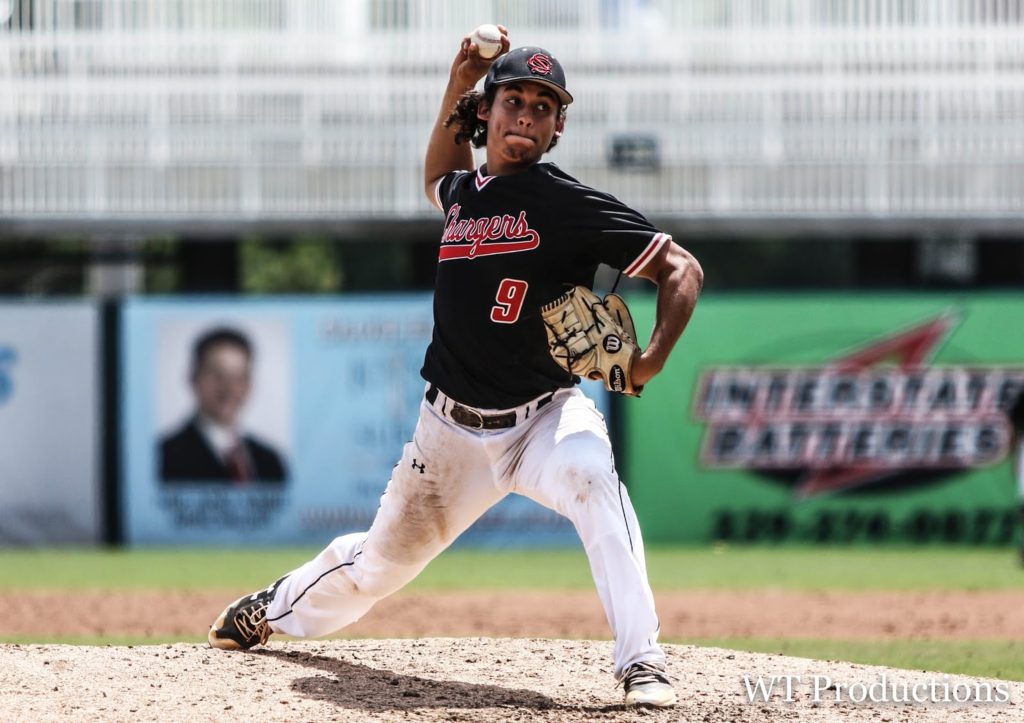 Strawberry Crest senior Damien Torres worked the final 1 1/3 innings on the mound allowing no hits. (Photo by Will Turner)
Beattie, who launched the program at Strawberry Crest nine years ago, said the stage may have got his team on Friday. But he said as a coach he'll take a big leap for the experience and hopes the same for his returning players.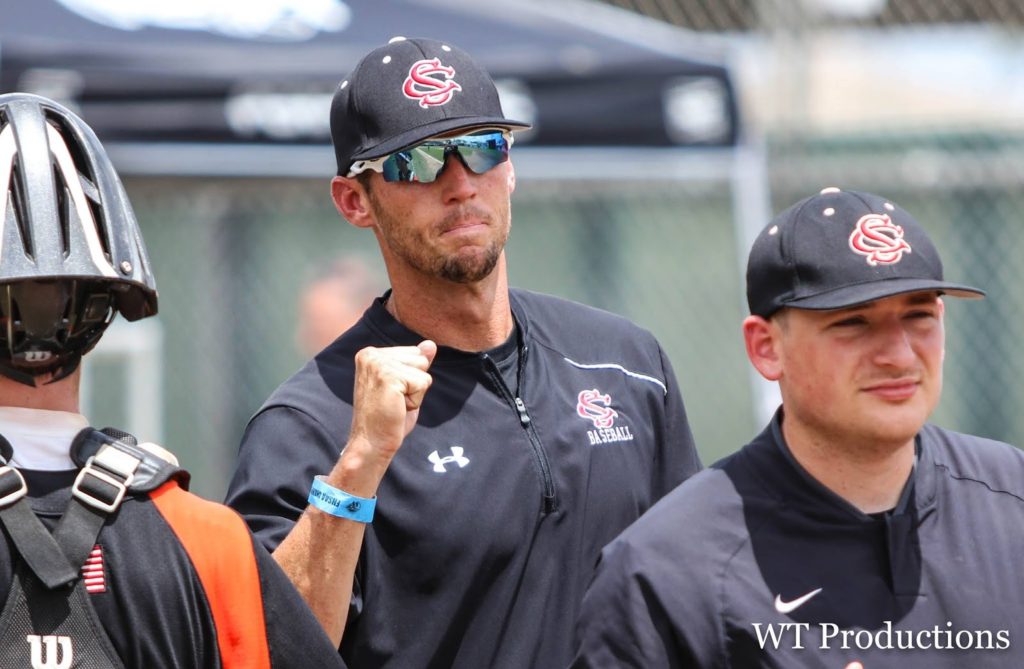 Strawberry Crest head coach Eric Beattie (center). (Photo by Will Turner)
"It's a big stage, man, a huge stage," Beattie said. "Our program is a young program. We've only been past districts one (other) time, so for not only the players but for me as the coach, this was new territory."
"I think I'm going to get a little better from this experience, and I hope our younger guys will too because this is definitely huge for our program."
Our complete postseason coverage is brought to you by the 
Law Offices of George Hunter, P.A